A Black Boy in Baltimore
"If I fall, I need to get right back up because I don't want to become the embodiment of what's happening in my city."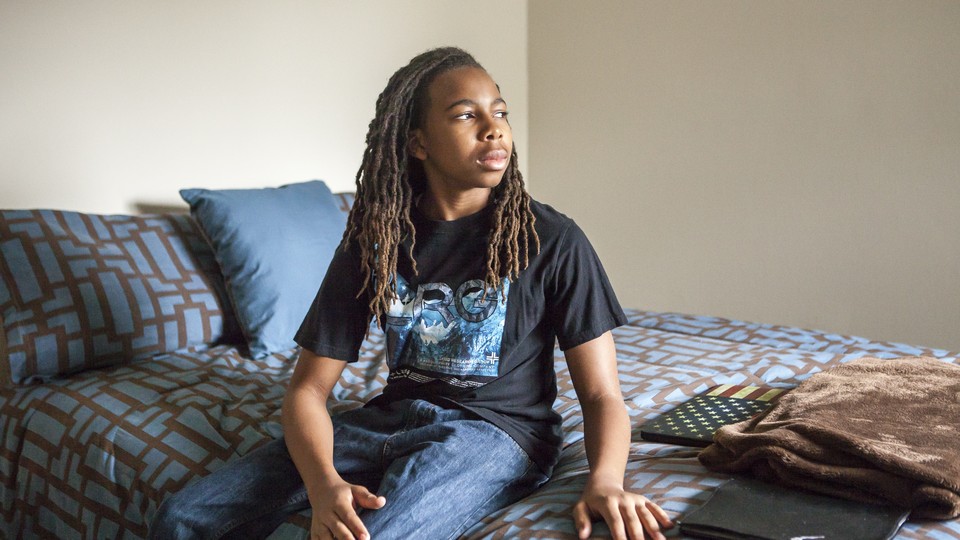 Sitting on the campus of a historically black college in July, Baltimore teen Scott Thompson II was in his comfort zone. In a stroke of luck and good timing, Scott's mom, Myeisha Thompson, had been able to enroll the 13-year-old in the Maya-Baraka Writers Institute, a five-week intensive summer writing camp hosted by the college for the city's youth. Infused with the spirit of the Institute's namesakes—Maya Angelou and Amiri Baraka, two socially and racially-conscious black storytellers—Scott set out to write a verse expressing his take on school systems and police departments that only see young, black males as problems.
They asked me to write a poem about revolution, and at first, all that popped in my mind was confusion.

But I had to write something so my boss didn't throw me the deuces.
Inquisitive. Confident. Reflective. Observant. Adjectives used by family members and a former teacher to describe Scott, who is in some ways an anomaly and in others the prototypical teenager: listening to music with earbuds affixed in ears; showing off a new move honed this summer on the basketball court; adjusting to his freshman year at Baltimore's top-ranked magnet high school, Baltimore City College. In his bedroom sits an Xbox console that's the casualty of a grueling homework load. His wavy long locs pulled back behind his shoulders, Scott shares his dreams of going to UCLA and becoming an actor, director, or playwright. His devotion to the arts flows naturally from a mom who loves musicals—watching and reciting the songs of The Sound of Music together was a Christmas tradition until Scott outgrew the practice last year—and a dad who loved photography.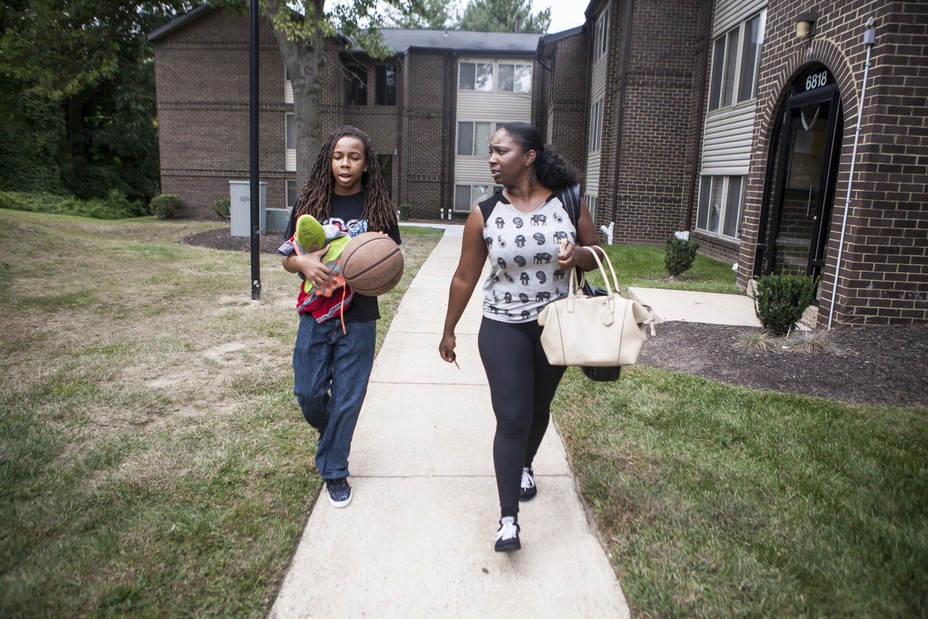 Bubble-wrapped, framed pictures of Scott, candid photos capturing the spontaneity of his childhood, fill their new apartment in Mount Washington, a quaint, nature-filled area on the outskirts of Baltimore City. Trips to the Inner Harbor and Baltimore Zoo with his mom are common weekend outings; bike rides with his dad around Druid Hill Park are a fond memory.

In many ways, Scott is a black youth who both lives apart from and among the conditions that have come to define West Baltimore. "If I make it as a big actor, people will know where I came from and will know I'm a black boy from Baltimore," he said on a recent Saturday afternoon traveling around the city. "I know what's wrong with my city, but it's still [mine]. I wouldn't want to be anywhere else."
Mired in unemployment, poverty, and crime, West Baltimore is a community made famous as the setting for HBO's The Wire, a drama series that centered on the city's drug trade. In April the area was again thrust into the national spotlight with the death of 25-year-old Freddie Gray. Gray's death touched off mass protests against police brutality, followed by eruptions of violence with arson and looting. City and state officials declared a state of emergency, imposed a citywide 10 p.m. curfew, and deployed the National Guard to patrol Baltimore streets.
The memory of cars burning, armored vehicles, and "the longest line of police cars… it felt like it wasn't going to stop," shocked and disappointed Scott. "It just hit me hard in my soul," he says. "Not even 30 minutes after me and my mom were driving on that street, we look on the news and this is happening [just] minutes away from me." Most upsetting was the rioting at Mondawmin Mall, where police clashed with a crowd of high-school students only blocks from Scott's grandmother's home. "My family in the city, I was worried about them," he says. "I saw fires and explosions. I saw a lot of people getting locked up. It was very stressful because I've never seen my community get to that point."
Peace for blacks is an illusion in white America we're either considered dangerous or useless.

Unless we're viewed on TV screens, scoring TDs or splashing long range threes.
For 35 years, Scott's grandmother, Florence Thompson, has lived in her West Baltimore home, which sits on a tree-lined street of neatly maintained row houses. It's been the primary gathering spot for the large, extended Thompson clan for four generations. Scott's sister Monica, 32, visits regularly. Her 6-year-old daughter, Daryn Keith, cuddles in Granny's lap. Just inside the front door, wall notches track Scott's height since he was a toddler. Stacked upstairs in a bedroom office sit copies of his many report cards. "This has always been a very homey place for me. It brings a lot of good vibes. It gives me comfort," says Scott, pulling out an oversized deluxe edition Scrabble board, trimmed in gold and set on a Lazy Susan.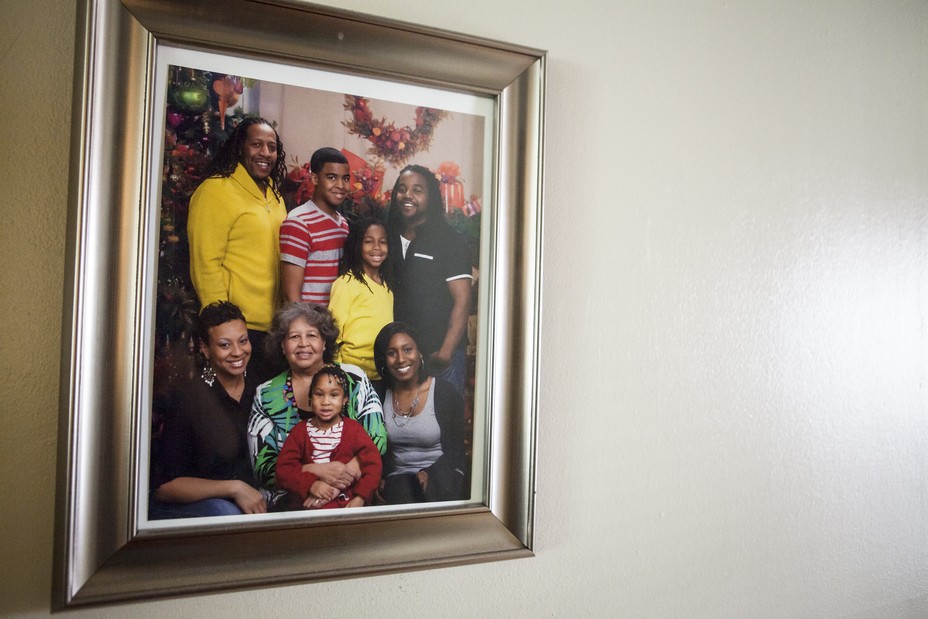 A raucous game ensues—"I don't think h-u-n is a word," "Get the dictionary!" "Then why do people call each other h-o-n?" "That's short for honey!"—with Scott sitting hunched over the board. According to Monica, the tight family bond nurtured around Florence's living room table helped inoculate Scott from many of the surrounding community's ills. Generational poverty and unemployment pose an unbeatable challenge for many black youth like Scott, complicated by subpar educational options that leave them helpless to change the trajectory of their lives.
Like Martin Luther King, I have a dream that one day, me and my brothers will be free from social profiling and police brutality.

We have the police plotting on us when we hit the third grade.

Jails cells made for kids who think r gonna sling ya or drop out of high school and get a low pay grade
For Scott, the answer lies in opportunities and hope. "I believe that most people have that good spirit inside of them [to] become something bigger, [but] because they're born into something smaller, they don't have the confidence," he says, highlighting the importance of familial support. "Becoming somebody is not easy, but it can be done... [My family] won't allow me to not be something. If I fall, I need to get right back up because I don't want to become the embodiment of what's happening in my city."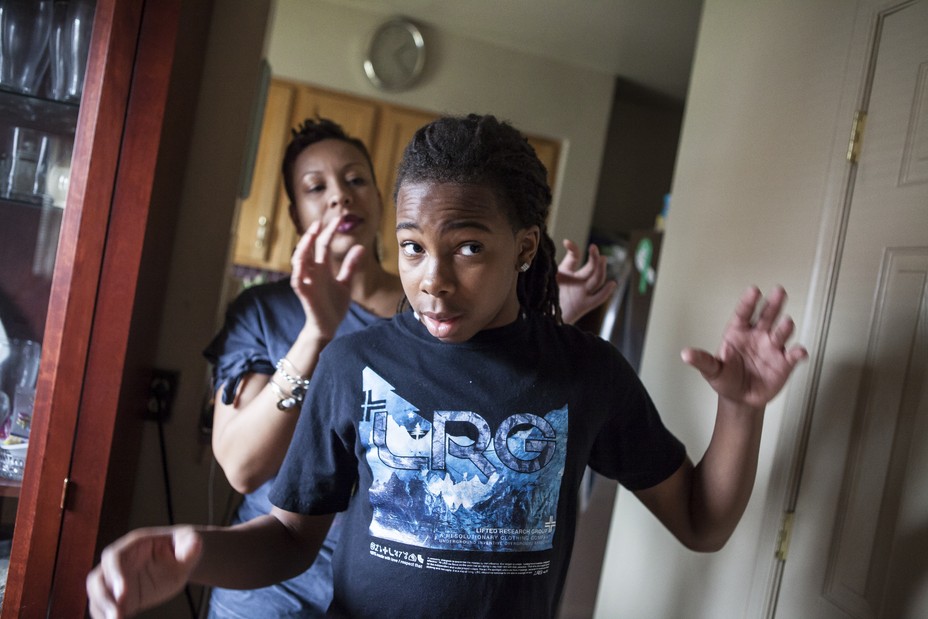 The reality is that Baltimore can be a crushing place to be a black child. A sober picture emerged following Freddie Gray's death. Black youth in West Baltimore are almost just as likely to get arrested as they are to graduate from high school; the area's juvenile-arrest rate is the highest in Baltimore City. Meanwhile, an analysis of police records by the Baltimore Brew in August found that Baltimore is the second most violent city in America, right after St. Louis.
For Scott, the statistics became more than facts and figures in August 2013 when Scott's dad was murdered just four blocks from his grandmother's oasis. Scott, who had lived part-time with his dad, was home with him that morning until 11 a.m. or so, when his mom picked him up because he was performing in a play. The police suspect the gunman—who is still at large—shot his father at home just a few hours later.

"I've always heard about violence in Baltimore. But it never personally affected me—until my dad died and it just changed my view of things," says Scott. "[The violence] has now come into my life."
It's an experience too many black children across the country share. Data from the National Center for Victims of Crime shows that black youth experience an "alarming rate of exposure to violence and victimization." Yet despite the widespread impact on children and teens, few receive support and services to treat their trauma.
While mourning what he's lost—"My dad was always a big part of my life... my best friend… me and him were always the closest of the close"—Scott takes solace in his dad instilling in him his curiosity and good judgement. The teen's 29-year-old cousin and surrogate big brother, William Baker, is now the adult male figure in Scott's life. "We like to call each other stand-up men... somebody that you can pick out of the litter and know he's different."
In the hours following his father's death, writing poetry consoled Scott's pain. As family gathered at his grandmother's house, Scott got a notepad and pen and wrote one of his longest poems. "I had tears falling on the pages. It was really real, and it was a way for me to talk to him in a way that I know I could. It was explaining who he was to me and how much he affected my life."
For Scott, poetry was a way to grapple with the trauma he endured—a tool that some educators and schools now use to help children heal from exposure to violence. Looking back on that period of life, Scott recalls school—particularly the support he got from his peers and favorite teacher at Southwest Baltimore Charter—being his lifeline.  To transition students from middle to high school, Southwest Baltimore Charter School organizes students into gender-exclusive teams—"crews"—of about a dozen students each who meet daily in grades 6-8. The crew model fosters strong, consistent relationships between students. The closeness of the all-male group gave Scott the security to grieve and surrender to his sadness. "We are honestly like brothers. I always felt safe in my crew room. I knew I could talk about anything, or if I was having a bad day... I could always connect with them." His friends gave consolation—and in his humanities class, teacher Valencia Clay let him write. "I would be in a calm space where I could write anything, and I could really focus."
Now teaching at a charter school in New York City, Clay's teaching philosophy focuses on "educating our children with mirrors"—allowing black students like Scott to reflect and make connections between historical and contemporary events and themselves. Her extensive use of poetry in the classroom gave Scott an outlet for the heartache of losing his dad.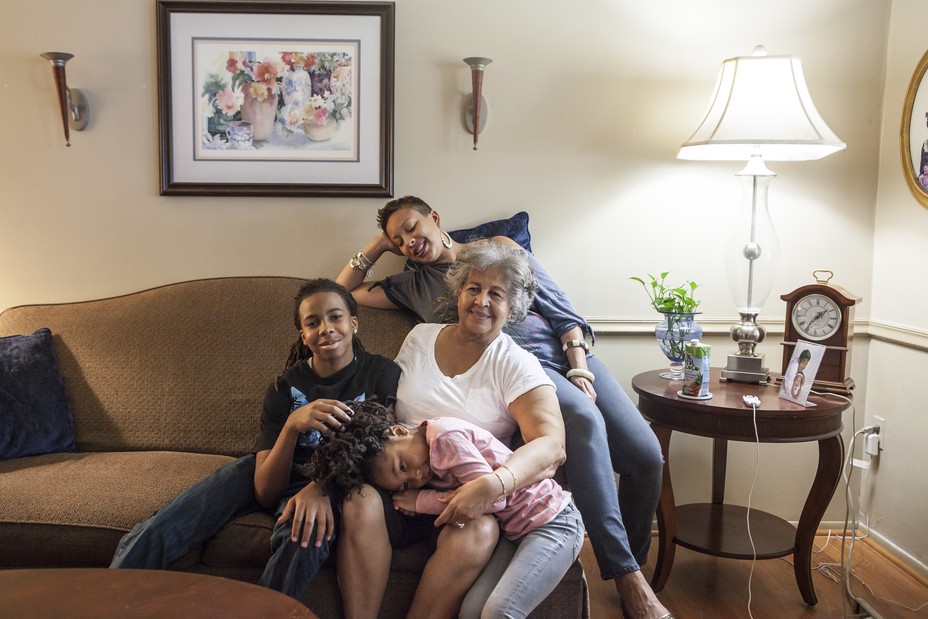 "When my dad died, I went to an even deeper place. It just flowed more. It was more relatable. I could talk about things that I couldn't talk about before, experiences I've been through and only me."
Now this country got me afraid of the people that's supposed to be protectin' us

Nowadays they're either abusin' or neglectin' us
Sitting in basketball shorts at the YMCA, Scott recalls recent events that left his city bruised, but not defeated. "With the riots, I may not agree with what they did, but I completely understand it. They were fed up. They were fed up and not everyone is peaceful." As his poem narrates, to rid his city of racial profiling and police brutality requires "somebody to control the controllers," Scott says.
"I have nothing against the police. I have something against bad or abusive police. When people are disobeying the law and acting inappropriately, you have the police to handle it. But when the police are acting inappropriately and disobeying the law, who do we have to handle them?"
With the trials for the police officers charged in the death of Freddie Gray approaching, Scott wants justice—which for him means jail time: "They seriously injured this man... they definitely need to do time." But most pressing for him in the coming months will be practicing for the school play, You Can't Take It With You. Scott makes his debut playing the character of Donald on December 10. And as is customary, the entire Thompson family will be in the front row.