Another Honor for Maine Maritime Academy, at an Important Time
Editor's Note:
This article previously appeared in a different format as part of The Atlantic's Notes section, retired in 2021.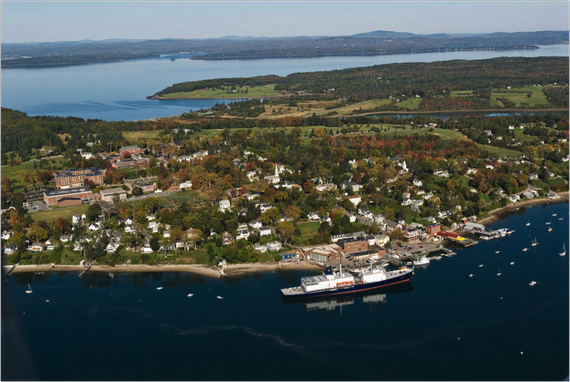 In our American Futures dispatches from Down East Maine, John Tierney did several reports (collected here) about the Maine Maritime Academy, based in Castine.
These were early entries in what has become one of our central themes. That is the importance of what used to be dismissively known as "vocational education" or even "trade schools," and now might be called "career technical education" or go by other names—but which, by any name, has a newly crucial economic and social-mobility role.
The caricature view of today's economy, which is uncomfortably close to the truth, is that it is separating into financiers and rentiers at the top end, and on the other end the people who feed, care for, drive, clean, teach them yoga, and otherwise attend them. The large-scale factory-based jobs that broadened the middle class of the 20th century are obviously not coming back.
The main "good middle-class jobs" that are increasing are in the skilled trades. Welders, high-end repair technicians, engineering-type jobs in health care and logistics and agriculture and aerospace, and on down a long list. That's where "career technical education" — in K-12 schools, at community colleges, at local tech centers, wherever — comes in.
As does Maine Maritime.
***
Sea-borne shipping is one of these areas of rapid growth of high-wage technical jobs. This week Jonathan Rothwell of Brookings released a survey of colleges ranked not on snob appeal, endowment, or other pernicious measures but rather by "value added." As Rothwell put it:
Value-added measures attempt to isolate the contribution of the college to student outcomes, as distinct from what one might predict based on student characteristics or the level of degree offered. It is .. a way to compare colleges on a more equal footing, by adjusting for the relative advantages or disadvantages faced by diverse students pursuing different levels of study across different local economies.
Of the 1600+ four-year colleges in the ranking, 15 got a perfect 100 score. Those 15 ranged from the most usual of usual-suspects, Harvard, to some schools I had never heard of, and one I knew well: Maine Maritime Academy. You can search and see the whole list if you check the Brookings report. Here is a screenshot of the top group.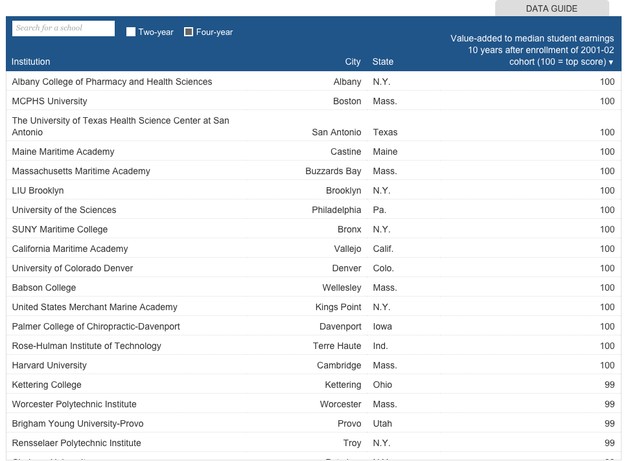 This follows a Money ranking this past summer which judged Maine Maritime the "best public college for the money" in the U.S. Congratulations to our friends there.
***
The news for Maine Maritime is particularly welcome, coming after a great tragedy earlier this month. As explained in a series of releases on the Academy's site, of the 33 mariners who were lost when the cargo ship El Faro sank on October 1 during Hurricane Joaquin, five were Maine Maritime alumni. According to the school, they were: Mike Davidson, Class of 1988; Danielle Randolph, Class of 2005; Mitchell Kuflik, Class of 2011; Mike Holland, Class of 2012; and Dylan Meklin, Class of 2015. Our best wishes, respect, and sympathies to their friends and families.