'The Model Minority' at the Country's Top-Ranked Universities
The caveats to this year's college rankings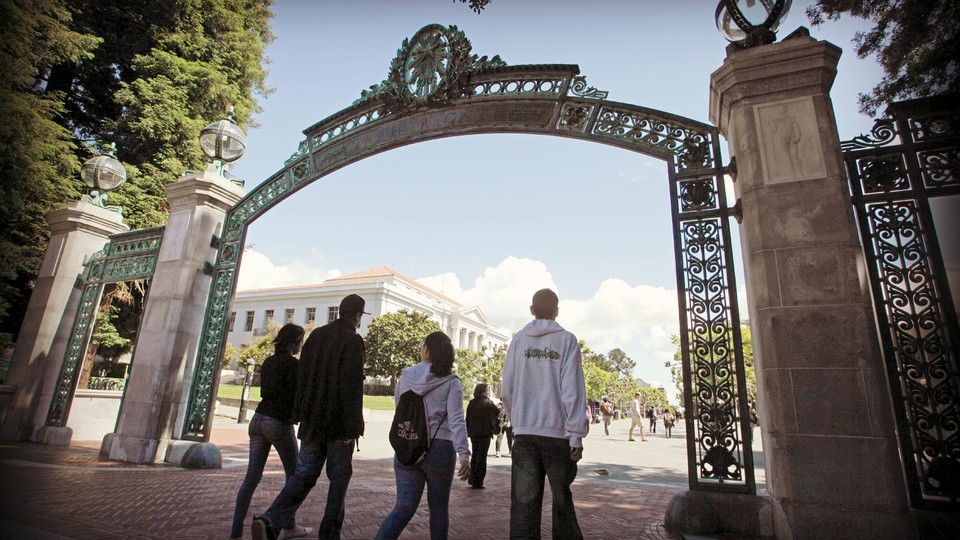 The New York Times' David Leonhardt recently published the second installment of his rather unorthodox college-rankings system. Washington Monthly has just released the 2015 edition of its own breed of unconventional rankings, too. As with the nation's household rankers—The Princeton Review and U.S. News and World Report—and, now, the Obama administration's much-anticipated "College Scorecard" database, these indexes can be quite consequential in the higher-education world. Stakes are especially high at a time when colleges are under public scrutiny for problems ranging from soaring tuition to mission creep.
One might argue that the ways in which Washington Monthly and The Upshot (The Times' news-by-the-numbers subsite) crunch the data make their scoring systems a lot more socially responsible than those of their competitors. They probably wouldn't be the go-to resources for, say, an economically well-off aspiring business major who's strictly narrowed his college-selection criteria down to things like prestige, a well-equipped gym, and study-abroad opportunities in Japan. Rather, the students who'd likely find more benefit from these rankings may not even have the know-how to prioritize these kinds of details, let alone have the wherewithal to pursue them. Or they might have bigger-picture goals in mind.
In that sense, these indices envision themselves as altruistic tools that hold colleges accountable for the degree to which they act as conduits of opportunity. "College administrators wouldn't phrase it this way," Leonhardt wrote, "yet [the ones with low economic diversity] are essentially deciding that economic diversity matters less than other priorities—like sports teams, new buildings, and some low-enrollment academic programs."
Leonhardt's index differs from The Washington Monthly's national-universities guide in some key ways. The former's listing is somewhat exclusive to elite, high-performing schools (those where 75 percent of students graduate within five years), while the latter looks at three categories, including the percentage of Pell grant recipients enrolled, research prowess, and students' involvement in or pursuit of public service. In a blog post last year, the Monthly writer Ed Kilgore highlighted Leonhardt's focus on high-performing schools, comparing what was then his brand-new index to the magazine's 2014 "Affordable Elites" subcategory. Perhaps in response, Leonhardt tweaked his algorithm this year, increasing the 75-percent graduation-rate cutoff from four to five years and effectively expanding the list to include more public universities.
Partly as a result of Leonhardt's adjustment, the two indices have one particularly striking commonality this year: they each have the University of California holding a huge proportion of the top spots. Six of The Upshot's top 10 are UC schools (none of which even made it onto the list last year because of the graduation-rate criterion), while UC campuses occupy four of the top 10 spots on the Monthly's listing of national universities. Notably, the three UC schools that got top rankings in both lists—its flagship Berkeley campus, San Diego, and UCLA—are also the system's most selective.
Both news outlets give kudos to the University of California for focusing on achievement that matters. Despite excelling in high-school classes and on the SAT, relatively few poor students who perform well academically apply to and succeed in selective colleges. This is, as Leonhardt has noted, as much of an economic dilemma for society at large as it is an injustice for the individuals affected—a revelation that has prompted initiatives to ramp up income-based equality at colleges.
The bent toward affluent students at selective colleges, including those with notably hefty endowments, has remained one of American higher education's most egregious shortcomings. For example, the University of Virginia, a public institution, has received widespread criticism for not doing enough to recruit economically disadvantaged students, despite its $213,000 per-student endowment and creation of diversity-focused administrative initiatives. This year, it placed 102nd out of 179 on The Upshot's index, sandwiched between other elite schools known for being cost-prohibitive, such as Bryn Mawr and Notre Dame. (Interestingly, it was ranked 63rd out of 279 on the Monthly's list.) The socioeconomic status quo in higher ed helps explain why upward mobility, as Leonhardt wrote last year, has become all but a facade in a country that's supposed to be a place where dreams come true.
The University of California's prominence this year is in many ways a turnaround story. The system has famously battled budget cuts, labor issues, and relatively slow completion rates, while its economic-diversity endeavors have, arguably, been hampered by California's controversial two-decade ban on race-based affirmative action. Yet the two new rankings suggest that the system's attempts to keep tuition on the low side, enroll community-college transfers, and target recruitment at families with limited means are paying off. Latinos are now the fastest growing and second-largest ethnic group admitted to the UC system, making up close to three in 10 of last year's freshmen class. While acknowledging the volatility of the nation's higher-education landscape, Leonhard's report summarizing this year's rankings was titled "California's Upward-Mobility Machine."
Still, there are caveats to the UC system's victory this year. For one, the schools in large part owe their high rankings to the state's relatively idiosyncratic immigrant population, which as a whole tends to be high-achieving compared to its counterparts elsewhere in the country. And when broken down, the scores for the Monthly's top-ranked UC schools vary greatly depending on the category. For most of the guide's leading UC campuses, and at UC Berkeley in particular, their prominence in the research sector seems to be the key reason why they're so high up on the overall list; their "social mobility" scores are much less remarkable. And the University of California's distinction this year is, ultimately, tenuous: Amid state-funding reductions, California has been enrolling out-of-state students at higher rates at the expense of in-state ones. "California, rather than making another push to bring college to the masses," Leonhardt wrote, "is taking small steps in reverse."
A less obvious caveat of the University of California's triumph doesn't have much of anything to do with the rankings other than a criticism they're likely to receive. The highly selective UC campuses are known, sometimes bitterly, to serve especially disproportionate numbers of Asian students; Asians famously make up half of the undergraduates at UC Irvine, for example, which was No. 1 on Leonhardt's list. By highlighting economic diversity in lieu of its race-based cousin, this year's Upshot and Washington Monthly rankings may support arguments that the state's ban on race-blind admissions discriminations has shortchanged blacks and Latinos in favor of  whites and Asians. While that may very well be true, the rankings offer an opportunity to highlight nuances to the "model minority" stereotype and the ways in which it hinders economic equality in education.
The California-based Campaign for College Opportunity, which earlier this year found low achievement levels for both Latinos and blacks in the state's colleges and universities, recently released a report highlighting the ways in which the "model minority" stereotype undermines opportunity in postsecondary education. Traditionally, Asians have been grouped with Pacific Islanders and Native Hawaiians in official analyses, including the census, which until recently didn't even disaggregate the data. Great diversity exists not only across these broad demographic categories but also within them, both in terms of culture and educational attainment. The report found that, despite boasting top spots on the two rankings, California is struggling to provide opportunity to large contingents of its fastest-growing race demographic—one that includes 48 ethnicities of widely varying achievement levels.
Asian ethnic groups traditionally associated with achievement are indeed doing well. While 40 percent of whites in California 25 and older have a bachelor's degree or higher, the rate for Asian Americans, on average, is higher—roughly 50 percent. That statistic is bolstered by ethnic groups such as Indians and Chinese, 70 percent and 52 percent of whom have four-year degrees, respectively. Other Asian ethnicities, however, account for some of the lowest higher-education attainment in California, comparable to that of Latinos and lower than that of blacks: Laotians (10 percent), Hmong (13 percent), and Cambodian (16 percent). Children belonging to the latter two ethnic groups, according to the campaign's report, are living in poverty at slightly higher rates than their black and Latino counterparts.
Meanwhile, just 15 percent of adults in California who identify as Native Hawaiian or Pacific Islander—who are often lumped together with Asians despite coming from completely disparate backgrounds and geographical regions—have bachelor's degrees. That includes just 12 percent of Samoans and Chamorros, each. Native Hawaiian and Pacific Islander students also have lower-than-average graduation rates at California's public postsecondary institutions, including its community colleges, state universities, or UC schools.
These caveats may have a small bearing on the country as a whole and, ultimately, are all but impossible to factor into any national, comprehensive scoring system. Still, they demonstrate why it's important not only scrutinize the findings of status-quo college rankings but also those that are more reform-oriented. They're also a reminder, more generally, of the nuances that muddy perceptions of college attainment from the perspective of race. "The educational needs of the most underrepresented and disadvantaged Asian Americans and NHPIs can be overlooked and exacerbated when policymakers and college leaders base important decisions on data that only capture the characteristics of these communities as a whole," the report says.
This is true in the K-12 sector as well. In recent deliberations over a rewrite to No Child Left Behind, Congress rejected a proposal that would've required schools to report disaggregated data on Asian Americans and Pacific Islanders. "Sure, there are [Asian American and Pacific Islander] students who reinforce stereotypes, with good grades and great jobs," wrote Peter Keo, a research associate at NYU's Metropolitan Center for Research on Equity and the Transformation of Schools and the son of Cambodian political refugees, in an Education Week op-ed criticizing the move. "But there is an equally strong, and growing, counter narrative that rarely sees the light of day."