The Plot Against Student Newspapers?
At many colleges, budding journalists and their advisers are still fighting for freedom of speech.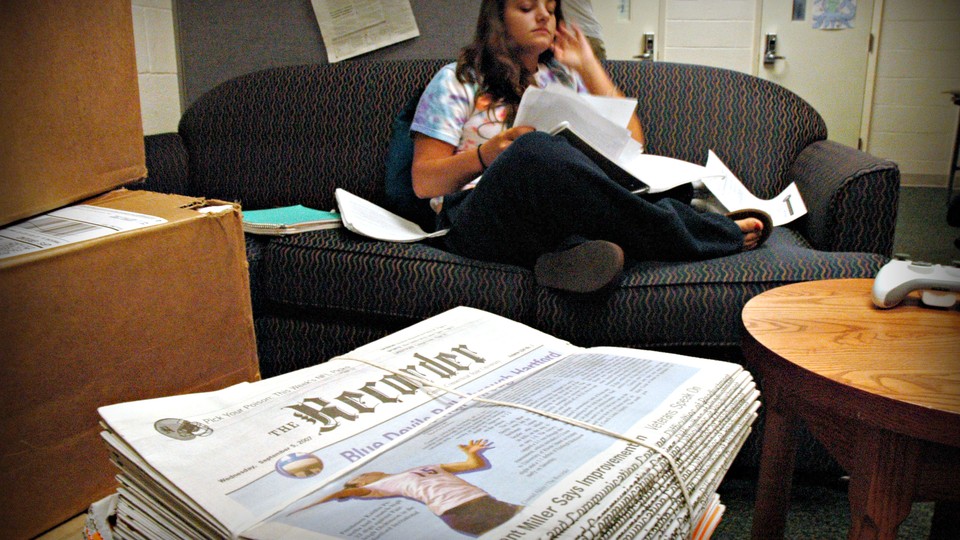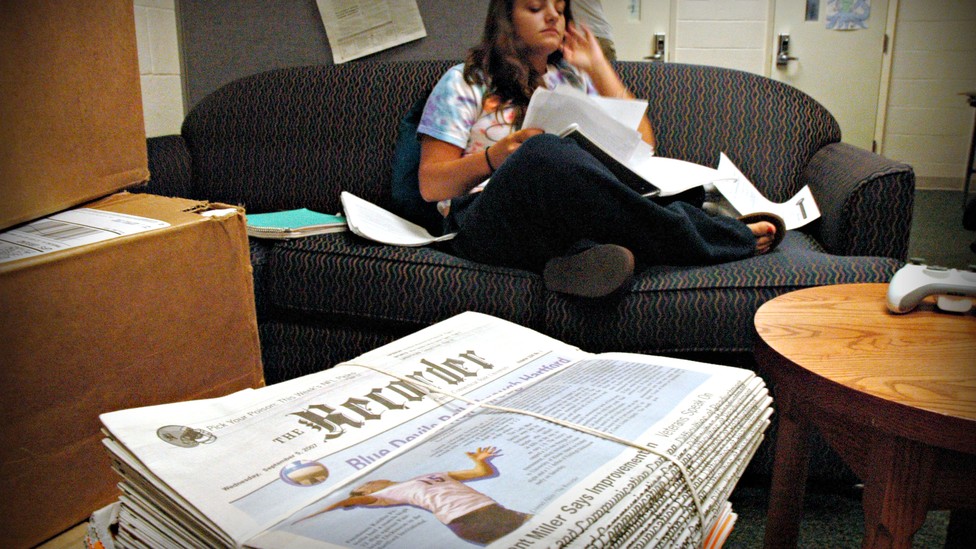 Until recently, Loni McKown was the envy of the college media-advising world. As the student-newspaper adviser at Butler University in Indianapolis, her evaluations were sterling. Grads were landing impressive reporting jobs. Beginning in 2011—for the first time in the student newspaper's history—national awards started adorning the walls of the newsroom.
But on September 4, McKown, who had served as the adviser for five years, received a written notice from her boss, the dean of the school's College of Communication: She was being removed from the role, effective immediately. She could keep her full-time faculty position, but the dean expected her "complete adherence" to the order, which specified that she was forbidden from advising students at the newspaper "either directly or indirectly." Failure to abide by this directive, she was told, would lead to "additional discipline up to and including termination."
What rule had she supposedly broken? No reason was listed in her letter of dismissal. Her most recent employee evaluation, signed on April 13, 2015, had listed a rating of "above expectations," asserting that she "consistently performs at a level that meets, and often exceeds, the institution's expectations." The evaluation had been signed by Gary Edgerton, dean of Butler's College of Communications.
But when McKown spoke to the administrators about her reassignment, their verbal complaints ranged from the specific (e.g., she once forwarded a confidential email) to the general (e.g., she was said to be too heavily involved in editorial choices). McKown apologized for forwarding the email. As for the charge of directing student coverage too closely, both McKown and her former students flatly reject this claim.
"When Loni offered her own guidance to us, it always hinged on the point that only we—the student journalists—would decide what to publish," said Ryan Lovelace, a recent graduate.
A few days after notifying her of her reassignment, Butler announced that it was naming one of its public-relations staffers as the student newspaper's new adviser. When I spoke to Edgerton, he rejected the idea that the move was an attempt to discourage negative coverage. He noted that the new appointee, Marc Allan, had worked as a journalist for more than 20 years before joining the school's PR team.
"The short-term appointment of him as interim advisor was merely a stopgap measure until a more permanent replacement could be found," Edgerton said. "In addition, three Indianapolis journalists had agreed to be available to advise students on sensitive stories, allowing them to completely bypass [Allan] if they chose to do so. Never was the appointment meant to result in more positive coverage for the university."
Still, the media criticized the decision. An Indianapolis Star writer, Suzette Hackey, called the college's decision a "bone-headed move." Outcry from the national higher-education and journalism communities also ensued. "Freedom of the Press Under Fire at Butler University" declared a headline on the American Association of University Professors' Academe blog. A Society of Professional Journalists committee member, Andrew Seaman, said in another blog post that Butler should be "ashamed and embarrassed."
"It's a clear conflict of interest for a university public relations professional to advise a college newspaper," wrote Rachele Kanigel, president of the College Media Association, in an official statement opposing Butler's decision. "How could students feel free to seek this person's advice when his primary job is to protect the university's image and reputation?"
A week later, Butler administrators announced that they'd be replacing Allan with the director of the university's journalism school until a permanent adviser could be hired. But the whole episode raised an uncomfortable question: In an era of tight budgets, dwindling enrollments, and heightened brand consciousness, are administrators more afraid than ever to leave students in charge of the student newspaper?
***
McKown is the latest in a string of student-newspaper controversies that have erupted in the past year. Others have played out at Northern Michigan University, Delta State University in Mississippi, and Muscatine Community College in Iowa.
Frank LoMonte, director of the Student Press Law Center, believes he's seeing a trend. His nonprofit's stated mission is "to protect the freedom of the press for student journalists," so it's not surprising that he'd view the McKown incident as an affront. Still, he insists, the nature of the problem is changing. "I don't think there is any question that image-conscious colleges are taking full advantage of difficult economic times to rid themselves of journalists they never liked anyway," said LoMonte. "What we're seeing is the convergence of two worrisome trend lines: Colleges are more obsessed with 'protecting the brand' than they've ever been before, and journalism as an industry is weaker and less able to defend itself than ever before."
---
---
In theory, at least, student papers enjoy strong legal protections. In 1967, an Alabama federal district court ordered that a student editor be reinstated to Troy State University after his expulsion for an article critical of the state legislature. In 1973, a federal circuit court ruled that the University of Mississippi could not censor off-color language in the school's literary magazine. The high-water mark for protected speech on campus is 1969 Supreme Court ruling Tinker v. Des Moines, which dealt with students' right to protest the Vietnam War. In its opinion, the court wrote, "It can hardly be argued that either students or teachers shed their constitutional rights to freedom of speech or expression at the schoolhouse gate."
But in a number of cases since then, courts have retreated from their muscular approach to protecting student First Amendment rights. In 1988, the Supreme Court ruled in Hazelwood v. Kuhlmeier that high school newspapers can be censored for "pedagogical" reasons, which gives teachers and administrators wide latitude in approving the content of student publications. In a footnote, the court wrote, "We need not now decide whether the same degree of deference is appropriate with respect to school-sponsored expressive activities at the college and university level."
More recently, in 2005, students at Governors State University in Illinois lost a lawsuit claiming that their First Amendment rights had been violated over the censorship of the school newspaper, The Innovator. Staffers had written articles critical of the administration, and in response, the dean of students, Patricia Carter, literally stopped the presses. The Seventh Circuit court ruled in her favor. Judge Frank H. Easterbrook, the author of the opinion, was highly skeptical about the idea that students at public universities could have total control over newspaper content without any interference or prior review from authorities. Referring to the Supreme Court's footnote in Hazelwood, he wrote, "this footnote does not even hint at the possibility of an on/off switch: high-school papers reviewable, college papers not reviewable." But in a dissenting opinion, Judge Terence T. Evans wrote:
The Innovator, as opposed to writing merely about football games, actually chose to publish hard-hitting stories. And these articles were critical of the school administration. In response, rather than applauding the young journalists, the University decided to prohibit publication unless a school official reviewed the paper's content before it was printed. Few restrictions on speech seem to run more afoul of basic First Amendment values.
Finally, Evans lamented the fact that the court was essentially allowing the dean to "prohibit publication simply because she did not like the articles it was publishing."
In response to the Governors State University case, Illinois legislators passed the Illinois College Campus Press Act, which explicitly declared all student-run newspapers at Illinois public universities to be public forums over which university administrators could have no editorial control or censorship abilities. The Illinois law makes exceptions for threats, harassment, and intimidation, among other types of unlawful speech.
Eight other states have passed laws protecting high-school newspapers, college newspapers, or both. Indiana has no such law. And even if it did, it wouldn't apply to Butler University, which is private. Only California has a law extending protection to student expression at private schools. Named for Republican State Senator Bill Leonard, California's "Leonard Law" was passed in 1992, but was amended in 2006 to include colleges and universities. The fact that colleges and universities were added later reflects an interesting historical trend: In earlier decades, it was assumed that college students were adults under the law and therefore had the same First Amendment protections as any other reporters. When censorship of college newspapers began increasing in the 2000s, other state legislatures, including Oregon (2007), Illinois (2008), and North Dakota (2015), began passing laws explicitly protecting college newspapers from censorship.
In states with no explicit protection for college newspapers, controversies abound. In West Virginia, three student editors at Fairmont State University resigned in protest over the summer after their faculty advisor, Michael Kelley, was dismissed. The student editors believed his dismissal was an administrative backlash to a toxic-mold investigation by the newspaper. Fairmont State administrators "see news and the student newspaper as playing the role of a PR front for the university," former editor in chief Jacob Buckland told the Student Press Law Center. "We see it as an actual newspaper."
In another striking case from 2012, a University of Memphis senior, Chelsea Boozer, wrote an opinion article criticizing the director of public safety for not issuing a campus-wide safety alert after learning of reports about an on-campus rape. University officials filed police reports against Boozer, accusing her of being "rude and hostile" when conducting interviews for her article. Boozer already had a reputation for publishing controversial stories: She'd previously reported, among other things, that the football program was losing money and student officers were voting to give themselves free tuition. After a months-long battle that included attempts to cut the newspaper's funding, Boozer was vindicated: The paper got its money back and Boozer received the Emerging Journalist Award from the University of Memphis Alumni Association, as well as the College Press Freedom Award from the Student Press Law Center.
***
At Butler University, too, the paper is known for reporting on contentious issues involving the administration. In 2013, under McKnown's leadership, The Butler Collegian won the top student prize from Investigative Reporters and Editors after publishing an article examining the questionable background of Allan Boesak, the man named to lead Butler's new multi-million-dollar nonprofit center. The result of a three-month investigation, the article shed light on Boesak's 1999 conviction of theft and fraudulent use of charitable donations in South Africa. Boesak served one year of a three-year term and was pardoned by then-president Thabo Mbeki. Butler administrators, who had ignored Boesak's criminal record and focused entirely on his anti-apartheid activism, were embarrassed. "The [Collegian] article explained how [Boesak] went from South Africa to Butler's campus with information that—perhaps needless to say—did not appear in the university's press release," said Lovelace, the aforementioned Butler graduate, who spearheaded the project.
Having spent 15 years as a newspaper journalist and five as an investigative producer for a CBS affiliate, McKown is no stranger to conflict. One time, at a press conference about toll roads in 2006, she challenged former Indiana Governor Mitch Daniels so boldly that he remembered their exchange years later.
McKown says she expected a certain amount of fallout from the student paper's assertive coverage, including that of Boesak. Still, she she says was surprised that Butler pushed her out of her advising role. For one thing, the paper had racked up more than 100 state, regional, and national awards during her time as adviser. For another, her contract specified advising duties through the 2016-17 school year. When she told fellow newspaper advisers she was fighting the school's decision, she received a deluge of encouragement.
"The UAB Office of Student Media supports your fight, Loni!" wrote Marie Sutton, the director of student media at the University of Alabama at Birmingham, in an email distributed on a listserv. "We are standing with you."
Susan Zake, a journalism professor at Kent State University, on the same listserv wrote, "I still find it hard to believe that a bunch of smart people at a university can't understand what a free student press should look like."
"When I first was notified about the removal as the adviser to The Butler Collegian, I felt very lonely," McKown told me. "But the outpouring of support from across the nation—from fellow college media advisers, professional journalists, former students and other Butler Collegian alumni—gave me the strength of community, and made me feel like the battle for student press freedom is stronger than people think."
Still, grievances like McKown's can be hard to prove. Few administrators will ever declare themselves enemies of free speech; in almost every case, they insist that the reasons for their actions are more complicated than meets the eye. When I spoke to Edgerton, he was adamant that McKown's dismissal was a "personnel matter," adding that he wasn't at liberty to elaborate on the reasons. "It isn't an issue of freedom of speech," he said. "There never has been any interest here in censoring The Butler Collegian and there never will be."