Why Summer Vacations Should Be Shorter
For parents, summer break often means expensive extracurriculars and an incredibly inconvenient schedule.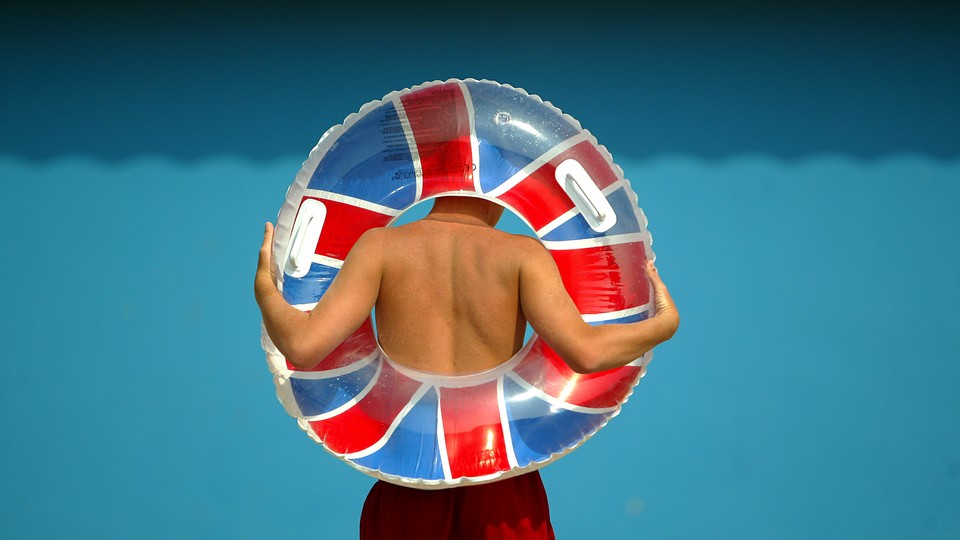 I'm shaking sand from the beach towels and tucking bathing suits into plastic storage bins in the hall closet. The paperwork for fall sports and music classes is waiting on the kitchen counter. Tomorrow, we'll make the obligatory annual trips to Supercuts for new hairdos and Staples for $300 worth of three-ring binders, tissue boxes, and other supplies.
The last week of summer—the week before school starts up again—is always bittersweet. We certainly need a break from homework, class projects, and the relentless after-school schedule. This summer, my family and I spent seven supremely lazy days on the Jersey shore. There were spontaneous trips to Manhattan and sleepovers at Grandma's house. I taught my oldest how to drive as my youngest composed music on his Garage Band app. Indeed, summers not only relieve us from grueling routines, they also provide opportunities for the kids to learn skills that can't be taught in a classroom.
But for me, summer also means weeks of expensive camps, summer reading packets, and the challenge of trying to write articles amid dozens of interruptions. At several points during this year's summer break, I found myself wishing that my kids were back in school.
Why is the school year almost always limited to 180 days? And why do most schools still operate on an agrarian calendar with a huge 12-week break in the middle? I imagine that very few children these days are needed to harvest produce on their family farms. And with the changes in parenting styles and the increasing number of dual-income families, today's children have fewer opportunities to spend their summer days as they might have in the past—shooting hoops or drinking lemonade with buddies in the backyard. They're far more likely to be enrolled in pricey extracurricular programs or otherwise spending their days at home alone, watching SpongeBob in their pajamas until noon as they slowly forget their math facts.
An array of political and education leaders, including Secretary of Education Arne Duncan, have championed a longer school year. "Whether educators have more time to enrich instruction or students have more time to learn how to play an instrument and write computer code, adding meaningful in-school hours is a critical investment that better prepares children to be successful in the 21st century," Duncan said in 2012. New Jersey Republican Governor Chris Christie has also chimed in on the issue, writing in a June op-ed that "there is no reason that K-12 education should be an eight-month enterprise in this country … We need to adjust the model."
A large body of evidence suggests that the 12-week hiatus can have a lasting negative impact on kids' educational outcomes. "The Summer Slide" results in several lost months of reading and math skills, particularly among children who come from lower-income households. Children from affluent families experience similar declines in their math skills, though some research indicates that, thanks to their parents' emphasis on summer reading, such students may actually make slight gains in their language-arts skills during the summer months. In other words, the 12-week vacation may exacerbate income-based inequality in school achievement.
The research on the academic benefits of an extended school year is mixed and inconclusive, in part because so few schools use a longer calendar; according to the nonprofit National Center on Time and Learning, only 170 schools nationwide, most of them charters, use extended calendars. Charter schools such as those run by the Knowledge Is Power Program, or KIPP, often attribute some of their academic successes to their calendar, which at KIPP runs from 7:30 a.m. to 5 p.m. daily with extra schooling in the summer and on some Saturdays. KIPP students spend 600 more hours a year in school than children who attend traditional schools. (Critics of extended school years argue, however, that other variables play a larger role in boosting the students' academic performance.)
Even with a push by national policymakers, experts say the school year is unlikely to change because of politics and finances. Teachers' unions tend to oppose efforts to overhaul the traditional school calendar, arguing that teachers need a long break to participate in professional development and prepare new lesson plans, among other responsibilities. Then there are the practical concerns. To stay open on hot days, older schools would require the installation of air conditioning units. And of course, teachers and staff would have to be compensated for their time. In 2012, The New York Times reported that insufficient funding forced a number of school districts that had experimented with a longer school year to return to the old 180-day model. Anybody who has witnessed fraught local politics around school budgets knows there is little political support for raising taxes to cover additional school expenses.
But again, that leaves individual families with the burden of figuring out and paying for activities to keep their kids busy during the summer months. Kids with means are often sent to camp or enrichment programs or private summer school. One study estimated that parents spend $16.6 billion total annually on summer activities for their children. According to the same study, parents estimated the cost of summer child care—including camp, swimming pools, day trips, and babysitting—at $433 per child ($642 for affluent families). In my area, the typical six-hour camp costs between $300 to $1000 per week with additional costs for bussing, food, and tips.
This summer, my husband and I paid for three weeks of SAT classes for my older son. Meanwhile, my younger son, who has special needs, attended two camps—one to improve his social skills and another to bolster his computer knowledge. I paid my older son to act as his "shadow" at the computer camp. (Camps and activities for special-needs kids are scarce and far more expensive than those for their general-education peers. Special-needs kids also have a pronounced need for summer enrichment.) We spent several thousand dollars on these programs and other activities over this summer.
On top of paying for these extracurricular programs, middle-class parents often strive to maintain their children's academic proficiency during the vacation by taking on the task of teacher. This summer, I made countless trips to Barnes and Noble and the local library to keep the kids reading. I kept a timer going to make sure that my youngest practiced his math through Khan Academy; I imperfectly enforced time restrictions on computer games.
One might argue that I should let my son ride his bike to the local pool, or roam the neighborhood engaged in nihilistic fun. But where we live, at least, this kind of lazy summer living is no longer an option for kids. As The Atlantic's Hanna Rosin has reported, American parenting standards, and a fear of lurking dangers, have placed more and more emphasis on keeping kids constantly occupied and monitored. As a result, there are no readily available buddies outside the front door. That means parents have to arrange play dates and find other ways to provide some structure to the day.
The fact that I'm home to arrange any of this is somewhat rare in itself. I'm able to write from anywhere, but most jobs take place outside the home, and few professions correspond with the traditional school calendar. In the United States, the average worker spends 47 a week at his or her job and enjoys only 16 days a year of paid leave. Yet even in summer programs, students are typically dismissed early in the afternoon, well before the close of a typical business day. This model almost assumes that every child has at least one stay-at-home parent, which in reality is only true for a minority of households.
Families cope with these challenges in different ways. Some families have grandparents who can provide childcare. Others sign up for aftercare, and a few even send their children to months of sleep away camp. Sometimes, one parent stays at home or chooses a more flexible career in order to provide supervision over the summer.
Some districts, hoping to avoid the summer slide, have been experimenting with novel year-round calendars. At several schools in Wake County, North Carolina, students and teachers are still in school for 180 days annually, but those days are spaced evenly throughout the year. Students may have classes for 45 days, take a 15-day vacation, and then return to school. Advocates say this kind of schedule not only improves academics but helps prevent overcrowding and teacher burnout: Clusters of students and teachers take their breaks at different times, which means one group is almost always using the facilities while others take time off. But while this model may have certain advantages, it does not solve the childcare problem.
A longer school year does not necessarily require traditional classroom programming. In June and July, schools could, say, provide in-depth music, art, and athletic classes with just an hour or two spent on academics. Instruction could be provided by volunteers, parents, or other members of the community. Schools could supplement their budgets with contributions from localities and parents. Attendance could be voluntary to provide flexibility for different family needs. These programs might even create income for a school district, if they attracted tuition-paying children from nearby communities.
There is no question that families need help in the summer. While there isn't the political will to increase the number of traditional classroom days, creative policy-making could provide new options for summer instruction. In the meantime, I'm knee deep in beach towels and binders, more than ready for a return to the school routine.