Teachers Wanted: Passion a Must, Patience Required, Pay Negligible
Turnover is highest in the neediest schools, and competition for new educators is getting stiffer.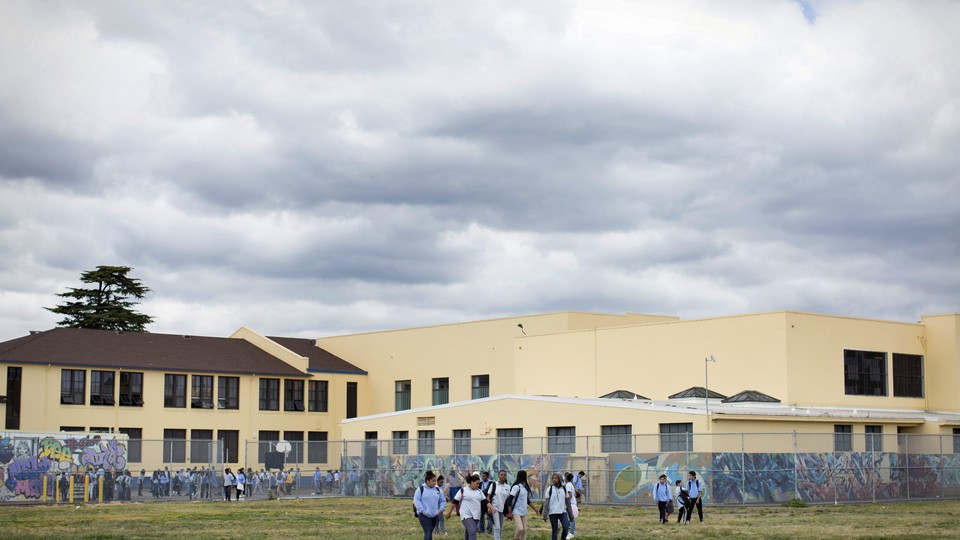 OAKLAND, Calif.—By 9 a.m. on August 19, the first day of work for teachers in Oakland, California, Kilian Betlach had already been busy for hours. Betlach, the principal of a small middle school called Elmhurst Community Prep in a neighborhood residents refer to as Deep East Oakland, had just finished a meeting about an upgrade to his school's athletic fields. There were only three prep days before the school's 374 students would arrive and there was still too much to do.  But Betlach felt his team—18 teachers, two administrators, and a dozen support staff—was up to the challenge.
Teachers had come in that morning carrying posters, dry erase markers, and cans of Coke to stock their classrooms. They'd come in hoping that this year they'd master work-life balance, this year their students would feel success, this year their classes would have a lasting impact. And they came in worrying, too. They worried about broken projectors, about the apparent gas leak in the sixth-grade wing, about not getting their first paycheck until the end of September, and about the things that had happened to their students over the summer that they didn't yet know about. In Deep East Oakland, summers can be dangerous.
Betlach, who is starting his seventh year as an administrator and his fourth as principal, had worries of his own last spring. Every year since he started, he's had to fill three to nine vacated teaching positions. Finding the right people to fill those spots isn't easy. Nor is the emotional toll of the relentless turnover.
This fall, seven of the 18 teachers and the assistant principal are new to Elmhurst. "You wake up [in the night] and say, 'If I can't keep these people here, what am I doing?'" Betlach said.
His problem is a common one at schools like Elmhurst, where 91 percent of students qualify for free- or reduced-price lunch, a federal measure of poverty, and 33 percent are classified as English language learners.
Many of the factors keeping teachers from showing up at schools like his are beyond the control of any single principal. Across the country, an improving economy has pulled teachers and potential teachers away from the profession, creating a growing national shortage. In California, where the number of teacher credentials issued declined 26 percent from the 2009-10 academic year to 2013-14, competition for qualified teachers is particularly stiff.  Enrollment in teacher preparation programs here is down even more according to the same report: 55 percent just from 2009 to 2013. (Nationally, enrollment in teacher preparation programs is down 10 percent from 2004 to 2012, according to federal estimates by the U.S. Department of Education and reported in Education Week.) Chronic underfunding of schools in California means that teaching jobs are not as secure as they once were and, in many parts of the state, a teacher's salary won't sustain a middle-class lifestyle.
At the same time, a growing number of urban charter schools, focused on the same population as schools like Elmhurst, offer bigger paychecks for young, ambitious teachers willing to tie their salaries to their performance—a particularly fraught issue in California.
Finding and keeping teachers who can excel at working in urban schools may seem a Sisyphean task. And yet it is one at which principals like Betlach must succeed, every year, or risk their students' fragile educational progress.
This year, Betlach managed not only to completely staff his school by early June, but to avoid taking on anyone who was not fully certified, a feat many California principals, including several within Oakland, have not managed to accomplish. But for months, he was haunted by the memory of 2014, when Elmhurst was still not fully staffed in mid-July. "We were terrified," Betlach said.
So in 2015, I watched as he started early, launching the long hiring process in January instead of in mid-spring. Having reported on the school many times over the past six years, I was granted complete access as Betlach and his staff dealt with the complex set of pressures that shape the annual search for the right people to put in front of some of the country's most vulnerable children.
In January, Betlach formally surveyed his staff to find out how likely they were to stay on for the following year and what school and life factors were contributing to their decision. A look at the responses gave him a chance to make changes that might keep teachers happy—and in their jobs. He was also able to figure out which positions he had to fill so he could start the hiring process immediately.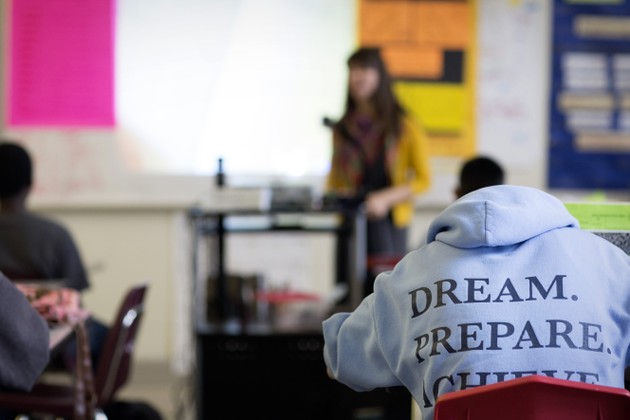 Not everyone at the school is constantly wondering whether to stay or go. A teacher at each grade level, the art teacher, and Betlach have each spent more than five years at Elmhurst and have no immediate plans to leave. The librarian, the two people who run the front office, and several other support staff also plan to stay.
Mara Flores Schustack, the seventh-grade-English teacher, is one of the veterans. She's starting her ninth year at Elmhurst this fall. "I feel like my plan is probably to stay indefinitely," she said in June. "We have enough turnover already. Someone should stay."
Researchers have found that she's right. Frequent turnover hurts student performance, especially at high-poverty schools. "It's pretty significant," said the Stanford education professor Susanna Loeb, who has studied the effect of turnover on schools. "The churning of people itself can keep the organization from being as effective as it could be."
Flores Schustack said she appreciates the flexibility Betlach gave her last year, allowing her to teach for four days and spend Fridays at home with her now 1-year-old daughter. Betlach hired a regular substitute to cover her classes. She also enjoys  the one-on-one coaching she has received and the chance to be part of the school's leadership committees. "I really love this particular community," Flores Schustack said. "Before I was a teacher, I fell in love with East Oakland kids and I knew I wanted to work with them. There's a vibrancy here."
Kids who live in Deep East Oakland don't hear many adults from outside the neighborhood profess love for them. Professing fear of them is more common. "I don't think anyone wants to come to Oakland because of all the violence," said former Elmhurst student Lamesha Hall during her last week of eighth grade in June. Five of the teachers who taught Hall during her three years at Elmhurst are no longer on staff.
In my five years reporting in East Oakland, I have yet to meet a student who doesn't know someone who has been shot. When I've asked high school students about shootings, they want to clarify if I mean close friends, or just acquaintances. The evidence of the ever-present violence is everywhere. Students know which Border Brothers street crews run their blocks. The pizza joint from which Elmhurst teachers order food for celebrations has a bulletproof glass window that slides open when people pay and pick up their pie. There is no seating.
Twelve years ago, Elmhurst Middle School was part of the craziness of the neighborhood. Students regularly skipped class and threw rocks at each other on the school's playing field, according to people who worked there at the time.
In the 2005-06 school year, all of that began to change. The previous school year, then principal Matt Duffy and a small team of teachers had connected the campus with the latest district reform program—turning unwieldy large schools into tight-knit learning communities. So in the fall of 2005, the student body  was divided between  two smaller schools that share a campus: Elmhurst Community Prep and Alliance Academy. As "small schools," both were granted a bit more independence than traditional district schools, though they remain fully under district control.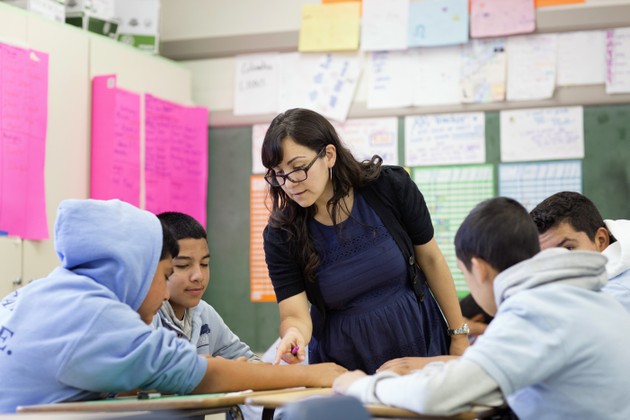 Since then, Elmhurst has changed dramatically. In 2005, Elmhurst Middle School scored a 527 on California's 1,000-point scale based on student test scores. In 2013, the most recent year for which scores are available, the new Elmhurst Community Prep scored a 686. The districtwide 2013 score was a 728, with black students scoring 644 and Hispanic students scoring 687. The statewide score in 2013 was 790.
Behavior issues at Elmhurst have also decreased, especially since the school enthusiastically joined the district's Restorative Justice initiative, changing the way in which it approaches discipline. Only 4.7 percent of its students were suspended in 2013-14 compared to 34 percent in 2004-05 when the school was still Elmhurst Middle. These days the school is a friendly, relatively functional place where students are less likely to misbehave and teachers are less likely to recommend suspension. Rather than throwing rocks, students hold doors for visitors and say things in class like, "I agree with Jose, but I also think…"
"We're good for our zip code, but that's not good enough because we still don't send enough kids to high school ready," Betlach told a job candidate last spring. As he often does, the principal, a former English major, used a metaphor to make his point: "I feel like we have our walking sticks in the ground and we are halfway up to the next plateau," he told the prospective teacher coach.
Betlach is the kind of leader who is constantly reflecting on what works and what doesn't. At 36, he's on the young side for a principal—the national average is 49—and he looks it. He arrives at Elmhurst most days wearing his signature Converse All Stars (he even wore a pair to his wedding), a collared shirt and a tie. He wears his hair slicked back like a hipster and has a tattoo—of a Hemingway quote and some swallows in flight—on his upper arm that you can only see on days he's wearing his Elmhurst school-pride T-shirts. He's quick to smile and quick to roll his eyes at anything he considers inauthentic.
It's impossible to overstate Betlach's commitment to providing his students with an excellent education. His theory for how the school can achieve that aim is for the school's adults to engage in the "no matter whatness" of being present for students. He pulled the phrase from Tattoos on the Heart: The Power of Boundless Compassion by Father Gregory Boyle, a Jesuit priest who works with formerly gang-affiliated youth in Los Angeles.
"What is the delivery system for resilience?" reads a framed excerpt on Betlach's office wall. "In part it's the loving, caring adult who pays attention. It's the community of unconditional support that represents the no matter whatness that dissolves the toxicity of shame and returns people to themselves."
Shari Generaux, the eighth-grade science teacher, thinks this is exactly the right way to approach their work. A research geologist turned teacher, Generaux is in her seventh year at Elmhurst and says she won't leave the school until she leaves the profession, which won't be any time soon. Like most Elmhurst teachers, Generaux puts in 60 or more hours a week during the school year. She arrives at 7 a.m. most mornings and rarely leaves before 5 p.m. She is going to try to do less work on the weekends this year, but evenings are fair game for lesson planning. And for her students, only her home is off limits. On top of her email, students also have her phone number. She takes them out to lunch on weekends. When she drives through the neighborhood, kids and parents alike recognize her car and wave.
"You are part of the community, not just a teacher," Generaux said. "No matter what comes our way, we're here."
Asha Weber, in her second year teaching sixth-grade math and science at Elmhurst, put "no matter whatness" in practical terms last spring: "I'm always making sure to be a teacher, a nurse, a snack provider, put in homework, connect with parents, connect with colleagues, make sure I know what they're doing in other classes, make sure I'm connecting with the administration, then applying all these things, then creating the personal systems I want to have, then taking care of myself so I can do the job."
Not every teacher who has worked at Elmhurst has bought into this model. At many schools where turnover is high, issues with administration top the list of complaints, according to Stanford's Loeb. Certainly, some Elmhurst teachers have left over issues with how they felt the school was run, but complaints about the administration are not overwhelming.
Most of the teachers who left last spring said they believed in the concept of "no matter whatness," but were physically and emotionally exhausted by the reality of trying to live by that creed. Some left the school to teach elsewhere, while others left teaching entirely. "This school symbolizes for me the possibility of what education can do for a kid," said Sarah Altschul, Elmhurst's exiting literacy coach, in June. "It's full of educators who want to do right for kids who were dealt a shitty hand of cards. It feels, symbolically, like me walking away from my dream."
Altschul loved her students. She loved teaching. But she wanted to grow professionally and didn't want to be a principal. She is now working at a non-profit called Facing History and Ourselves that trains educators to teach students about racism and prejudice throughout history. She said it's a dream job at an organization she's long respected. It doesn't hurt that she's paid slightly more and has more time at home with her two young children.
"It's not that they don't love us," says former Elmhurst student Lamesha Hall. "It's not that they want to leave, but they get more money at other jobs."
Altschul, who has worked in Bay Area classrooms for 15 years, said it doesn't hurt that she's paid slightly more and has more time at home with her two young children at her new job. But she didn't emphasize pay when she explained why she was leaving Elmhurst. "The emotional strain of this place is hard," she said. "To do this work right requires a certain level of self-sacrifice that is hard to maintain."
To get hired at Elmhurst, candidates submit a resume, either directly or through EDJOIN, an online hiring portal used by the district. If the resume passes muster—showing at a minimum that the applicant holds a valid teaching credential and has at least some experience working with urban students—the applicant will be offered a phone interview. If that goes well, the applicant is invited to the school to teach a sample lesson or, in the case of coaches, to observe a lesson and then offer feedback. Finally, the candidate will sit down for an hour-long interview.
"Hiring is hard," Betlach said, citing the sheer number of hours hiring takes, the difficulty of making decisions based on limited time with each candidate, and the shortage of qualified candidates. "And hiring is the single most important thing you can do to improve your school."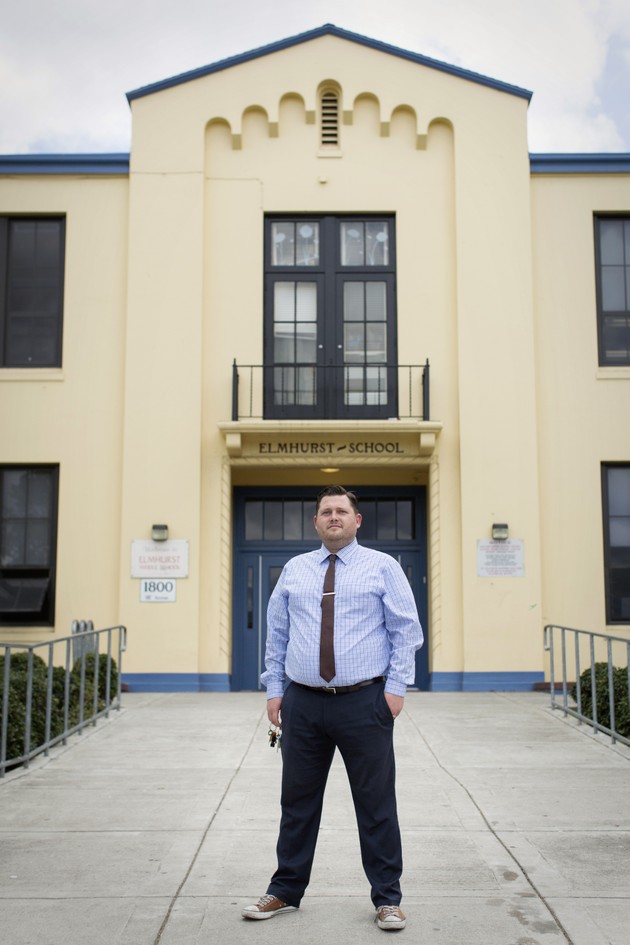 The idea that the individual teachers who make up a school are the most important element of student success, which is supported by research, is the idea that got Betlach into teaching. In 2003, he was hired to teach middle school English in San Jose through Teach For America. (I'm also an alumna of Teach For America. I taught in Texas.)
Teach For America's model is based on the idea that high-performing recent college graduates can be the excellent teachers our country's neediest classrooms need. It hasn't always worked out that way. About 10 percent of Teach For America recruits leave the classroom before they finish their two-year commitment. But in 25 years of fielding huge numbers of applications (44,100 just in 2015) for teaching jobs in struggling schools, the organization is extremely experienced at spotting teachers who are most likely to help students like those at Elmhurst.
Candidates are now screened for nine characteristics from perseverance to demonstrated leadership ability to "a deep belief in the potential of all kids." A growing body of research shows that Teach For America teachers are at least as effective as their colleagues with more formal training, and are often slightly more effective at teaching math.
Teach For America reports that 65 percent of its alums stay in education full-time. Five of those alums, including Betlach, work at Elmhurst, as do three current corps members. Betlach said hiring first-year Teach For America teachers can be his best option for hard-to-fill math positions, even though the teachers seldom stay for long.
Oakland, as a whole, is not doing any better than Teach For America at keeping new teachers in classrooms. Seventy percent of new teachers in Oakland, including those who came through Teach For America, leave the district within their first five years, according to a 2013 report by the Alameda County Grand Jury, a citizen-run governmental watchdog organization.
Elmhurst received an average of about 10 applications per position last spring—fewer for the seventh-grade-math job and far more for the assistant-principal job. Betlach estimated that nearly half of the applicants were not credentialed teachers. Of the candidates who passed the phone interview stage and were invited to present a sample lesson, most got an offer. A few turned that offer down, while several never even showed up to present their sample lessons, canceling their appointments in favor of offers from different schools.
Some of those offers may have come from a competing local charter that offered higher pay, top-notch test scores and students who proactively choose to attend the school.
Heather Kirkpatrick is the chief people officer at Aspire Public Schools, a high-performing charter network with schools in Oakland, other California cities, and Memphis. She said that, even with Aspire's advantages, finding the right teachers is incredibly hard. "I just don't know that there's a good solid reliable way to get recruiting right, or better than it is now," she said.
Kirkpatrick said she tries to retain the right teachers once she gets them by giving them a say in policy decisions, classroom autonomy, continued professional coaching, and opportunities for advancement. Still, Aspire's retention rate last school year was only about 75 percent. Oakland's was 82 percent, according to a spokesperson for the district. It's not a totally fair comparison because all of Aspire's schools serve a population like Elmhurst's and many of Oakland's schools serve upper-middle-class populations. Teachers serving middle-class communities are more likely to stick around.
But as far as Betlach is concerned, charters like Aspire are his most direct competition during hiring season. Because even though he also offers teachers professional coaching and opportunities for leadership, he has no control over his school district's salary schedule.
And even with the recent raise negotiated by Oakland's teacher union, the difference in pay can be significant. With roughly the same per-student funding as traditional public schools, Aspire offers annual salaries of $57,233 to $67,510 in the Bay Area, depending on performance, for a teacher with five years of experience. The same teacher in a traditional Oakland public school can expect to make $47,138 to $55,273, depending on his or her educational level.
In April, Betlach and two of the school's outgoing staffers sat down at a big table in Betlach's office to interview a prospective sixth-grade history teacher. In years past, Betlach hasn't enlisted much help in hiring, but this year, he spread the work and responsibility among four other people to make the process more efficient. Each took on the initial legwork for a designated position, reviewing resumes, and conducting phone interviews. For the in-person interviews, teachers working at the same grade level and in the same subject area as the applicant were brought in to help make the final decision.
The April job candidate, Stephanie Ullman, only months away from completing her graduate credential program at Stanford, was looking for her first teaching job. Ullman had just finished presenting a sample lesson that asked students to draw conclusions about the men pictured on Roman coins based on what they knew about the men pictured on American coins. Her 11- and 12-year-old audience had been alternately engaged, brilliant, rude, and anxious for a bathroom pass.  "I thought it went terribly," Ullman said several months later. "I didn't think I'd be hired."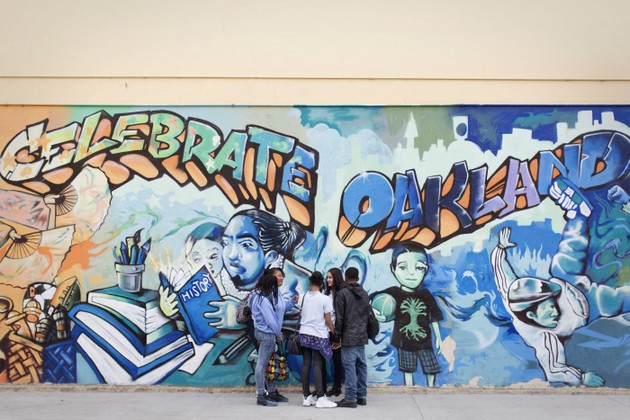 But Ullman was poised and articulate during her post-lesson interview. First, the team dissected the lesson. What would she have done differently? She had a long list: She would have planned two activities instead of three, laid out behavioral expectations, and simplified the hand-out, among other changes. Betlach and the others nodded and took notes. Later they would say how pleased they were that she'd identified her own lesson's weaknesses so well. That, they thought, was a promising sign in a first-year teacher. They also liked the fact that she was a thoughtful planner and that she'd gone into teaching hoping to work with a student population like Elmhurst's.
Knowing when to make an offer to a first-year teacher is tough. New teachers go after jobs more aggressively than other teachers, so principals get a lot of resumes from rookies. New teachers are also the least qualified, even when they come from excellent training programs, like Ullman's. They've never taught full time, and because there's simply no substitute for that experience, it's tempting to hold out for someone who's been on the job longer.
But first-year teachers are key to filling Elmhurst's vacancies. The most coveted teachers, those with more than four years of experience and a passion for urban schools, are also the most likely to get picked up by higher-paying charters like Aspire or to be promoted to administrative positions within the district.
So this year, in another first, Betlach and the hiring committee looked at the experience level of the teachers on each grade-level and subject area team to determine which positions would receive the most support. Sixth-grade history was one of those positions. Knowing that, and knowing Ullman had another offer on the table, they moved quickly. After calling her references, they offered her the job a few days after her in-person interview.
Despite how worried she'd been on her interview day, Ullman—who was impressed by the school's climate and strong leadership—said the intense process had helped convince her that Elmhurst was the right place for her to work.
"I was relieved that they were doing some sort of a hiring process," she said later, "and not just, 'Oh God, who will work for us?'" She said the other Oakland middle school from which she received an offer "was desperate and [they] literally hired me within the opening interview."
Betlach has heard about that kind of hiring. It annoys him—and not just because he's concerned about the students whose teachers are selected that way. Those schools beat him to candidates like Ullman.
"When I'm being ungenerous, I'm like, 'You're not even trying!'" he said in March. He paused, sat back. "Or maybe they're just super smart. They see a resume and they're like, 'I'm not going to let this person get away.'"
By some measures, the relentless teacher turnover—despite the disruption it causes—is the least of Elmhurst's problems. "On the scope of fairness, there's a lot of things that are far less fair," he said in August. He started listing them: limited school funding, neighborhood violence, lack of safe and affordable housing, lack of integration. A pause. "A fair is a place where they weigh pigs," he said. "There is no fair."
An hour later, at a logistics meeting held in a sixth-grade-science classroom, Betlach was discussing both the new electronic grade book and how to deal with any broken furniture left in classrooms. Teachers cracked jokes and asked questions.
Then the static of police radios and the whir of helicopter blades became the meeting's discomfiting background soundtrack. It happened so fast, I had seen Betlach pull out his phone to call the front office and several teachers jump out of their seats before I consciously heard anything new.
In what was clearly well-rehearsed choreography, the returning teachers sprinted for the open doors, closing each one until the sound of the radios and the copter blades had been blocked out. Then they returned calmly to their seats, and Betlach moved on to instructions about what to do with old desktop computers.
But first, he took a minute to tell new staff not to worry. They'd have lots of practice at perfecting lock-outs this school year. Training, he reminded everyone, would be on Friday.
---
This story was produced in collaboration with The Hechinger Report.