More Minority Students, Fewer Teachers of Color
A report looks at nine major cities and notes that the disparity between teachers and students of color has increased in each city over the last decade.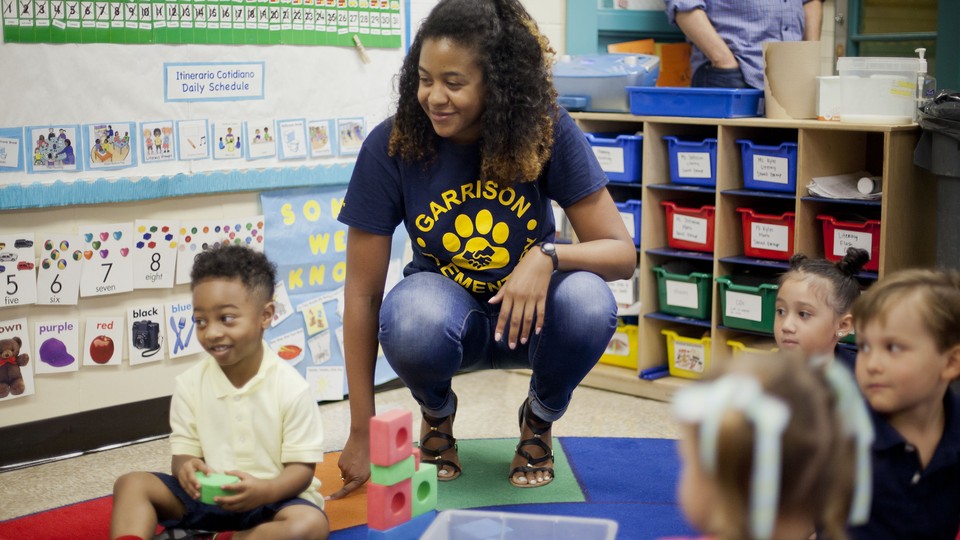 This past school year was the first time in history that racial and ethnic minority students outnumbered their white counterparts. The U.S. Department of Education has projected that by 2022, non-white students will make up 54.7 percent of the public-school student population, largely due to the national increases in U.S.-born Hispanic and Asian populations.
Despite the fact that more students of color will be filling classrooms at increasing increments every school year, it's a well reported fact that almost 80 percent of their teachers are white—and it doesn't appear that that will change any time soon.
According to a recent study from the Albert Shanker Institute, a think tank funded by the American Federation of Teachers, the number of black teachers dropped from 2002 to 2012.
---
---
As the student population grows more diverse, some attention has been paid to the fact that schools, often in high-minority or urban areas, remain "separate but unequal." Comparatively less attention is paid to the fact that as the percentage of minority students has increased, the percentage of minority teachers has consistently lagged. From the 1987-88 school year to 2012, students of color have increased by almost 17 percentage points, while the percentage of non-white teachers  had only crept up by 4.9 percent. Arguably, this exponential growth of youth of color in schools, should make the need for teachers of those same backgrounds more critical, and a demand greater recognition of this lack of parity in teacher diversity.
---
---
The report looks at nine major cities—Boston, Chicago, Cleveland, Los Angeles, New Orleans, New York, Philadelphia, San Francisco and Washington, D.C.—and noted that the disparity between teachers and students of color has increased in each city from 2002 to 2012. It accounted for the rapid expansion of the private- and charter-school sector, and noted some of the challenges faced by public schools, which has lead to barriers hiring and keeping teachers.
---
---
The study's findings are even bleaker considering it found that the declines of black teachers are consistent, and that Hispanic teachers—whose numbers aren't necessarily falling—are being significantly outpaced by the increases in Hispanic student populations.
​"We just had no idea the extent of it. What's clear from this data is over the last 10 years or so with the recession, if you look at every one of these cities, there's a loss of teachers—but African Americans are bearing a hugely disproportionate share of the loss," Leo Casey, executive director of the Shanker Institute told The Washington Post. The number of black teachers in the workforce declined, in varying rates of severity—from roughly 1 percent in Boston's charter sector and Cleveland's district sector, to more than 24 percent in both New Orleans sectors and nearly 28 percent in Washington, D.C's charters and districts.
Between 2003 and 2011, D.C.'s white teacher population more than doubled from 16 percent to 39 percent while black teacher populations contracted from 77 percent to 49 percent—the most drastic reduction among the cities featured in the study. Nationally the number of non-white teachers is growing, but their overall impact may be muddled by the fact that oftentimes they are assigned to high-poverty schools, which may be a contributing factor to high turnover rates.
---
---
These cities represent some of the nation's largest school districts, and ones that have historically housed a lot of the minority student population—it's no secret that these under-served populations have faced funding challenges, dismal educational outcomes that stem from inexperienced teachers, and the hemorrhaging of teachers of color.
Black students in Cleveland, for example, make up almost 67 percent of the students who attend public school—which reflects the city's demographics—but 71 percent of their instructors are white. One hopeful finding was that the number of Hispanic teachers showed consistent growth in all cities except Cleveland over the 10 year period, and a significant jump in Los Angeles.
"The whole effort of the last two decades has been toward minority-teacher recruitment, and it's been an unheralded victory, really," Richard Ingersoll, one of the researchers in the study and University of Pennsylvania professor in the graduate education school and a leading expert on teaching-force trends, said to the Post. "The problem is with retention. Minority teachers have significantly higher quit rates than non-minority teachers. And that's a huge problem."
In the study Ingersoll cited recession-driven budget cuts; new charter schools opening and shifting students, teachers, and resources from the districts to the charter sector; teacher-turnover rates being higher in charter schools than in districts as the main reasons for the depressed hiring of new minority teachers.
It is no longer a question of, do we need teachers of color? There is no shortage of data that shows that minority teachers not only help improve the outcomes of​ students who share their background, but also that of academic performance of students of all races are improved. The questions now are: What can be done to curb the high-attrition rates for minority teachers, and will addressing hiring disparities for black and Hispanic teachers do enough to equalize students' attainment levels?