The Subtle Evolution of Native American Education
Compared to their peers, "American Indian" and "Alaska Native" students aren't seeing the same growth in enrollment or attainment.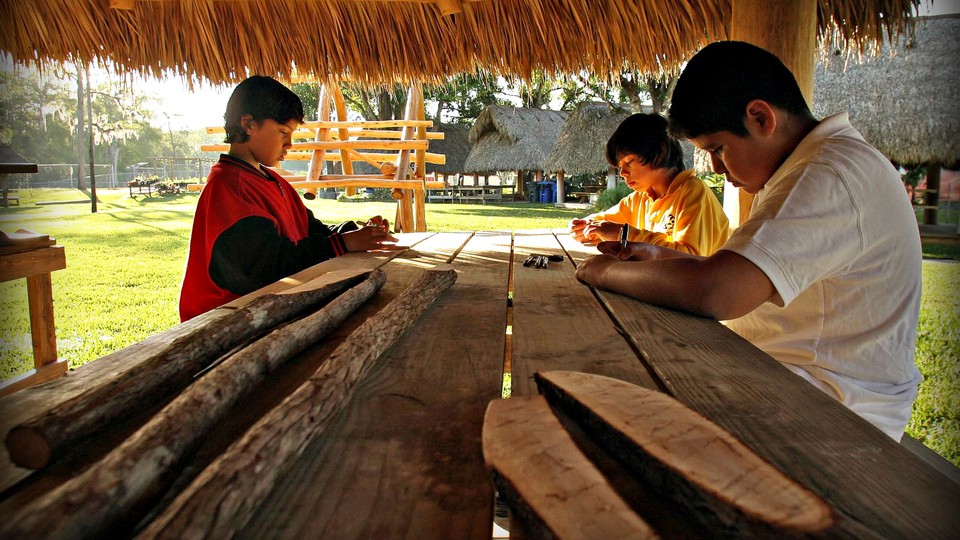 Just as the feds have long predicted, the 50 million-plus students enrolled in the country's public K-12 schools this fall are more racially diverse than ever. Students of color now outnumber their white peers, largely thanks to striking growth in America's Latino and Asian youth populations. Times sure have changed: Fewer than one in five Americans ages 85 or older was a minority in 2013, versus half of children under 5.
Taken as a whole, these statistics suggest that it may be time to revisit the word "minorities" when talking about students who aren't white. Then again, the statistics probably shouldn't be taken as a whole.
A close analysis of the U.S. Department of Education's actual and projected demographic data suggests that the trends for students identified as "American Indian" or "Alaska Native" tend to deviate from the overall student body. These discrepancies are often so subtle that they seem negligible; the data is so tenuous that the subject seems moot. But these nuances are important to highlight—if only because America's indigenous children are so often left out of conversations about closing the "achievement gap."
Indigenous children in America sometimes attend separate schools whose pedagogy and curricula are tailored to indigenous worldviews and learning needs. These institutions can be charter schools, language-immersion schools, Indian-reservation schools, or even private schools. (In my home state of Hawaii, Kamehameha Schools—a private institution whose endowment is valued at a whopping $11 billion—generally restricts admission to students of Native Hawaiian descent, a policy that's been challenged in federal court a number of times to little avail.) The idea is that emphasizing "Native Ways of Knowing"—on top of the earmarked funding and regulatory waivers designed to offset legacies of institutionalized discrimination—will help improve their outcomes.
Yet these programs don't always achieve their mission. As Education Week reported in a recent analysis, schools run by the beleaguered Bureau of Indian Education—which serves just 5 percent of the country's Native American children—are often dilapidated and unsafe, plagued by unstable governance and tangled bureaucracy. And within the regular school system, Native American students' performance still lags far behind that of their peers.
First, a look at the numbers. Although the public-school population at large is expected to have grown by 12 percent between 2000 and 2024, the sizes of some subgroups are projected to shrink. Namely, the share of total enrollment of students identified as white or Native American alone will experience the most significant declines: by 17 percent and 11 percent, respectively, according to the DOE projections.(Prior to 2008, the DOE didn't collect data on students of two or more races separately, so the statistics don't offer perfect reflections of the student population; nearly one in six of today's marriages is interracial.)
---
---
---
Similar trends can be seen with high-school graduation data. Whereas the percentage of high-school graduates identified as Hispanic or Asian/Pacific Islander is slated to gradually increase, that of those who are white, black, or American Indian/Alaska Native is expected to do the opposite. And, for the most part, the same goes for college-enrollment trends, though it's clear that racial imbalances still influence higher-education attainment—particularly with regard to Latino students:
---
---
---
Here's how the numbers of Native Americans enrolled in public K-12 schools, graduating from high school, and attending postsecondary institutions are expected to change through 2024:
---
---
At face value, these Native American trends may not be very alarming; statistically speaking, their educational status and outcomes have remained stable, and given the small population size, it's hard to draw conclusions based on the data. Moreover, the statistics themselves should be taken with a good amount of skepticism given the way the DOE (and the census bureau) have tended to collect demographic data: It's likely that these statistics don't capture the realities of all the public-school students in the country who have Native American ancestry. After all, as the Northern Arizona University professor Jon Allan Reyhner, an expert on indigenous-education issues, pointed out, data suggests that Native American families have actually been seeing higher-than-average birth rates. The census bureau has found that the American Indian population is growing at twice the rate of the general population.
But perhaps these incongruities are precisely why these student trends are important to highlight. Reyhner suggested that the DOE data, which is self-reported, shows how "changes in attitudes for claiming Native descent can change over time." In particular, Reyhner suspects that the Native American student demographic data may be underreported, in part because of negative stereotypes about those who identify as indigenous—including perceptions arguably advanced in history classes. "How American Indians are portrayed in K-12 textbooks certainly has some impact [on] how they feel about their Native identity," Reyhner said. In theory, these mindsets could compel someone whose mother is Navajo and whose father is white to check off the latter box and thus be considered white on paper.
Reyhner also suggested some families may want to distinguish themselves from the poor educational outcomes associated with indigenous populations. Indeed, Native American students underperform on all kinds of education metrics—even despite the range of educational programs that have been developed to target their needs. Even despite a 2004 executive order calling for closer examination of the educational experiences and progress of American Indian/Alaska Native students.
As the National Education Association noted in a 2010 report, American Indian and Alaska Native students have some of the highest dropout rates in the country. Their poor academic performance in math and reading—even when compared other traditionally disadvantaged minorities—may help explain the negative perceptions about Native Americans' educational outcomes, as does their relatively low early-childhood literacy levels. They're also more likely than any other racial group to be placed in special-education classes, and their discipline rates are second only to black students.
In a recent essay for The Aspen Journal of Ideas, Cheryl Crazy Bull, the president and CEO of the American Indian College Fund, cited the impact of 19th- and 20th-century school policies on Native Americans' educational outcomes. The policies required that American Indian youth attend boarding schools as a means of assimilating them to anglocentric norms. "Instead of building cultural and social capacity or teaching Native students to adapt in culturally responsive ways, the American education system was designed to suppress tribal identities," Crazy Bull wrote, pointing to the high rates of health problems, teen pregnancy, suicide,  and incarceration that plague today's young Native American adults.
It's important to remember that not all students are advancing through the educational pipeline at the same pace.
---
---
Now, Barack and Michelle Obama are advocating for better support for American Indian youth, both within and outside the school system. In fact, they recently launched an initiative called Generation Indigenous, aimed at bringing more resources to these children and their families. "Folks in Indian Country didn't just wake up one day with addiction problems. Poverty and violence didn't just randomly happen to this community," Michelle Obama said earlier this year. "These issues are the result of a long history of systematic discrimination and abuse."