The Reality of Universal Pre-K
Is the $300 million spent annually on New York City's new program benefitting the students who truly need it?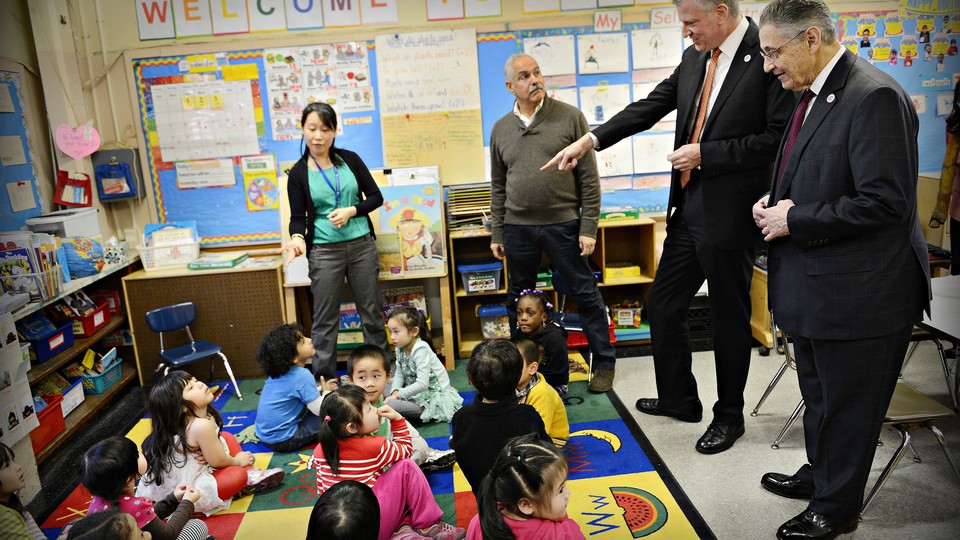 As 65,000 4-year-olds start free, full-time prekindergarten today as part of New York City's ambitious universal pre-k program, questions persist about whether the program is spending public funds wisely. Education advocates and officials from Mayor Bill de Blasio's administration say the $300 million a year program is a success because the city was able to offer a place to every family who asked for one and is building broad public support that will protect the program long-term.
Some experts, however, argue that de Blasio's approach is wasteful because it includes the children of wealthier families who may reap minimal incremental benefits from government-sponsored early education.
Studies have shown that while low-income children benefit exponentially with pre-school, children raised in high-income families do well regardless because they are naturally exposed to richer educational experiences. "We just don't have the evidence to back why we would heavily finance pre-k in middle class and upper class communities," said Bruce Fuller, a public-policy professor at UC Berkeley who is a critic of universal pre-k and who has written extensively about the New York City case. "I think the mayor has virtuous intentions, but I think once he made this ambitious campaign promise, he sort of charged ahead with blinders on."
City officials insist that in its first year, two-thirds of the slots created went to neighborhoods where the median income falls below the median for the city as a whole. "We will begin, even as soon as this month, to start talking to families that are eligible for next year's pre-k program," said Josh Wallack, the deputy chancellor at the city's Department of Education, who oversees the universal pre-K program. De Blasio's administration originally planned to enroll more than 73,000 children by this academic year, the same number as children enrolled in public kindergarten. "We would love to see [the number] go up from 65,000," Wallack said "We may get there. We are going to try really hard."
But Fuller, whose research has been controversial, argues that a significant number of children enrolled in universal pre-k would otherwise have paid tuition for private programs. He surveyed 15 percent of preschool directors in New York City to gauge the number of children who had moved from private pre-k to public last year. Based on the responses he got, he estimates that 40 percent to 58 percent of the new slots created in the first year of universal pre-k were occupied by children who would have otherwise enrolled in private programs.
The city disputes Fuller's findings and argues that its goal of providing free pre-k to every child is the correct one. "Even assume that what [Fuller] is saying is correct, and I'm not saying it is," Deputy Chancellor Wallack said, "I think the fact remains we were able to create a system where every family has access, even families that may have made it a priority and paid for prekindergarten before."
Halley Potter, a fellow at the Century Foundation, said the program's universality is essential to ensuring its survival, especially given the program's lack of permanent funding. (New York State pledged to finance it only through 2019.) "The fact that this has been rolled out so quickly has been able to really motivate parents and families in the city to be advocates for universal pre-k," Potter said. "I think that's really valuable."
Most importantly, she argues, is the underlying goal of fostering diversity. "One of the best things that we can do for [disadvantaged] children is to give them pre-school classes that have an economic mix of kids," she said. "That is something that we know in K–12 education as well, that economically-mixed schools tend to have much stronger outcomes for students."
---
This article appears courtesy of ProPublica.