The College President-to-Adjunct Pay Ratio
While almost all heads of universities clear more than six figures, the average part-time professor earns about $20,000 a year.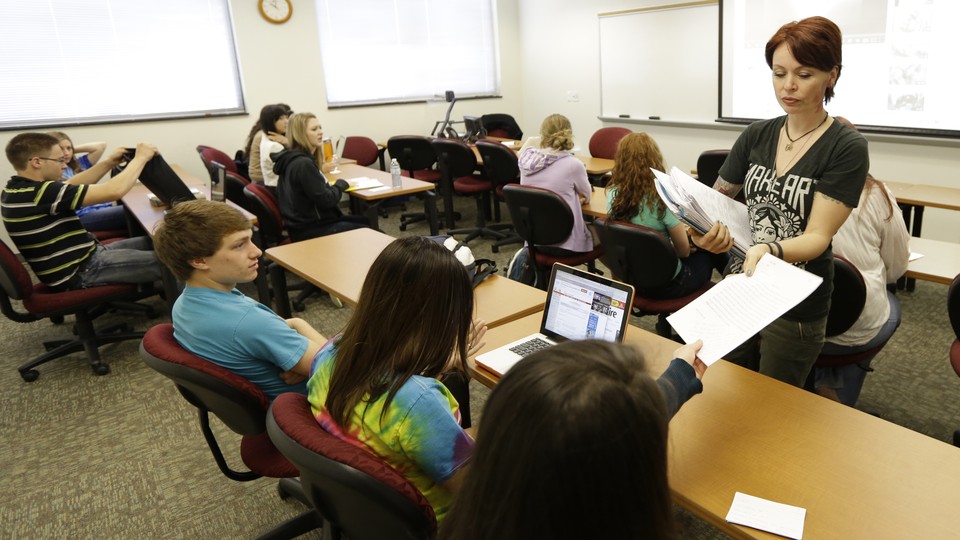 Economists often calculate the income disparities between companies' CEOs and their average workers with ratios, expressing concern when the gaps grow too wide. For example, a recent report from Glassdoor, a labor-market research firm, found that Chipotle CEO Steve Ellis earned $29 million total in 2014, while the median worker serving those yummy burrito bowls earned just $19,000. That would make the median CEO-to-worker pay ratio at Chipotle 1,522 to one.
Data on the salaries of college faculty and administrators is scattered and incomplete, making apples-to-apples comparisons difficult. Still, it's possible to get a rough sense of how they compare—an important indication of a given higher-education institution's fiscal priorities—based on the same calculation. While income inequality in higher education isn't as high as Chipotle, it does rival that of other publicly traded corporations, including Nike, IBM, and Motorola.
Data on the "CEOs" in higher education—college presidents—is taken from The Chronicle of Higher Education, which regularly publishes comprehensive data on the total compensation of the country's private- and public-college presidents. This data is often more helpful than what's published in official reports because it includes other forms of compensation on top of base salaries, generous extras like housing, dependent care, club dues, meals, legal services, and transportation. According to a recent analysis by the Chronicle, the median salary for public-college presidents rose 7 percent between the 2013 and 2014 fiscal years, to $428,000. With a salary of $1.4 million, the former Pennsylvania State University head Rodney A. Erickson was the highest-earning public-college president in 2014. Meanwhile, based on figures reported in separate sets of federal filings, it's often much higher in at private institutions. The Chronicle found that the highest-paid private-college head in 2012 was Shirley Ann Jackson, of the Troy, New York, research university Rensselaer Polytechnic Institute, who took home $7 million that year.
I chose to analyze faculty data compiled by other sources. While the Chronicle does calculate president-to-faculty pay ratios, those figures are based on tenured faculty—and tenured faculty aren't the typical college professors in the United States these days. Roughly three in four college professors aren't on tenured tracks, according to the American Association of University Professors (AAUP). These non-tenured faculty teach at all levels within the higher-education system, from remedial writing classes to graduate seminars. Unlike graduate teaching assistants, or TAs, they're typically tasked with the same instructional responsibilities as tenured faculty, such as assembling syllabi, ordering textbooks, and writing lectures. Non-tenured professors are typically known as "adjuncts."
Data on adjunct pay is notoriously hard to track down. Because adjuncts tend to supplement their teaching income with other jobs, sometimes with positions at more than one institution, it's tricky to determine their median salaries. In addition, colleges aren't required to publicize information about their adjuncts' salaries. (The Chronicle of Higher Education's "Adjunct Project" perhaps provides the most nuanced, college-specific figures, but because it's based on crowdsourced, self-reported information, there's no guarantee that the data is reliable.)
Per-class earnings offer one way to analyze pay. Adjunct professors earned a median of $2,700 per semester-long class during the 2012-13 academic year, according to an AAUP survey of thousands of part-time faculty members. While varying classloads make it difficult to calculate the typical adjunct's annual earnings, NPR reported in 2013 that the average yearly pay for adjuncts was between $20,000 and $25,000, and a March 2015 survey conducted by Pacific Standard among nearly 500 adjuncts found that a majority earn less than $20,000 a year from teaching.
---
---
---
And on top of taking on other forms of employment, some supplement their income with public assistance. A recent UC Berkeley report, "The High Public Cost of Low Wages," found that a quarter of all part-time college faculty receive public assistance, such as Medicaid or food stamps. Indeed, as a widely cited Salon article reported last year, many adjuncts earn less than the federal minimum wage. Unless they work 30 hours or more at a single college, they're not eligible for health insurance from that employer, and similar to other part-time employees, they do not qualify for other benefits. The temporary status and low income of adjunct professors can make it difficult for them to provide quality instruction and support to their students.
The data limitations are largely why only rough estimates are possible when it comes to comparing presidential and faculty earnings in higher education. Some analyses, however, do use other measurements to demonstrate that inequality in university employment is on the rise. One report last year from the Institute of Policy Studies found that at the 25 state schools with the highest-paid presidents, the number of part-time adjunct faculty increased 22 percent faster between 2005 and 2011 than the average national growth for all universities—an indication that those schools are offsetting their administrative bloat with cheaper labor. At those same schools, the part-time and contingent faculty outnumbered permanent faculty for the first time in 2009.
The institute's report pointed to Ohio State, which paid its former president, E. Gordon Gee, $5.9 million between 2010 and 2012. During the same period, according to the institute, the university hired 670 new administrators, 498 contingent and part-time faculty—and just 45 permanent faculty members. (Gee last year assumed the presidency at West Virginia University, which came with a contract worth $775,000 plus benefits.)
Due to the scattered salary data for non-tenure-track faculty, I opted to calculate admittedly inexact college president-to-adjunct pay ratios using $20,000 as the typical income of adjunct professors based on the data cited by NPR and Pacific Standard. In an effort to flesh out the adjunct picture at the colleges with the highest-paid presidents, the chart above also uses the per-course salary data from The Chronicle's Adjunct Project as well as faculty-composition information from the website, College Factuals.
Renssalaer Polytechnic, where 31 percent of faculty aren't on track to be tenured and adjuncts earn between $3,900 and $7,000 per class, has a president-to-adjunct salary ratio of 357 to one. Pennsylvania State, with the highest-paid public-college president and adjuncts making up roughly half of all faculty, has a president-to-adjunct ratio of 75 to one. Even some of private colleges with the highest-paid presidents also had high percentages of adjunct faculty, according to 2012 data, including Columbia at 60 percent and the New School at 91 percent. Also noteworthy are the average per-course salaries for adjuncts at some of the public colleges with the highest-paid college presidents.
---
---
---