Why Boosting Poor Children's Vocabulary Is Important for Public Health
One key difference between low-income and affluent babies: the number of words to which they're exposed.
Air­on Pate is boun­cing off the walls.
The not-quite-2-year-old is wait­ing with his mom Domi­n­ique and broth­er Aiden, 4, to be seen at a fed­er­ally sub­sid­ized clin­ic for low-in­come wo­men and chil­dren here in Ma­con, Geor­gia. Sit­ting still is not in his rep­er­toire of tricks.
Over there to play with a toy. Up on the child-sized table wedged in­to the corner. Across the room to touch base with mom, chat­ter­ing the en­tire time.
The con­stant babble ex­hausts Domi­n­ique, 25, but thrills the clin­ic nu­tri­tion­ist charged with im­ple­ment­ing a re­l­at­ively new statewide ef­fort to get par­ents to talk to their ba­bies. Called simply "Talk With Me Baby," the pro­gram is a mul­ti­faceted at­tempt to fill the massive 30 mil­lion-word gap between chil­dren from lower- and up­per-income fam­il­ies by mak­ing sure that ba­bies from all backgrounds hear lots of words.
* * *
Re­search sug­gests that poor chil­dren hear about 600 words per hour, while af­flu­ent chil­dren hear 2,000. By age 4, a poor child has a listen­ing vocab­u­lary of about 3,000 words, while a wealth­i­er child wields a 20,000-word listen­ing vocab­u­lary. So it's no sur­prise that poor chil­dren tend to enter kinder­garten already be­hind their wealth­i­er peers. But it's not just the poverty that holds them back—it's the lack of words. In fact, the single-best pre­dict­or of a child's aca­dem­ic suc­cess is not par­ent­al edu­ca­tion or so­cioeco­nom­ic status, but rather the qual­ity and quantity of the words that a baby hears dur­ing his or her first three years.
Those early years are crit­ic­al. By age three, 85 per­cent of neur­al con­nec­tions are formed, mean­ing it's dif­fi­cult for a child who has heard few words to catch up to his peers once he enters the school sys­tem.
While the word gap might sound like an edu­ca­tion prob­lem, the health consequences can be dire—and the be­ne­fits of elim­in­at­ing it can be im­mense. Pub­lic-health of­fi­cials in Geor­gia re­cog­nize this.
"This is pure bio­logy," Brenda Fitzger­ald, Geor­gia's Health Com­mis­sion­er and the wo­man in charge of state pub­lic-health pro­grams, said dur­ing an in­ter­view at her At­lanta of­fice. "Which is why it's a pub­lic-health ini­ti­at­ive."
Chil­dren with more words do bet­ter in school. Adults who were good stu­dents and earned a col­lege de­gree have longer life ex­pect­an­cies. They are at a lower risk for hy­per­ten­sion, de­pres­sion, and sleep prob­lems. They are less likely to be smokers and to be obese.
"There is no way we can sep­ar­ate health and edu­ca­tion," said Jen­nifer Stapel-Wax, dir­ect­or of in­fant and tod­dler clin­ic­al re­search op­er­a­tions at the Mar­cus Aut­ism Cen­ter in At­lanta, and the self-de­scribed "chief cheer­lead­er" for the effort.
* * *
So in Geor­gia, from the gov­ernor's of­fice on down to nurses and WIC (Wo­men, In­fants, and Chil­dren) clin­ics like the one the Pate boys vis­ited in Ma­con, the solu­tion and the mes­sage are clear: Talk with your baby (and help im­prove the state's well-be­ing).
That second part is not touted much, but doc­tors and nurses be­hind the cam­paign hope that by en­ga­ging par­ents in the first part early and of­ten, the second part will fol­low—and they can al­le­vi­ate the need for costly in­ter­ven­tions down the line.
Talk­ing with your baby might sound ob­vi­ous. And of course most par­ents do talk to their ba­bies. But many are miss­ing qual­ity op­por­tun­it­ies to en­gage. Talk With Me Baby of­fers some guidelines for par­ents:
Speak to your baby while you're preg­nant be­cause yes, she really can hear you in there. It might seem awk­ward to talk to an in­fant who does not talk back, but watch closely. She's ac­tu­ally re­spond­ing. Tell her about what you're mak­ing for din­ner, what you're do­ing when you're get­ting her dressed, and where you're go­ing as you load her in­to the car­seat. See how she stops suck­ing that pa­ci­fier while you talk, or how she locks eyes with you? Those are signs that she's listen­ing, and she un­der­stands a lot more than she lets on. Does your baby gurgle or coo back when you talk? That's clas­sic "serve and re­turn" and it's a crit­ic­al sign of brain de­vel­op­ment.
Nurses in Geor­gia have known all of this for years. But they hadn't ne­ces­sar­ily been passing the mes­sage along to par­ents. Un­til now.
Back at the clin­ic in Ma­con, a Talk With Me Baby in­form­a­tion­al video plays on con­stant loop in the wait­ing room. Down the hall, Domi­n­ique says she was not read to as a kid, but there are books for Aiden and Air­on at home, and if it hasn't been too busy a day, they read at night.
"I ex­pec­ted to have to tell him 'Go get a book,' but he does it," she said of her young­est. Her old­est, she said, will grab a book and make up his own stor­ies. The trio goes to the lib­rary, she said, and she rents Elmo DVDs to watch to­geth­er. They don't usu­ally check out books, she ex­plained, be­cause there are already books at home.
Domi­n­ique, who said she couldn't se­cure her son a spot in Head Start, the fed­er­al early child­hood pro­gram for low-in­come fam­il­ies, is home full-time with the children. As the WIC nu­tri­tion­ist of­fers in­form­a­tion about nu­tri­tion and vac­cines, he will also as­sess and re­spond to her com­ments about how she reads and talks with her boys. He will re­in­force the im­port­ance of lan­guage nu­tri­tion, the term Talk With Me Baby uses in place of the neg­at­ive-sound­ing word gap.
It's a good thing that Aiden is mak­ing up his own stor­ies, he might say. He might also gently add that check­ing out new and dif­fer­ent books at the lib­rary to go along with the DVDs is a great way to keep both boys in­ter­ested in read­ing.
* * *
"We need to sens­it­ize par­ents to baby speak," Stapel-Wax said.
As one prong of Talk With Me Baby, a cur­riculum for nurs­ing stu­dents has been de­veloped and nurses in the At­lanta metro area are be­ing trained to communicate to par­ents the im­port­ance of talk­ing to ba­bies. That they are the ones de­liv­er­ing the mes­sage is a care­fully cal­cu­lated fact. Again and again, nurses top the list of most trus­ted pro­fes­sion­als, ahead of med­ic­al doc­tors, clergy, and cer­tainly politi­cians. At the same time, Talk With Me Baby has already been de­ployed to the state's nearly 200 WIC clin­ics, where WIC nu­tri­tion­ists are its cham­pi­on.
The idea is to reach all At­lanta-area new­borns, re­gard­less of fam­ily back­ground or in­come, by 2017 and all new­borns in the state by 2020. Fitzger­ald says the state is on track to reach those goals. It's too early to tell the real im­pact of the pro­gram, but ini­tial eval­u­ations are be­ing con­duc­ted.
The goal—as Arianne Wel­don, dir­ect­or of Get Geor­gia Read­ing, one of the cam­paigns spear­head­ing the pro­gram, put it—is to em­bed the sys­tems that already reach most ba­bies in a sus­tain­able, scal­able way. WIC clin­ics see more than 80 per­cent of low-in­come par­ents and their chil­dren, and nurses see vir­tu­ally all ba­bies in Geor­gia. A third of the state's tod­dlers are en­rolled in some form of early-child­hood edu­ca­tion.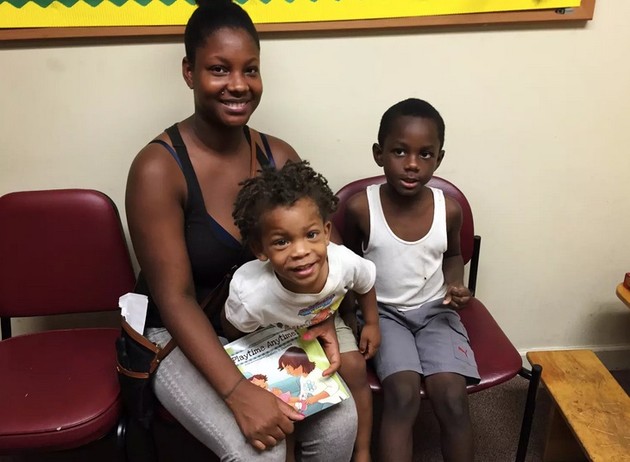 While there have been some costs up front, the idea is for the mes­saging to be­come part of the very fab­ric of the ser­vices that nurses, nu­tri­tion­ists, and early child­hood care cen­ters throughout the state of­fer. "Talk­ing to your baby doesn't cost [par­ents] money," Fitzger­ald said.
Right now, Geor­gia is the only state tak­ing such a co­ordin­ated, wide­spread, public-health-fo­cused ap­proach to re­du­cing the word gap.
There are more isol­ated ef­forts in places like Chica­go and Provid­ence, Rhode Island, but they op­er­ate on a much smal­ler scale.
Most word gap ini­ti­at­ives, in­clud­ing Talk With Me Baby, are re­l­at­ively new pub­lic-private part­ner­ships de­veloped in the last sev­er­al years. Their found­a­tion—the land­mark Hart-Ris­ley study from re­search­ers at the Uni­versity of Kan­sas that il­lu­min­ated the word gap—is 20 years old, but it typ­ic­ally takes a couple of dec­ades to get from re­search to on-the-ground im­ple­ment­a­tion, mak­ing now a lo­gic­al time for such pro­grams to emerge. And, as Fitzger­ald put it, "the bio­logy fi­nally caught up."
She and oth­ers spear­head­ing such ef­forts can go in­to po­ten­tial fun­ders and say, "here are the brain scans, here is the sci­ence be­hind why this is crit­ic­al."
In mid-Au­gust, the U.S. De­part­ment of Health and Hu­man Ser­vices Of­fice of Minor­ity Health awar­ded $200,000 a year for up to five years to Geor­gia's health de­part­ment to, in part, sup­port lan­guage nu­tri­tion through Talk With Me Baby.
"The ex­pect­a­tion is that there will be ways to con­tin­ue what we're do­ing," Stapel-Wax said.
If Talk With Me Baby is suc­cess­ful, Fitzger­ald ex­pects to see oth­er statewide pro­grams take shape.
There are cer­tainly people watch­ing, from state health of­ficers in Cali­for­nia and In­di­ana to aca­dem­ics at the Uni­versity of Kan­sas. The White House has is­sued a "call to ac­tion" to re­duce the word gap, spot­light­ing the Geor­gia pro­gram specific­ally. And the Clin­ton Found­a­tion has launched "Talk­ing is Teach­ing" through its early child­hood Too Small to Fail cam­paign.
"I think this is prob­ably the most im­port­ant work we're do­ing right now," Fitzger­ald said, a pretty big state­ment from the state's top health of­fi­cial about a pro­gram that from the out­side doesn't even look like it should be about pub­lic health.
While, as Stapel-Wax noted, Talk With Me Baby might sound like a pro­gram you'd ex­pect to find in Mas­sachu­setts or New York, the fact that it's hap­pen­ing first in a state like Geor­gia doesn't sur­prise Fitzger­ald. "It has strong sup­port be­cause this is not a Band-Aid," she said. Mul­tiple people in­ter­viewed for this piece re­layed stor­ies of Re­pub­lic­an Gov. Nath­an Deal's wife, Sandra, gush­ing about the pro­gram on vis­its to hos­pit­als.
If all goes as planned, the team be­hind the cam­paign hopes to get a lot more people talk­ing—most im­port­antly, ba­bies.