LGBT Students and Campus Sexual Assault
Non-heterosexual students experience harassments at disproportionately high rates, according to a new survey.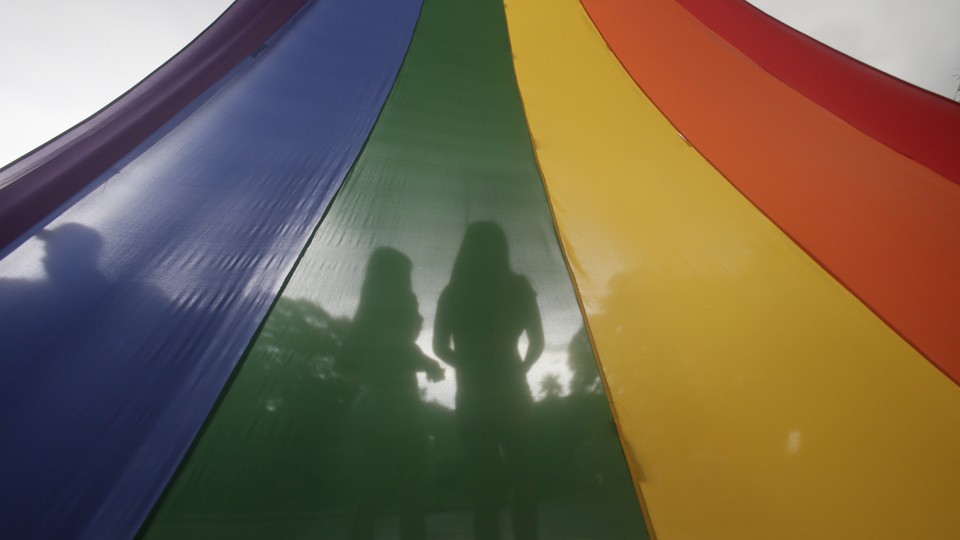 The Association of American Universities, an "elite" higher-education trade group, has just released what's been described as one of the largest surveys ever conducted on campus sexual assault among college students.
The survey's findings are being published at a time when attention on sexual assault in postsecondary settings—with Congress considering a slate of federal legislation to address the problem and the Obama administration actively investigating more than 130 institutions for potential Title IX violations—is at an all-time high. Yet despite all the scrutiny, little reliable data exists to fully understand the prevalence and nature of the problem; sexual harassment is notoriously underreported, particularly in official data.
While these results, which are based on student responses, are still empirically limited, they do offer more information than most existing research. And they aren't very surprising in that they indicate campus sexual assault is a common problem—one that higher-ed institutions don't seem to be tackling very effectively, on top of the widespread perception among college presidents that it's not an issue on their own campuses. Half to three-quarters of students at each of the 27 institutions surveyed reported experiencing some form of sexual harassment, which can include acts ranging from rape through forced penetration to stalking.
One aspect of the results that may be surprising, at least when considering how little the topic has figured in commentary on and coverage of the problem, is the degree to which LGBT students report being victims of sexual harassment. According to the survey, LGBT and non-heterosexual students last school year experienced significantly higher rates of sexual assault and harassment, as well as violence from an intimate partner, than their heterosexual peers.
Overall, three in four LGBT students reported experiencing sexual harassment. Nine percent of LGBT-identifying respondents said they experienced sexual assault involving penetration (compared to 7 percent of women). Such assault—rape that can entail either force or incapacitation—is considered the most serious type of sexual harassment, according to the AAU report. When categorized by gender, those who didn't provide an answer or identified as transgender, genderqueer or non-conforming, or questioning experienced such rape at the highest rates, too.
The AAU survey included responses from more than 150,000 students at both private and public research institutions, including California Institute of Technology, Michigan State, the University of Arizona, Washington University in St. Louis, and all but one member (Princeton) of the Ivy League. It's more reliable than studies based on official statistics given how few incidents are formally reported: Only about a quarter of the students in the AAU survey who said they'd experienced some form of harassment said they reported the incidents to school or law-enforcement officials. Yet the overall response rate for the AAU survey was 19 percent, and it's important not to think of the participating students and schools as a random sample of the national landscape.
---
---
---
---
The study is said to be one of the most extensive to be conducted among LGBT college students—a noteworthy highlight given existing research, including a 2010 CDC study showing that the LGBT population at large experiences sexual assault at higher rates than its heterosexual counterpart. Bisexual women appear to experience especially disproportionate rates of sexual "victimization," according to the CDC report, as do bisexual men and lesbian women.
"Sexual assault in the LGBT community is often rendered invisible or dismissed outright," The National Center for Lesbian Rights' Lauren Paulk wrote in a blog post last year. Among other statistics, Paulk cited data suggesting that roughly two-thirds of transgender people have experienced sexual assault in their lifetimes—one reason LGBT supporters have advocated for gender-neutral restrooms and facilities on college campuses and in K-12 schools. About three in
five LGBT students had been sexually harassed at school, and nearly 18 percent reported that such events occurred often or frequently, according to a 2013 survey of school climates. Those trends for its part has faced resistance from critics who have claimed, despite lacking evidence, that such policies will lead to greater rates of sexual harassment in educational settings.