Bill Cosby Is Being Stripped of His Honorary Doctorates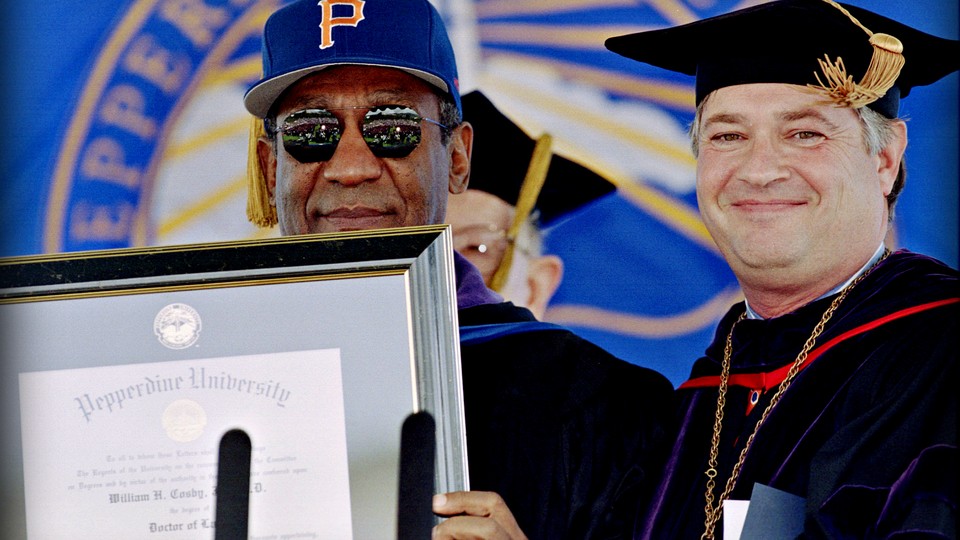 The Bill Cosby scandal has gotten renewed attention this week—but not because a new legal document has surfaced. Rather, news outlets are reporting that, as of Tuesday, several well-known universities—Brown, Fordham, and Marquette—have rescinded the honorary degrees they had previously bestowed on him. And that list is likely to grow.
The embattled celebrity has received honorary degrees from more than a dozen colleges and universities, many of them Ivy League or otherwise elite institutions with high-stakes reputations to maintain. In fact, the comedian and former Cosby Show star, who's been accused of drugging and molesting women—and in a recently published 2005 deposition admitted to doing so—received one of those accolades just last year, when Boston University granted him a Doctorate of Humane Letters.
Such revocations are a big deal in the higher-ed world, if only because they're so rare. Aside from Cosby, just a handful of prominent people have had their degrees taken away; they include the controversial Zimbabwean President Robert Mugabe, who a few years ago became the first international figure to see his degrees revoked. Christina Paxson, Brown's president, said in a campus-wide email on Monday that the rescission of Cosby's degree was a result of his not living up to the institutional values on which it was based, such as "honesty, fair play, love of family, and respect for humanity." "The conduct that Mr. Cosby has acknowledged is wholly inconsistent with the behavior we expect of any individual associated with Brown," she wrote. "It is particularly troubling as our university community continues to confront the very real challenges of sexual violence on our campus and in society at large."
Still, what importance do honorary degrees hold when it seems like everyone with a famous name has at least one on his or her resume these days—including humans as academically irrelevant as Kanye West and Mike Tyson and non-humans like Kermit the Frog? (The latter holds an Honorary Doctorate of Amphibious Letters from New York's Southhampton College.) And, relatedly, what's the point of revoking an honorary degree if it's little more than a symbolic—and, in many cases, superficial—credential? Now that a slew of colleges are poised to strip Cosby of his honors, it's worth revisiting the role these degrees play in postsecondary education and the controversy such accolades have caused for centuries.
In his 1943 book Honorary Degrees: A Survey of Their Use and Abuse, Stephen Edward Epler described such degrees as "perhaps the most important honorific in the nation." Such accolades, which have been around in the United States since the country's founding, are distinctive because they're granted by the given institution honoris causa—in other words, as Barbara Spector explained in a 1991 Scientist article, without imposing any influence "over the work that the recipient has done."
That's also why honorary degrees have always been contentious. Such degrees have long given universities the opportunity boost their prestige by  affiliating with some of the most accomplished, esteemed individuals of the moment—from Nelson Mandela to the celebrity astrophysicist Neil deGrasse Tyson. But when the recipients are also wealthy and sensational, the degrees often also come with donations and publicity—perks that today are especially appealing to institutions of higher learning. Oprah Winfrey has four honorary doctoral degrees; J.K. Rowling has seven degrees spread across two continents. As such, critics have long questioned the merits of honorary degrees on the grounds that the qualification is prone to both abuse and, particularly at public institutions, political controversy. "Sometimes they are used to reward donors who have given money; sometimes they are used to draw celebrities to make the graduation special," Arthur Levine, a former president of Teachers College at Columbia University, told The New York Times in 1999. A number of well-known schools prohibit the granting of honorary degrees, including MIT, Cornell, and Stanford.
Meanwhile, some schools once known for their tradition of shunning honorary degrees, such as Penn State, have  reversed their positions. Pricenomics.com has named the dolling out of doctoral degrees a "big business," last month citing several Ivies that have recently started to ratchet up the number they dole out. Those institutions include Yale University, which has awarded 2,805 total; the University of Pennsylvania, which has given as many as 56 in a single year; and Harvard, where 64 percent of all-time honorary degrees were awarded in the past 15 years.
The three universities that have revoked Cosby's degrees so far describe their decisions as public denunciations of his actions. But they also represent the schools' efforts to separate themselves from the ongoing blowback. As Paxson suggested in her email this week, many of the universities who've granted Cosby their highest honor are also struggling to convince the public of their commitment to eradicating campus sexual assault. Retaining any affiliation with an alleged rapist could be seen as disingenuous.
This rationale is understandable, but it's important to recognize that such accolades are often as much about institutional PR and money as they are about honoring a person's achievement. And it appears that they're just as critical to the reputation of degree recipients, who are often just as keen on soaking up a little more stardom. As The Conversation put it in 2011, "a rising tide of celebrity doctorates suggests they may be the latest must-have accessory."