A Teachers' Strike in Seattle
Talks between the union and the school district broke down Tuesday—the eve of the first day of school.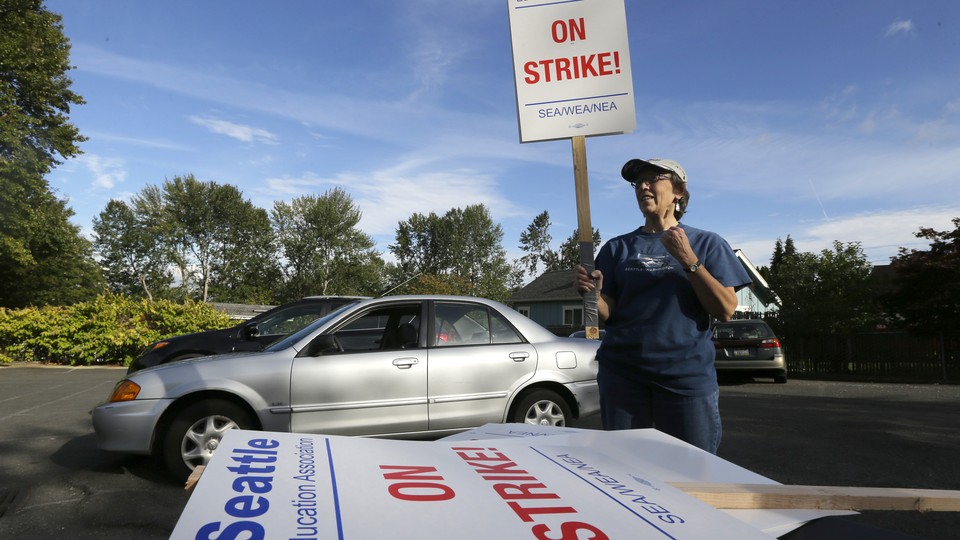 "After bargaining until midnight Monday and for most of the day Tuesday, it was clear that a settlement wasn't close," the Seattle Education Association, the union that represents about 5,000 teachers, said in a statement.
Soon after the union's announcement late Tuesday, the Seattle School Board voted to authorize the district superintendent to take legal action against the teachers.
If the district requests legal action and a court grants it, the union will take another vote on whether to continue striking …  and continue to work toward what SEA members see as a fair contract.
Among the issues over which the two sides remain divided are pay increases, teacher evaluations, and the length of the school day. The Associated Press
has more
:
The district earlier offered an increase of nearly 9 percent over three years. The union countered with a 10.5 percent increase over two years ...  but … the district barely budged from its previous proposal.
Teachers said they would picket the district's 97 schools on Wednesday. The district serves 53,000 students.
KIRO-TV, a local television station,
points out
that more than a "
dozen judges have ruled teacher strikes illegal in Washington since 1976."
State and local public employees, including teachers, have no legally protected right to strike, according to a 2006 state attorney general's opinion. But that opinion also noted state law lacks specific penalties to punish striking public employees.