Single Moms and Welfare Woes: A Higher-Education Dilemma
If earning a degree is key to getting single mothers—and their families—out of poverty, why is it so difficult for them to attend college?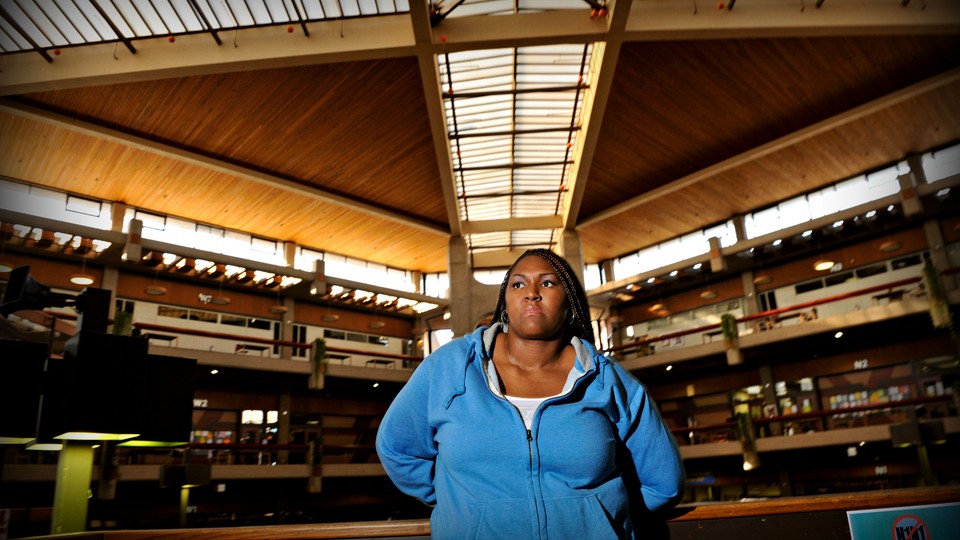 Jacklyn Trainor was a 28-year-old single mother in a writing class I taught in 2014 at Housatonic Community College in Bridgeport, Connecticut. Trainor was raising two kids, juggling childcare, homework, and waitressing. (Because I'm open about my own struggles attending graduate school as a single parent, students often ask me for advice or share their experiences.) "I hated working dead-end jobs and barely getting by," Trainor, whose last name back then was Canales, recently told me. "I really want to further my education to get a career and a better life for my kids."
For Trainor, hard circumstances made achieving that goal difficult. She'd defaulted on a student loan a few years earlier from a false start in nursing school, so it was nearly impossible to qualify for financial aid to go back to college. But Trainor was lucky; her family offered to pay for a few classes at Housatonic Community College, or HCC.
Out of the 12 million single-parent families in the United States, the vast majority—more than 80 percent—are headed by women. These households are more likely than any other demographic group to fall below the poverty line. In fact, census data shows that roughly 40 percent of single-mother-headed families are poor. Why? Experts point to weak social-safety nets, inadequate child support, and low levels of education, among other factors.
Although most poor, single mothers today are employed, many of them are working in low-wage jobs, often in positions without benefits. Earning a college degree is typically the best route to a high-paying career but many of these women find it hard to squeeze classes into a schedule already packed with work and childcare. One study of 158 single-mother college students in New York found that 100 percent of the former welfare recipients who earned four-year degrees stopped relying on public-benefit programs, compared to 81 percent of those who got two-year degrees. If earning a degree is so effective in ending poor mothers' reliance on welfare, why aren't policymakers making it easier for low-income single moms to go college? The answer is complicated.
For single parents who rely on public assistance, college classes do not count as "work" in most states, so many of those who return to school lose access to benefits like childcare vouchers and cash assistance. The Welfare Reform Act of 1996, which limited recipients' access to cash assistance, also restricted the definition of "work" to nine core categories. Work credit is largely limited to vocation-focused educational training, and only for a maximum of one year. Each state has its own specific regulations.
---
---
For Trainor, attending classes counted toward some of her work benefits. So, every two weeks, she would wait until the classroom emptied to ask me to sign her work-verification forms and confirm she'd been in school. To retain eligibility for cash assistance, the state of Connecticut requires that recipients meet two times a week with their caseworkers to provide documented proof of any hours they work, attend school, or search for a job.
Even complying with all of the complicated regulations doesn't guarantee recipients receive benefits when they need them, as Jessica McLeod, a single mother in Boston, discovered. I first interviewed McLeod for my dissertation a few years back. She'd lived in a shelter before she enrolled in community college. After earning a 3.7 GPA in community college, she was accepted into the nursing program at Bay State College, a for-profit institution that primarily offers two-year degrees. As a full-time student at Bay State, McLeod relied on food stamps, cash assistance, and a childcare voucher for her 8-year-old daughter Alia.
"I went through three different caseworkers who were so nasty about my being a full-time student," said McLeod, who's now 38 and working full-time as a registered nurse. As with Trainor, the caseworkers had to verify McLeod's work-participation paperwork to ensure she was fulfilling all of the benefit program's requirements. And even though education programs like the one in which McLeod was enrolled can count toward those requirements, it seems that caseworkers often favor vocational training as opposed to college classes. "Unless you're doing their training to become a home health aide … [the caseworkers] just want you working," McLeod said. "Don't they understand I'm going to college so that I don't have to use these benefits anymore?"
Studies in Georgia and California show a similar lack of support among welfare caseworkers for poor mothers trying to earn college degrees. Slightly more than half of the recipients surveyed in the California study reported that their welfare caseworkers were a "hindrance" to their college success. In interviews with case managers in Georgia, Fiona Pearson, an associate professor of sociology at Central Connecticut State University, found that some admitted to discouraging single-mother recipients from pursuing educational opportunities and instead steering them toward paid work. "Even if they felt themselves that a particular [cash-assistance] participant should stay in school, they felt bound by [federal] policy to counsel them away from a four-year degree," Pearson told me.
Indeed, according to Pearson, the federal Temporary Assistance for Needy Families (TANF) program encourages caseworkers to focus on work versus education. In her paper, published in the journal Gender & Society in 2007, Pearson cited the 2006 law reauthorizing the program as the reason behind that shift in focus: "The TANF program was not intended to be a college scholarship program for postsecondary education," the law reads.
---
---
As a nursing student, McLeod was required to document 20 hours per week of additional volunteer or work activities to remain eligible for welfare benefits. She said she always submitted those forms on time. Still, the state kept terminating her benefits, saying she'd failed to fulfill the requirements or submit the necessary forms.
"It's an awful feeling to get that letter in the mail, saying your childcare voucher has been terminated," said McLeod, adding that she spent hours in various offices trying to get her benefits straightened out, sometimes even missing school. Finally, McLeod found a legal-aid attorney who managed to reinstate her benefits after talking to officials at the Massachusetts Department of Transitional Assistance (DTA), which oversees the state's welfare programs.
The DTA doesn't comment on individual cases, but Thomas Mills, the department's spokesman, emphasized its commitment to "helping those in need gain the skills and experience necessary to obtain and maintain economic self-sufficiency." He added that "gaining an education is an essential component to escaping poverty, and DTA encourages clients to take advantage of educational activities during their time-limited benefits." (McLeod no longer relies on food stamps, childcare, or cash assistance.)
* * *
Until 1996, most welfare recipients could pursue a four-year degree under the Job Opportunities and Basic Skills Training program, though some states limited higher-education opportunities to associate's degrees. Just before welfare reform, 649,000 student parents were receiving cash assistance while enrolled full-time in education programs. Today, there are more parents than ever enrolled in college—one study estimates 4.8 million. But only 35,000 full-time students receive TANF aid, largely because of the policy reform. This trend can be seen at higher-education institutions across the country. The City University of New York, for example, had 27,000 welfare recipients enrolled in 1995. By 2000, the number had fallen to somewhere between 5,000 and 6,000. It's hovered around that number ever since.
There is one federal program—TRIO—aimed at helping disadvantaged students "progress through the academic pipeline," but it's generally earmarked for those who are low-income, the first in their families to go to college, or disabled. While many single mothers would probably qualify for TRIO support because they're low-income, the program doesn't target service at their specific needs. The program's website bears no specific mention of "student parents."
Meanwhile, experts suggest that most of America's postsecondary institutions are ill-equipped to meet the needs of the growing numbers of student parents—which according to the Institute for Women's Policy Research now comprise a whopping 26 percent of the country's overall undergraduate-student population. (Colleges appear unable to deal with and accommodate poor students in general, including those who are homeless or rely on food stamps, despite their growing numbers.)
The limited on-campus support helps explain why so few student parents complete their programs on time; just 4 percent of student parents in bachelor's-degree programs graduate within six years, according to Autumn Green, who oversees the Center for Residential Student Parent Programs at Endicott College in Massachusetts. "We haven't changed the way we design and provide college education," Green said, reflecting on the country's higher-education system. "It's still geared toward childless 18-to-24-year-olds who are supported by their parents."
Single parents are more likely to attend community rather than four-year residential colleges, in part because the former tend to cost less and feature more evening and part-time options, but also because targeted resources are more widely available at the latter. On-campus childcare, for instance, is widely available at community colleges in some states. It's unclear how many single mothers would seek out or stay in four-year degree programs if childcare were more accessible at those campuses, but chances are such resources would make a bachelor's degree a lot more appealing to student parents.
---
---
Endicott offers one of the few comprehensive residential-college programs in the U.S. designed specifically for single parents. The "Keys to Degrees" initiative arranges on-campus family housing, academic supports, and childcare or school for the kids, who eat for free with their parents in campus dining halls. Keys for Degrees boasts 100 percent employment after graduation, according to Green, and while many participants do rely on public assistance during their time in school, none of its graduates report using public benefits. The challenge is bringing highly successful resource-intensive programs like this one to scale. The Endicott program can only serve 10 students at a time.
Other schools are finding ways to support student parents by allocating money from their own budgets, too. In 2011, Portland State University—where more than a fifth of the students are parents with dependent children—increased funding to expand its Resource Center for Students with Children. The university now offers a range of services targeted at student parents, from emergency loans and childcare subsidies to family counseling and even children's-clothing exchanges.
"Our biggest challenge is getting the word out about our programs and services," said Lisa Wittoroff, a licensed clinical social worker who oversees the resource center. Student parents' unique needs "can be invisible unless they have their kids with them. You don't check a box when you apply that says you have a child. And some of them are hiding [their circumstances] because of the stigma attached to being a student parent." Indeed, according to Pearson, some students don't reveal their family status because they don't want to be seen as "playing the 'student-parent card,' asking professors for favors even though they might actually need special accommodations."
Amid limited resources at the colleges themselves, nonprofit organizations are also working to accommodate the needs of single-parent students. The Jeremiah Program, a Minnesota-based nonprofit, was founded in 1997 after interviews with local single-mother students revealed how little access they had to safe and stable housing and childcare. "We recognized that single-mother students had needs beyond what a typical admissions officer or career counselor could address," said Gloria Perez, the program's president and CEO.
The Jeremiah Program now serves roughly 300 women and children annually at locations in St. Paul and Minneapolis. The families are typically housed there and receive help with early-childhood education, academic guidance, and career counseling. (The organization is also expanding into Austin, Texas; Fargo, North Dakota; and Boston, Massachusetts.) "We've found that creating cohorts of women with children who are all going to school really boosts morale and creates a sense of community, the feeling that they are not alone," Perez said. And the model seems to work: Almost all the program's graduates earn some sort of college degree, while the remainder complete certificate programs. More than 90 percent of its recent graduates are employed or continuing their education.
* * *
When I was applying to Ph.D. programs in 2008, a former professor of mine actually advised me not to mention my status as a single parent—even though I planned to study the sociology of single-parent-headed families. During the first two years of my Ph.D. coursework, I sat through classes worrying about having to pick up my 2-year-old daughter and finish my research paper while she napped. I rarely found the time to attend on-campus lectures or study sessions, let-alone extracurricular departmental activities like Red Sox games and camping weekends in the Berkshires.
For the majority of single-parent students without access to comprehensive resources like those at the Jeremiah program, day-to-day responsibilities remain overwhelming. "Balancing everything is so hard," Trainor, my former student, told me. "It's like: Wake up, drop off at daycare, go to school, pick up from daycare, drop off to father or grandma, go to work, pick up, repeat … I felt like there was so much pressure on me, and I was alone."
I recall extending a deadline for Trainor, who excelled in my writing course, after she had to miss a class because her daughter was sick. But  deadlines in her algebra course were harder to meet, she told me. Between the kids and her work schedule, she didn't have time to finish her math homework on the library computers; the assignments required Internet access, which she couldn't afford.
Basic needs like Internet access for homework assignments are taken for granted in the mom-and-dad-pay-tuition-and-visit-on-parents'-weekend model common at today's colleges. A 2001 study of welfare recipients in central New York who were pursuing postsecondary degrees found that nearly three-fourths of the respondents cited an inability to juggle demands of work, family, and school as their reason for dropping out. Other common reasons included inadequate childcare or insufficient childcare funds; a lack of academic support; and feeling misunderstood or undervalued in class. "If you have a student who is hungry or who doesn't have a safe place to live or care for their child, they can't really be a student," said Endicott's Green, who also pointed to the cost of textbooks and supplies.
Between 2007 and 2012, Central Connecticut State's Pearson interviewed 40 student parents attending community and state colleges in Connecticut, and found many of the same unmet needs. "Why don't we provide student parents some of the same resources we offer to student athletes?" she said, citing services like priority registration and additional tutoring as resources that could help student parents to succeed.
I lost touch with Trainor for a while after she was my student. By the time I reconnected with her for this story, she had moved from Connecticut to Massachusetts, where her mother and brother live, remarried and was paying off her student loans. Once again eligible for financial aid, she's now enrolled as a full-time student at Springfield Technical and Community College.
McLeod, too, has recently gone back to school—in her case, as a part-time student pursuing a bachelor's degree at New Hampshire's Saint Anselm College while continuing to work full-time. Now that her daughter is in a school program that starts at 7 a.m. and ends at 5 p.m., she no longer struggles to find childcare. "Looking back, I don't even know how I got through it," McLeod said. "But it's what you do for your kids."