The Citizen Preschooler
What should young children learn about being part of a democracy?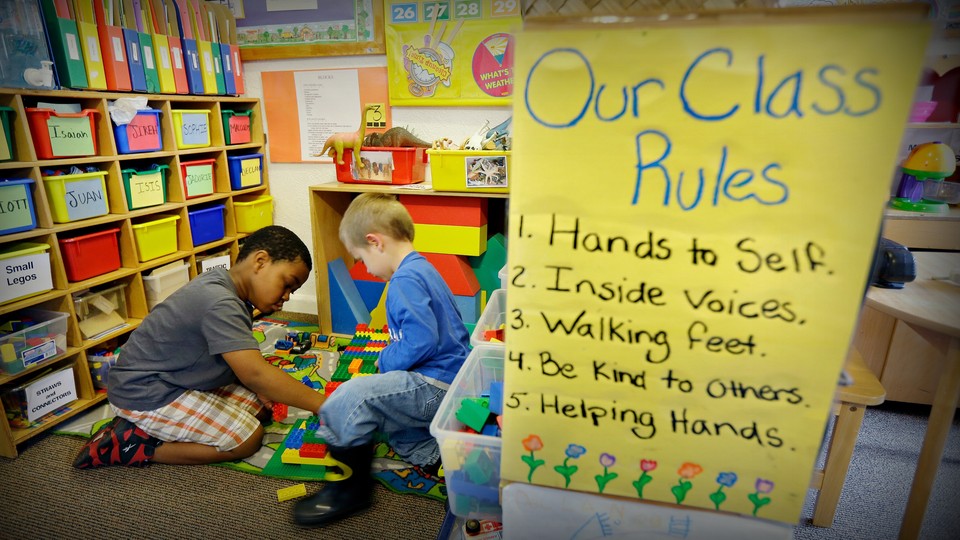 One morning this past April, scores of preschoolers and kindergarteners dragged their grownups into the National Gallery of Art in Washington, D.C. The children had created an exhibit demonstrating their perceptions of the nation's capital and what it means to belong to the city. In one gallery, there was a replica of the D.C. Metro routes, made from neon-colored plastic pipes. In another were cardboard, foam, and popsicle-stick models of the children's dream playgrounds.
Over the course of the morning, a signboard asking "what does it mean to be a citizen?" bloomed with more and more bright sticky notes containing answers to that question. Some contributions came from parents and teachers. "To participate in decision-making for the country," read one. "To be free, to explore, to grow through learning," offered another, signed with a heart and the name "Ms. Rachelle." Other contributions came from children: "to be a homin" (i.e., "human"), for example. "To help another bear in my classroom," signed Lucas, a member of the participating "Cinnamon Bears" class.
But the goal of the activity wasn't just to have cute kids make art and share happy thoughts.
"We are not doing this work to be nice," said Ben Mardell, an education researcher who collaborates with Harvard's Project Zero, which brings together scholars to study how people learn. The program that brought the kids to the museum, "Children Are Citizens," is meant to be practical: "We actually think we have something to learn from children."
Mardell and his collaborators at Project Zero believe that children as young as 3 have ideas about how to make a city more fair, safe, and livable. D.C. was the third test ground for "Children Are Citizens," which calls on early-childhood educators like myself to tap into their students' knowledge about their neighborhoods, get the children to brainstorm ways to make their communities better, and facilitate the sharing of their ideas with the general public and policymakers. Teachers at a handful of public and private D.C. schools, including two serving high percentages of low-income children, participated in the program this year (my school did not participate). Another batch of high-poverty schools are slated to participate next year, too.
Children participating in the program came up with noteworthy ideas: In Boston, when invited by Mayor Marty Walsh to propose civic improvements, some kindergarteners suggested "making more buildings so parents can have jobs." Another group of kids made a model of an indoor playground that their peers would be able to enjoy during the long New England winter. The roof, they specified, would have solar panels. But it appears few preschoolers in the country have opportunities to engage in the civic process.
Efforts to empower young people as citizens typically target adolescents. Government initiatives like Youth Engaged 4 Change and nonprofits like Generation Citizen seek to boost civic education—which can range from lessons about how government works to experiences that promote self-government, like student-led field trips—for teenagers. The idea is to prepare these students to be active participants in the democratic process and civic affairs. After all, the number of young people aged 18 to 29 who vote has generally declined in recent decades; just 45 percent of them voted in the 2012 elections. And although there's lively debate among researchers about which approaches are most effective in increasing students' civic engagement, various studies have shown that classrooms that host open discussions of issues important to high schoolers promote their civic participation in the long-term.
But many early-childhood teachers think about how to cultivate the next generation of "small-d democrats," too. In my experience teaching children aged 3 through 6, I've found that early-childhood classrooms can serve as a natural cradle for democracy, as they're typically where kids learn their first lessons about group membership. Young children are often fiercely curious about power and how it works: who makes the rules, and why. Qualitative evidence shows that children have the capacity to debate ideas, and to work together to solve problems that arise in the classroom (how many kids can play in the block area at a time, for example) and outside of it (how to improve a city park). What if young children had more opportunities to offer the general public some civics lessons of their own?
The country's children continue to struggle with limited access to quality early-education opportunities: In the 2013-14 school year, just two in five 4-year-olds were in some sort of publicly funded prekindergarten, and many of those programs are considered low-quality, according to the National Institute for Early Education Research.
Policymakers and children's advocates have long debated the merits of pre-k, from its return on every dollar invested to whether it's best to subsidize attendance for all kids or to just target low-income ones. But it seems that discussions in the U.S. seldom treat children as anything more than blank slates; they make little reference to these kids' competencies and what they can offer as youngsters to society at large. For what it's worth, the U.S. is the only United Nations country that hasn't ratified a treaty of the UN Convention on the Rights of the Child, which establishes that children should have the freedom of expression, among other rights, and says education should prepare children for "responsible life in a free society."
Civics-focused preschool models have taken hold in other parts of the world. Italy's Reggio Emilia region has become famous for its universal preschools, whose guiding principle is that children are "protagonists"—the main actors and engines in their school work; with the help of their teachers, they drive decision-making about the curriculum.
But it seems the mainstream view in the U.S. is that pre-k is something done to children—an intervention that, as the Obama administration says, taxpayers subsidize "to make sure none of our children start the race of life already behind." And some education scholars, like Lilian Katz, a former head of the National Association for the Education of Young Children, say that the relative silence on children's capacity as capable, curious learners has already resulted in missed opportunities for their intellectual development.
The lack of attention on the topic means there's little empirical data to demonstrate the impact of a "democratic" preschool classroom on children's academic and social outcomes. But that could change. The issue has attracted the attention of the University of Chicago's Center for the Economics of Human Development, which is directed by James Heckman, a Nobel laureate and economist famous for his analysis of the long-term economic benefits of the Perry Preschool Program. Members of his international research team are currently studying Reggio Emilia's schools, whose education philosophy, according to the researcher Pietro Biroli, "has inspired schools all over the world, but it has never undergone a formal impact evaluation." The schools, Biroli says, represent "a unique natural experiment that has been unfolding" over the last half century. The research team is in the process of analyzing its data on the schools' returns on investment and has not yet released any findings.
* * *
Most people in the U.S. seem to believe that schools are responsible for teaching kids much more than how to read, write, and add—that they're also tasked with ensuring children develop into engaged citizens, a responsibility that some advocates call "the civic mission of schools." But putting that belief into practice is tricky perhaps because of how much people disagree about what the approach should look like. In his recent book What Kind of Citizen?, the Canada-based sociology professor Joel Westheimer presents research showing that American adults have deeply held, divergent beliefs about what kind of citizens schools should cultivate. "Ask people of any nation if they think children should learn to be good citizens and most will say, 'Of course!,'" he writes. "But when the questions go deeper, the easy consensus starts to fray." Some people think that young people should learn that following rules makes a responsible citizen, while others believe that questioning rules does.
Children typically learn very different civic lessons largely depending on their parents' income. In some classrooms, students have what sociologists call "voice" (a say in things) and "agency" (capacity to make choices); in others, not so much. I spent a morning at a school in Bridgeport, Connecticut, for example, where teachers followed a scripted curriculum. Children, most of them Latino, sat at tables, using Magic Markers to color in pictures of a zebra wearing a sweater with a zipper. (The exercise was designed to be a lesson on the letter z.) A 3-year-old raised her hand and pointed at the picture of the zipper and asked an assistant teacher what it was. The teacher shushed her and told her to work in silence, subsequently instructing another student to color in the lines.
I turned down a job teaching there, seeing little opportunity to let students, as Ms. Rachelle would say, "be free, explore, and grow through learning." Instead, I accepted a job at a school in the same city that served children of all income levels, established in response to a court-ordered mandate for Connecticut schools to promote racial integration. At this school, I saw a sign outside a kindergarten class that read, "Room Three belongs to: ..." and included the name of every child in the class, along with those of the teachers. It sent a message that children were going to play a role in caring for, and making decisions about what went on in, that classroom. The children participated in morning meetings and closing circles, and when a problem arose in class, they would join on the rug with a song, "Oh dear, what can the matter be?" and set about trying to solve the problem, together.
The school where I now work is inspired by the schools of Reggio Emilia, and, like many Reggio-inspired schools in the U.S., is a private institution that charges tuition but offers financial aid. Children have opportunities to help make rules, broker compromises, and decide priorities for what to study, while their parents, many of whom work on Capitol Hill, do much the same.
In my class last year, my co-teacher and I observed that while playing, our students often pretended to be pirates. So we channeled this interest into a two-month investigation of ships and waterways, with the support of educators ranging from our school librarian to two P.E. teachers. Children chose which research committee to join—kayak, crew, sailing, or submarine—and hatched plans to make working models and plays to present their findings to their parents.
The researchers at Project Zero see public forums, like the event at the National Gallery and the exhibit at Boston's City Hall, as a way to broadcast children's work outside of the classroom, and in turn, challenge assumptions about children's capabilities. Like adults, children are capable of thinking about what it means to be a citizen.  And like adults, they sometimes choose not to do so. In a room full of wooden blocks at the National Gallery, I asked a 3-year-old, Joshua, what it means to be a citizen.  "I don't know," he told me. He was too busy building.