Jeb Bush's Questionable Record on Education
Did his policies as governor help or hinder minority students?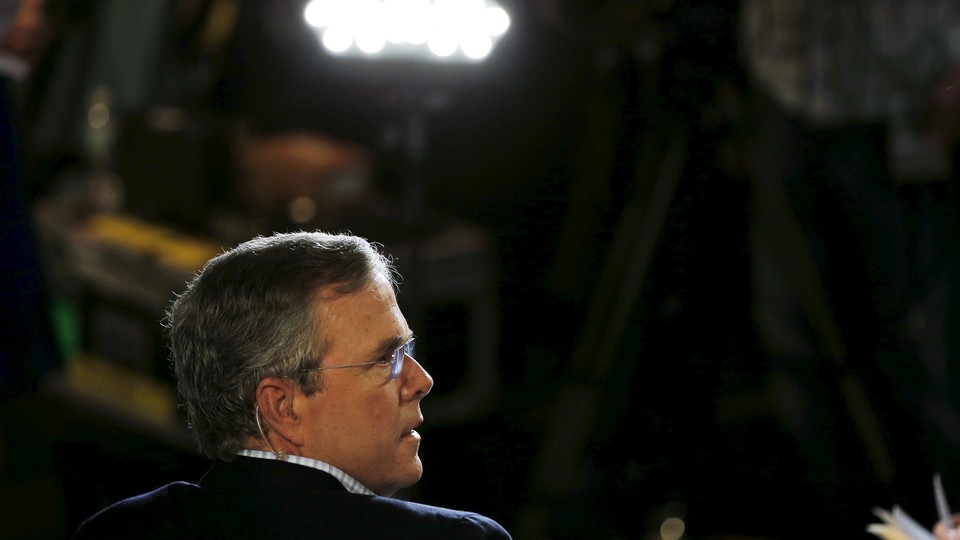 Jeb Bush wants you to think he opened the doors to higher education for students of color. Hillary Clinton wants you to think he shut them in their faces.
When Bush took the stage last Friday at the annual National Urban League meeting, he said, "We found that with fewer obstacles imposed by government, more people had the opportunity to achieve earned success ... We expanded our community-college system and made it more affordable for low-income families. Florida in those years helped thousands more first-generation college students make it all the way to graduation."
He extolled his history of raising the Advanced Placement exam results and performance by students of color. The former Florida governor didn't address Clinton's comments directly, but the implication was clear: Bush has made it easier to go to college.
Rhetoric and politicking aside, what actually happened—particularly when it comes to students of color—while Bush was in office?
It's a compelling question, considering that Bush became the first governor in 1999 to end the use of race and ethnicity in admissions decisions at Florida's public universities through executive order. Black enrollment fell nearly 11 percent at Florida universities between 2000 and 2013, while black enrollment rose nationally by more than 3 percent.
The percentage of black students enrolled at the state's flagship schools—the University of Florida and Florida State University—dropped. Black enrollment saw a 50-percent decline between 2007 and 2013 at the University of Florida, while it fell by 15 percent at Florida State between 2000 and 2009.
As governor, Bush created "One Florida," which guaranteed that the top 20 percent of high-school graduates would be admitted to an institution of higher learning in the state. But as The Washington Post noted, black students are far more likely to end up in less-competitive regional schools.
Statewide, black enrollment sits at about 13 percent, while approximately 17 percent of Floridians identify as black.
Hispanic enrollment, in terms of numbers and percentages, is up. It nearly doubled between 1999 and 2013 to 24 percent. But, as Politifact noted, the sizeable growth in the state's Latino population has likely fueled much of the enrollment increase, not policy.
"I don't think you can credibly say that everyone has a right to rise and then say you're for phasing out Medicare ... They can't rise if their governor makes it harder for them to get a college education," Clinton said, invoking the name of Bush's political action committee. She didn't say his name, but the implication was clear: Bush has made it harder to go to college.
So while it is technically true in terms of sheer numbers that more black and Latino students are enrolling in college, percentage-wise, black enrollment is down, and there's little evidence to suggest that Bush's policies contributed to an increase in Hispanic enrollment.