'School Choice on Steroids'
New state programs allow students to opt out of their local schools part time and instead take online classes—many of them run by for-profit providers.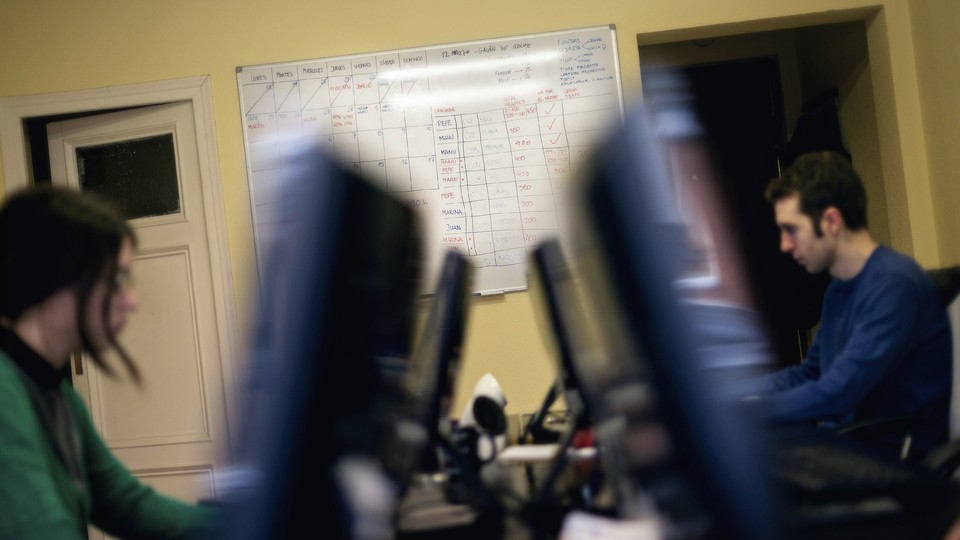 Chatfield High School in Minnesota doesn't offer sociology (or German or criminology, for that matter), but when senior Keagan Clarke, 18, finished a fall-semester class in psychology, his teacher suggested he try the subject. And thanks to a relatively new state policy, he could. Over the course of the spring semester, Clarke went to the school library during second period for an online sociology class.
"It was very cool," said Clarke, noting it lived up to his psychology teacher's description: "It was a very interesting topic with some things that will tie back to psychology."
The state initiative that made this possible is, as one proponent described it, like "school choice on steroids." Estimates suggest that at least 10 states have adopted policies that allow students, most of them in high school, to take classes part-time online (and sometimes in off-campus classrooms), courtesy of a variety of providers they can choose from, including charter schools and other districts. Collectively, these policies are often referred to by advocates as "Course Access" or "Course Choice." The idea behind the programs is to expand students' options beyond the limited offerings available on their campuses or at one state virtual school. And the Course Access movement has been gaining momentum nationwide, with eight states adopting or considering such laws in just the last four years, according to a report on Course Access.
For Clarke and other students, online schools mean options, but for district officials, they can mean less revenue, as education dollars flow toward charter schools or other districts that offer the online courses. Not unlike what often happens with charter schools and vouchers, these policies can set up a competition for public funding.
States generally allocate money per student to districts, but in states with Course Access, districts have to share that funding based on the number of courses a student takes elsewhere. In some cases, much of the money can end up in the hands of for-profit companies that supply the curriculum, directly provide the classes, or run the online schools in which students enroll part time.
"What is possible is the exploding wiring—if you will—of money across district lines or even state lines," said Patricia Burch, an associate professor of education and policy at USC. "That can have a very immediate funding implication for a district."
School administrators echo Burch's concerns. "It is a significant cost," said Randy Paulson, the principal of Chatfield High, which he acknowledged can manage the strain partly because no more than 40 of its 400 students total are taking an online class annually. In Chatfield's case, nearly all the classes are provided by the Minnesota Virtual Academy, run by the nearby Houston Public School District, with help from the for-profit company K12 Inc. "What we want to do is serve our own students the best we can," said Paulson, noting that adding an online class or two sometimes helps keep kids in school. "We don't want to lose students."
Similar to efforts to open charters or offer vouchers for private schools, Course Access aims to allow students and their families to make choices in their education. Advocates believe that the programs have universal appeal, even for those either wouldn't consider leaving their local schools or don't have the option of a nearby charter. "We think the market is infinite," said Mary Gifford, of K12 Inc., which is the nation's largest virtual-school operator and provides the curriculum and some management for the school where Clarke and his classmates enrolled. Although no more than 2 percent of U.S. students will ever enroll in virtual schools full-time, she said, the company is now working closely with districts to help them start online programs as part of Course Access policies.
So far, only a tiny fraction of eligible students have enrolled in online classes. For example, in Minnesota, which began allowing part-time online enrollment in 2006, roughly 1 percent of the state's secondary-school students enrolled during the 2013-14 school year, according to state data. But on top of for-profit education businesses, that policy has powerful backers, including at least three Republican presidential candidates—Jeb Bush, Bobby Jindal, and Scott Walker—along with conservative groups such as the American Legislative Exchange Council (ALEC, the Koch Industries-backed association of state legislators and businesses).
John Bailey, who oversees policy issues at the Jeb Bush-founded Foundation for Excellence in Education—which along with the lobbying firm EducationCounsel co-sponsored the aforementioned Course Access report—pointed out that just two governors campaigned for the policies last election cycle: Illinois's Bruce Rauner and Texas's Greg Abbott. "When a policy reaches that high a profile," Bailey said, "you're making some progress."
And the group Chiefs for Change, also founded by Jeb Bush, is pushing to include a provision in the update to the federal No Child Left Behind Act to set aside 5 percent of Title I dollars to be used, among other things, for Course Access. (The House version of the bill already sets aside 3 percent, or roughly $410 million, mostly for outside tutoring services; changes could be made when the House and Senate versions are reconciled in conference committee.)
Many of these backers prefer the term "Course Access" to "Course Choice," to distinguish it from school choice and the controversies surrounding it, and also as a way of indicating its focus on expanding access where it's needed. Widespread shortfalls in key classes—only half of high schools nationwide offer calculus, for example—have become a rallying cry for supporters, particularly as states try to better prepare students for life after high school and ramp up STEM offerings.
"Having a high-quality education must no longer depend on location," wrote Jeb Bush in the introduction to last year's Course Access policy brief. "For the next generation of students, the international stakes are too high to restrict access to great courses based on zip code."
Yet the program may not actually be creating greater access for the very kids who might need it most—at least not yet. Participating students in Texas are wealthier and whiter overall than the public-school population as a whole, for example. Data on the Florida Virtual School show a similar trend. In Utah, a stunningly low 6 percent of students participating in the state's program are considered poor enough to qualify for a fee waiver, though officials have suggested that course providers could be providing incorrect information.
When Utah passed its Course Access law in 2011, school districts panicked over what it would do to their budgets. "We were fearful because those who were pushing it were pretty intense," said Ken Grover, now the principal of Salt Lake City's Innovations Early College High School, describing billboards that advertised free online courses.
The initiative—officially called the Statewide Online Education Program—has been gradually phased in. While remaining enrolled at their local schools, high-school students this upcoming year will be able to take as many as five classes online. Last year, when according to state data it cost $366 per student per semester, students could take four classes, and next year they can take up to six (usually considered a full load of coursework). The Utah law also allows private-school and homeschooled students to participate through a separate funding stream.
Utah's policy was the model for what the program's conservative backers  had imagined. In fact, its legislation was one of two—the other one is based on policies in Louisiana and Texas—officially approved by the Koch-backed ALEC. The disaster that the state's public-school districts anticipated never materialized—partly because, within a few months, many of those districts had established online schools to compete for dollars with the online charter schools.
Canyons School District, for example, went from having no online students in 2011 to 1,900 this past year, all of whom are enrolled part time and the vast majority of whom come from within the district, said Darren Draper, who runs what's believed to be the district's largest part-time school. "If we didn't build [Canyons Virtual High School], we would have many students going elsewhere, without question," Draper said. Just under 1,400 students statewide took an online class outside of their district in 2014-15, according to preliminary figures, meaning district budgets were largely spared. In the end, both advocates and skeptics of the change can claim victory in Utah—at least so far.
Course Access backers, however, claim credit for creating the competition that spurred the public schools to change. "The amount of options skyrocketed in some form or another," said Robyn Bagley, who chairs the board for the Utah group Parents for Choice in Education, emphasizing that the program will continue to expand.
But Grover doesn't expect to see a spike in numbers, arguing that most parents prefer to have their kids go to a physical campus. "They want them at school learning," he said. "It's their identity."
Rural school districts across Texas are using its version of Course Access to ensure students fulfill basic high-school requirements and even to save money. In the tiny 100-student Dell City Independent School District, every single secondary-school student was enrolled in an online social-studies class after the district's teacher left mid-year. Algebra II and Spanish classes were also offered virtually, said Veronica Gomez, a P.E. teacher who doubles as a liaison to state's Court Access program, Texas Virtual Academy Network. We're "out in the middle of nowhere," she said, stressing that staff shortages has forced the district to offer online options. But the online program has other advantages, too: "It's cheaper for us. We don't have to pay benefits or anything like that."
Most Texas districts, however, appear to be taking a different route: opting to spend money on their own schools and teachers rather than on online classes. When the state originally started up the program's catalog, in 2009, students could take courses online without the districts having to cover the costs; the state had allocated a separate pool of money for the program. But after the state stopped covering the cost, the number of spots filled in the semester-long online classes dropped precipitously, from roughly 22,900 in 2010-11 to about 5,800 three years later.
The law's wording may have been a major factor: It says districts can turn down a student's request for a state-vetted online class only if his or her school offers a "substantially similar" class. Backers of Course Access suspect that many districts are interpreting that provision generously. (An attempt to get the legislature to close that apparent loophole didn't pass.)
In a strikingly innovative move, Louisiana adopted a program that includes off-campus classes on top of online ones. The original law allowed for-profit companies and other outside groups to compete to directly provide the online or in-person classes, with funding going to the ones selected by families. But fierce political opposition to the Course Choice program prompted a change to the law, with the Supreme Court deeming its funding approach unconstitutional because it didn't give school boards a say. Since being revamped by the legislature—which removed the competition for resources, gave schools control over students' enrollment, and added additional money—the program has expanded rapidly and been championed by the state as a model for Course Access policies. And some Course Access proponents now say a program that doesn't start off as competitive for funding may be best.
Still, state superintendent John White said it hasn't lived up to his original vision: a program that would, in theory, bring new and inspiring classes to high-school students preparing for life after graduation with "things that would not have existed without Course Choice." Although some novel offerings, such as welding and an elite private college's associate's degree program, have flourished under the revised policy, Louisiana's schools most commonly use it to equip high schoolers with college credits through existing courses at the state's postsecondary institutions. However, White acknowledged that support from educators for the revised program has allowed the state to better collaborate with them in addressing students' needs.
Of course, for many advocates of Course Access, the ultimate goal is to give students and parents more of a say in school spending. Nevada recently passed a law that allows parents to spend state education dollars any way they please  through education savings accounts, or "vouchers on steroids," as they were called in one news story about the legislation. Parents can decide whether to spend those allocations on private, public, online, part-time, or full-time schools, on tutoring or extra books. (Four other states have similar laws, but they significantly limit the savings accounts significantly—to students with special needs, in foster care, and/or from high-poverty households.)
Policy-wise, ALEC's Lindsay Russell says Course Choice is evolving "into what you may know as an educational savings account" and is part of a greater national shift in education. Students, she emphasized need to be competitive not only within the U.S. but also globally "as we continue to slip." "I think education savings accounts are the purest form of educational freedom," she continued.
"Nevada is the poster child for seeing a different way to approach this," said Michael Horn, the co-founder and executive director of the Clayton Christensen Institute. "We need to step back and start learning what policy environments work in terms of incentivizing the right behavior."
Indeed, while seemingly less radical than Nevada's approach, Course Access in its current form tends to appeal to conservatives because of its approach to accountability, with schools and providers generally getting their money only when a student completes the course or otherwise fulfills all the requirements. Proponents say this is paying for the right thing: results rather than student attendance alone—especially given the dismal completion rates for online classes. (In Louisiana and Utah, course providers receive half on enrollment and half when the course is completed, for example.)
As Horn put it, "Course Access is this intriguing place to play with a lot of policies"—policies "that move away from seat time toward [things like] competency-based learning and measuring individual student growth."
---
This story was produced in collaboration with The Hechinger Report.