Too Many Kids
School districts are packing more and more students into classrooms—and that's pushing teachers out.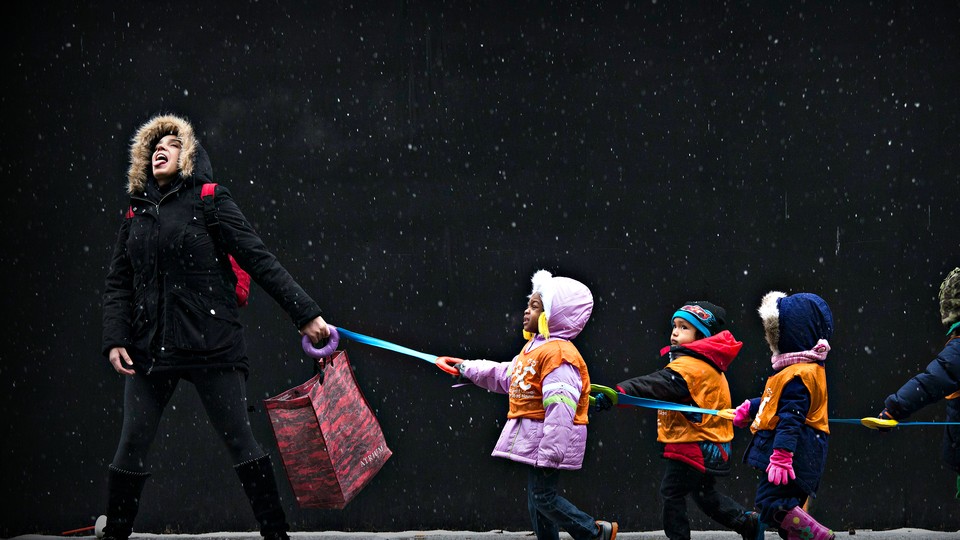 Erica Oliver has worked for the Atlantic City School District for a decade, teaching first grade and a few reading programs. Early in her career, Oliver typically taught no more than four students at a time. The small classes meant that students who struggled could be easily targeted, lessons could be tailored to individual needs, and progress could be expedited, she said. Over the years, however, Oliver has seen her class sizes grow: first to 16 students, and then to 24 or 25 kids per class. She found it harder to manage her classroom, properly supervise reading groups, and encourage her students to complete projects efficiently. All of this slowed down the group's collective achievement.
Unfortunately, things aren't going to get any easier for Atlantic City's teachers and students. The city has struggled to offset an increase in tax rates because of a decline in property-tax revenues and is forced to make budget cuts as a result. While the school board initially rejected a proposal to cut more than 220 jobs, the the state monitor ultimately overrode the vote in an effort to rein in spending: In late May, 147 Atlantic City educators were notified that their contracts were not going to be renewed.
Although Oliver, who's African American, hasn't been let go, the alternative isn't much rosier. The massive layoffs mean that classrooms will likely become even more crowded, and Oliver and others fear that could take a toll on student learning, in part because children will receive less individualized attention and have to work fewer school supplies. Also on the chopping block are extracurricular activities, including summer programs designed to keep students on track to graduation.
The cuts could prove especially detrimental for the district considering the population it serves. Nearly half of children ages 5 to 17 in the school district live with families living in poverty, according to census data. A majority of students are black or Latino, while just 2 percent identify as white. Atlantic City is also home to one of the worst graduation rates in New Jersey, with only about two-thirds of high-schoolers getting their diplomas.
The situation parallels budget crises facing other school districts across the country. Philadelphia, for example, has eliminated thousands of staff positions in the past two or so years, and officials have warned that some campuses will have to pack as many as 40 students into a classroom. Arizona's Sunnyside Unified School District and several districts in Ohio are among the dozens of other places that have struggled with similar cuts and contingencies.
Yet for many of the districts, there aren't regulations in place to prevent the overcrowding caused by the downsizing. As of 2010, when Education Week published report on the topic, 14 states, including Arizona, California, and Illinois, had zero class-size restrictions. And a number of the states that did gave requirements, such as Texas and New Jersey—where a court superintendent is allowed to increase class size—had gradually relaxed the teacher-to-student ratio rules.
In Atlantic City, the average ratio is slated to increase to approximately 18 students per teacher, although some high-school class sizes will grow to as many as 32 students;  gym classes could contain 40 students each. For schools in equally disadvantaged areas this range appears to be the norm: In 2010, South Main Street Elementary in Pleasantville, for example, had an average class size of about 29 students. But go to a wealthier district, and the difference is clear: Thomas Paine Elementary School in Cherry Hill had an average class size of 13. Although New Jersey placed second on a USA Today list ranking states based on the quality of their school systems, the dilemma in Atlantic City offers yet another illustration of how budget cuts affect student learning—and how inequality often plays out in American education.
Research shows how much of an impact small class sizes can have on kids' achievement. In the mid-1980s, the Tennessee government commissioned Project STAR (Student-Teacher Achievement Ratio) to gauge the effect of class size on individual student progress statewide. It found that for grades kindergarten through three, class sizes of 18 students per teacher or fewer produced the greatest benefits, especially for minority and low-income students. Because teachers could spend less time on classroom management and more time on instruction, the project concluded, they were able to engage more with the students, which in turn boosted their engagement in the learning material.
Furthermore, a study last year out of the National Education Policy Center found that small class-size ratios are linked with positive life outcomes, such as less "juvenile criminal behavior," lower teenage pregnancy rates, and higher high-school graduation and college-enrollment rates. A paper published in the American Journal of Public Health concluded that reduced class sizes, particularly in earlier grades, correlate with health-care savings and an additional two years of life.
Reduced class sizes can also play a key role in shrinking the academic differences between students of color and their white peers. According to the Princeton University researchers Alan B. Krueger and Diane M. Whitmore, average test scores for black students in small classes increased by as many as 10 percentile points, versus about 4 percentile points for white students. In 1996, the Public Policy Institute of California released a report on schools in a handful of large districts in the state, which stated that an additional 15 percent of students exceeded the national median in math, while another 18 percent exceeded the median for reading, when class sizes were reduced by a third. The National Assessment of Educational Progress has found similar evidence of the pronounced impact small classes can have on disadvantaged children, particularly those with less-educated parents.
What exacerbates the class-size crisis is that schools are struggling to retain instructors. Ubaldo Escalante Bustillos, a 24-year-old Mexican American who chose to work in a disadvantaged school in his hometown of Phoenix, is among the many rookie teachers who quickly left the profession. Though he grew up in a disadvantaged neighborhood were achievement levels were low, teachers pushed Escalante Bustillos because they believed in his capabilities, and he wanted to provide the same guidance for other kids. Escalante Bustillos, who got his bachelor's degree from Princeton and is pursuing a master's from Columbia this fall, figured he could help children achieve academic excellence, too.
But in part because of the size of his classes, Escalante Bustillos ultimately burned out. He often taught over 30 students for combined seventh- and eighth-grade math classes, oftentimes including students who couldn't pass English-proficiency exams or who suffered from learning and behavioral disabilities, he explained. In fact, Escalante Bustillos said that thanks to growing enrollment, he even had 48 students in his combined-grade math classes. Because it was difficult for him to manage both levels, he estimated that students received half the amount of instruction they should have gotten. Students often had to share desks with one another because there weren't enough to go around.  
Many of Escalante Bustillo's students were precisely the kids who needed the most tailored support from a teacher. Students from low-income communities are more prone than their more-advantaged peers to have problems at home and tend to carry these issues with them to class. In the book Teaching Poverty In Mind, the author Eric Jensen argues that low-income children are less likely than others to have their needs met, which correlates with delayed maturation and can inhibit brain-cell production. Despite these needs, according to researchers at the Harvard Graduate School of Education, the turnover rate among teachers in poverty-stricken schools, especially those with high-minority populations, is 50 percent higher than it is among those in more well-off schools. On average, public schools in low-income neighborhoods lose 20 percent of their faculty annually.
And that's a key reason growing class sizes are so insidious. "We can all agree that the quality of teaching is vital, but smaller classes can help teachers provide a more effective education," the researcher Peter Blatchford wrote in a Guardian op-ed earlier this year. "Instead of focusing on the relationship between class size and pupil attainment, we should be looking at the relationship between class size and effective teaching."