The Racial Imbalances of Special Education
A new study says blacks and Latinos are underrepresented in special-ed classes, but lots of researchers say the exact opposite.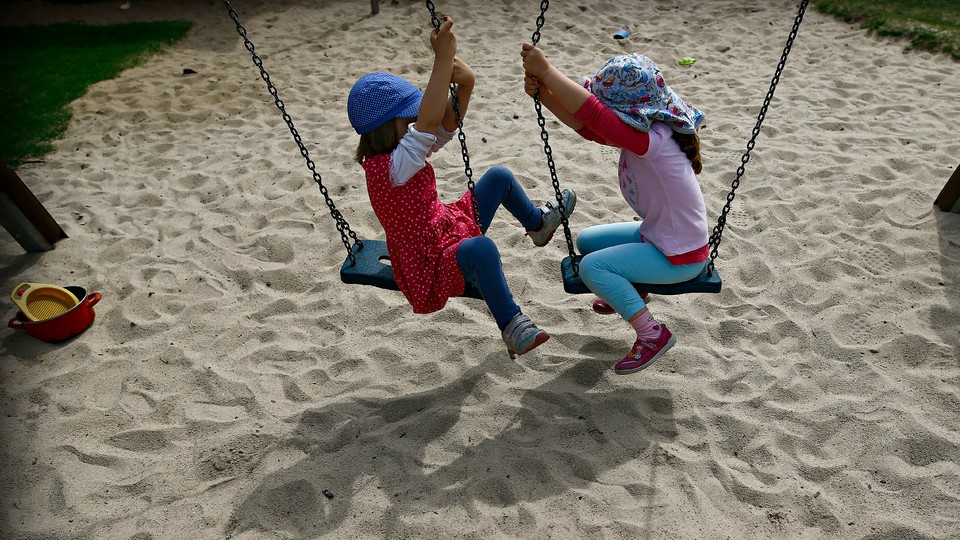 Is special education racist? That was the question posed in a recent New York Times op-ed by two researchers who claimed their study overturned 40 years of thought on the topic. Conventional wisdom has always held that, for decades, African American children have been overrepresented in special education. Some claim this has been in part due to a racially biased educational system that relegates kids of color to classes where less is expected of them.
But Paul Morgan and George Farkas's report argues that there aren't too many minority children in special education. In fact, there might not be enough, according to their findings.
The report has triggered responses from professors and other academics across the country. Even civil-rights lawyers and the federal government have grumbled about the report's claims.
"It borders on ridiculous, really," says Russ Skiba, the director of The Equity Project at Indiana University.
"They egregiously overstate their findings," wrote Daniel Losen, the director of the Center for Civil Rights Remedies at the University of California, Los Angeles.
"Replete with flaws, omissions and biases," wrote Ivory Toldson, a professor at Howard University and research analyst for the Congressional Black Caucus Foundation.
And a bit more diplomatically, Michael Yudin, the assistant secretary for the Office of Special Education and Rehabilitative Services at the Department of Education, told Education Week, "We'd love to have a conversation with them to learn more, and to understand better about some of the conclusions they drew."
What upset everyone was this: Six million disabled children in the U.S. receive special education. However, African American children do so at a much higher rate—1.4 times that of white children. So in a school where, say, 15 percent of students are black, they may make up 20 percent of special-education students. Many educators and experts see a problem with that imbalance.
For almost half a century, researchers have attributed this overrepresentation to conscious or unconscious biases that define minor behavioral problems, different speech patterns, or slower learning performance as disabilities. As a result, the federal government flags and corrects states and school districts with abnormally high rates of black or Latino students in special education.
And that practice is what the new study says is incorrect.
"If well-intentioned but misguided advocates succeed in arbitrarily limiting placement in special education based on racial demographics," Morgan and Farkas wrote in their op-ed, "even more black children with disabilities will miss out on beneficial services."
Their study looked at more than 21,000 students across the nation from when they started kindergarten in 1998 through eighth grade. This sample allowed the researchers to look at family poverty, race, language, and low birth weight so they could control for those factors. They looked at categories of disability including emotional disturbance, intellectual disability, and speech impairment.
The results found that minority children, when compared with their white peers, were less likely to be identified as having a disability—which, the report claims, means there are more who belong in special-education classes. Morgan, a professor at Pennsylvania State University, told National Journal that while the finding was surprising, other fields like pediatrics help explain why this might be.
"We know that minorities are much more likely to be exposed to health risk at a young age," Morgan says. "Low birth weight or being exposed to lead can have consequences on your cognitive growth. Poverty itself can have an impact."
That, Morgan says, may be why the percentage of minority children who should be in special education is larger than the percentage of minority children in the school population as a whole. More of them live in poverty, which causes health problems in childhood. In the op-ed, Morgan and Farkas pointed out that 35 percent of black children in inner cities have elevated levels of lead in their blood, compared with just 4 percent of white children. And African American children are about twice as likely to be born prematurely. Another thing that may prevent black and Latino kids from being identified as disabled is that fewer have health insurance or regularly visit doctors.
The problem with these new conclusions, critics say, is the data they began with.
Losen, who also edited a book called Racial Inequity in Special Education, says the researchers began with skewed data in which black and Latino kids were already underrepresented. He also wonders why, if the researchers wanted a data set much larger, and more accurate, they didn't use numbers from the Department of Education, which collects data on millions of students—not 20,000—every year in every state.
"In other words, we know what the nation looks like," Losen says. And the fact that Morgan and Farkas picked a sample that didn't represent that, he says, is dubious at best.
Moreover, by taking this sample of 20,000 and applying it across the country, the report makes too broad a statement, says The Equity Project's Skiba. Latinos tend to be underdiagnosed with disabilities in childhood, and overdiagnosed in high school. Black children are underdiagnosed with some disabilities, like autism.
But in areas like emotional disturbance and intellectual disability (disabilities that typically lead to a child's removal from the classroom), Skiba says 40 years of research finds that cultural bias often leads to an overdiagnosis. That means more African American kids end up in special education classes in which they shouldn't be.
"Their data just doesn't allow them to make the conclusion they've come to," Skiba says. "They're making blanket statements that really don't capture the complexity around this."
Perhaps the reason this is so sensitive for some is that the high concentration of black and Latino students in special-education classes echoes a narrative that they are less educationally capable. Howard University' Toldson wrote in an email, "Is special education racist? Special education is a system that too often offers a substandard curriculum to students who need the most academic enrichment … Decades of research, [which] includes the entire public-school population, has demonstrated that special education has been used to segregate unwanted students."
All too often, Toldson writes, those unwanted students are Latino and black.