The K-12 Binary
Schools are becoming ground zero for clashes over transgender rights.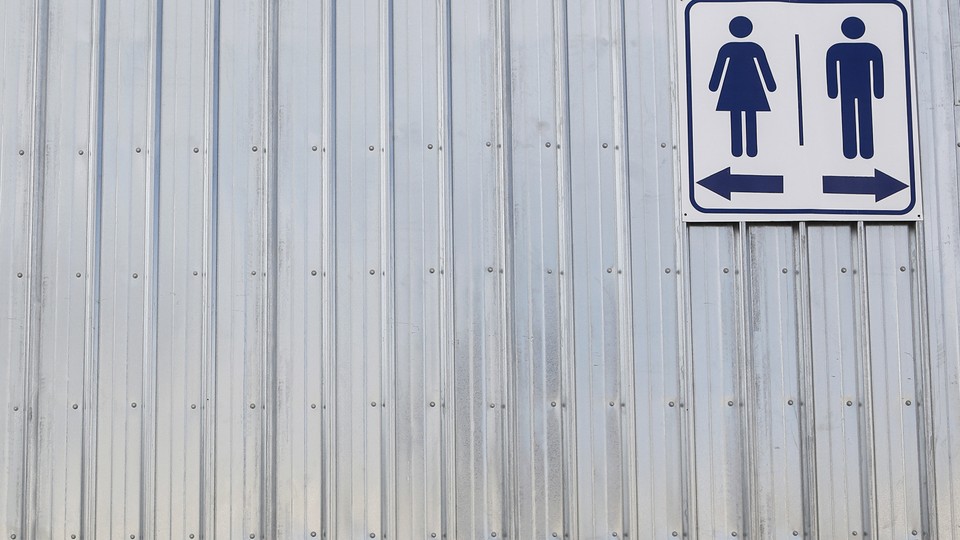 Casey Hoke would spend an average of two minutes out of his seven-hour school day in the restroom. "That's it. Business as usual. No one bats an eye," Hoke wrote in January, back when he was a high-school senior in Louisville, Kentucky. "How we go about our business is none of yours."
By "we," Hoke was referring to transgender students. He was primarily addressing Kentucky's legislature, which at the time was considering a bill that would've cracked down on transgender students' use of K-12 bathrooms. The legislation would've legally required schools to ensure that children follow anatomical conventions when using gender-segregated school facilities: that children who were born boys but identify as girls use the boys' restroom, and vice versa. What Hoke found particularly egregious about the "Kentucky Student Privacy Act" was that, in its original version, the legislation also would've entitled students who sued offenders in state court to damages of $2,500 each. Hoke compared this proposed system to a witch hunt.
The legislation died in committee well before the session ended, with the bill's author, the Senator C.B. Embry, withdrawing it amid concerns over its legality. But such debates will surely continue—and not only because of the global fascination with Caitlyn Jenner. Bills similar to the one in Kentucky were introduced and later died in states including Florida, Minnesota, Nevada, and Texas.
Meanwhile, controversies related to transgender youth regularly pop up at individual schools and districts across the country. For example, Virginia's Stafford school board enforced a policy similar to the Kentucky legislation earlier this year after one school allowed a transgender male to use the boys' restroom. Just last month, a 16-year-old transgender student filed a lawsuit against a school board in another Virginia district over a similar policy that required the student to use an "alternative" restroom instead. The U.S. Department of Education, which last year made it clear that Title IX also applies to transgender students, recently filed a statement of interest in support of the student.
At least two lawsuits—one involving a first-grader in Colorado and another involving Nicole Maines, a high-schooler in Maine—have upheld access to bathrooms for transgender children, the latter of which awarded Maines's family $75,000. And the New York Civil Liberties Union released an in-depth report last month that's said to document "the serious and pervasive discrimination and harassment faced by transgender and gender nonconforming youth" in public schools across the state of New York.
The country is in the midst of what Time magazine last March dubbed "The Transgender Tipping Point," which helps explain why these controversies are becoming more prevalent. And schools are emerging as the fulcrum for that cultural change—for both its opponents and its pioneers.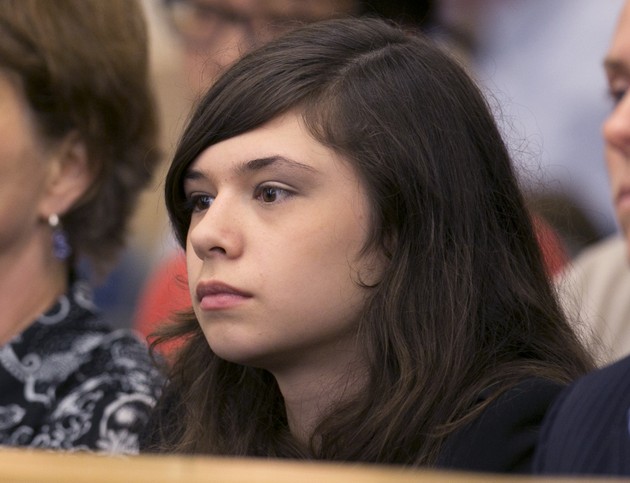 * * *
LGBT issues generally have tended to cause a fuss in schools, from outrage over sex-ed curricula that teach about homosexual relationships to disputes over the employment of gay teachers; despite (or perhaps because of) the Supreme Court's recent decision on gay marriage, that will probably be the case for decades. In a way, though, the heightened visibility of transgender youth is making those other debates seem archaic. Commenting on the Jenner news, Bill Maher recently joked that "gay is the new straight." "Gay," Maher quipped, "is so simple now."
Deliberations at schools over the adoption of new pronouns show just how tricky transgender issues can be. Earlier this year, the University of Vermont became the first school in the U.S. at which students can choose the vocabulary used to refer to themselves. ("Ze" is among the options at UVM.) But that change took nearly a decade of lobbying, as well as tens of thousands of dollars for software updates. So it's easy to imagine how fraught the bathroom battles can be, especially when the disputes involve young children and concerned parents. School sports raise a whole other set of questions. Should a student who has the biology of a boy but identifies as a girl be allowed to play on, say, the girl's basketball team? Should she be allowed to shower alongside girls in their locker room?
Questions surrounding transgender students may seem inconsequential for all but a small minority. In a survey of its students, the Los Angeles Unified School District—which helped spearhead California's landmark law prohibiting discrimination based on gender identity in schools—found that just 0.5 percent of students identified as transgender. But while the percentage may seem negligible, it translates into 3,000 kids, noted Judy Chiasson, the program coordinator for the district's Human Relations, Diversity, and Equity division. "We do not have 3,000 students who are going to school by their gender of identity, which tells me that this is a severely underserved population," she said. "Imagine that for most of these students, this is just their private journey … imagine there's a lot of fear. The journey from self awareness to disclosure is an extended one."
And it matters for school populations as a whole, advocates say. All kids are impressionable; how adults handle these sensitivities can greatly influence how they perceive the world when they're grown-ups themselves.
* * *
Prominent academics have long argued that gender identity isn't so much of a dichotomy but rather, as The New York Times has explained, "a continuum along which any individual may fall, depending on a variety of factors, including anatomy, chromosomes, hormones and feelings." Johanna Olson, a physician who specializes in healthcare for transgender youth at Children's Hospital Los Angeles says that "genitals don't equal gender." States are following suit by moving to allow transgender people to change their birth certificates even if they don't have reassignment surgery or legal consent.
Public opinion seems to support these leanings. A Public Religion Research Institute survey from 2011—long before Time magazine declared the so-called tipping point—found that nearly nine in 10 Americans believed "that transgender people deserve the same rights and protections as other Americans." Still, three in 10 of those surveyed couldn't define the term "transgender." And a poll last month by the same organization shows that three in five people still believe transgender people "face a lot of discrimination."
It's not surprising, then, that transgender people often struggle to come to terms with their identities. The male-female binary is at the very core of conventional western culture: The Times described it as "a belief system at least as old as Adam and Eve," something so institutionalized that "most people don't even realize it's there." This bias can take a heavy toll on an individual's well-being: from stigmatization to bigotry, family estrangement to drug abuse. One in five transgender individuals has experienced homelessness at some point during his or her life, according to the National Center for Transgender Equality. The federal Office for Victims of Crime reports that transgender individuals face "shockingly high" levels of sexual abuse and assault. At least four transgender teens have committed suicide in the U.S. since 17-year-old Leelah Alcorn did so last December, and two in five attempt suicide at least once in the course of their lifetimes.
Advocates say institutions such as schools have a responsibility to do what they can to reduce the marginalization of these individuals. "Reliance on segregation in our public spaces harms transgender and gender non-conforming people," wrote the public-policy scholar Jody Herman in a 2013 study for the UCLA School of Law's Williams Institute, a think tank focusing on sexual orientation and gender identity. The study found that more than half of those surveyed in the study reported experiencing a physical problem from trying to avoid using public restrooms, such as dehydration and kidney infections. Moreover, "experiencing consistent problems in gender-segregated public restrooms can contribute to a sense of stigmatization and ubiquitous discrimination," Herman wrote.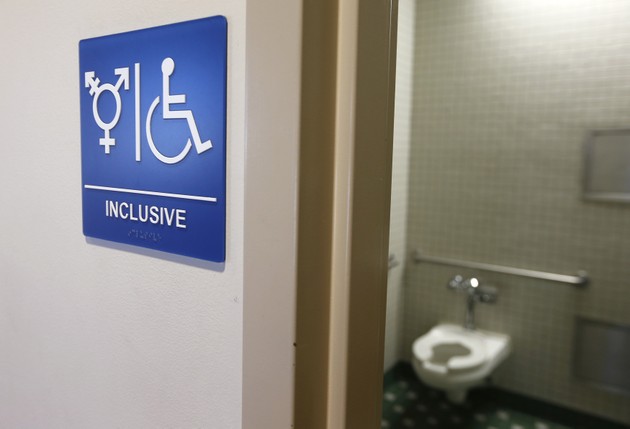 For young children, the trauma is often more amplified, particularly when the people rejecting them are peers or, perhaps worse, parents, teachers, or school administrators—adults who are supposed to protect. Discrimination of any kind hurts students, "but for transgender students, it also undermines their full integration into society," wrote the NYCLU in a press release for its "Dignity of All" report. "Despite the great cultural and policy advances transgender people have made, there is still a lot of disrespect, discrimination and violence aimed at us," Mara Keisling, the executive director of the National Center for Transgender Equality, told The Independent in response to Alcorn's high-profile suicide. "And being a child or a teenager of any kind today is very difficult."
Of the more than 24,000 incidents of harassment or discrimination reported by New York schools during the 2012-13 school year, roughly one in five were related to a student's "perceived or actual sex, gender or sexual orientation," the NYCLU report found. By promoting campus climates that further stigmatize transgender students—from restricting their bathroom access to targeting them for dress-code violations—educators, according to the NYCLU, also promote prejudiced practices.
Nearly half of the transgender youth surveyed in a GLSEN report on transgender youth had reported skipping school at least once during the month before the poll was taken, about half of them because they felt unsafe or uncomfortable. Transgender youth also had significantly lower GPAs and college aspirations than their peers, the survey found. The report concluded that "policies and practices that enforce gender segregation," such as those governing bathroom and locker-room use, play a key role in promoting a sense of hostility on campus.
Indeed, gender-inclusive policies could have educational benefits for children, too. As one teacher recently told Eilene Zimmerman in a piece for The Atlantic, "the influences of trauma can mimic learning disabilities." A Centers for Disease Control study found that childhood trauma can undermine brain development, particularly neural areas that control memory and verbal ability and control emotions such as anxiety and depression.
* * *
Advocates say Title IX is explicit in prohibiting the kinds of policies implemented in the Virginia schools and the laws proposed in states like Kentucky. In a move described by GLSEN's Nathan Smith as "monumental," the DOE issued a document last year that offered additional guidance on the decades-old law: "Title IX's sex discrimination prohibition extends to claims of discrimination based on gender identity."
But Smith says the provision, which was among the slate of transgender-focused policy reforms implemented across the country last year, isn't enough—largely because only a little over a dozen states and Washington, D.C., have laws designed to protect students from discrimination based on gender identity. "It's a good first step to say that [transgender youth] are covered, but the guidance raises a lot of questions for schools and districts about what that specifically means," he said. "We would like to see schools interpret it as really making sure that a transgender student feels fully accommodated … taking care to make sure that the student has the ability to express themselves and take advantage of the school facilities in a way that they feel comfortable." Oftentimes schools simply aren't aware of the new Title IX guidance or don't know how it applies to them.
Proponents of gender-segregation policies often cite a 2009 U.S. Court of Appeals ruling in arguing that restricting the use of school facilities for privacy and safety reasons isn't considered discriminatory under Title IX. Some emphasize that their intention is to keep children safe from inappropriate or risky situations. Erick Kingston, a parent in the Stafford school district that recently implemented its controversial bathroom-use restriction, was quoted in The Washington Post as telling the local school board that predators would otherwise abuse the ability to use the bathroom they choose. Without such a restriction, he said, "any predatory individual—student, teacher, or anyone in between—within our school system [can] claim the gender identity to enter the restroom or locker room of the opposite sex to prey upon our children behind closed doors."
After the Minnesota State High School League voted to allow transgender student athletes to play on the team with which they identify, the Child Protection League ran full-page ads in local papers with headlines such as, "A male wants to shower beside your 14-year-old daughter. Are YOU okay with that?" and "THE END OF GIRLS' SPORTS? Her dreams of a scholarship shattered, your 14-year-old daughter just lost her position on an all-girl team to a male … and now she may have to shower with him."
Some conservative media outlets, including Fox News, have reported on alleged incidents of these hypothetical scenarios actually happening. But liberal media watchdog groups, such as Media Matters, have cited a range of officials and advocates in states that require inclusion denying those allegations. For example, Alexa Priddy, of the Colorado Coalition Against Sexual Assault, told Media Matters: "Such criticisms of this law and ads [that] invoke what we see as 'trans panic,' an attempt to create fear of transgender people and a false label of trans individuals as sexual predators."
Opponents of such policies say they only isolate children and put them at further harm. Schools, they argue, play a key role in raising awareness about the realities of transgender identities and in encouraging tolerance. "It's hard for [students] to be their own advocates," said GLSEN's Kari Hudnell, and although explicit policies ensuring what's often referred to as a "gender-inclusive learning environment" wouldn't necessarily put an end to harassment and discrimination, they could avoid the need for that extra layer of support. They could also help eliminate what Sheila Cavanagh described in her 2010 book Queering Bathrooms as a "system of surveillance and policing of public spaces based on subjective assessments of a person's gender and gender expression," reducing the stress such students experience as gender minorities and working to prevent any confusion caused by an absence of guidelines.
Confusion is what often triggers emotional clashes like those at the Virginia schools—clashes that are distressing for both sides. Oftentimes an individual school is supportive and willing to provide accommodations but reverses course when it becomes embroiled in controversy. It's frequently parents who raise questions; the PRRI survey this year found that young Americans are far more likely to believe transgender people face discrimination than are their older counterparts. Once "it gets public, you'll see community pressure, or you'll see a school board step in and consider something that wasn't really an issue before," Hudnell said. "Sometimes the school doesn't know what to do so they will go to the board or the district and ask, 'How do we handle this?' … People who don't really understand the issues [then start] weighing in."
Hudnell acknowledged that concerns such as those expressed by Kingston are understandable. "What parent doesn't want to protect their kids?" she said. But preventing a child from coming out, she emphasized, can be even more detrimental: "It's really important for [transgender youth] to not feel like they can't be who they are."
* * *
In 2013, California passed a law stipulating that students must be permitted to participate in sex-segregated school activities—like bathroom use and sports-team participation—based on the gender with which they identify, regardless of the sex listed for them in official records. Lawmakers in opposition to the bill, including the Republican Assemblyman Rocky Chavez, argued that the law places an unjust expectation on students, with Chavez saying in a press release that it "imposes the will of one individual over the rights of another" and "[alienates] many students and their families." Nonetheless, legislators voting in favor of the proposal outnumbered those in opposition nearly two to one—and an effort to place a veto referendum on last November's ballot failed to get enough votes.
The LAUSD's Chiasson, a former school counselor, was at the forefront of the effort. L.A. schools, she said, had followed practices similar to those outlined in the law since 2004, and that's largely thanks to a young girl who was born a boy and who opened up to school officials about her parents refusal to accept her self-identification. "It was very difficult for the family until they had this epiphany that they had to stop talking and start listening," recalled Chiasson. "All she wanted was to start school as a little girl. And I realized that [as] educators, our job is to make sure that your children feel welcome in our schools … She was really the one that I think made us stop talking and start listening."
Even if "there were a loophole in [Title IX] and somebody felt that they could discriminate doesn't mean they should. Education has always been at the forefront of social justice. That's our calling; we have to do the right thing now," Chiasson said. "We should be celebrating diversity beyond tolerance."
Some advocates say that the athletics sector has made more progress in celebrating the kind of diversity Chiasson hopes will be extended to school campuses nationwide. The NCAA in 2011 clarified that transgender students can typically compete on teams of the sex with which they identify, depending on their hormone use; a handful of colleges have had transgender athletes play on their teams, including George Washington University, Bates College, and Harvard. And an increasing number of states—whose high-school sports programs, both public and private, are typically overseen by statewide leagues—are passing policies that allow transgender students to participate on the teams they choose.
According to Helen Carroll, who oversees the Sports Project at the National Center for Lesbian Rights, only five states have policies that completely exclude high-school transgender athletes, while 16 (including D.C.) are "totally inclusive." Another 17 states, according to Carroll, who formerly served as the athletic director for the NCAA, don't have any policies.
Carroll says that fears surrounding transgender girls' sports participation are misplaced. "What we've seen [in the states with gender-inclusive policies] is that transgender [girl] athletes fall right in the middle of the spectrum of girls' athletic skill levels," she said. Advocates point out that many of these girls are on hormone blockers and never go through male puberty, meaning they don't develop the physical qualities that might give a man a competitive edge athletically. And even so, they say, making such a distinction is murky on principle: If a female naturally has higher testosterone levels than another female, does that mean she shouldn't compete?
Shifts are happening in other education realms, too. The University of Louisville's medical school recently announced the launch of a project aimed at providing training in transgender health-care for physicians. Last month—the same week Jenner appeared on the cover of Vanity Fair—Barnard announced that it will admit transgender women, joining all of the other Seven Sister schools that had already committed to doing so. And now, a growing body of authors are writing children's literature centered on transgender characters, "hoping," as The New York Times reported last month, "to fill the void they felt as young readers." The Times spoke with a young-adult novelist, Carolyn Mackler, who gave her 10-year-old son a copy of George—a forthcoming middle-school novel from Scholastic about a boy who identifies as a girl but struggles with how to tell his family and friends.
"I said, 'If you met George, would you be friends with him?'" Mackler told The Times, recalling what her son said after she asked him what he thought about the story. "And he said, 'Mom, it's her, and I would be friends with her if she was nice.'"