Is Silicon Valley Driving Teachers Out?
As housing costs in America's tech hub continue to soar, local educators are finding it tough to stay and work in the area.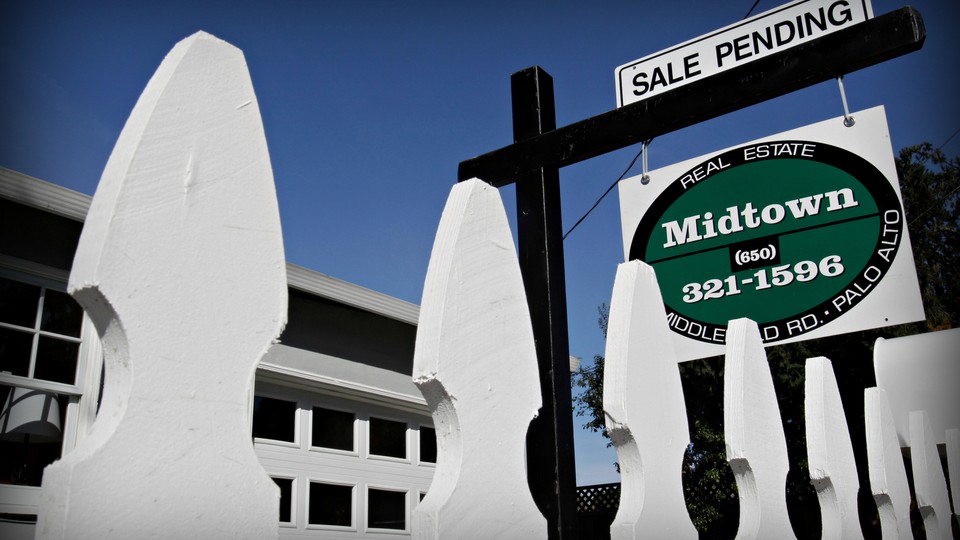 SANTA CLARA, Calif.—Skyrocketing housing prices in Silicon Valley, the country's hub of tech entrepreneurship and one of the most highly educated enclaves in the world, are making it hard for teachers to call the area home.
"Housing is one of the biggest reasons we lose teachers from one year to the next," said Dave Villafana, the president of the teachers union in Cupertino, Apple's hometown. "They can't afford a house, and rent is prohibitive as well."
Villafana, who has taught in Cupertino for 28 years, said that for the last 15 years district teachers have increasingly had to live elsewhere—often a 45- to 65-minute commute away on the area's clogged freeways—in order to afford rent. Owning a home, he said, is "not even a thought."
"In Silicon Valley now [the problem]—for working-class or middle-class professionals—is that a single-family home is just not a reality for them and it probably won't be," said Chris Isaacson, the president of the Silicon Valley Association of Realtors.
In Cupertino, the median price of a single-family home was $1.8 million in May, according to data pulled by the Silicon Valley Association of Realtors from the MLS database, the most up-to-date source of information on home prices. In nearby Mountain View, where the Googlers work, the median price was also $1.8 million.
And seldom are these single-family properties giant suburban homes. The average size of homes sold in Cupertino and Mountain View last month hovered around 2,000 square feet, meaning that each square foot costs more than $900, a price that rivals those found in New York City. And with regard to the teaching force, trends in Silicon Valley are especially noteworthy because of how quickly things are shifting there and how little recourse modestly paid educators have when it comes to living comfortably; the housing and rental market in the Big Apple is extremely different from that in California's sprawling tech hub. For one, it has far more housing stock, as well as more varied pricing and easier access—by foot and public transit—to cultural and commercial venues. While New York's rental market has been famously difficult for at least a century, that in Silicon Valley is only now heating up, at breakneck speed, with no sign of slowing.
For many residents of the Valley, for which Santa Clara County is the closest geographical proxy, owning a house remains a possibility despite the gargantuan price tags—because salaries here have risen, too. The county ranked in the top 20 for median household income in 2012, according to data from the U.S. Census Bureau. And recent five-year estimates from the bureau put the median at $91,702.
---
Median Home Prices in Silicon Valley (2014)
MLSListings / Silicon Valley Association of Realtors / Sarah Butrymowicz
---
Many of the young workers flocking here quickly surpass that income as soon as they arrive; the San Jose-Santa Clara-Sunnyvale metro area has the second-highest concentration in the country of people earning salaries in the top 5 percent. Various data sources suggest that a new engineer can expect to command a salary of more than $100,000 within a few years here. Add bonuses and stock options, and those salaries can quickly soar toward $200,000 for an engineer in his or her mid-30s or early-40s. Still, despite the high earnings, most of their children appear to attend public schools: Close to 86 percent of school-aged children in Santa Clara County, for example, attend public school, according to the site Private School Review.
Meanwhile, public-school teachers, like other civil servants, are paid based on available state funding, local property taxes, and political will—not the market. They are lucky to hit the regional median in a lifetime, let alone early enough to build the equity needed to buy a home in a boom market. An examination of area salary schedules shows that most teachers working in the 31 school districts serving children in Santa Clara County's 15 cities earn salaries ranging from about $45,000 to $105,000 depending on education, experience, and the district in which they are employed.
Those salaries simply don't compare with what teachers' neighbors can earn working for tech companies—let alone help those teachers buy homes in the communities they serve. The spiking cost of housing in the area has not gone unnoticed—it's probably the best reliable small talk conversation in the Valley—but the effect that spike is having on teachers seems to have received little direct attention. So, despite the famous ingenuity of the tech entrepreneurs who live here, there's no clear resolution to the looming teacher housing crisis.
* * *
How the headquarters of the world's technological-innovation economy got so behind on housing is something like the case of the frog in the slowly boiling pot of water: Many small factors added up to a glaring problem before anyone noticed.
Californians have long been reluctant to build densely, which has resulted in a shortage of housing stock and, in turn, higher prices, according to a recent report on housing costs by the California Legislative Analyst's Office. Some observers say earthquake safety and environmental regulations, among other policies, have also hindered new construction. Between 1980 and 2010, the number of new housing units in a typical U.S. metro area grew by 54 percent, according to the report. In the San Francisco metro area, the number of new housing units grew by only 20 percent.
Still, these days, the population in Silicon Valley is booming. New jobs are plentiful, and economists are predicting continued growth based on the stable business models of some of the area's largest companies; an equalizing bust is unlikely. "We don't have the inventory, and we have so many people [and money] coming here ... that I don't see a significant dip in prices coming," said Nancy Stuhr, a real-estate agent with Coldwell Banker who has sold houses in the area for 25 years.
Silicon Valley also boasts some of the best public schools in the state, at least according to English and math standardized test scores, and its highly educated residents are often willing to pay top dollar to live within the best districts. School ratings are routinely included in marketing materials of homes for sale, said Isaacson of the Silicon Valley Realtors Association. "Many people have decided which school they want before they start looking" to buy a house, she said.
Mai Nguyen, a stay-at-home mother of two whose husband is a physician, said they moved to a small house in the Cupertino Union School District to send their children to a Mandarin-immersion program. "That was the reason why we got the house, because of the school district," Nguyen said. "It's a really old house, and the price is higher than other places, but because of the school district, we decided to get it. I do wish they would retain good teachers."
But the state's school-financing policy could work against Nguyen and other parents like her. A state law from the late 1970s limits property taxes, a main source of school funding, placing California at the bottom of the national education spending list and making large raises for teachers unfeasible. It's worth noting that 14 of the 31 Santa Clara County school districts have local property taxes that are high enough to qualify them as "basic aid" districts, which receive only minimal funding from the state and are therefore solely responsible for their teachers' salaries. (Cupertino is not a basic-aid district.)
Some policy developments and other initiatives, however, suggest that solutions to the problem are possible. In June, the California Supreme Court upheld a City of San Jose law requiring that developers price 15 percent of new units affordably for people earning 110 percent or less of the neighborhood's median income. Similar laws—as well as fees for building new housing, which are then used to support affordable housing—are on the books in nearby towns as well, though teachers often make too much to qualify for official affordable-housing benefits. And earlier this month, SV@Home, a new advocacy organization with backing from Google and LinkedIn, opened its doors with the objective of expanding affordable housing in Silicon Valley.
But these latest developments have focused on the affordability of housing more generally—not for teachers or other community workers specifically. Teachers, for the most part, must find living solutions on their own.
Some older teachers, like the Cupertino teachers union's Villafana, have stable rentals with landlords who are not out to make a large profit. Younger teachers who rent in the towns in which they teach often live with multiple roommates, but that situation that can become less appealing as the educators reach their 30s and start to look at having family or simply gaining some more personal space. Meanwhile, those who want to own but didn't buy into the market at least 15 years ago are often left to buy condos on the edges of the Bay Area or in Santa Cruz on the coast, which is actually a less expensive place to live. Still other teachers end up marrying a partner with a job in tech that makes up for the teacher's smaller salary.
Some teacher-specific solutions do exist. The San Francisco Teacher Next Door program provides loans of up to $20,000 towards a down payment to qualified teachers employed by the San Francisco Unified School District. That's about 10 percent of the amount needed for a down payment in San Francisco. And nationally, the federal Good Neighbor program offers 50 percent discounts to teachers, police, and firefighters on homes it owns. But there isn't a single house in Silicon Valley on the program's list of discounted homes.
Perhaps one of the most straightforward solutions to the lack of affordable housing for teachers in the Valley is the "Casa del Maestro," or "House of the Teacher" apartment complex in the city of Santa Clara. Over the past 15 years, 70 one- and two-bedroom units have been built on district-owned land and rented only to new Santa Clara public-school teachers at reduced prices ranging from $1,110 to $1,805 a month for a maximum period of seven years.
The second-grade teacher Megan Winslow, 33, said she benefitted from that program. In her years living in Santa Clara's teacher housing she was able to put money away for retirement, build a savings account, and travel a bit in the summer. Now that she's moved into the real-life rental market, she's had to stop putting money into retirement entirely. Money for savings and travel have become limited, too, although she still finds cash to put into her classroom or to help her students. (She says she once covered a few nights in a motel for a student's family whose homeless shelter was temporarily shut down.) Winslow now pays half of the $2,515 monthly rent, plus utilities, on a two-bedroom apartment she shares with a roommate.
"Buying a house—I've just been kind of okay with the fact that that might never happen," Winslow said.
Kevin Zwick, the CEO of the Housing Trust Silicon Valley, a nonprofit that provides training and loan assistance to qualified applicants, said buying a house shouldn't be entirely out of reach for teachers. His organization has helped get 440 teachers into homes in the last 14 years by offering down-payment loans to teachers with a family income of under $102,050 annually.
Those teachers, like Mark Stolan, who teaches eighth-grade math in San Jose, are grateful for the help. In 2013, with a down payment loan in hand, Stolan and his wife were able to buy a two-bedroom condo in Campbell, one of the last communities in the Valley that is still somewhat affordable to middle-income earners, according to the MLS Listings. (Campbell, along with Santa Clara and San Jose, are the three communities within Santa Clara County that are within close commuting distance to the major tech companies and have median home prices of $1.2 million or less.) But the purchase means the couple is tied to a home on which they were only able to pay 3 percent of the purchase price out of pocket. If prices continue to soar, this potentially risky investment will pay dividends. But if the market settles into a more normal growth rate, the Stolans will have to wait a long time before the amount they'll "make" by selling will be enough to buy a bigger or nicer house.
"We're going to have to wait 10 years before we can even think about moving," Stolan said. "The area is growing so much faster than the income is going up. In teaching, the income only goes up so fast."
But if they hadn't bought when they did, the Stolans might not have been able to buy at all. Paying rent from their salaries would have made it almost impossible to save up for the down payment that would qualify them for a loan on their own. And now, two years later, their joint income hovers just above the maximum allowed to qualify for assistance from the trust. The Stolans have joined the ranks of seemingly well-paid professionals in the area who make too much to qualify for assistance, but too little to buy into the market.
This housing predicament for "community workers" like teachers, police, and nurses eventually becomes a problem for everybody, said Maya Brennan, the vice president of the Terwilliger Center for Housing at the Urban Land Institute, which researches housing trends throughout the country. Such professionals, she said, should be considered "their own class of workers" because their jobs can't be outsourced.
If a Bay Area tech company needs to set up a server farm, they could, say, open it in a less expensive mid-sized city, like Bend, Oregon. But a Bay Area school has no such luxury. Advances in computer-based learning aside, Stolan's eighth-graders are unlikely to teach themselves algebra while he monitors their work from Oregon via video conference call.
"You can't really have teachers just living in the Pacific Ocean," Brennan said. "We need to make sure these workers can afford to be in our communities."
But unless something changes drastically (or an as-yet-unknown app is invented to solve the problem), Silicon Valley risks losing the very people it's counting on to educate its future stars.
---
This story was produced in collaboration with The Hechinger Report.