Rahm Emanuel: 'I Am Not an Education Reformer'
The Chicago mayor just announced $200 million in school budget cuts and 1,400 staff lay-offs. What's his plan for saving the Windy City's public-education system?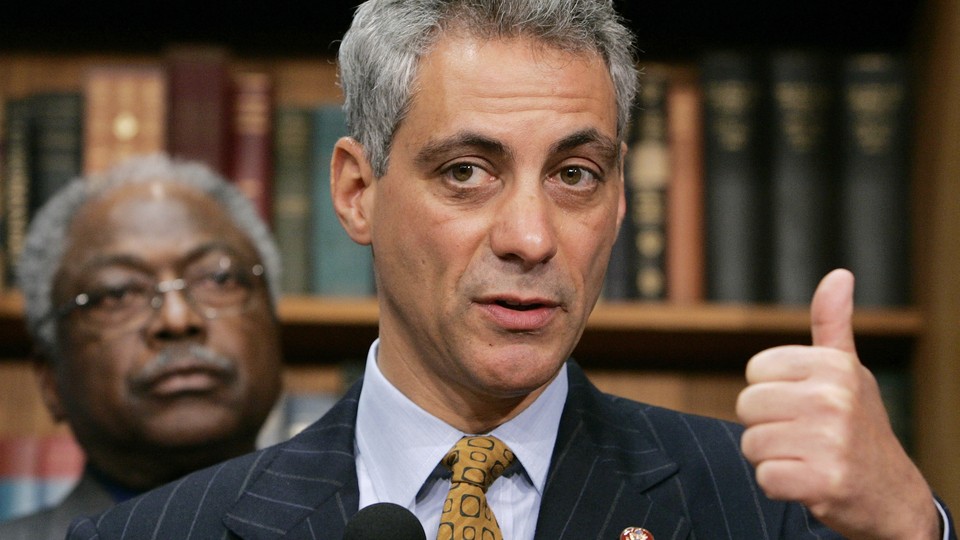 Chicago public schools are going through some rough times right now. The city is projecting a $1.1 billion budget deficit for the next school year, largely due to teacher-pension payments. On Wednesday, Mayor Rahm Emanuel announced $200 million in budget cuts and 1,400 staff layoffs. Many of the cuts will come from the central office, although high schools  will also open and close 45 minutes later to save on transportation costs, and funding for elementary-school sports teams will be eliminated. The city is asking for state support and planning to raise taxes to help get rid of the deficit.
At an interview at the Aspen Ideas Festival on Thursday, Emanuel was defiant. "Everybody's going to hate what they've got to do," he said. But the budget arrangement is "what we call a grand bargain, or a fair deal."
During his four years as mayor, Emanuel has focused much of his efforts of Chicago's schools, but not always with the support of teachers and school leaders. A multi-day teachers' strike shut down the city's public schools in 2012, and the Chicago Teachers Union led a push against him in the 2015 mayoral race, helping to force a run-off against a relatively unknown opponent, Jesus G. Garcia. On Thursday, Emanuel made it clear that he harbors no love for the education-reform movement. For example, he said, the common debate that pits public schools versus charters is "nuts."
"I am not an education reformer," he said. "My job as mayor is to make sure you have quality."
In some respects, the quality of education in Chicago has been going up. "Chicago is on track to improve high-school graduation rates by 30 points in under a decade. That's extraordinary and unparalleled," said the session's moderator, the University of Chicago professor Timothy Knowles. "Attendance is going up for all kids, test scores are going up … Literally 25,000 more kids in Chicago are in high school than they were prior to [a decade ago]."
Emanuel said that the next focus for change—not reform, mind you—has to be high schools. There are "good quality neighborhood elementary schools, [but] … high schools are the trick for us," he said. Comparatively speaking, the city is highly educated and has attracts a lot of college graduates. "150,000 every June, like clockwork. You come, you're single, you get a dog, you find a mate, you get married, you have kids," he said. But by the time those long-ago grads are ready to put their kids in high school, they're also thinking about escaping to the suburbs.
To try and reverse that trend, Emanuel is allowing high-performing public schools to become independent, no longer under the control of the school system's central office. "It gives principals, teachers, and parents an incentive to get free of the bureaucracy," he said. Computer coding will also become a graduation requirement by 2018.
But despite his proffered slate of plans, Emanuel seemed slightly weary. He thanked the audience twice for allowing a "therapeutic moment" of complaint about the education-reform movement—including some of the people in attendance.
"Looking over the room, I think I can run faster, and I'll get out that door pretty quick," he said, presumably referring to the audience's relatively advanced age, or perhaps the high proportion of people wearing boat shoes. "If you're going to have a conference and talk about ideas and making changes, be relevant to what's happening at kitchen tables across the country."
In Chicago, at least this month, many parents may be sitting at their kitchen tables, wondering what's going to happen to a city school system that's in serious debt and may face more funding cuts in the coming months.