One Step Closer to Life After No Child Left Behind
A promising rewrite to the notorious law just passed another hurdle.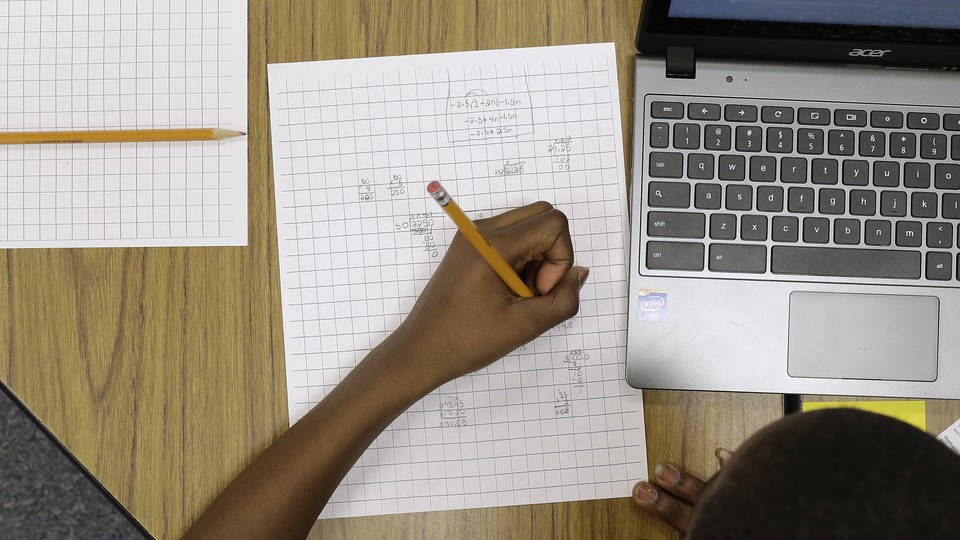 After months of anticipation—and nearly a decade of neglect—No Child Left Behind's demise is closer than ever to becoming a reality. The U.S. Senate on Thursday passed a much-anticipated bill that would remake the 50-year-old law on which No Child Left Behind is based, ending a chapter in which the federal government was the key decision-maker at local schools.
The new law—the Every Child Achieves Act—would give much of that decision-making power back to states. Instead of the feds, state-level officials would determine how to assess academic performance, what counts as a struggling school, and which mechanisms to use to hold educators accountable for achievement. No more top-down reforms. No more mandatory interventions. No more Washington, D.C., bureaucrats stepping on the toes of local policymakers and educators who are much more in tune with their communities' needs.
Right? Of course not. There's plenty of important nuance here, and the legislative tug-of-war is just getting started. But the optimism—and celebration on social media—is justified, if only because it's a rare example of successful bipartisan collaboration in Congress. It's even more extraordinary given the recent years of partisan gridlock on the issue: Since 2007, Congress had failed to address No Child Left Behind's original law, the Elementary and Secondary Education Act. Despite No Child Left Behind's horrible reputation, including among everyday Americans and even childless adults, the law stayed in place year after year.
Commentators and advocates on the left and right applauded the legislation's co-authors—Senators Lamar Alexander, a Republican, and Patty Murray, a Democrat—for shepherding the measure through the Senate and fending off polemical amendments that could've jeopardized its survival. The Senate's final version got overwhelming support Thursday, with just 17 senators voting no.
"Today the Senate's shown that not only is there broad consensus on the need to fix this law—remarkably, there's also broad consensus on how to fix it," Alexander said in a statement Thursday. "This is the consensus: continue the law's important measurements of students' academic progress but restore to states, school districts, classroom teachers, and parents the responsibility for deciding what to do about the results of those tests."
But compromise also means that the law's passage probably wouldn't change much at most schools—at least for now. After all, almost all states (43 and D.C.) already have waivers from the Obama administration that give them flexibility under No Child Left Behind. In other words, the law's influence in a majority of the country's schools has been significantly diluted in recent years.
Moreover, the Every Child Achieves Act wouldn't lessen the nation's current emphasis on standardized testing: High schoolers and kids in grades three through eight would still have to take reading and math assessments annually, and certain students would also have to take science tests. But states would come up with their own plans for how to use and respond to the scores, and they wouldn't be required to incorporate that information into teacher evaluations—or to evaluate teachers at all for that matter. Same idea with standards. Although Common Core was never, despite widespread conviction, a federal program, the law would explicitly prohibit the feds from prescribing or in any way incentivizing the adoption of a specific set of benchmarks; states would still have to adopt "challenging" standards, though. And just as the Elementary and Secondary Education Act originally intended, federal funding would still be earmarked for supporting struggling schools and students.
The Every Child Achieves Act is a compromise. Some Republicans wanted to get rid of those provisions altogether, pointing to the testing opt-out movement and teacher fatigue. But the Obama administration and civil-rights groups  have insisted on strict, universal accountability systems, arguing that they ensure the most disadvantaged students are identified and targeted. This emerged as a key sticking point in deliberations, with some Democrats arguing that too much flexibility could undermine protections for the neediest children. An amendment aimed at reducing that flexibility—largely by requiring states to intervene at the lowest-performing schools, including "dropout factories"—was among the dozen or so that were ultimately rejected.
The bill "gives states more flexibility while also including federal guardrails to make sure all students have access to a quality education," Murray told Education Week. Some senators, though, aren't convinced that it does enough to ensure equal access to quality education. The Democratic Senator Chris Coons, for example, said in a statement that although he voted for the Senate version, he will not support the final bill unless the accountability provisions are strengthened. Civil-rights groups are expressing similar concerns, including some organizations that have highlighted the bill's failure to ensure discrimination protections for LGBT students.
Now, the Senate and the House, which passed its No Child Left Behind rewrite proposal last week, will go to conference and come up with yet another compromise. And that's when the real drama is sure to unfold. Democrats appear committed to getting the accountability provisions strengthened, while Republicans are vying for absolute flexibility that would allow public money to follow low-income kids to their school of choice—proposals so incongruous that chances are neither would appear in the version that makes it to the president's desk.
And again, that's if something even makes it to the president. If history is any indication, this final stretch of No Child Left Behind's demise may still be a long one.