Kansas's Teacher Exodus
Educators in the Sunflower State say they aren't getting enough support from schools.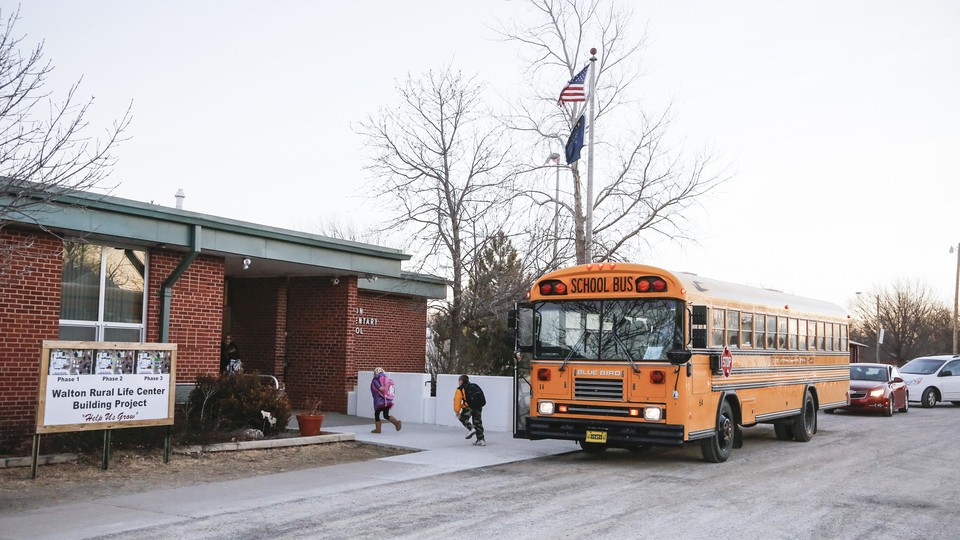 Frustrated and stymied by massive budget cuts that have trimmed salaries and classroom funding, Kansas teachers are "fleeing across the border" to neighboring states that offer better benefits and a friendlier climate for public education, NPR's Sam Zeff reported.
To be sure, this is a tough time for the Sunflower State, where funding shortfalls forced a half-dozen districts to shorten their academic calendars, and teacher jobs are being advertised on billboards. But it's hardly an outlier. Las Vegas, home to the nation's fifth-largest school district, is undergoing a particularly brutal struggle to recruit, and keep, enough new teachers for the upcoming academic year. (After all, how many superintendents have been reduced to zipline stunts to draw attention to a hiring crisis, as was the case with the Las Vegas district's Pat Skorkowsky?) And it doesn't take much to find stories of teacher shortages in Arizona and Indiana, among many others.
There are plenty of creative ways of improving teacher retention but many of them cost dollars that districts say they simply don't have to spend. At the same time, researchers and advocates contend that existing dollars aimed at teacher retention could be more wisely spent.
One solution: Residency programs that provide new teachers with intensive mentoring, coaching, and support for their first few years in the profession are gaining in popularity. But an underlying issue is that fewer people are opting to become teachers, and when they do, about half will quit within five years. Indeed, in last year's Gallup poll, the percentage of people who said they didn't want their children to become teachers jumped to 43 percent from 33 percent a decade earlier.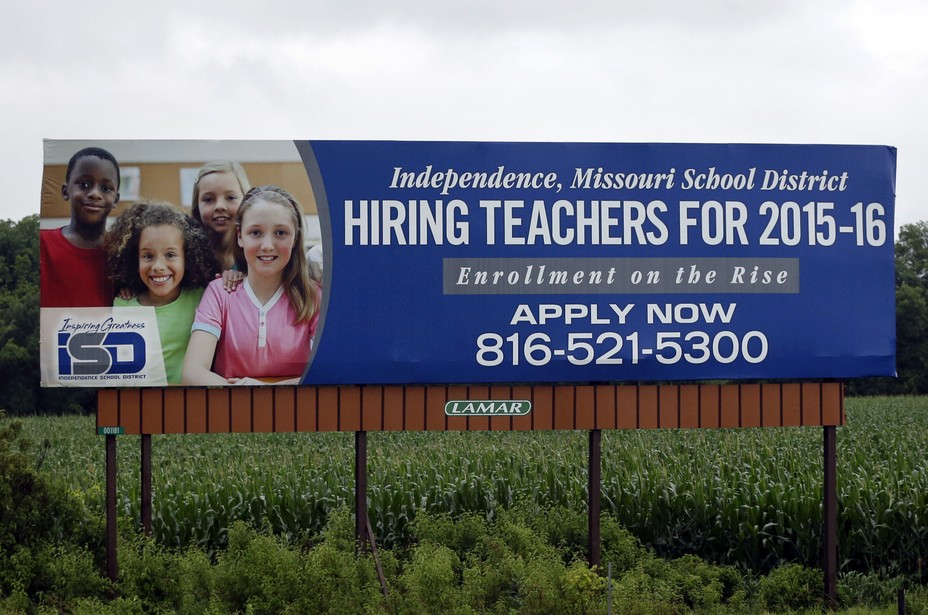 Catherine Brown, the vice president of the Center for American Progress, a think tank based in Washington, D.C., said teacher colleges could help ease the crisis by setting a higher bar for applicants and developing partnerships to help their graduates make the transition to the workforce. However, schools are not attractive enough workplaces to draw top talent, and teachers have "virtually no opportunity to distinguish themselves for excellence," Brown told an audience of education journalists at a seminar this past April in Chicago.
"It's not the kind of job that, frankly, many Millennials or high-achieving young people see themselves going into for their career," Brown said.
So, what's the solution then? Some experts contend that teachers are not set on a path for success at the start of their careers, and it shouldn't surprise anyone that they opt out early. Liam Goldrick of The New Teacher Center, a nonprofit organization that works with districts in 40 states to improve training, laid it out at last year's education-journalism seminar:
Just as students are expected to be lifelong learners we also should expect our teachers to be lifelong learners. We need to do a far better job of giving them that contextual support on the job than we do typically in America's classrooms today.
Big changes are coming to teacher prep as new voluntary standards are being rolled out next year. The White House also wants states to shut down low-performing teacher-training programs, something that's currently a rarity. But increased accountability won't help if teachers don't find the work meaningful and fulfilling. That's where issues like education policy, school design, and campus leadership come into play. For teachers to stay, they have to actually like their jobs.
Over at Education Week, the veteran teacher Walt Gardner writes that the looming national shortage is "more nuanced" than the numbers reflect. Districts are in desperate need of highly qualified math and science teachers, and there are more elementary specialists graduating from teacher training programs than the job market can support. And then, there's the current climate for educators:
The accountability movement and relentless criticism have undermined teacher morale in a way that I've never seen before. There will always be teachers who are able to rise above these factors and make the classroom their career. I applaud them. But the sheer number of new teachers needed means that a sizable portion of them will quit. This does not bode well for students.
---
This post appears courtesy of the Education Writers Association.