The Debate Over Free Community College
New programs in Oregon and Tennessee face praise and scrutiny about which students they actually benefit.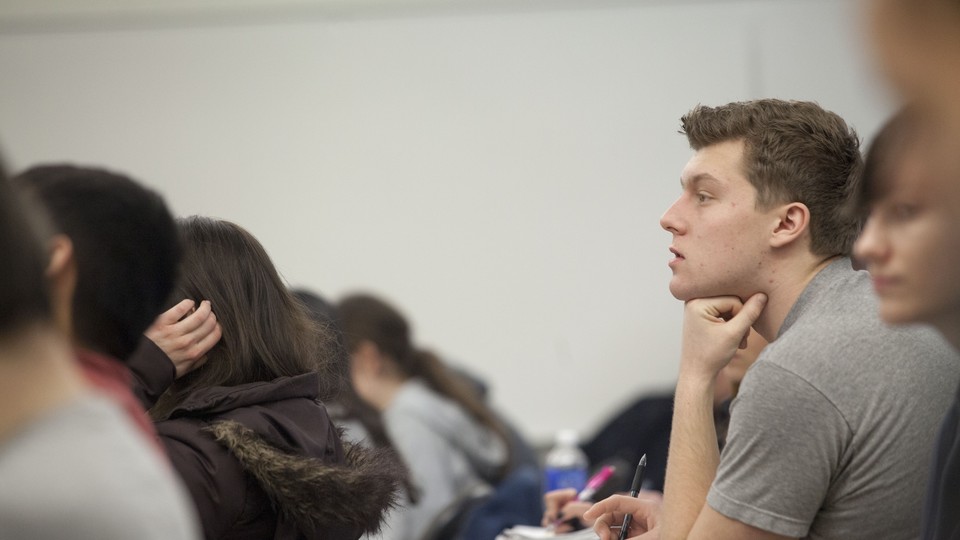 This fall, Cesar Sanchez, 18, will do something he never thought possible.
He'll enroll at Southwest Tennessee Community College through a state program called Tennessee Promise, which lets students complete two years of community college at no cost.
"At one point, I didn't see myself going to college after graduation," he said. "It made me really happy. It really made me set my mind to a goal and accomplish it."
While the Obama administration's proposal to make community college free languishes in the Beltway, several states, including Tennessee, are moving ahead with their own plans to make earning an associate's degree as standard as a high-school diploma.
This month, Oregon Governor Kate Brown signed into law a program that will offer tuition-free community college to the state's recent high-school graduates. Other states are also exploring the concept.
"Today, we fling wide open the doors of opportunity by expanding access to postsecondary education, the precursor to a better life," Brown said in a statement after signing the bill.
It might seem surprising that a blue state and a red state are pursuing such similar goals, but demographic similarities between the states provide some clues.
Both Oregon and Tennessee have seen shifting populations in recent decades, with particular increases in the Latino population, according to Census figures. The Pew Research Center names Tennessee as having one of the fastest-growing Latino populations, with growth coming both from immigration and births in the state. The states have higher-than-average poverty levels and lower-than-average median household incomes. Fewer than 30 percent of residents in each state hold a bachelor's degree, and there are thousands of students who may be interested in college but lack parental guidance and financial support when it comes to navigating the system.
Students like Sanchez see an opportunity to go to college that didn't exist before.
Raised by a mother who came to the United States from Mexico and didn't attend college herself, Sanchez said his family had no money to pay for school. "I went through a little stage where I ... was kind of feeling down," he said. "I didn't know what I was going to do after high school."
Proponents of the Tennessee and Oregon programs have said offering tuition waivers will help boost college-graduation rates and grow their states' economies as they adjust to less homogenous populations.
Tennessee's program is aimed at "workforce and economic development," said Mike Krause, the executive director of Tennessee Promise. "The hazard is that people see it as [higher-education policy.]"
How to make college affordable is a contentious topic right now, and Tennessee's Republican governor doesn't necessarily want to look like he's getting in line with the White House's free community-college proposal.
Still, students like Sanchez are not as concerned with how Tennessee Promise is categorized when it launches this year. "I think it's a really good thing because it helps people like me," Sanchez said. "It gives them a hope for something."
High-school seniors in Tennessee are eligible to attend two years of community college at no cost. Unlike the Oregon program, Tennessee's does not have a minimum GPA requirement, and students are required to perform eight hours of community service and meet with mentors. The Oregon program, meanwhile, is slated to permit students to enroll in community college within six months of graduating from high school. Students must have lived in Oregon for at least a year, have at least a 2.5 high-school GPA and complete a FAFSA, the federal financial-aid application. Oregon officials expect up to 6,000 students to enroll in the 2016-17 school year, when the program is expected to launch.
"I hope opportunities like this create a college-going culture," said Meghan Moyer, the director of government relations at Portland Community College. Her school expects, she said, to see between 1,200 and 2,000 students enroll per year through the forthcoming program.
But Moyer pointed out that most of her students are older (the average age is 29) and don't fit the requirements, adding that any student—even one without financial need—could take advantage of the program. "[Portland Community College] would like to see students prioritized who would be unlikely to attend higher education without assistance," she said.
Michael Horn, the executive director of education at the Clayton Christensen Institute, a think tank that focuses on using "disruptive innovation" to develop solutions for the world's problems, said his concern with the idea of free community college is that the people who will take advantage of the offer are not the students who most need financial assistance. He'd like to see studies done on other approaches to expanding college access—such as income-sharing, in which a company or other entity pays for a student's tuition and the graduate pays a percentage of his or her income for a set number of years in exchange, instead.
Mamie Voight, the director of policy research at the Institute for Higher Education Policy, which focuses on ways to expand access to college to underserved students, shares Horn's concern. Instead of initiatives that make funding available to students who would attend college regardless of the programs, she'd like to see funds directed specifically to low-income students. The programs work by helping fill the gap left after Pell and other grants kick in, and Voight is concerned that someone with a higher income who isn't eligible for those grants could ultimately receive more money.
But to Krause, the Tennessee program's director, that mindset "completely fails to account for the catalyzing effect financial aid has." First-generation college students, he explained, aren't necessarily familiar with the FAFSA or Pell Grants, or how to get them. Tennessee Promise's makes it clear that college is an option for everyone, he said, and that there's a spelled-out pathway for how to achieve it.
"It has the potential to be a game-changer," said Dwayne Scott, who oversees student services and enrollment at Southwest Tennessee Community College, where Sanchez plans to enroll.
While Scott doesn't know yet how many students his school will add as a result of the program, he supports the effort. He added that his school hasn't been tasked with additional work beyond reminding students (in conjunction with the nonprofit Tennessee Achieves, the program's partner) that they must complete community-service hours and fill out the FAFSA annually.
"I don't think we make it easy for first-generation students to see themselves in college," Krause said. "What the Tennessee Promise brings is a clear sense of vision ... that you can go tuition-free, you are college material."
That message appears to be resonating with at least some students in the state. Krause said that 58,000 students, or about 80 percent of public-school seniors, applied, and he expects about 16,000 to actually enroll. Many of those who applied, he said, will likely attend four-year universities instead.
While Krause said figures aren't yet in on how many of those who signed up are first-generation college students or how many would be unable to attend otherwise, about half are on full Pell Grants, designed to help the nation's lowest-income students attend college. "We have a range of anecdotal evidence indicating these students are different than the students who would typically enroll," he said.
Krause, who participated in the development of the Oregon program, said the West Coast state isn't the only one that has reached out: Five others have expressed "serious interest," while are watching closely as the program gets underway, he said, declining to specify the five. "I would absolutely say this is the beginning of a nationwide conversation about going to community college," he said.
The momentum comes as President Barack Obama continues to call for free community college nationwide, and 2016 presidential candidates are laying out their own plans to make college more affordable. While Obama outlined a plan in January that's since been proposed in legislation introduced by several Democratic lawmakers, however, the chances of community colleges nationwide becoming free are slim. The White House has said it would cost the federal government about $60 billion over 10 years, a price tag that Republican lawmakers are reluctant to accept. But if interest in Tennessee's and Oregon's programs is any indication, more states may soon draft their own proposals.