What Happens When Struggling High-Schoolers Take College Classes
Encouraging teens to complete higher-ed credits gives them a better shot at getting a degree.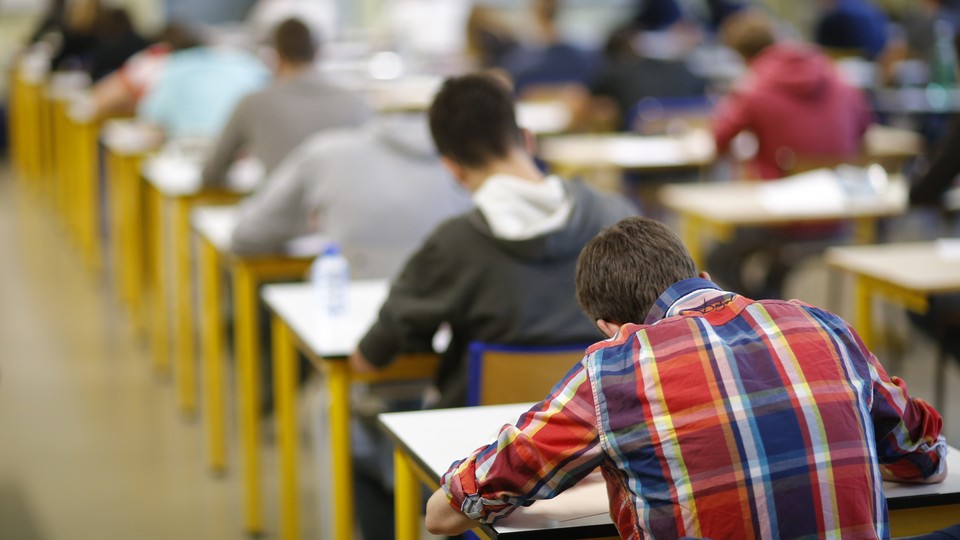 High schools across the country are taking what might seem like a counterintuitive approach to educating some of their most at-risk students.
They're enrolling them in college before they even graduate from high school.
A new report from the Rennie Center for Education Research and Policy suggests that dual-enrollment programs, where students take classes simultaneously in high school and at a local college, have proven especially successful at getting less-affluent and first-generation students into college—and through it.
"It's an acknowledgement of the changing demands of our society and the need of our education system to better equip students for the 21st century," Chad d'Entremont, executive director of the center, told National Journal.
Such programs, the center argues in its report, "have the potential to increase the size and diversity of the college-going population."
And as high schools see an increasingly heterogeneous student body, interest is growing, d'Entremont says.
Students often enter college without a clear understanding of what is expected of them, and many drop out when challenges arise. That's especially true for less-affluent students, those who are the first in their families to pursue higher education, and those who do not have access to people with college experience who can offer guidance. A host of factors are at play, but inadequate academic preparation is key, the report argues.
Other research from the American Institutes for Research supports the theory that students who enroll in early-college programs are more likely to then enroll at an institution full time, than their peers in traditional high-school programs.
Giving students an idea of what college is like by letting them enroll in college classes seems logical enough. It's a test-run without the tuition bills and student loans. The center points to figures that suggest 86 percent of early-college graduates who go on to college stay for year two, compared with just 72 percent of college students nationally. These students are also less likely to need remedial classes.
Early-college programs let students pick up credits while they're still in high school, giving them a head start once they get to college. That's particularly valuable for students who do not grow up in the affluent, suburban areas that are are most likely to offer access to Advanced Placement classes that let students earn college credit in high school.
At Marlborough High School in Massachusetts, students in the school's "STEM Pathway" can take writing classes at Framingham State University, and plans are in place to let students take additional courses at a local community college.
Seniors at Murdock High School, also in Massachusetts, can take technical classes at Mount Wachusett Community College that lead to a credential in information technology.
The State College of Florida and the University of Central Florida offer early-college programs to some parents, and El Paso Community College in Texas has partnered with several school districts to offer early-college programs. North Carolina, Michigan, and California also have programs. The Gates Foundation (which provides support for National Journal's "Next America" series) has supported early college efforts in more than 30 states.
Dual-enrollment programs, which have been around in small numbers for years, picked up steam in the early 2000s and have seen a resurgence in attention as policy makers debate ways to expand access to college. But there are certainly challenges. Setting up dual-enrollment programs takes coordination between high schools and local institutions of higher learning, and funding.
Elisabeth Barnett, a senior research associate at Columbia University's Community College Research Center agrees. She has studied dual-enrollment programs for nearly a dozen years. "There's good research that shows it's effective in terms of improving student outcomes," she said.
The funding component is critical. Often, programs are supported through grants or private donations, solutions that aren't easily scalable. But as tuition costs and student-loan debt soar, advocates of early-college programs say they offer a viable path to college completion for the students who need it most.
"Early-college programs improve students' overall grit and persistence," d'Entremont insists, "but also help them become knowledgeable about the overall [college] system." And, Barnett points out, helping students earn college credit while they're in high school may ultimately save them money in the long term, since a student will enter college already armed with some credits.
Enrolling students in such programs also helps schools catch weaknesses early, which can help a student avoid costly and time-consuming remedial classes later. The Massachusetts-based center points out that 36 percent of the state's public high-school graduates who start at public colleges wind up in remedial classes. That jumps to 60 percent at community colleges.
Dual-enrollment programs also let students who have never been on a college campus get a sense of not only the academic rigor but the social environment as well.
Education dollars are tight at both the secondary and postsecondary levels, advocates of these programs acknowledge, but they say funding early-college opportunities could assist some of the nation's most disadvantaged students, and boost the economy in the process.