What Schools Will Do to Keep Students on Track
Chicago has seen a double-digit increase in the percentage of kids graduating from high school. Skeptics say educators and kids are manipulating the numbers—but does that even matter?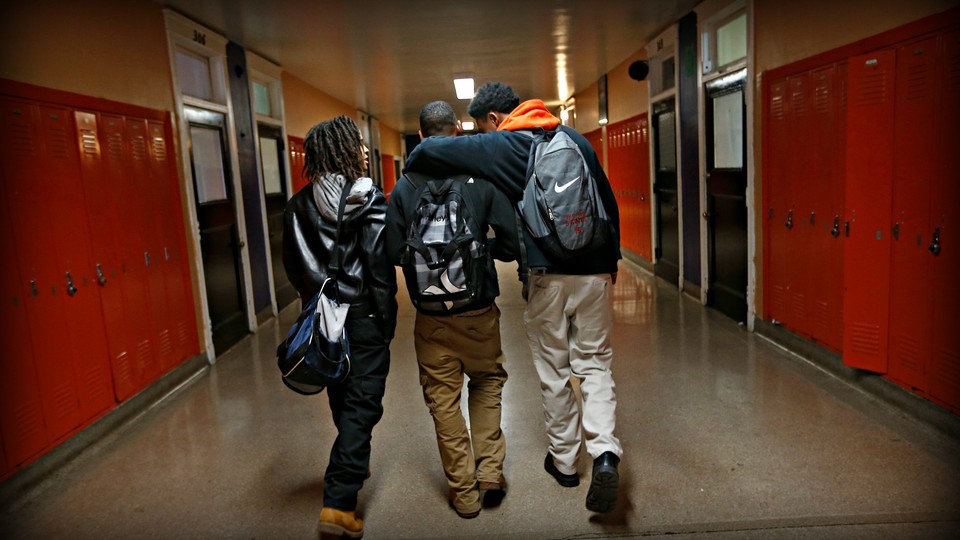 Desiree Cintron's name used to come up a lot during "kid talk," a weekly meeting at Chicago's North-Grand High School at which teachers mull over a short list of freshmen in trouble.
No shock there, says Desiree now, nearly three years later.
"I was gangbanging and fighting a lot," she says, describing her first few months of high school. "I didn't care about school. No one cared, so I didn't care."
Had Desiree continued to fail in her freshman year, she would have dropped out. She is sure of that. It was only because of a strong program of academic and social supports put together by her teachers that she stuck it out. Desiree pulled up a failing grade and several Ds. She gave up gangbanging and later started playing softball. She connected with a school determined to connect with her.
Today, although Desiree still is not a strong student at North-Grand, which serves mostly low-income Latino kids in Chicago's West Humboldt Park neighborhood, she has the grades to make graduation within reach.
At the core of Desiree's success story is a strikingly simple tactic that research says really works: Get a high-school student through freshman year and the odds skyrocket that he or she will graduate. Chicago was a pioneer of the strategy, first applying it in 2007, and has the numbers that would seem to prove its worth, even after accounting for inflation by principals possibly gaming the system. The potential is huge for school systems across the nation, especially those in urban areas plagued by low graduation rates.
Between 2007 and 2013, the number of freshmen in the Chicago Public Schools making it to the 10th grade grew by 7,000 students. The school system's four-year graduation rate also jumped, from 49 percent in 2007 to 68 percent in 2014. Graduation rates are up across the country, but Chicago's double-digit growth stands out.
---
Comparison of Freshmen Pass Rates and Five-Year Graduation Rates in Chicago Public Schools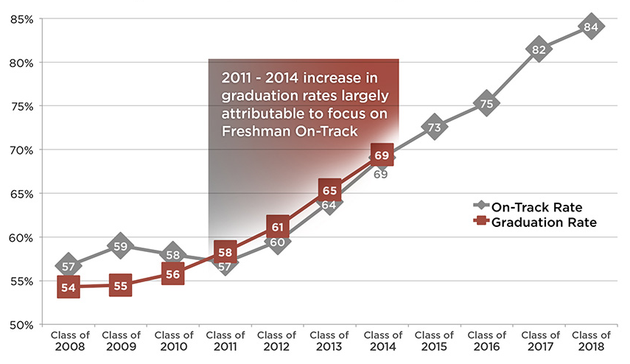 ---
This is astounding progress, especially in a school system where the vast majority of students come from low-income families and where a budget deficit—which Mayor Rahm Emanuel recently announced is forcing him to make cuts worth $200 million—has undermined programming and teacher satisfaction. And the progress was achieved without a shiny new program or a drastic educational overhaul: The schools simply stepped up the most basic interventions to help freshmen avoid failure, such as tightly monitoring grades and offering more tutoring sessions. Between 2007, when the school system began to monitor the data, and 2014, freshmen pass rates leaped from 57 percent to 84 percent, with the biggest gains for black and Latino boys and students in "dropout factories"—schools few other academic reforms have helped.
"I've been arguing against silver bullets my whole career—but this is one," says the University of Chicago Consortium on Chicago School Research's Melissa Roderick, who has led research into the role of freshmen pass rates. "Failure is horrible; it's overwhelming for every kind of kid. But a kid who passes is off to a good start in high school. And it turns out, if you keep children in front of teachers they actually learn."
* * *
More than a decade ago, Roderick's colleagues at the University of Chicago discovered that passing the ninth grade—earning at least five credits and no more than one semester F in a core class—is a better predictor that a student will graduate than are his or her previous test scores, family income, or race. A student who passes ninth grade is almost four times more likely to graduate than one who doesn't.
Schools like North-Grand that have successfully improved freshman pass rates employed variations of the same set of interventions. They adopted data systems to track freshmen progress, carefully picked the right teachers for ninth-graders, created weekly grade checks, provided mentors and tutoring sessions, stepped up truancy monitoring, set aside one day a week for students to make up work, and started freshman seminars that teach kids to "do high school." Some schools also switched to forms of grading that are designed to be more fair and modern—less emphasis on turning in homework on time and more emphasis on actually learning—but have been accused of inflating GPAs.
These approaches are consistent with a national effort in urban education to move from a punitive, sink-or-swim model toward one built on second chances. It reflects an understanding that moving up from the strictures of elementary school to the freedoms of high school, at an age when hormones are raging, can be awfully hard. Kids of all academic backgrounds—A students and D students—cut class more and get worse grades when they hit ninth grade.
"Ultimately, what you get is a different understanding of the purpose of schools, that it's not about weeding bad kids from good ones," says Sarah Duncan, who co-directs the University of Chicago-affiliated Network for College Success. Launched to help educators put research into practice, the network coaches staff at 17 Chicago schools, including North-Grand—most of which have seen major boosts in freshmen pass rates.
But in Chicago, other schools are seeing improvement, too. And that has raised questions. Once Chicago began pushing for higher freshmen pass rates, teachers started to complain that school administrators were cheating by doctoring attendance records and inflating grades—particularly at the schools that had switched to the new grading strategies, which many consider too lenient.
"It's like Campbell's law—the more you depend on a measure, the more it's subjected to corruption," says Jackson Potter, a member of the Chicago Teachers Union leadership team.
Staff in a few schools tell of principals putting pressure on teachers to pass all students, of kids who cut more classes than they attend but still pass; the idea of giving kids an extra chance is grossly perverted, they say, pointing to fudged attendance records and the lenient grading models. One teacher at Washington High School on Chicago's Southeast Side, for example, says freshmen often get passed along in ninth grade and begin tenth grade without basic skills, advancing in a similar fashion all the way to graduation.
Attendance is crucial because truant kids aren't learning—or improving graduation and freshman pass rates. Any school with a rising on-track rate but a static attendance rate is automatically suspect. CPS also gives schools higher ratings for good attendance, and the state funds CPS in part on the basis of attendance.
At Manley High School on Chicago's West Side, students frequently skip first and last periods, according to attendance records provided by three teachers. The records show that administrators frequently change absences marked by teachers as "unexcused" to "school function," a notation that once covered field trips or assemblies but now appears to cover almost any reason for being out of class. This change marks the child as present, boosting attendance data for the student and the school.
This year, 19 percent of Manley students supposedly went to more than 100 school functions, missing more than 100 classes each; 64 percent of students racked up more than 50 functions. Among the most common reasons administrators cited for the changes from "absent" to "school function" was to account for students supposedly in "attendance recovery detention" rather than class even though the school, according to the teachers, doesn't have detention.
Administrators, they say, are trying to blunt a huge problem with cuts: Even with the school-function changes, nearly 60 percent of the school's students had unexcused absences from more than 100 classes each. "It's all data-driven and whatever they can do—lie, fudge, and steal—they'll do to get the numbers up," says Marilyn Parker, a Manley teacher. The two other teachers requested anonymity because they feared retaliation. The school system's inspector general is investigating Manley. Citing that, the school system would not allow the principal to be interviewed.
The inspector general also is investigating Juarez High School, where teachers similarly allege that attendance data is being tampered. One student, for example, accumulated unexcused absences marks in 381 separate classes, amounting to 54 full school days, records provided by a teacher for the 2012-13 school year show. The student's final transcript showed just 21 unexcused absence days. Juarez has after-school tutoring, where attendance from one cut class each day can be made up, per CPS policy, the principal said, flatly denying any attendance rigging. Citing the investigation, CPS would not answer detailed questions about student records.
The IG also documented problems at Washington High two years ago. Tardy kids were sent to detention rather than to first period and were then labeled at a school function. The IG cited "hundreds of thousands" of lost instructional minutes, and the practice has ended. But teachers say a new scheme appeared this year. A minority of students racked up abnormally high numbers of school functions, as many as 90.
The school's principal, Kevin Gallick, also denies the accusations. "We don't play games with this stuff because there is too much at stake," he said, pointing to growing ACT scores and college-acceptance rate at his mostly low-income, Latino school. "Look at the big numbers we're putting up. Why would we want to damage our school's reputation when we've done such good work?"
One reason teachers are particularly concerned about the possibility of fudged attendance data is that they are evaluated in part by student test-score growth over the year. When these kids fail, which those who are frequently truant often do, it unfairly reflects poorly on teachers. Teachers also accuse the school system of cheapening the high-school diploma and graduating kids who aren't prepared for college or work life.
Still, a UChicago Consortium study last year of 20 schools that had early success improving their on-track rates did not find widespread gaming by principals eager to make their schools look good. The average ACT score remained very close to what it had been before the on-track focus began at the 20 schools, and during the same time period, it went up by half a point for CPS as a whole. If freshmen were being passed along, the overall junior year ACT scores likely would have dropped. More broadly, it found the most compelling proof yet of a direct link between improved freshmen pass rates and dramatically improved graduation rates. And a more comprehensive study of all schools, now near completion, will show that improved freshmen pass rates played a role in pushing graduation rates up districtwide, the consortium's director, Elaine Allensworth, says.
Nonetheless, at least one Chicago media outlet recently questioned the integrity of Chicago's graduation rate. The local National Public Radio affiliate, in partnership with Chicago's Better Government Association, found that dropouts were being mislabeled at some schools to make it seem like a higher percentage of students were graduating. The impact wouldn't be enough to undercut the larger narrative—graduation rates have increased by double digits—but the revelations bolster anecdotal evidence that some number rigging is going on.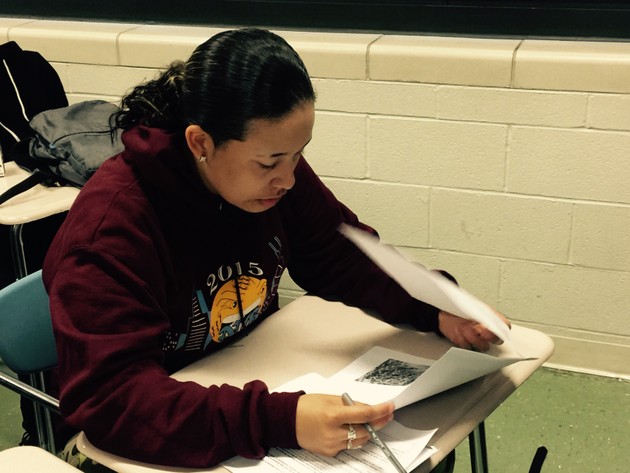 Meanwhile, many teachers across Chicago fear that the new grading policies—with names like "standards-based grading" and "no zero" grading—make passing too easy. Some schools go too far, they say, by declining to penalize students for late work and prohibiting teachers from giving grades below 50. Traditionally, a student who didn't hand in work would get a zero.
A single zero can disproportionately pull down a student's average, but teachers at some schools say the new grading tactics come with a destructive practical effect. At Manley, some students refuse to work until the very end of the quarter—in some cases just cutting classes—when teachers must give them a make-up packet for any classes they attended but for which they failed to submit assignments, or those classes marked as a school function. If the student completes most of the work, they are likely to pass.
"They're letting kids manipulate the system," says Manny Bermudez, a Juarez teacher who last year publicly confronted his school's administration about attendance and grading practices and was  later fired, after which he sued and was ultimately reinstated.
The school system denies any wrongdoing, and Juarez's principal, Juan Carlos Ocon, says Bermudez has a "fundamental misunderstanding" of the grading system. "Other teachers will tell you the rigor has increased," Ocon says. "Most of our teachers support what we're doing because they think it enhances learning."
Even ardent defenders of CPS' on-track results admit some gaming likely goes on, but they emphasize that it's not widespread and that there's a greater good here: It's far better for a student, especially a low-income one, to graduate than to drop out.
* * *
At North-Grand, the percentage of students on track to graduate has risen so much since 2012 that it has a new mantra: "Bs or better," the latest push by the school's leaders that relies on student data to design customized interventions. Simply getting a passing grade is no longer good enough.
"If I miss an assignment, I get a paper telling me what I need to make up—they really want us to succeed," Ronnita Grimes said during a freshman seminar this spring. Ronnita this year completed missed assignments to convert two Cs into two Bs.
The seminar is central to North-Grand's freshmen on-track program, focusing on life lessons in perseverance and team-building, providing them time to make up missed assignments, and offering impromptu group and individual counseling.
Desiree, the student who almost failed her freshman year, says two staffers, including teacher Brett Murphy, who designed the freshman seminar, changed her life. "Mr. Murphy opened up to me so I opened up to him," Desiree says. "It felt good to know, wow, he's actually here for me."
Each week in the seminar, Murphy's students write in a "diary that writes back"—Murphy responds to the entries—sharing whatever is going on, from mundane boy trouble to family abuse or gunshots in the neighborhood. "Hopefully every bit they can shed allows them to focus," says Murphy, who finds out where students are struggling, lets them do make-up work in his class, and helps them negotiate with other teachers. But Murphy and a fellow freshman seminar teacher aren't flying solo, and that's crucial to the school's improved ninth grade pass rate and their "Bs or better" strategy.
An outside group comes in each week to teach leadership skills to students, while a team of carefully selected freshman teachers, an attendance clerk, a counselor, and administrators convene weekly for "kid talk." For kids in deep trouble—there are plenty in a neighborhood marked by violence and poverty—teachers can turn to the school's "care team," which finds ways to get kids more intensive help. The heart of the work is helping students make up assignments they blew off or didn't understand, but extensions aren't endless, and late work is marked down in many cases.
"We teach them they have control over how well they do in school, even if they're struggling," says Phillip Cantor, a science teacher. "When a kid's grade changes, they say 'it feels good.' Then I say 'we can do this again.'"
Tough love long reigned in many urban districts. But kids simply dropped out, and the no-excuses approach is falling out of vogue. "Teachers will say an F will give them a kick in pants," says Lisa Courtney, a North-Grand teacher who helped design the freshman seminar. "We have to get away from the idea that F is a motivator. It's a de-motivator."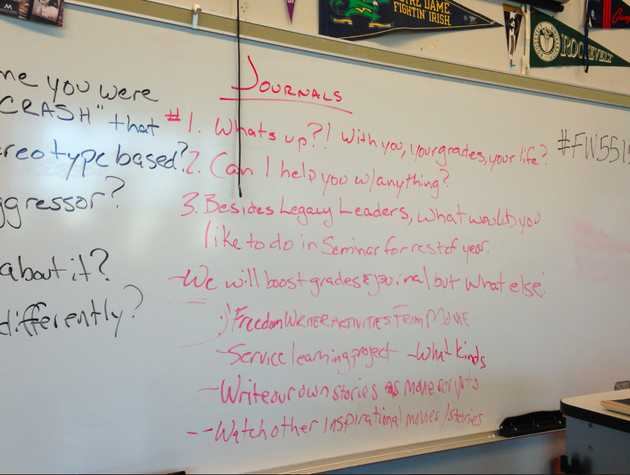 The thousands of additional Chicago students who are graduating each year very likely would have dropped out in earlier generations. Some graduates were strong students in middle school who fell off track in the transition to high school, but most kids who struggle freshman year, and ultimately get on track, are the more marginal students who finally find their way.
"Many students have it in their heads that they won't be successful, but when they get a taste of success they are our hardest workers," says Sharon Holmes, a teacher at Tilden High, a South Side school that also has improved its on-track rate. "For a lot of our kids, this is the first positive adult attention they've gotten in a long time so they really respond. They don't want to disappoint."
Even some kids who were passed along in ninth grade without learning much—as much as principals insist this is not happening—are making it. That's likely because they begin to see graduation as a real possibility once they pass the ninth grade, because they know that life is much better for graduates than for dropouts; grads earn more, are less likely to go to jail, and live longer and healthier lives.
Desiree gets it. "If I hadn't met Mr. Murphy, who knows?" she says. "I might be pregnant, in jail or dead right now."
But what about the schools and kids that likely are gaming the system? Is that all bad?
"Some kids probably got away with something, I don't doubt it," says the Network for College Success' Duncan, who's also the sister of the U.S. Education Secretary Arne Duncan. But, she says, it doesn't help anyone to severely limit their options for the future. "If kids get away with something in adolescence and still go on to graduate high school and go to college, that's a good thing."
In reality, life is often built on second chances, especially for well-off kids.
"When you go to elite schools, they won't let you fail," says Liz Kirby, a Chicago principal, now CPS administrator, who was an early adopter of on-track strategies. "Why don't kids in public schools, poor kids, deserve a chance?"
---
Reporting for this article was made possible by the University of Chicago Institute of Politics.