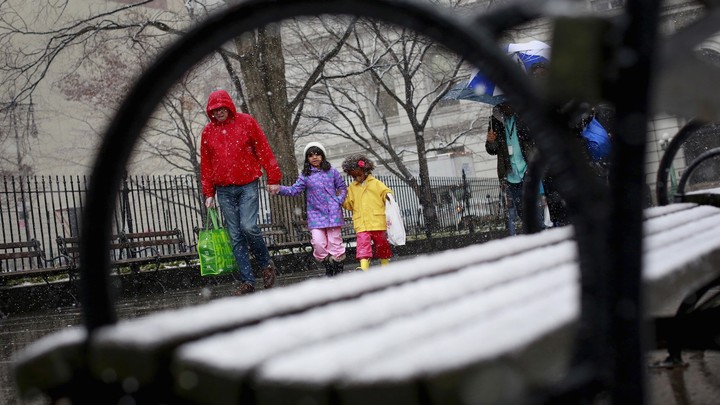 The AARP lobbies for federal spending on old people. Do young people need an analog?
This week, I'm sharing responses to the question, "What insight or idea has thrilled or excited you?" This installment comes courtesy of Jim Steyer, a children's advocate who wants America's young people to be prioritized over its retirees. He traces his conviction that kids are the country's most precious resource back to childhood, when the importance of early education was imprinted on him.
He writes:
My passion and commitment come from my mother, who was a schoolteacher for underserved kids in Harlem and the South Bronx. When I was a kid, I would watch her work and I realized how critical an effective education system is for all of America's children. I recognized firsthand that not everyone gets a fair shot in life. And one thought stuck with me: your future shouldn't be determined based upon the zip code you grow up in.

Over time, I became focused on eventually building an "AARP for kids" — an activist group of citizens advocating on behalf of easily America's most important resource. Years later, after a successful career as a civil rights lawyer, child advocate and Stanford professor, I started Common Sense Media, an organization dedicated to helping kids and families.

Initially, we set out to build a brand that parents could trust for independent and objective information about the media their kids consume.  By providing free ratings and reviews to help parents make smart media choices, we could build a trusted brand that would eventually provide the platform for my original dream: an "AARP for kids."

In April of this year — a decade after we first launched Common Sense, we unveiled that "AARP for Kids": Common Sense Kids Action. We framed a simple goal: to make kids and education our nation's top priority. I'm truly grateful that my schoolteacher mom was the true inspiration.
Email conor@theatlantic.com to share an idea or insight that has thrilled or excited you.
We want to hear what you think about this article. Submit a letter to the editor or write to letters@theatlantic.com.
Conor Friedersdorf
is a California-based staff writer at
The Atlantic,
where he focuses on politics and national affairs. He is the founding editor of
The Best of Journalism
, a newsletter devoted to exceptional nonfiction.