Gaming the School System
How entertainment-software designers are emerging as unlikely forces behind education reform in America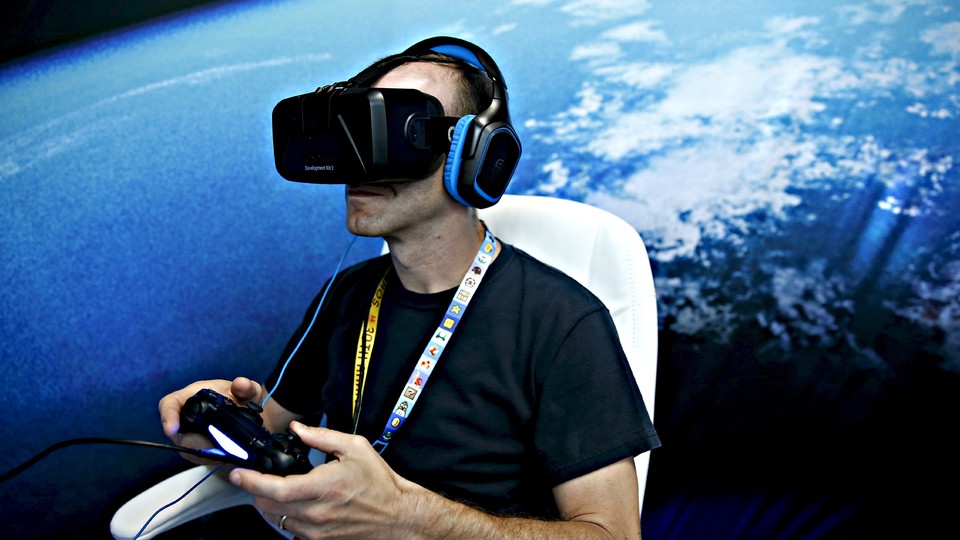 Paul Cross has a resume that many high-school students today would probably salivate over. When he was the lead designer at Criterion Games, he developed a series of high-speed racing games called Burnout. He also served as a consultant for the powerhouse game company Electronic Arts, helping it develop its first-person shooter game Medal of Honor. Now he's the director of game design at Ubisoft Entertainment, the multinational video-game developer responsible for titles such as Assassin's Creed, Just Dance, and Rocksmith—the hugely popular game he created that teaches players real songs on the electric guitar. To date, 3 million copies have been sold.
One credential Paul Cross doesn't have, though, is a high-school diploma.
Sitting on a sleek white sofa in a tucked-away room at last week's E3 Electronic Entertainment Expo in Los Angeles, he described his backstory as the room's walls throbbed with the crescendoing beats from a new Ubisoft shooter game on display outside. Cross was 16 when he dropped out of his performing-arts school in England. "Traditional methods didn't work for me," he said. The school, he continued, failed to accommodate a glitch in his high-school trajectory when he moved with his family to Scotland for a year and then returned to England the following term. "The school didn't have my course work [from Scotland], so in some subjects I was pretty far ahead, and in other subjects I was miles behind because I missed an entire chunk," he said. By Cross's account, the school wasn't equipped to help catch him up on the parts he missed, and when he suggested doing more advanced work in math, in which he excelled, he was shut down. "'Nope. Stop being difficult,' was the reaction I got," he said. "At that point school was kind of broken for me."
Cross left school and started slinging burgers at Burger King. "I worked my bottom off, doing anything I could to get money to pursue my career in entertainment," he said. Eventually he was hired as a gopher at a sports-entertainment company and managed to work his way up through the ranks. It was hard work—but that wasn't a problem. Hard work had never been the problem. The problem, he explained, was the system.
Now, the system is asking for his help.
Ubisoft has been at the forefront of efforts to bring the game industry into schools, with the U.S. Department of Education even tapping Cross to help raise awareness about the potential of video games as educational tools. He joins a host of other designers who are already having an unlikely impact in the education sector—people like Markus Persson, who created Minecraft, a classic example of video games being used as teaching resources. Persson famously dropped out of high school in Sweden.
Indeed, the irony of this new push is that many of the designers who are now being asked to help make classroom learning more engaging were never really engaged themselves. Today, stories of teenagers leaving school to pursue careers in technology—from professional video-game players to app designers—are widespread, especially in San Francisco's tech scene.
Tracy Fullerton oversees the University of Southern California's Games program, an offshoot of its film and computer-science schools that offers four different degree tracks in game design and development. In the 1980s and '90s, when many of today's most accomplished video-game designers grew up, schools generally weren't teaching design—let alone video-game design in particular. "We grew up in a time when, even if you studied film or early computer science, there was no way of connecting that to digital media or games specifically. A lot of folks just didn't find [school] useful ... Education wasn't serving them," she said. As a result, "there are many people in the games industry today [who] don't have a degree."
That's changing, though. And video games could have something to do with it. Digital games are now being used as instructional tools by nearly three-quarters of K-8 teachers nationwide, according to a 2014 study by the Joan Ganz Cooney Center, an independent research lab focused on emerging education technologies. Experts say the trend is likely to increase in coming years, in part because of ConnectED—the White House's initiative to bring high-speed broadband Internet to essentially all of America's students by 2018 to promote "interactive, personalized learning experiences driven by new technology."
Video games are increasingly being hailed by education experts as the future of learning. Greg Toppo, USA Today's national K-12 education reporter, recently wrote a book touting the games' educational benefits called The Game Believes In You: How Digital Play Can Make Our Kids Smarter. In it he emphasizes just how much support there is for the idea, writing that the DOE and National Science Foundation alone are investing millions in "gaming experiments." "Deep-pocketed philanthropies like the Gates and MacArthur foundations," he writes, "have committed to spending upward of $100 million to promote educational gaming."

E3, the annual trade show for the video-game industry, took over L.A.'s convention center this year with massive screens displaying previews of the season's newest, most-exciting products. Much to the chagrin of video-game fans (who are known for posting threads on Reddit asking for advice on how to get in), the event is exclusive to industry insiders.
One portal into that world may now be education policy. The lucky souls granted access to this year's E3 conference included high-school teachers, bespeckled university researchers, and a group of policy wonks from the DOE—all of whom had convened on the conference's first day for the annual "Games for Learning" summit, an event devoted specifically to the role of this technology in classrooms.
The summit began six years ago as the brainchild of Erik Huey, the senior vice president of the Entertainment Software Association. The idea traces back in part to advocacy by the Joan Ganz Cooney Center, whose representatives had approached Huey at E3 and asked for his ideas on how the video-game industry could serve education.
They weren't talking about "educational video games," the kind with which American adults today are probably familiar. They wanted to know how the most popular existing video games—games like Madden Football and World of Warcraft and Mario Kart—could be integrated into public education in America. Huey admits this took him by surprise. "The ESA represents game designers who are extraordinarily good at putting out entertaining products. We manufacture amazement. We don't necessarily know a lot about education and learning," he said.
But Huey was intrigued enough to engage in a conversation, and found plenty of video-game designers who were, too, despite expressing a fair amount of surprise and confusion. Dave Kosak, a 41-year-old game designer who serves as the lead narrative designer for World of Warcraft, admitted that while he's always believed in games as powerful tools for education—he loved playing Oregon Trail on an Apple 2E at the back of his elementary-school classroom—when colleagues recently asked him to collaborate on educational video-game projects, he was stumped. "They tapped me for my experience as a game designer, and then they often had questions like, 'What do ... students need?' I honestly don't know what they need. I'm not a teacher! I can't tell you," he said. When it comes to Warcraft, for example, he and the other designers "just really wanted to make a cool game," he said. "It's about creating an experience for the players, and less about learning—that's not something we're conscious of or trying to do."
This is indeed new territory. The Joan Ganz Cooney Center study found that four out of five game-using teachers used games specifically created for an educational audience, compared to just 5 percent who used commercial games.
Still, Richard Culatta, the director of the DOE's Office of Educational Technology, insists that video-game designers have what it takes to help mend America's education system—a space he freely admits needs an overhaul. "There are problems in the education space that the gaming industry has found solutions for," Culatta said. Games, for example, are often much more effective at assessment than any scantron form could ever be. They assess their players constantly—that's how they determine when a player is ready to move to the next level. Similarly, feedback is provided instantly in games; unlike having to wait a week for a grade on an assignment, students playing a game can, say, look at the top of the screen and see a bunch of cartoon hearts letting them know how many lives they have left.
Another major challenge facing American education, according to Culatta, involves "[holding] students—almost like a surfboard—right on the wave of their ability." In other words, schools often struggle to give them tasks that they are capable of doing but for which they also need to work and stay vigilant. "There are a lot of times in schools when students are sitting there and they're bored, or they're checking out because it's too hard," Culatta said. Meanwhile, he added, video games could help students build what the White House describes as "social and emotional learning": life skills, including how to deal with oneself, others, and relationships, and work in an effective manner.
Advocates for games in learning say designers don't necessarily need to straddle both worlds to have an impact on students; they are already creating powerful tools for learning, whether they realize it or not. At least, that's the theory behind GlassLab, a joint effort by Electronic Arts and the Educational Testing Service (the company that makes the SATs). Hatched at the 2011 Games for Learning summit, GlassLab has since created 10 games, some of which are educational versions of commercial video-game titles such as Sim City. Its newest game, Use Your Brainz, is a spin-off of the popular game Plants vs. Zombies. Jessica Lindl, GlassLab's executive director, says almost no changes were made to the original game—the only main difference is that Use Your Brainz includes a built-in tracker that assesses how players are doing at problem-solving.
Lindl, whose background is in educational software, now works to bring learning-program designers and entertainment-game designers together to create the blended versions of the two. She says she actively recruits from commercial game-design companies because of the way their designers think about engagement. "That's a piece that's frankly missing from most of the educational experiences that kids have today," she said.
When he reflects on the creation of Rocksmith, which was released in 2011, Cross recalls a marketing mandate that urged designers to refrain from using the word "learning" anywhere on the game's packaging. Using the word "learn" made the game sound boring. That's really what the game is, though: a way to learn how to play the guitar. People who just want to have fun—who don't want to suffer through bar chords, who don't want to develop callouses on their fingers—they can and should go off and play Guitar Hero, Cross said. Learning is hard, but when it's fun, he argued, people are more likely to stick with it.
Four years later, Cross is proud to say that the No.1 reason buyers have given for purchasing Rocksmith was a desire to learn to play guitar. With a wide grin, he said that the game's packaging last year touted it as "the fastest way to learn guitar." The next thing he hopes for is to see his game in schools.