The Rise of Food-Studies Programs
Building off of the growing popularity of nutrition-based degrees, one Bronx community college is attempting to change how lower-income communities eat.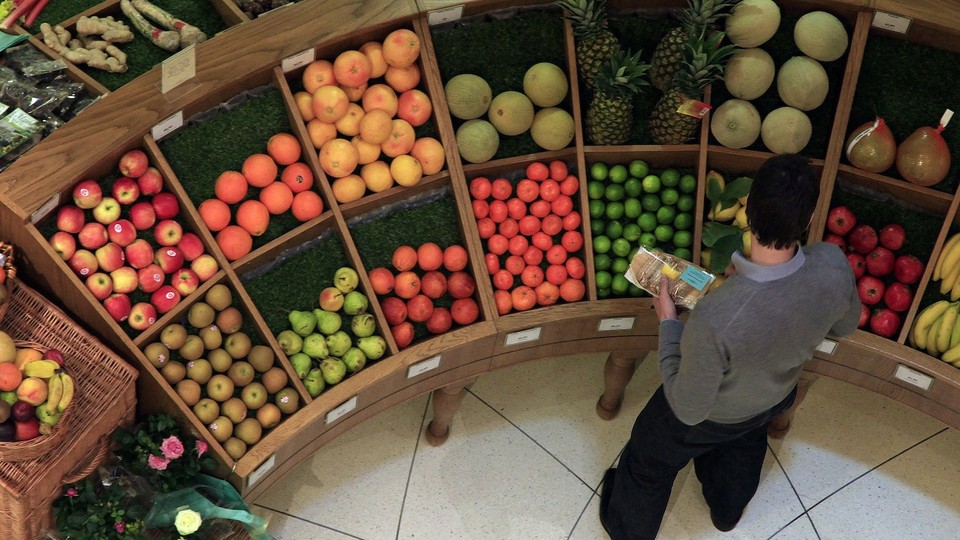 Sierra Lebron says that produce in the South Bronx, where she goes to school, is more expensive than it is where she lives—just two miles south, in East Harlem. The 25-year-old is studying to be a dental hygienist. But soon after she started her degree program, she found herself reading the works of Michael Pollan and Marion Nestle and selling soup that she and her classmates made under a tent in a courtyard of Hostos College. For $2 a cup, customers could get a healthy lunch, a copy of the recipe, and a brochure written by Lebron and her classmates about farmer's markets, processed food, and the agroindustrial complex.
Lebron has been aware of the power that food has had on her own health and well-being for a while—she says she reversed a diabetes diagnosis from her teen years with a plant-based diet. But it wasn't until she took a writing class with Professor Elyse Zucker that she realized the politics involved in food.
"When you go to the supermarket and you have to choose [your food] just based on the price, it can be easy to go with the cheaper item," Lebron said. "Dr. Zucker educated us with scientific studies that made making an informed decision more possible."
Lebron is part of a growing movement of students and faculty at Hostos who have fueled the evolution of what's now a Food Studies degree—a program that started from a single writing course about food. The first official class starts this upcoming fall.
Food studies programs are growing in popularity in American higher-education institutions since they started cropping up in the 1990s—the first two at NYU and Boston University. Now such programs can be found across the country, often taking on the attributes and priorities of the surrounding demographics.
Take the Bronx: New York City's Coalition Against Hunger's 2014 report found that between 2011 and 2013, one in three Bronx residents lived in a state of food insecurity, meaning they didn't have reliable access to affordable and nutritious food. Though food-insecurity statistics vary depending on the source—The Food Bank of New York's latest data puts that number at closer to one in five people—the Bronx is still the hungriest borough in New York. In 2010, nearly half of Bronx residents received food stamps through the Supplemental Nutrition Assistance Program, or SNAP.
Food insecurity is inherently racialized. African American and Hispanic families in the U.S., regardless of geography, are twice as likely to experience food insecurity as their non-hispanic white counterparts. Of the roughly 7,000 students at Hostos, 60 percent are Latino and 22 percent are African American. Nearly three quarters of Hostos students live in households with less than $30,000 income per year.
When journalists write about food in the Bronx, they often start at Hunts Point Market. It's a massive building—1 million square feet—full of fresh food: fruit and vegetables trucked, flown, or boated in from across the U.S. and dozens of countries, available to wholesale customers near and far.
The market is an anomaly to the surrounding area, which is one of the few sections of the Bronx that the federal government still characterizes as a "food desert." In Hunts Point, more than one-third of the population lives farther than half a mile from a grocery store. Even though most of the Bronx has now met the minimum standard for fresh-food availability, the neighborhood still has a long way to go until residents are able to have  choices like organic or local produce in stores without having to get on a bus or a train. A 2014 report revealed that there are 10 bodegas for every supermarket in one South Bronx neighborhood whose demographic and income profile is almost identical to that of the Hostos student body.
"The issue for a big part of the community is you can find [fresh food] but you have to leave your community and those choices are not as plentiful," said Felix Cardona, the dean of academics at Hostos College.
Zucker has been teaching writing and service-learning courses at Hostos for seven years. Her writing class fulfills a general requirement that all students must meet. These first-year writing courses are a general introduction to writing at the college level and are offered on a range of topics. The classes are particularly important at Hostos since more than half of Hostos students have a native language other than English. Since Zucker started using food-system issues as source material for her expository writing class two years ago, she said, interest has been consistent and growing.
Zucker was one of a handful of professors using food-related content in their classes and Cardona took notice. He formed an exploratory committee in 2013 with several Hostos professors as well as community actors and academics from other institutions. The new program is the result of two years of research and a pilot semester of classes, which ended in May.
Big agriculture was the most popular topic among Zucker's students this past semester.
"The topic of agriculture and social justice is relevant to students' lives since it has to do with what they eat, and how they are taken advantage of," said Zucker. Students in the class read the works of Wendell Berry, Bill McKibben and Cathrine Sneed, among others.
As a requirement of her classes, Zucker supervises the students in the farmers market, which they run on campus once a month. She secures donations from area retailers and even Hunts Point Market on occasion. And the students practice their writing skills by creating handouts about the agroindustry and processed foods.
It was this class that spawned the interdisciplinary associate's degree program, which will start with Introduction to Food Studies and Botany of Food. It will then branch off into tracks: food policy, health and nutrition, environment and sustainability, and social justice. About half of the classes needed for the program are already available at the college, while the rest are currently under development and slated to be lead by new faculty members who the college will hire on a rolling basis as the first class progresses through the program.
When the program starts in the the fall, it will be the first of its kind in the country. Kristin Reynolds, who will be teaching two sections of Intro to Food Studies and leads similar courses at The New School in Manhattan, surveyed existing offerings across the country to help Hostos design the program. Community colleges, including Hostos often have programs that are more vocational in nature, focusing on fields such as hospitality, agriculture, and the culinary arts. Though a number of four-year institutions have launched similar programs, Reynolds found no other two-year institutions taking a liberal arts approach to food studies.
But perhaps unlike their counterparts in Manhattan, when Hostos students learn about the dominance and harms of processed food and the prevalence of food deserts, they are part of the statistics. Two-thirds of Hostos students live in the Bronx and even more live in low-income households.
Reynolds cites in her research that academic and media conversations about food insecurity in urban communities of color often lack voices from those communities.
"A lot of the academic writing about food activism and a lot of the media writing about food activism focuses on white people," said Reynolds. For example, in a  2010 New York Magazine article that profiled seven up-and-coming urban farmers, six of them white. Yet most of New York's roughly 1000 urban farmers are people of color. "The face of this movement looks like white middle-class people, and that's problematic for a number of reasons, not the least of which is that there are actually many people of color who are leading change and have been for a long time." Reynolds has co-authored a forthcoming book illustrating this phenomenon called Beyond the Kale: Urban Agriculture and Social Justice Activism in New York City.
Reynolds taught the Intro to Food Studies pilot course this past semester. "What I have found in the classes I teach is that students really want to have some guidance on how to do that—how do you bring together food and social justice so that you can be an educated participant," she said.
Despite having fewer resources and a historically underserved student population, observers say the students are poised to combat the structural racism inherent in the food system. Eric Holt-Gimenez, the executive director of Food First, a think tank aimed at tackling social injustice in the food system, gave a talk about racism and food at Hostos in March where he met some potential students. He touted the impact community college students can have on their neighborhoods. "Universities produce a college-educated person with a big debt and debt makes them timid … politically, it's a real handicap," said Holt-Gimenez. "It will produce people from the community who will stay in the community."
Zucker's students are already asking questions as part of their everyday lives—talking to the managers at their local grocers to improve choices, for example. "Dr. Zucker's class really increased my courage to continue speaking up for what I know is a human right: nutritious healthy food," Lebron said.
Whether Hostos students transfer to four-year school or graduate and get a job with their associate's degrees, their time at Hostos is meant to lead to greater employment opportunities. Right now, one-third of Hostos students continue on to a four-year institution, according to Cardona. That figure is double the national rate for first-time community college students, but it still leaves a lot of room for questions about what Hostos' first food studies graduates will do with their degrees.
If economic mobility is the main goal, food studies might not be the ticket. If students are expected to walk out of community college and get a job without continuing on to a four-year degree, which is statistically more likely, a more skill-based education could be more practical and even more gainful in the long run—an argument that goes back to Booker T. Washington.
It's an idealistic proposition to give students a course of study that points decidedly to a four-year program, when the majority won't matriculate. But, they certainly won't matriculate if the programs that universities look for are not offered.
Fifty students are signed up to take Kristin Reynolds's Intro to Food Studies course in the fall. Sierra Lebron is going to stay in her dental hygiene program, but she is appealing to the college administration to allow her to work on two degrees simultaneously so that she can continue her study of food. "I think I might want to be a lobbyist," she said, "like a fruit lobbyist."