Behind the Scenes of Teenage Writing Competitions
And you thought spelling bees were intense.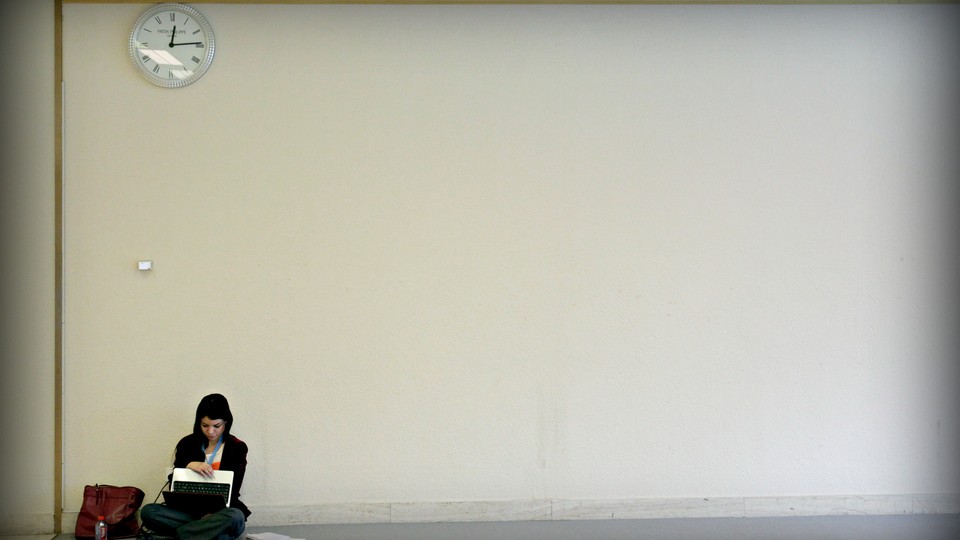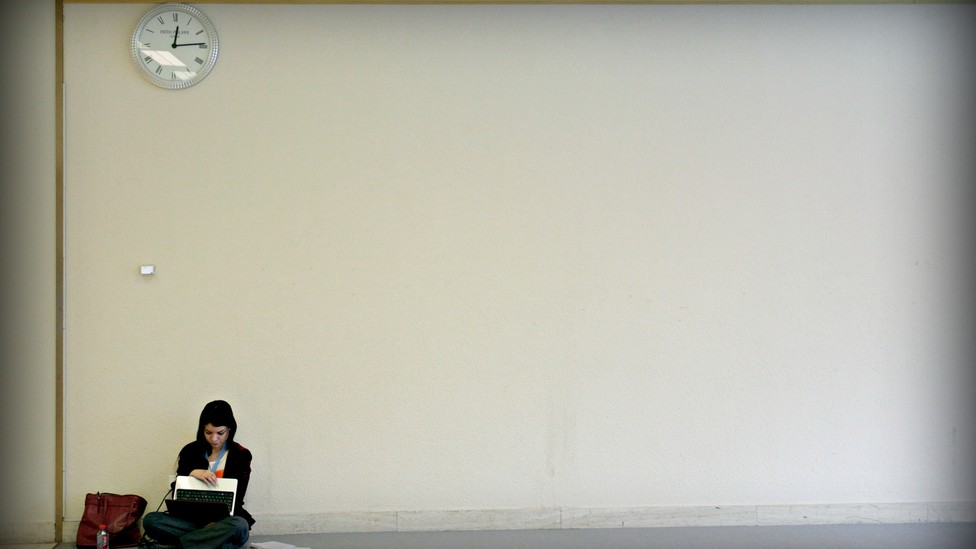 Every spring, some teenage hearts leap with the kind of joy that Paulo Coelho describes as "sometimes a blessing, but … often a conquest." Others break all over the Internet.
"The entire [teen writing] community seize[s] up," says Yasmin Belkhyr, who who graduated from a small private high school in New York last year. "You look down your newsfeed, message your friends constantly, 'Did you hear back? Did you win? Did they call?' waiting with this heavy feeling deep in your stomach, refreshing your email, or checking your phone over and over."
On a mid-March day at noon, the New York City-based Scholastic Art & Writing Awards announces which teenage writers, in grades 7 through 12, have won national silver or gold medals in categories including poetry, short story, and personal essay/memoir. Writers are invited to collect their awards at a special ceremony at Carnegie Hall in early June, and certain submissions, such as senior portfolios, can each win as much as $10,000 in scholarship cash. Either way, medals can translate into invitations to attend choice summer camps and colleges. The program, which has been operating for nearly a century and boasts alumni such as Sylvia Plath and Truman Capote.
Belkhyr, who won four Gold Medals in 2013 and another two last year, now edits Winter Tangerine, a literary publication that she founded in 2013 that features the work of teens alongside that of more-established writers."If you win, then you talk to the other winners, congratulating and praising them. If you lose, then you read through your submission, noting mistakes that weren't there five minutes before, wondering where you went wrong," she adds. "You tell yourself, 'It doesn't really matter. I'll survive.' But a squeaky voice in the back of your head is saying, 'So-and-so won. They're obviously way better than you. Why are you even trying?'"
Scholastic Art & Writing is one of several awards programs that tempt budding teenage writers into the laps of college recruiters.
The Miami-based YoungArts, whose notable writing grads include The New York Times bestseller Sam Lipsyte, typically receives 11,000 entries annually. Lower-tier winners do the same later on in either Miami, New York, or Los Angeles, while finalists gather in January in Miami for a week of classes with masters in the field and performances. Upon finishing their week in Miami, every finalist receives a cash prize, earmarked for education, ranging from $1,000 to $10,000. Based on assessments from their instructors, some of them are then nominated for the U.S. Presidential Scholars in the Arts program, for which only 20 students are selected each year.
Colleges such as Princeton and Kenyon, along with arts-focused schools—from Santa Fe University of Art & Design to Columbia College of Chicago—also offer high-school competitions with currency and credit at stake. The Poetry Society of America and the Norman Mailer Center likewise sponsor student awards. Many of these invite the prizewinners to read at public ceremonies, while a few even fly in and host out-of-state honorees or gift them with scholarships to summer writing seminars.
Such riches are beyond tempting to young authors who will revise work to the point that they—to paraphrase Raymond Chandler—throw up on their computers every day and clean them up every night.
Previously, just a select few, often identified by AP English teachers, would enter these competitions, as would a handful of secret bedroom scribblers. But organizers say teens have been showing much greater interest in the past several years—and the quality of competition is on the rise. That's in part because of recruitment. YoungArts, for instance retains personnel to travel around the country and make presentations in high schools.
The increase in literary rank and file also means that more student writers are losing than ever before. In the Scholastic competition, to even reach national adjudication, a piece must first be handed a Gold Key from regional affiliates. This past year, only 17,000 of the more than 300,000 pieces of art and writing went on to nationals, according to McEnerney. Of those finalists, just 2,200 received medals. In other words—or, more appropriately, numbers—less than 1 percent of the original 300,000-plus took top accolades.
But Brent Busboom, a public-school teacher in Reno, still encourages his students to go for it—among other reasons, because winning a competition can help sell parents on their child's chosen career. Busboom points to a student who was poised to become a doctor or lawyer like his parents when he decided to enter a writing competition. "Winning an award legitimized his talent," he says. "Last I heard, he was doing a master's degree in writing at Columbia. Whether he would have gone into writing regardless is an open question."
Carissa Chen, a rising junior at Phillips Exeter Academy who this year seized the coveted Bennington Young Writer's Poetry Award, says the competitions provide "an extra push of confirmation" for young artists amid art-class cuts and increasing emphasis on "the value of STEM over creativity." More importantly, she says, "The more competitions I enter, the more I understand that I'm not searching for a résumé filler but that I'm looking for connections, experiences, classes, and a community."
For many young writers, engaging in such a contest comes with other benefits. Many of them use it as an opportunity to connect with like-minded peers. In the process, they gather tips and inspiration, says Brandon Young, a 16-year-old writer from Melbourne, Australia, who leads an online peer writing group called Inked Voices. "The desire to tell a good story comes before winning a mere competition."
* * *
Of course, it can be hard for teens to take loss in stride. "When validation is dispensed like that—in such small doses, and on the basis of technical prowess rather than sheer authenticity of emotion—I'm not exactly sure it's good," says Katherine Frain, a Princeton student who edits The Blueshift Journal.
Hilary Levey Friedman, a sociology professor at Brown, compares these prose-and-prosody matches to youth athletic events, whose participation levels have also skyrocketed. In her book, Playing to Win: Raising Children in a Competitive Culture, she writes about the allure of contests that divvy up tributes. When it comes to getting into college, she says, "It's not enough to say you do something or that you are ambitious, you have to prove it." Such competitions help measure motivation.
Belkhyr, whose resume reads like that of a poet twice her age, remembers more anxiety than bloodthirsty thrills. "I had panic attacks and felt utterly worthless and miserable," she says, recalling the times she lost. She also admits to molding her writing based strictly on what she thought would impress the judges. "I wasn't writing for me, I was writing for the contests."
This destruction of self-esteem and erasing of voice is exactly what Nora Raleigh Baskin, author of the new book Ruby on the Outside, fears. Having taught for almost 15 years at organizations including Gotham Writers Workshop, Raleigh Baskin has seen those mindsets trending. She refuses to critique manuscripts to send off to literary magazines or to judge competitions on the grounds that budding writers' voices shouldn't be "held up against a random opinion. This is the time for exploration and for encouragement … Writing is all about process and setting these arbitrary achievements takes away from that."
For some young writers, that pressure can be far more insidious than the pain of rejection. The competitive spirit may persuade parents to hire well-known writers to tutor, edit, or even rewrite their children's work. It may even lead minors down the path of plagiarism.
Frain and several other teens I spoke with singled out a former teen writer who received top recognition from both Scholastic and YoungArts, and who they say stole a poem nearly "word-for-word" from an undergraduate Yale literary magazine. Despite eventually being caught, "he's still considered a rising star," Frain says. Belkhyr has witnessed similar problems; she's involved in a current dispute with a student who she says copied from her for years. "If it gets to a point where you feel like you need to steal someone's intellectual work," she says, "you need to seriously reconsider why you write."
Scholastic Arts & Writing and YoungArts say they have revoked awards when plagiarists have been detected. The former has an eight-page document on its website explaining various legal terms related to the practice. The organizations, however, refuse to comment on individual cases, perhaps because revocation is embarrassing and seldom made public. I once judged a local contest where I caught a plagiarist completely by accident three months after the ceremony. An obscure D.H. Lawrence poem came across my path, and I recognized it as a piece that one student had used as his own. The sponsors of the contest took back his gifts, which included a laptop computer and $500, but he'd already performed his poem and received accolades from hundreds of people.
Meanwhile, competitors also struggle, knowingly or not, against elitism. "Competitions attract the children of privilege who go to private schools, summer writing camps, and have tutors who guide them along," says Joann Biondi, a preliminary judge for YoungArts. "The underprivileged kids who actually need the scholarship money fall through the cracks and still rarely get that much-needed break—and it's not for lack of talent or drive." And while waivers are sometimes offered, their availability varies depending on the competition, and application rules can be strict.
True, the better off a student is, the more likely he or she can manipulate the system. Take the Scholastic Arts & Writing poetry category, which is the only writing genre (aside from portfolio) one can enter an unlimited number of times. The rules state that poems must be a "collection" ranging from one to five poems. Together the poems must total at least 20 lines, but not go over 300. It costs $5 to enter each time. But if you have, say, five poems that are all more than 20 lines each and the means to enter them all singly, why not do so and increase the odds of winning five gold keys and, later on, gold medals—versus the student who can afford to enter only once, and must put all five poems into the same entry? If you have the money, why not do it for 15, 20 poems? Why not do it for 50?
In competitions where judging isn't blind, judges may subconsciously come to the table predisposed to expect superiority from certain boarding schools. More recently, however, students from publicly funded magnet and charter schools that focus on the fine arts have emerged as strong contenders. In fact, of this  year's 20 U.S. Presidential Scholars in the Arts, the four who are writers are all products of public education, including two who attended regular district schools. And increasingly, much of the prize-winning writing is being done by first- or second-generation hyphenated Americans, or students who have some identity other than traditional, white, and cisgender.
YoungArts has found a way to level at least one of the playing fields by opening a new category for the next annual competition: spoken word, which like hip-hop and rap frequently brings to light issues that combine the self with social justice. By identifying the talent in this area, where it doesn't matter what the writing looks like on the page, YoungArts will be able to boost a sector of students from across the nation who might never have had an opportunity otherwise.
Ultimately, if there's any real good news to be had out of the competitive-writing circuit, it may be this, from Virginia McEnerney, the executive director of Scholastic awards: "There is so often discourse around poetry being dead. But if you look to our youth, it is thriving. It is our largest category of writing, inspiring thousands of young teens."