When Loan Forgiveness Isn't Enough
The federal government says it will relieve the debt of students who were defrauded by the now-closed Corinthian Colleges. But the problems are far from solved.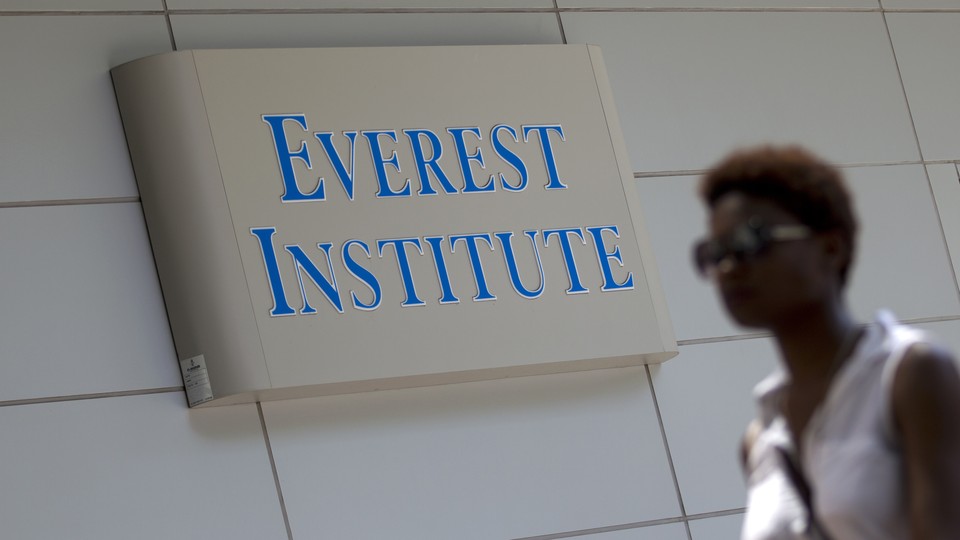 The Obama administration this week announced what would appear to be good news for thousands of former students of Corinthian Colleges, the notorious for-profit company that shuttered and filed for bankruptcy in April following a long, painful collapse. The U.S. Department of Education says it will forgive the students' federal student loans on the grounds that Corinthian defrauded them. All in all, they could be relieved of millions of dollars in debt.
The DOE's debt-relief pledge is part of a suite of proposals aimed at relieving borrowers of any unjustified debt and cracking down on what it described as "unscrupulous colleges that deny students meaningful educational opportunities and leave taxpayers holding the bag." Arne Duncan, the U.S. education secretary, stated that the department plans on creating mechanisms that would allow all college students who believe they were defrauded by their institutions to apply for debt relief—whether at Corinthian, whose subsidiaries included Everest and Heald, or elsewhere.
"Secretary Duncan has directed our team to ensure that students who have been defrauded by their college, or because their school closed down, receive every penny of the debt relief they are entitled to, as efficiently as easy as possible," wrote Ted Mitchell, the U.S. under secretary of education, in a blog post announcing the news. Advocacy groups and top policymakers, including both Democrats and Republicans, applauded the announcement. They touted the federal effort to tackle the economic crisis plaguing the country's higher-education system—including outstanding student debt nationwide totaling more than $1.2 trillion—through stronger accountability and better support for students of all backgrounds.
Still uncertain is whether the DOE's plan will completely solve the financial predicament created by Corinthian and other poor-performing higher-education institutions. The announcement didn't specify who exactly would qualify for debt relief and what criteria will be used to determine whether a college violated the law; that's up to a "special master" who will be appointed in the coming weeks. And although advocates have long urged for blanket relief, the department is only guaranteeing forgiveness to specific groups of students: generally those who were enrolled at one of Corinthian's institutions sometime after last June, though students who attended certain campuses before that point are also eligible. The special master will outline how other students who believe they were victims of fraud, whether or not their school closed down, might qualify, too.
Moreover, borrowers have to individually and proactively apply for the relief—a process that requires legal savvy and documents, including transcripts, that could be difficult to obtain, especially considering the schools are no more. The finance blogger Alexis Goldstein criticized the plan for forcing students to "re-prove they were injured": "Instead of providing broad debt cancellation to former students of Corinthian Colleges, Inc.," she wrote, "the Department decided to require students to jump through extensive loopholes in order to apply for relief." Meanwhile, a group of nearly 200 former Corinthian students who called a debt strike earlier this year against the DOE—and presumably helped spearhead the current initiative—says the plan doesn't do enough to ensure students get the relief they need. According to The Chronicle of Higher Education, the group is warning that the "bureaucratically tortured" process will "revictimize" borrowers.
The relief is only applicable to federal student loans—not the private ones into which thousands of Corinthian students were reportedly "lured," allegations that are the subject of a pending federal lawsuit.
That means American taxpayers are liable for millions of dollars to cover the cost of the relief—or more. Scott Gautier, an attorney representing students in Corinthian's chapter-11 bankruptcy proceedings, said the collapse could amount to a "multi-billion dollar disaster." As The New York Times reported on Monday, "the government has never before opened debt relief to such a potentially large pool of students." If every one of the approximately 350,000 students who took out federal loans to attend a Corinthian campus in the last five years applied for and received the relief, according to the Times and other news outlets, the cost could be as high as $3.5 billion. A recent in-depth Senate investigation found that taxpayers in a single year had invested $32 billion in for-profit colleges.
For-profit colleges across the board have come under scrutiny for a range of shady practices and are widely seen as the biggest culprits when it comes to fraud in higher education. Despite being charged thousands and even tens of thousands of dollars in tuition, students at many for-profits typically get very little out of their education aside from massive debt. Researchers have found that degrees from for-profit institutions generally have little return on investment, especially compared to those from community colleges, while a striking number of for-profit students fail to even complete their programs. Although they serve just 12 percent of the country's students, for-profit colleges account for nearly half of the federal student loans that recently went into default, according to an Institute for College Access and Success analysis of 2013 data.
Virtually all of the 1,400 estimated programs that would not pass new accountability standards, according to the DOE, are at for-profit institutions. The new federal policies include the "gainful employment" rules that tie financial aid received by an institution to its student outcomes and go into effect next month. They could also be supplemented by proposals that aim to crack down on discriminatory school-banking practices and further regulate for-profit institutions' heavy reliance on federal funding, but it's up to Congress—which hasn't been particularly amenable to the White House's higher-education proposals—to pass them.
Before its closure, the two-decade-old Corinthian was one of the biggest for-profit education companies in the country, at one point operating more than 100 campuses. But in recent years it became the subject of numerous lawsuits and federal investigations, including a criminal probe.
The DOE recently concluded an investigation finding that each of Corinthian's Heald campuses had falsified job-placement figures; it fined the company $30 million and instructed Corinthian to start closing the campuses. (The Obama administration is already guaranteeing forgiveness to the 40,000 students who borrowed hundreds of millions in federal loans to enroll at Heald from 2010 on.)
The Consumer Financial Protection Bureau also sued the chain last September for its "predatory lending scheme," alleging that it "lured tens of thousands of students to take out private loans to cover expensive tuition costs by advertising bogus job prospects and career services" and "used illegal debt collection tactics to strong-arm students into paying back those loans while still in school." (That lawsuit is ongoing, though the ECMC Group, which took over a number of the chain's schools, earlier this year agreed to provide hundreds of millions in debt relief for borrowers of private student loans.)
Corinthian was undergoing a "wind down" after agreeing last June to close or sell all its campuses. When it abruptly announced its complete shut-down in late April, it left roughly 16,000 students in limbo.
Many advocates are concerned that the announcement will give the false impression that the mess has been cleaned up. A recent Huffington Post analysis found that nearly half of the schools listed by the DOE as "Alternative Education Options" for those remaining 16,000 Corinthian students are for-profit institutions owned by corporations that are also under federal investigation for possibly misleading students. One of the suggestions—ITT Educational Services—was sued last year by the financial-protection bureau for allegations similar to the ones highlighted in the agency's Corinthian lawsuit. ITT also faces federal fraud charges in a complaint filed last month.
Then there are the widespread concerns about the feasibility of the debt-relief process. Though it described the loan-discharge process as "fair, clear, and efficient," the Institute for College Access and Success also expressed concerns about the need for students to apply for forgiveness individually, arguing that students at the campuses where the department investigation confirmed widespread fraud should be granted automatic group discharges. The institute also said the process for other students should be better streamlined so they don't need to hire a lawyer just to fill out the required forms. The Times cited education officials as acknowledging that, in the past, only a sliver—6 percent—of the students whose colleges closed asked for their debt to be forgiven.
And, again, the plan only applies to federal loans. As Consumer Financial Protection Bureau regulators allege in their ongoing lawsuit, Corinthian students took out nearly 130,000 private "Genesis loans" between July 2011 and 2014 to help cover their tuition and were required to make monthly payments while attending school. According to the agency, more than six in 10 Corinthian students defaulted on these loans—whose interest rates were more than twice the cost of federal ones—within three years. The Committee of Student Creditors, an ad-hoc group that was formed last month to ensure the students' interests are represented in Corinthian's bankruptcy proceedings, on Tuesday filed a motion to freeze all efforts to collect their student-loan debt, including any private obligations.
The new taxpayer-supported plan could be seen as both a necessary investment that will prevent repeat situations down the line and also a reminder that reforms are needed. Still, a number of politicians in Congress—which will determine which, if any, of the White House's supplementary higher-education bills get put into place—have already blasted the decision as fiscally irresponsible. The Republican Senator Lamar Alexander, who chairs the education committee and has advocated for simplifying the notoriously cumbersome student-loan application process, criticized the Obama administration for "[putting] taxpayers on the hook for what a college may have done." In a statement, he highlighted what he described as the DOE's conflicting role as both the banker for students and regulator of their colleges. "If your car is a lemon," he said, "you don't sue the bank that made the auto loan; you sue the car company."