Where Girls Are Missing Out on High-School Sports
Gender inequality in athletics exists at thousands of campuses across the country—and it's concentrated in one region in particular.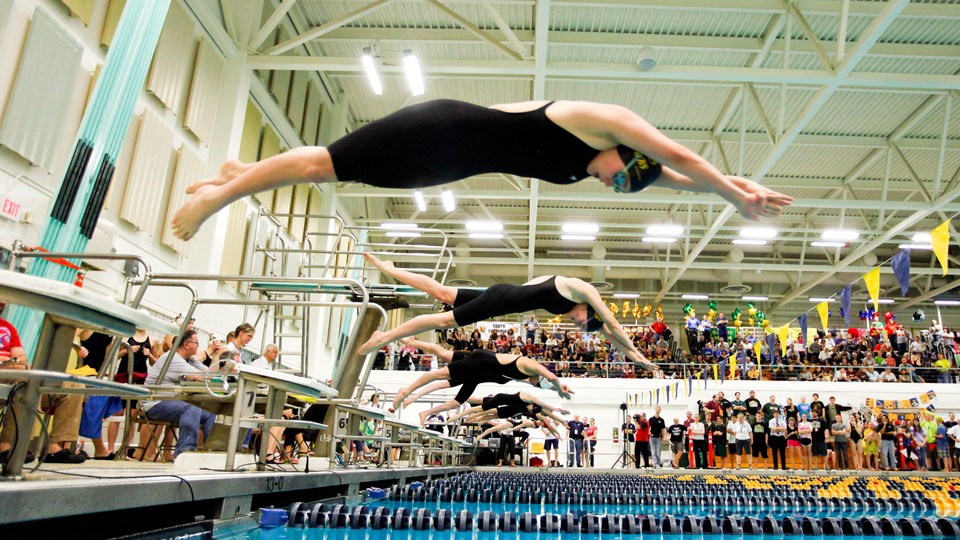 Forty-three years ago, a federal law was passed requiring what today seems like a no-brainer: gender equality in schools. Over the past few years, that law—Title IX—has figured most prominently in discussions about sexual assault on college campuses. But the impetus behind Title IX was the lack of opportunity for female athletes. In 1972, the year the civil-rights law was enacted, only 30,000 women were participating in National Collegiate Athletic Association sports, compared to 170,000 men. The NCAA didn't offer scholarships to women, nor did it hold championship games for female teams.
"No person … shall, on the basis of sex, be excluded from participation in, be denied the benefits of, or be subjected to discrimination" in any school-based program, including athletics. That means that any educational institution receiving federal funding (virtually all the country's colleges and public K-12 campuses) must allocate equal resources to male and female participants, from locker rooms to tutoring. Violating the law puts an institution at risk of having its federal funding cut.
Title IX would appear to have done its job. The number of women playing college-level sports today is more than five times as high as it was in 1972. And the number of girls participating in high-school sports today has reached a record high of 3.27 million. About two in five girls participate in high-school varsity sports, according to the Women's Sports Foundation.
Still, critics argue that the law has come with unintended consequences. Some advocacy groups, including the American Sports Council, say the law disadvantages male athletes. Meanwhile, as the writers Linda Flanagan and Susan Greenberg have reported, others are concerned that the shifts brought on by Title IX  are coming "at a serious cost for many female athletes" because they've increased the health risks for players and prompted a drop in the number of women coaches, among other ramifications.
Flanagan and Greenberg did acknowledge the progress that has been made thanks to the law, however: "Title IX has clearly triumphed in its mission to equalize the playing field for young women. Its impact can be felt at every level of competition," they wrote. "The numbers bear it out."
But do they really? Nearly 4,500 public high-schools across the United States have large gender inequality in sports and could be in violation of Title IX, according to a new National Women's Law Center analysis of 2011-12 Department of Education data. These campuses account for well over a fourth—28 percent—of the country's public high schools. Some states have far more inequality than others, though most of them have large gaps in at least one in five high schools. In six of those states, large gaps exist in more than half of all public schools.
The state where gender inequality in sports is most severe? Georgia, where two-thirds of high schools have large gaps. In fact, each of the 10 worst-ranking states—including Alabama, Mississippi, and Tennessee—are in the South.
---
---
A gap is considered "large" if the difference between the percentage of spots on teams allocated to girls and that allocated to boys is 10 points or higher. If girls account for, say, 55 percent of the population at a school but only get 43 percent of all the spots on teams, that school has a 12 percent gap. That's similar to the formula used by the federal government in enforcing Title IX, which says that a school can demonstrate compliance by showing the percentage of spots for girls and that for boys are about the same. (States where the gaps are smallest include Vermont, Hawaii, Maine, and Maryland.)
"This data shows what schools are very likely to be out of compliance" with Title IX, said Neena Chaudhry, the senior counsel at the National Women's Law Center.
Whether that's going to change, however, is an open question. According to Chaudhry, although it does conduct investigations and regulate the law, the federal government has never taken funding away from an institution because of noncompliance with Title IX.
It's true that it's hard to assess whether a school is denying girls of sports participation or simply isn't providing an athletic opportunity because girls aren't interested in participating. Schools must proactively prove that the latter is the case to demonstrate Title IX compliance by surveying female students and coaches to gauge their athletic interests and ensure they're "satisfying girls' interests," Chaudhry said.  But Chaudhry, who also directs the law center's Equal Opportunities in Athletics program, says she's never heard of a school with a large gender gap successfully proving that it's indeed fulfilling their interests. Typically the school just hasn't done its due diligence.
Chaudhry said the new findings "sadly" aren't very surprising: "We've seen this for a long time now … not having opportunities for girls [in sports], not having equal facilities for girls' teams—this is all still a big problem."
Why certain states—namely those in the South—struggle with gender imbalances in athletics more than others isn't clear. But Katherine Gallagher Robbins, the director of research and policy analysis at the National Women's Law Center, said one clue might exist in the parallels between these findings and those contained in a separate study on the opportunity gaps faced specifically by girls of color.
The other analysis, which the National Women's Law Center produced in partnership with the Poverty & Race Research Action Council, found that schools with high concentrations of minority and low-income students not only tend to have fewer resources for extracurricular activities, they also tend to have much larger gender disparities in sports participation than do schools serving majority-white populations. According to the study, 40 percent of heavily minority schools have large gender gaps in sports participation, versus just 16 percent of heavily white schools. (Schools are heavily minority if 90 percent or more of their students identify as such, and vice versa for heavily white schools.)
The study highlighted 13 states where school segregation is especially prevalent (based on the number of heavily minority and heavily white schools). Perhaps unsurprisingly, about half of those states are in the South: Alabama, Louisiana, Mississippi, North Carolina, Tennessee, and Texas. And Gallagher Robbins said it's telling that each of those six states is also among the 10 states identified in the new analysis as having the worst gender inequality in high-school sports.
---
Percentage of High Schools With Large Gender Gaps in Sports Participation, by Racial Composition of School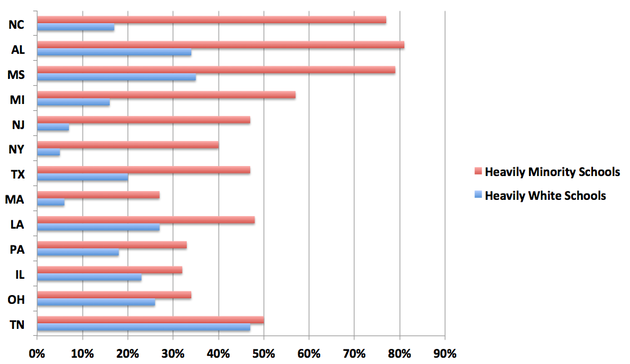 ---
The disparities faced by female athletes of color are particularly severe in Alabama, Mississippi, and North Carolina, where about four out of every five heavily minority schools also have large gender inequality in sports participation.
"States that fell to the bottom of the ranking of our [new] report also have larger populations of people of color," Gallagher Robbins said, noting that Southern states tend to have some of the highest poverty rates among women, as well as larger gender-based wage gaps. "That's part of the overall story and part of the untold story of Title IX."
Gender- and race-based disparities in high-school athletics could be exacerbating the ever-growing inequality in educational or career attainment that already plagues women and people of color. Participation in high-school athletics often correlates with academic success and increases the likelihood that a student will attend and earn a degree from college. One study found that an increase in females' involvement in sports leads to enhanced female participation in occupations that were previously dominated by males and that being a high-school athlete was associated with higher wages for women.