'Dollar Signs in Uniform': Why For-Profit Colleges Target Veterans
A regulatory loophole incentivizes the institutions to aggressively recruit students who have access to military benefits. Will Congress take action?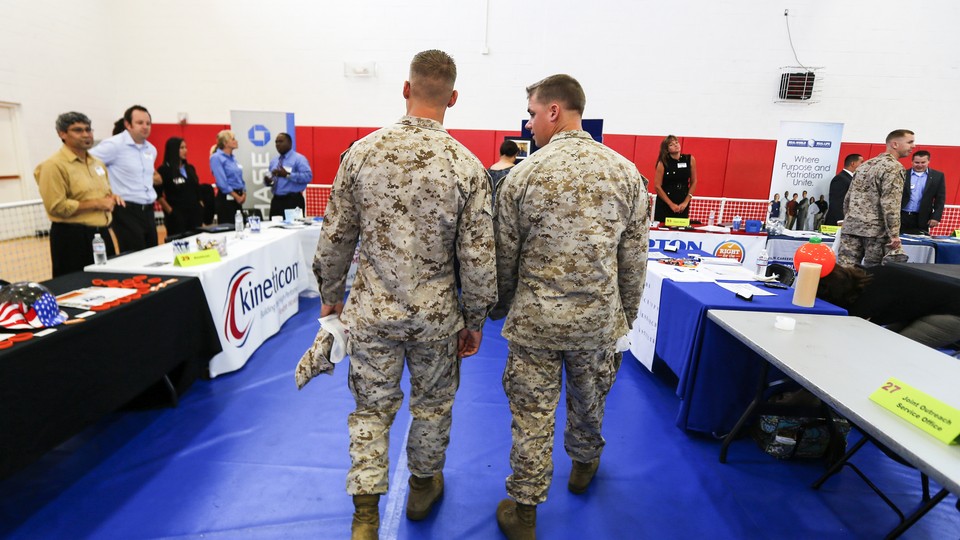 For nearly two decades, the federal government has barred for-profit colleges from relying entirely on its coffers for their revenues. These institutions tend to enroll
disproportionately high percentages
of low-income students, meaning they also rely heavily on the federal need-based aid those students receive. The rule, which was implemented in 1998, allows these institutions to take in no more than 90 percent of their tuition money in the form of such aid, which includes loans and grants.
However, other forms of federal student funding—namely benefits for military veterans—don't count as part of this 90 percent.
The consequence is a "
loophole
" that incentivizes for-profit colleges to target and aggressively (sometimes deceptively) recruit veterans and their family members. A two-year U.S. Senate investigation into the industry, led by the former Democratic Senator Tom Harkin,
revealed
just how egregious those recruitment practices had become. Among the 2012 report's 150-plus pages were subpoenaed correspondence among for-profit-college insiders discussing how to "leverage" military-spouse benefits and internal documents with strategies for enrolling veterans with access to Department of Defense aid.
"Servicemembers, veterans, spouses, and family members have become highly attractive prospects to for-profit colleges, and many schools have put significant resources into recruiting and enrolling students eligible for these benefits," the Committee on Health, Education, Labor, and Pensions (HELP) report's executive summary said. The summary pointed to the existence of lead-generation websites that were designed to resemble official military pages, as well as efforts to recruit students at wounded warrior centers and hospitals. "This loophole creates an incentive to see servicemembers and nothing more than 'dollar signs in uniform.'"
The landmark report bolstered and spurred huge shifts in the industry, including a swath of lawsuits and investigations—the probe that resulted in Corinthian Colleges' dramatic demise, for one. It coincided with a steady decline in overall enrollment at for-profit colleges and intense scrutiny from the news media.
The report largely failed to prompt change in Congress, though. Legislation to close the loophole has been introduced a number of times since 2012; it's never even gotten a vote. "With so many issues out there in the veterans community, this is one that just hasn't been pushed as hard," said Christopher Neiweem, an Iraq war veteran who formerly worked as a recruiter for the for-profit DeVry University. "Without that constant energy, it's sort of fallen by the wayside."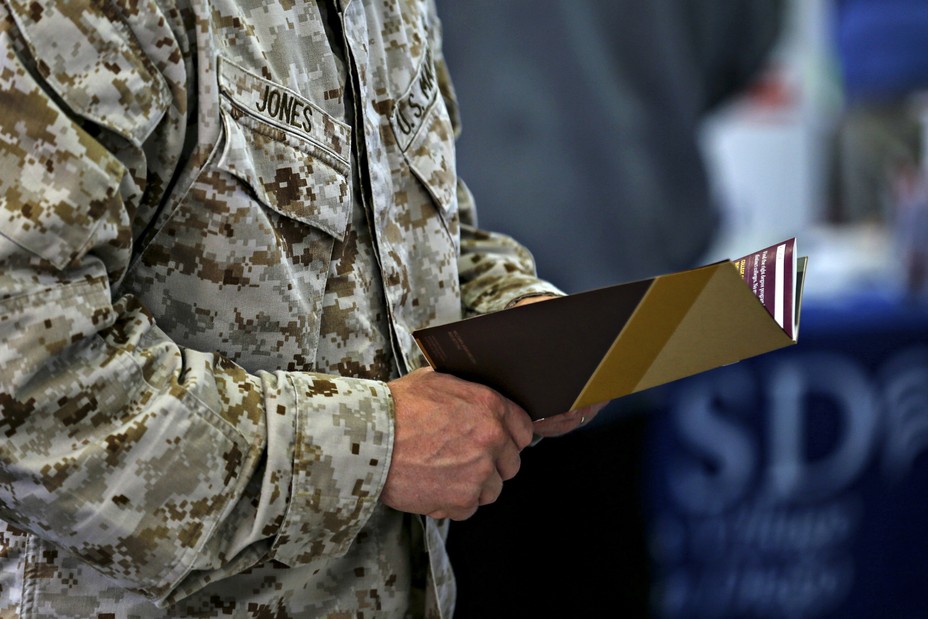 But perhaps this year could be different. On Wednesday, the same legislation—dubbed the Military and Veterans Education Protection Act—was introduced yet again. It features the same text and the same key backers: Democrats including senators Tom Carper, the bill's sponsor, and Richard Blumenthal. What's different is the context.
The general consensus in the country now seems to be that the words "for-profit" and "college" make for a pretty nasty combination. (Advocates do stress, however, that not all for-profits are bad.) Corinthian, which received hundreds of millions through veterans benefits, is out—and other institutions under investigation could be heading that way, too. The Obama administration has started to crack down on the industry, and hundreds of former for-profit-college students are striking against their debt. It's no wonder more than two dozen senators are endorsing the bill this year—more than any year before—though all of them are Democrats.
"There are too many for-profits that are more interested in getting the dollars, picking up the revenue ... adding to their bottom line," said Carper, a veteran himself who attended college thanks to the GI Bill and has spearheaded the legislation over the years. "They're more interested in that than they're interested in making sure a GI—man or woman—gets the kind of education that will allow them to provide for themselves and their families for the rest of their lives."
In recalling his work as a recruiter, Neiweem, who now works as a legislative associate at Iraq and Afghanistan Veterans of America (an advocacy group that's backing the bill), said that DeVry was little more than a "business operation"—"a school in name only." "The environment, day to day, was almost a mini Wall Street," he said. "We were in an office [of cubicles] ... It was a business center, phones ringing all day, jovial elation whenever a sale happened."
For-profit colleges typically spend more money on marketing and recruiting than on actual instruction, the HELP report found. And, according to Senate research, in the past five years, 40 percent of post-9/11 GI Bill tuition benefits have gone to the for-profit sector.
So why has the legislation floundered? Why has veteran enrollment at the eight for-profits most reliant on their revenues "dramatically increased" in the years since the 2012 HELP report, while overall student numbers have shrunk? Why are taxpayers, as a follow-up report last year revealed, paying twice as much for a veteran to attend a for-profit college as they are a veteran at a public one?
Carper, whose father also relied on GI Bill benefits, suspects that lobbying money—which in the for-profit sector alone has amounted to tens, sometimes hundreds, of thousands of dollars annually—has been one of the biggest obstacles to getting the loophole closed. Whether those influences will continue to outweigh the growing public interest in holding colleges accountable this year isn't clear. A recent Propublica investigation found that the for-profit industry has maintained its political clout this year thanks to a rather unlikely ally: the traditional higher-ed lobby, which has largely sided with its for-profit counterpart in an effort to stymie broader initiatives aimed at beefing up regulation.
There's also the challenge of getting the greenlight from the Republican Senator Lamar Alexander, who now chairs the HELP committee and will determine whether the bill advances. Alexander in an email declined to give specifics when asked whether he planned on considering the 90/10 legislation this year. He did note that the Senate education committee is currently deliberating the Higher Education Act, which is up for reauthorization and would need to be amended if the 90/10 rule were changed. The committee is "examining bipartisan proposals around accountability ... as part of that process," he said. Laws and regulations affecting colleges, he added, should be applied equally across all higher-education sectors. Alexander has been vocal in criticizing the over-regulation of colleges.
Meanwhile, the Association of Private Sector Colleges and Universities, the main trade and lobbying organization representing for-profit colleges, appears poised to wage intense opposition against the legislation. "The only effect that the proposed changes will have will be limiting access to education for the students who need it most," said the association's spokesman, Noah Black, in an email. He cited a study from Edvisors that found that 80 percent of community colleges would fail the 90/10 rule if it applied to them, and that institutions serving large percentages of low-income students are more likely to be in violation of the policy. "This proves that 90/10 is not a measure of institution quality, but rather a measure of the amount of income or savings a student has at the time of their enrollment," Black said.
Still, if the 90/10 were amended to include military student benefits, it could make it clearer which institutions are surviving merely by enrolling veterans.
A Center for Investigative Reporting analysis last year found that federal funding at roughly 160 for-profit colleges—including Corinthian's subsidiaries and other big names such as Ashford, Kaplan, and the University of Phoenix—accounted for more than 90 percent of revenue in 2013. But that was only if veterans benefits were included; only 27 of them actually violated the current 90/10 law. In other words, dozens of institutions may have been able to keep afloat by exploiting veterans and their family members to offset their obligations—including a responsibility to offer "a quality product at a competitive price," Pauline Abernathy, the vice president of the Institute for College Access and Success, once told me.
"If for-profit colleges really want to have veterans be successful and their outcomes to be meaningful, they should prove it," Neiweem said. "They should prove it by investing in support staff, investing in programs, investing in instruction, and not just giving us the lip service. There are too many examples of veterans with a for-profit degree on their wall and an unemployment check on their table."