Solving the Problem of Amsterdam's 'Black' and 'White' Schools
The Dutch city known for its tolerance is having trouble promoting racial integration while honoring parent choice.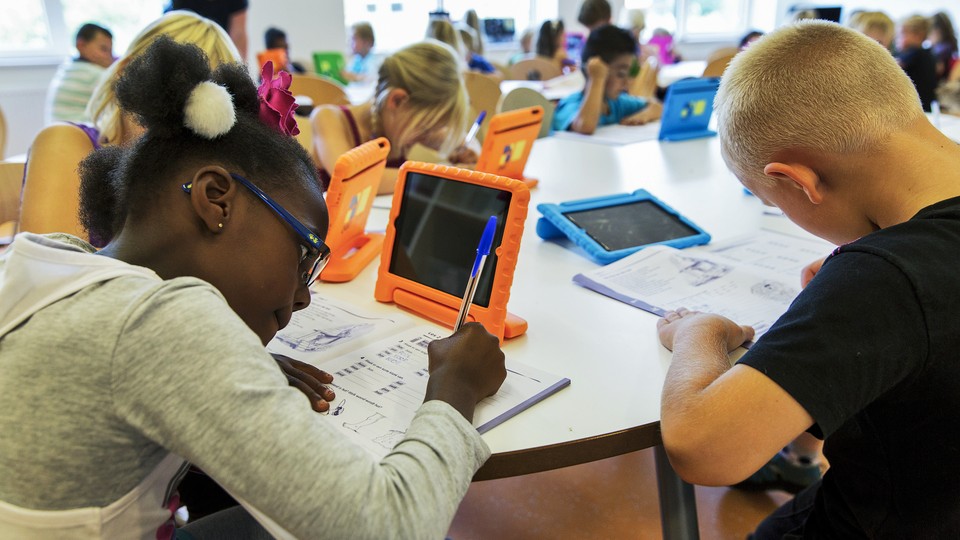 Elementary students from two of Amsterdam's schools—many of them Turkish and Moroccan—took to the streets of their districts last month wearing white T-shirts with an appeal directed at their Caucasian neighbors: "Is this white enough for you?"
And on the backs of the shirts: "Integration is every child's right."
The students, along with teachers and parents, have launched a campaign to attract more white children to their schools. These campuses are known officially as "black" schools—a classification that, according to local news media, means more than 60 percent of the pupils are ethnic minorities with immigrant backgrounds. Children who fall under this classification, which also includes kids who aren't of African descent, often grow up in disadvantaged households among family members who don't speak the Dutch language.
The two schools involved in this campaign—Avonturijn and Catharina—are located in ethnically mixed neighborhoods. Yet the vast majority of their student populations (an estimated 90 percent) fall within that demographic, according to news reports. Amid the increasing racial imbalance, the schools have also seen enrollment drop, and the communities fear the campuses could be closed if they can't boost the numbers of students attending them.
"When, for different reasons, a school 'becomes blacker,' it's very difficult to reverse the trend," Diane Middelkoop, a spokeswoman for the schools, told the global news agency AFP. "White children's parents no longer want to be part of the school. I can understand that: We all want to feel at home and that means that we want to see people who share our origins and culture."
There are approximately 500 "black" schools in the Netherlands, and according to a Humanity in Action report, this system limits minority students' abilities to adapt to the "dominant" culture. It also threatens to create a perpetual class of  "children of lower-income, lower-educated parents repeating the cycle and joining their parents at the lower end of the socio-economic ladder."
Known as a haven of tolerance, the relatively small metropolis of Amsterdam has 811,000 inhabitants representing over 150 nationalities—making it one of the most diverse cities in Europe in terms of country origin. Residents of non-Western origin accounted for roughly a third of the population in 2006 and more than half of the city's school-age children, according to national statistics.
Depending on the country of origin, most people entering the Netherlands are required to pass an exam that tests knowledge of Dutch language and culture. But despite the rather strict governmental policy on assimilation, schools remain largely segregated, and according to Guido Walraven, the coordinator of the National Knowledge Centre on Mixed Schools, the Dutch tradition of parental choice in education is a central cause.
"In the Netherlands parents can choose the school they think is best for their child, and most of the time that is a school dominated by parents 'just like them'—in terms of socioeconomic status, lifestyle, and educational style," Walraven says. "As a consequence, even in a neighborhood with mixed housing and a mixed population, there tend to be both 'black' and 'white' schools."
Parental choice regarding education in the Netherlands is sacrosanct. Walvaren and others attribute that in part to Article 23 of the Constitution, which was passed in 1917 and guaranteed equal government funding for both public and private schools, including denominational schools and institutions following specific pedagogical principles, such as Montessori schools.
At the time the amendment was passed, social institutions in the Netherlands tended to be organized around three "pillars" based on religious (and political) belief—Protestant, Roman Catholic, and secular—and most families sent children to schools within their religious affiliation. But when the country became more secularized in the 1950s, people began crossing pillar lines and instead choosing schools based on perceived educational advantage. (Amsterdam now has Islamic schools, too.)
The system seemed to work well until the Netherlands recruited unskilled Turkish and Moroccan workers to live in the country for what was intended as a temporary stay. Though data on the exact numbers of foreign workers who entered the country as part of the program is hard to track down, demographic trends show that high numbers of people remained. This spike in immigration during the 1960s and '70s—including an influx of people from Suriname, a former Dutch colony in South America—has in many ways made freedom of choice a gateway to segregation.
Although there are not catchment areas—meaning that children are not assigned a school based on their address—parents typically opt for a school in their neighborhood, which makes the educational segregation hard to address. Much of it is a byproduct of residential segregation. But Walraven says the few neighborhoods that are relatively diverse offer an opportunity for pro-integration measures to come into play.
"In mixed neighborhoods, we actually have a situation where we can build mixed schools," he says. "We look at why that does not happen, and we think it has to do with freedom of choice of parents and the admittance policy of schools."
School boards—the publicly funded governing bodies that manage institutions and are held accountable by the Dutch Inspectorate of Education for school spending and student achievement—play a major role in determining a school's student makeup. Parents in Amsterdam are currently permitted to select up to six schools they would like their child to attend, and the school boards and municipality make the final decision based on various criteria, including whether the child lives in the neighborhood and whether the family already has another child in the school.
The government hasn't made any official effort to prevent segregation by balancing the ratios of ethnicities in schools so they reflect the demographics of the neighborhoods in which they're located; officials don't take student diversity into account when making enrollment decisions. And this, according to Walraven, gives school boards a lot of say over what their student bodies look like.
"School boards are not allowed to systematically deny a certain type of child because they want to stay a 'white' school," he says. "But they can apply informal pressure, and say things like, 'you know, there are these other schools that have a lot of children with a similar background to your child, and it maybe be far better for your child to go there.'"
Other municipalities in the Netherlands, however, have explicitly stipulated student diversity at schools. In 2009, the Dutch city of Nijmegen made integration a criteria for school placement, with the goal of achieving a 30-to-70 ratio of Dutch-born students and non-Western immigrants in each school—a balance the local government determined is enough to make the integration beneficial to disadvantaged children while not hindering the learning of the other group. Only ten parents (out of thousands), Walraven says, filed complaints about the selections made.
In the United States, the first major step in desegregating schools was achieved 61 years ago, when the Brown v. Board of Education declared any state laws mandating segregation unconstitutional. But today, segregation in many of the country's schools is on the rise, according to many studies, including one from UCLA's Civil Rights Project, that cite residential segregation and privately operated schools as factors.
Some U.S. cities have adopted policies similar to the Dutch model, enabling more parent choice—but oftentimes these have also led to increased segregation. In San Francisco, for example, parents can rank preferences for their top three public schools, and this has shown to increase segregation.
According to San Francisco Public Press, since 2010, the year before the current school-choice policy went into effect, there has been a "significant rise" in schools that are dominated by one race: In nearly a quarter of the city's 115 schools, 60 percent or more of the students belong to a single ethnic group, which administrators say makes them "racially isolated."
In Cambridge, Massachusetts, however, "controlled choice"—similar to what was done in Nijmegen—is applied, and that has reportedly led to better racial and socioeconomic integration than previously seen in the city. Officials incorporate parents' preferences as much as possible into their school assignments, but this is combined with the district's attention to creating equitable schools.
But in Amsterdam, this kind of controlled choice is perceived as more restrictive than absolute free choice, says Walraven, and so there is resistance. Indeed, according to Simone Kukenheim, an alderman in Amsterdam who is responsible for "education, youth, diversity and integration," the city council cannot take action against school segregation because "freedom of choice is too important."
But without some intervention to make integration a priority in education, Walraven says, segregation will probably continue. "People can say, for instance, 'I'm a white, well-educated parent, and I would prefer my child to be in a classroom with other children who have well-educated parents,'" he says.
If the government cannot intervene to create more ethnic balance in schools like the Amsterdam's Avonturijn and Catharina schools, then it is up to the students (and their teachers and parents) to try and persuade local white families to send their children to these schools.
According to Walraven, Avonturijn and Catharina are "good schools that rank in the middle when compared with all other schools. Which means they are very effective schools when you consider some children arrive with very little Dutch words." And the goal of the "Is this white enough?" campaign, he said, is to send the message that "We are a school in a mixed neighborhood, and white, well-educated parents do not bother to look into how good our school is, or how interesting our programs are. They just look for schools with more white children."
And, he says, educational segregation is more than just a problem for the two individual schools: It's a societal issue that needs to be a common priority for policy makers and school board members. "We live in a multicultural society, and we should prepare our children to live in that society, to live together," he says. "That is primarily what learning in the 21st century is about."