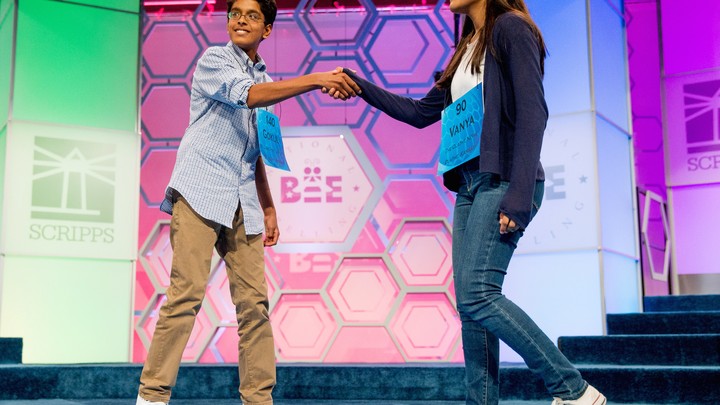 For a serious event, the annual Scripps National Spelling Bee has had more than its fair share of hilarious moments over the years.

Take the meme-worthy aloofness of  2013 winner Arvind Mahankali, who upon securing his victory almost seemed oblivious to the news. Or the awkward interview with 2007's Evan O'Dorney. There was also contender Andrew Lay's averted disaster in 2009 and 2008 champion Sameer Mishra's initial bewilderment over the word "numnah." (Yes, it sounded like "numbnuts.")

Last night, for the 88th time, America's best and brightest spellers lined up on the national stage to vie for the year's championship. And for the second consecutive year, it ended in a tie. Both students were so adept at spelling that the competition ran out of items to test them on from the "25-word championship section."
The final round included the words "pipsissewa," "pyrrhuloxia," and "hippocrepiform." (For the record, as I stare at a draft of this article, my spellcheck recognizes none of these.) They were far cry from 1940's winning word—"therapy"—but as the Valerie Miller, a spokeswoman for Scripps told me, "As the spellers up their game, so does the Bee."

Vanya Shivashankar, 13, and 14-year-old Gokul Venkatachalam were this year's co-champions. Gokul, with his Lebron James quotes and nonchalant confidence, was a hit on social media. He spelled his final word—"nunatauk"—correctly without inquiring into its definition or language of origin, taking fewer than five seconds to utter: "N-u-n-a-t-a-k. Nunatak." Vanya was reserved in comparison but still emitted a quiet confidence throughout. Her final word? "Scherenschnitte."
America should rename Merriam-Webster to Shivashankar-Venkatachalam English Dictionary. #spellingbee

— Anup Kaphle (@AnupKaphle) May 29, 2015
Over the years the Scripps Spelling Bee has become a greater part of the nation's pop culture. Much of this can be attributed to ESPN's quasi-sporting-event coverage of the competition, which this year began with the slam poet J.Ivy delivering a spoken-word presentation about the allure of the bee. The poem was replete with sports allusions such as "the muscle of the mind." Last night's event also included funny skits and even a shoutout to the rapper Drake, something the Toronto rapper was happy to share via his Instagram.
Admittedly, I'd been attempting to write about the bee all week. But every topic I had in mind, I would discover, was previously covered.
First, I was enticed by the prevalence of South Asian/Indian American winners over the past decade or so. Their dominance in the event is akin to the supremacy of Kenyans and Ethiopians in long-distance running. I wondered: What makes them so good? There are many theories; some experts argue that a cultural appreciation for hard work and memorization plays a role. Others point to the heavy grassroots support for South Asian and Indian American students. But Joe Heim of The Washington Post touched on the topic earlier this week, as well as the racism they've been subject to online.

I spoke to the bee's director, Paige Kimble, who was a winner herself in 1981, about the discrimination. "They are Americans, and so for [other] Americans to insinuate that they aren't [American] is something we certainly want to speak out about," she said, noting that it's been 30 years since the first time a student of South Asian/Indian American heritage won the bee.

After deciding to shift my angle, I wanted to look into what happens to winners after they win the bee. But ABC News already beat me to it. What happens after the bee? It varies, according to the media outlet. Many, like Kimble, stay involved with the competition; perhaps the most renowned winner is 1980 champ Jacques Bailly. A professor during the day, he moonlights as the competition's official pronouncer, a role he's held since 2003. Some become doctors and others, writers. Wendy Guey Lai, the 1996 winner, mentioned to ABC News that her achievement now serves as little more than an anecdotal icebreaker.

What did I glean from my repeated failure at finessing a focus? That I should find a new profession or that the media is enamored with every aspect of the bee? I decided to go with the latter.

After all, it seems that knowing how to spell is of little use in the age of spellcheck. USA Today found an expert this year to chime in on that quandary, though The New York Times actually covered the same topic two years ago with an article titled "Does Spelling Matter?" And this morning The Washington Post wondered if the competitors are beginning to "outsmart the bee."

Spelling bees are largely restricted to English-speaking countries, perhaps because English lacks the consistency that many other languages enjoy. As the competition's words demonstrate, English mixes and matches linguistic laws from around the world. Australia, Bangladesh, Pakistan, Egypt, and Kuwait, for example, all have spelling bees—as does the United Kingdom, which, of course, is where the bee is said to originate. (Bees have been hosted in other languages as well, including Canada's Dictée Des Amériques, which took after France's Dicos d'Or, but both have been discontinued.)
Of course, the English language's flaws are a key reason why America's spelling bee is a national obsession. Any debate about the utility of spelling in the modern age was an afterthought as Gokul and Vanya rattled off word after word with machine-like efficiency. As Luba Vangelova wrote in a recent piece for The Atlantic: "There's no systematic way to learn to read or write modern English—people have to memorize the spelling of thousands of individual words, file them away in their mental databases, and retrieve them when needed."
We want to hear what you think about this article. Submit a letter to the editor or write to letters@theatlantic.com.