Holding Schools Responsible for Addressing Childhood Trauma
A federal lawsuit alleges that the Compton, California, school district failed to support kids who experience emotional stress.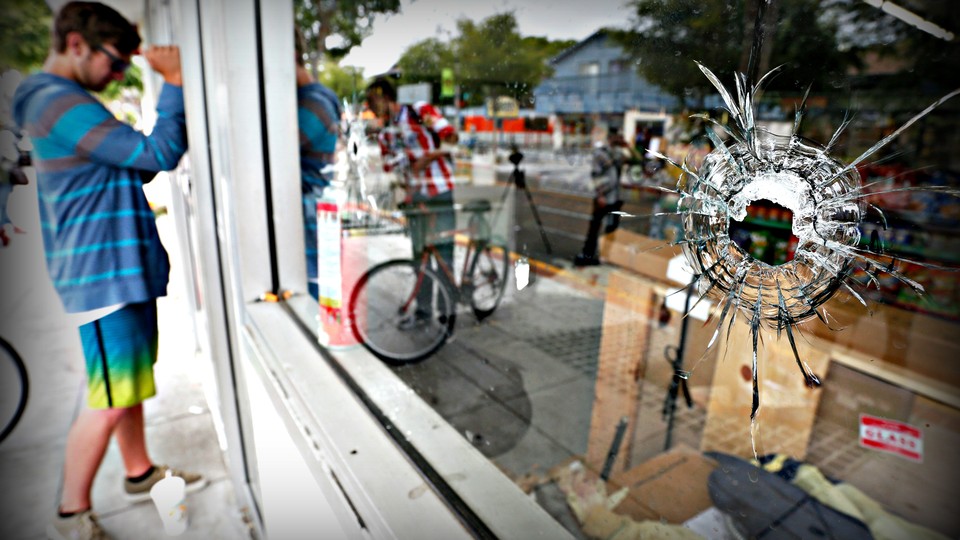 It's no secret that U.S. schools have a lot to work on when it comes to offering mental and emotional support for students. Whether due to budgetary constraints or ideological ones, it can be difficult establish an educational standard for how to treat psychological issues that occur outside of the classroom. Yet the supply of professionals equipped to alleviate those problems is diminishing: By 2020, the National Association of School Psychologists estimates there will be a shortage of nearly 15,000 school psychologists nationwide—a statistic that could spell a grim reality for the future of mental-health services in schools.
But not everyone agrees that a grim future is inevitable.
On Monday, a group of students and teachers in Southern California filed a class-action lawsuit in federal court against the Compton Unified School District. Labeled by backers to be the first-of-its-kind, this case alleges that the Compton school district has failed to sufficiently address the influence that childhood trauma can have on learning.
The case marks the first time that a federal law will be used to determine whether "complex trauma" can be considered a disability, in which case schools would be obligated to offer mental-health services. Currently, these services aren't always in place.
The district's superintendent, Darin Brawley, declined to comment on the lawsuit, saying in a statement to The Los Angeles Times on Monday that the district hadn't yet seen the complaint but would review the allegations.
"We take very seriously all allegations regarding the quality of education of our students," he said. "The district is committed to providing a quality education to all students and will continue to do so."
In February, I wrote an article for The Atlantic examining the potential effects school-shooting simulations can have on students. Most of the subjects I spoke to agreed that for individuals with preexisting traumas, realistic simulation drills could trigger stress and fear, therefore putting students at risk of reliving their trauma on school grounds. Yet while mental-health professionals I consulted acknowledged the practice's flaws, it seemed that, for school districts, the call for safety in an increasingly violent world outweighed the psychological risks at hand.
This lawsuit, on the other hand, focuses on trauma that traces back home—rather than a school setting—a nod to the prevalence of household stressors and the scarcity of mental-health resources in Compton, a city with a notorious reputation for violence. The city's murder rate, for example, is five times the national average. Put simply, this is about what the school can do to help.
"We hope that this case will set a precedent across the state and nationally to ensure that the trauma to which young people have been so unjustly subjected does not become determinative of their education and life chances," said Kathryn Eidmann, an attorney with Public Counsel, one of the law firms to file the case.
Behind the complaint are five students and three teachers who are calling for trauma-sensitive services that they say would afford them the "right for an appropriate education," according to the website.
There isn't a standard or clear-cut definition for a "trauma-sensitive" model, but the general idea is based on acclaimed programs in cities including San Francisco, as well as states such as Washington and Massachusetts. These programs help train staff in recognizing trauma while educating students on how to cope with their anxiety and depression. Most importantly, the strategies strive to restore and heal rather than punish students for their behavior.
"With regard to CUSD, we hope that the school district will sit down with us immediately," Eidmann said, "and work out a prompt solution to ensure that CUSD students affected by trauma are no longer denied the support and accommodations they need to learn."
In the past, childhood trauma has been linked to a number of poor school outcomes, such as failing grades, suspensions, dropouts, and lower literacy rates. In an effort to humanize these realities, the lawsuit profiles several actual students.
One 15-year-old boy estimates that he has seen more than 20 shootings over the course of his life, including the death of his close friend last September. He was expelled from three mainstream high schools, and, according to the complaint, is currently attending an "alternative school" in the district.
A 17-year-old student was subject to continual physical and sexual abuse by his mother's boyfriends before living in and out of foster homes. Last year, he was homeless and slept on the roof of the Dominguez High School cafeteria for two months. When he was discovered by school officials, he was suspended and not offered any form of support, the lawsuit alleges.
For 18-year-old Kimberly Cervantes, a senior at Cesar Chavez Continuation School, a lack of support contributed to her suicidal feelings years ago. After being told by teachers that her bisexuality was "wrong," Cervantes said she was subject to sexual abuse on the bus coming home from school, among other traumatizing experiences According to the lawsuit, Cervantes was told by Compton school officials that she had "used up" her five years of free therapy in elementary school. She would apparently be forced to pay in order to continue.
To Cervantes, this lawsuit could mean the chance to make a difference in the life of her younger brother, Adam. "He has anxiety and I wonder what will happen if he has a panic attack in school," she said in an email.
Depending on its outcome, the lawsuit could set precedent regarding the role schools can play in a child's mental health, especially in lower-income and crime-heavy neighborhoods. Still, Melissa Reeves, the chair of the National Association of School Psychologists' School Safety and Crisis Response Committee, stressed the importance of holding all parties accountable.
"Blame cannot just be placed on the schools," Reeves said, adding that it will take a patient understanding of trauma to truly bring about change. "Punishment alone does not change behavior; teaching students emotional intelligence and better coping and problem-solving skills changes behavior."