Bobby Jindal, Budget Cuts, and the Uncertain Fate of Louisiana's Universities
The governor's state funding plan, if passed without legislative safeguards, threatens the survival of as many as a dozen public institutions—and the futures of thousands of students.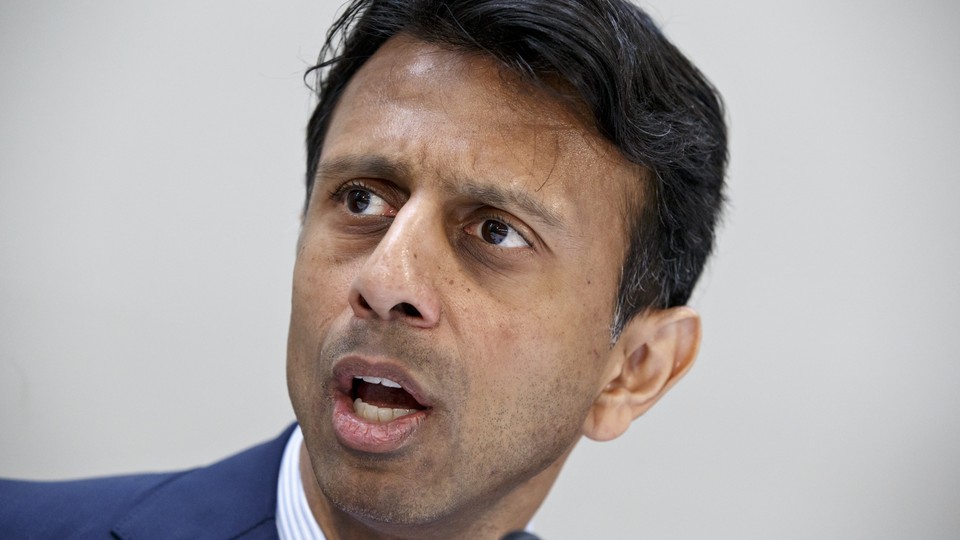 In 2011, Pennsylvania's then-Republican governor, Tom Corbett, proposed slashing the state's entire higher-education funding by hundreds of millions of dollars, including 50 percent of spending on institutions such as Penn State and Temple. At the time, the proposal was unprecedented in America, and Corbett quickly became one of the most notorious figures in public education. Students and faculty rallied. Advocacy groups and labor coalitions launched campaigns. Even President Obama eventually chimed in.
Ultimately, the Pennsylvania legislature struck a compromise with Corbett, agreeing to cuts of about 18 percent. But Corbett's would-be budget, along with his subsequent proposals to reduce public-education spending, may have doomed him from the get go: In a landslide vote last year, the one-term governor lost his bid for reelection. Political analysts largely attributed Corbett's downfall to his approach to education.
Fast forward four years, and the severe budget cuts now facing Louisiana's higher-ed institutions almost make Corbett seem generous. Republican Governor Bobby Jindal's new budget plan proposes offsetting a $1.6 billion funding shortfall—caused in part by a decline in oil revenues—largely through budget cuts to higher ed. According to school officials, the cuts could add up to $600 million total, or 82 percent of the state's funding for its colleges and universities, for the fiscal year that begins this July. It would amount to the biggest legislative downsizing ever faced by higher education in the U.S.

F. King Alexander, the president of the Louisiana State University system, said Louisiana State (LSU) would consider declaring financial exigency—the equivalent of bankruptcy for academic institutions. And Alexander said as many as a dozen campuses throughout Louisiana could ultimately have to do the same. The cutbacks would mean an uncertain fate for all of the roughly three-dozen institutions within the state's four university "systems," including Louisiana state's 10 campuses, the University of Louisiana's nine, and 14 community and technical colleges. These institutions serve roughly 260,000 students total.
Declines in per-student legislative appropriations for public higher-ed institutions are almost ubiquitous across the U.S., a trend that traces back to the recession. Though levels have started to bounce back in recent years, the average state's per-student allocation is still 23 percent less than it was before the economy took a hit. Generally, the federal government and taxpaying students end up shouldering that cost. Meanwhile, according to 2012 data, students are for the first time in years covering a larger chunk of their college tuition than their state governments are.
"States are getting out of the public higher-education business," Alexander told me. Alexander, a vocal advocate for stronger state investment in higher ed, says he's optimistic that the legislature will somehow cobble together a solution. (It has until June 11, when Louisiana's legislative session ends.) But even if lawmakers pass measures that would offset most of the shortfall, including a number proposed by Jindal, state higher-ed funding would still be cut by 32 percent, Alexander said.
By 2025 six in 10 adults in the U.S., according to one report, will have to have a postsecondary credential if the country is to maintain its economic edge. But if current trends continue over the next few decades, most state university systems would soon lose all funding from their states. A new analysis by the Pell Institute predicts that, assuming trends persist, in 2025 Colorado would become the first state to allocate zero funding to higher ed; Iowa would follow in 2029, then Michigan (2030), then Arizona (2032). Louisiana (2027) would be No. 2 on the list—if the deficit is miraculously eliminated this year. Otherwise, according to King, even a 32 percent reduction would put Louisiana in front of Colorado. Most states wouldn't appropriate any university funding by 2050.
Financial exigency would give LSU a legal pathway to fire or furlough tenured faculty and severely restrict operations, among other austere measures. It would also take a further toll on the school's reputation and academic quality and threaten its very survival. Internal documents from LSU acquired by the The Associated Press earlier this year—before exigency was even cited as a potential outcome—showed that roughly 1,400 jobs and 1,600 courses were on the line as of February, as were 28 academic programs. Earlier this month, LSU's rating with Moody's Investor Service went down a notch (from positive to stable) because of the school's financial outlook. Standard & Poor's has put five of the state's higher-ed institutions on its CreditWatch negative list, noting in a new report that "even the best case scenario could pressure public universities in Louisiana and result in significant related financial uncertainty."
The financial crisis, unsurprisingly, has caused significant uproar across Louisiana—a state that's still grappling to overcome the devastation and displacement caused a decade ago by Hurricane Katrina. Hundreds of students gathered at the state's Capitol for a rally last Thursday to protest the potential cuts, chanting "No Funds, No Future!" Louisiana produces some of the worst educational outcomes in the country and has the nation's highest rate of young adults not working or in school. According to 2012 census data, it's also second to last in the U.S. for college attainment, with just 29 percent of adults possessing degrees.
Daniel Hurley, who helps oversee government relations at the American Association of State Colleges and Universities (and is a close colleague of LSU's president), described the prospective cuts as "gubernatorial malpractice of the highest order." What is particularly egregious, according to Hurley, is "the governor's willingness to sacrifice the entire public higher-education system in the state and everything that it represents."
* * *
State funding for Louisiana's higher-ed institutions has been in decline since Jindal took office in 2008, even when the vast majority of states have started to up appropriations post-recession. Between 2008 and 2014, Louisiana's per-student state allocations dropped by roughly 43 percent, a rate exceeded only by Arizona, according to a 2014 Center on Budget and Policy Priorities report. LSU had to let go of nearly 2,000 employees over the course of that period, including roughly 360 faculty members.
Meanwhile, though still lower than the national average, in-state tuition in Louisiana grew at a higher rate in the last five school years than that in any other state, according to College Board data. Louisiana was one of eight states to cut higher-ed funding last year. And as of late March, Jindal was one of five governors—four of whom are Republicans, and two of whom, including Jindal, are believed to be presidential hopefuls —to propose reductions this year.
Jindal's administration has a different take on the scenario: His budget plan calculates the prospective university shortfall at $141 million total—a 6 percent reduction. That figure is based on revenue-saving measures amounting to hundreds of millions of dollars currently under consideration by lawmakers, including reductions in tax credits for businesses: "We think it would be wrong to continue to spend hundreds of millions of dollars in corporate giveaways and at the same time cut higher education funding," Jindal's spokesman, Mike Reed, said in an email. "If the Legislature decides to protect corporate welfare, then higher education could be subject to cuts of over $600 million."
Jindal's also proposing to offset that remaining deficit through programs providing public-private workforce-development grants and financial aid earmarked for high-achieving students, according to Kristy Nichols, Louisiana's commissioner of administration. She emphasized that Jindal, who attended college at Brown and later served a brief stint as president of the University of Louisiana, is committed to keeping the state's "students at home" and growing the workforce. "There is a clear path forward," she said. "We're not waiting for solutions to unfold. We understand the gravity of the situation and the importance of higher education, and that's why we said these are the things we have to do."
But if Jindal's proposed budget were approved, the patchwork of legislation needed to implement those safety-net provisions would have to pass through the legislature separately.
Hurley fears much of the damage is already playing out. The prospect of cuts has already forced the institutions to draw back on spending and makes it difficult for them to organize for the upcoming school year. "No entity, public or private, can plan in any rational way with this huge unknown out there," he said. "It is sort of unfathomable that a system could receive that big of a cut. That would dwarf anything that has ever happened at the state level in this country."
While Louisiana debates its higher-ed budget, Congress is conducting hearings on reauthorizing the Higher Education Act. The law, which was passed half a century ago to provide federal funding to colleges in an effort to enhance upward mobility for disadvantaged Americans, sparked a national policy debate about college access and saw the expansion of community colleges. Raymond Scheppach, who until 2011 served as the National Governors Association's longstanding executive director, describes the three decades leading up to the Great Recession as "the glory years" for state higher-ed investment.
But public higher ed in the U.S. is no longer the guarantee that it might have been a few decades ago. Rising Medicaid costs and the collapse of the economy both ate away at funding for higher ed. In inflation-adjusted terms, average tuition at public universities has quadrupled in the last 35 years—to $9,139 for in-state students in 2014.
Part of the reason for the shift in funding is political, the philosophy being that individuals should be responsible for shouldering the costs of higher ed. Public universities are different from other public expenditures because they rely heavily on a source of private revenue: tuition. (The state-to-student ratio of LSU's revenue, for example, is roughly 4:6.)
Some experts stress that diverse forces shape the nation's higher-ed economy, and that in some ways universities are accountable for the runaway costs—not state politicians. In a recent op-ed for The New York Times, Paul Campos, a law professor at the University of Colorado, Boulder, pointed out that total state appropriations have actually skyrocketed in recent decades, in part because of the sheer increase in the number of adults enrolled in college (which is one reason the per-pupil funding has gone down). Campos argues that increases to public subsidies, which he says have led to programmatic expansion and administrative bloat, are to blame for rising tuition.
For Alexander, the problem is that federal policymakers have concentrated too much on forestalling student debt, and too little on offering states incentives to foot more of the bill. It doesn't matter if "you add $200 to a Pell grant anymore because it means nothing [when] at the same time our tuition goes up goes up $950 because of state reductions," he said. "You have to close the back door before you put any more money in the front door."
Alexander pointed out that enrollment at LSU has steadily gone up since the recession and that the freshman class starting this fall is—or at least was—projected to be the largest yet. The uncertainty has forced the university to gamble with education at a time when more students than ever rely on it.
Higher ed in Louisiana is "a great investment to make, especially at a time that demand is so high," Alexander said, adding that Jindal wants the university to stay "whole" just as much as he does. "But at the end of the day, that doesn't take away from the larger trends ... The sheer numbers that we're looking at—they're pretty frightening."