A Field Trip to Baltimore
A middle-school class in Brooklyn was getting ready to visit the Maryland city this month—and then the Freddie Gray protests unfolded. But the turn of events has offered an invaluable learning opportunity.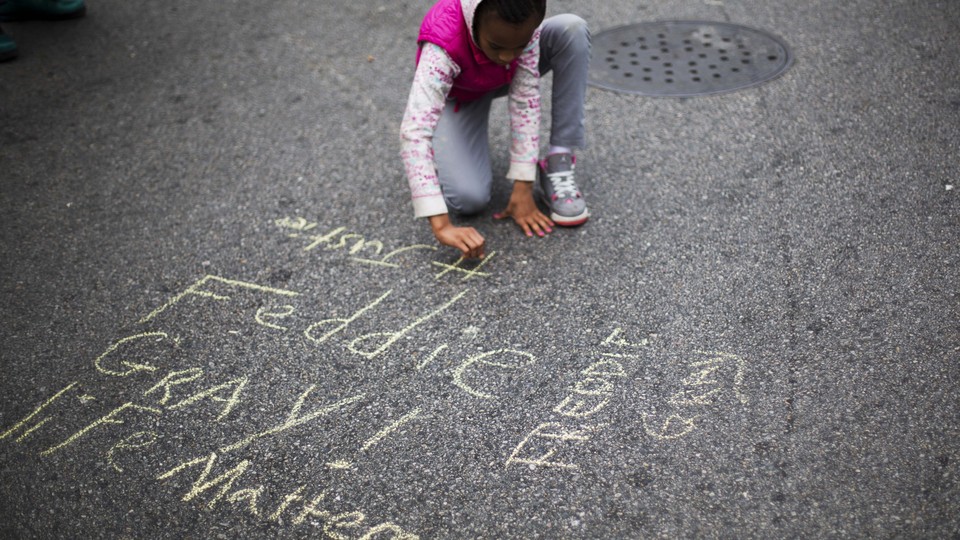 Each spring, groups of middle-school students sporting matching day-glo T-shirts journey from their hometowns across the U.S. and descend on the nation's capital for some sightseeing. They may tour its famous memorials and visit some of the Smithsonian's best museums. Perhaps they explore the National Archives and get to meet with their representatives in Congress. The purpose of these trips is to give the kids first-hand exposure to American history and civic affairs—and for many students, the experience is the highlight of the school year.
As a teacher, I both loved and loathed these trips. I hoped my students—who consist of relatively fortunate New York City seventh- and eighth-graders—would be gobsmacked by the majesty of the Lincoln Memorial, only to discover them snapping selfies with the Washington Monument sprouting out of their heads. I set up elaborate tours of the battlefield at Gettysburg, and the kids would ask to watch movies in the bus during the excursion.
The annual trips at Brooklyn Heights Montessori School, where I teach, improved when the educators turned the planning process over to the students. While teaching young teens the intricacies of trip planning is far more complex and time-intensive than simply printing out a well-worn itinerary, the educational payoff before and during the experience makes it worth it. Educators want adolescents to be empowered, not entitled—educated, not merely entertained. The students earned the trip money through a business they ran, and once they took responsibility over the budget and clear guidelines, abstract subjects like math and geography came to life.
Earlier this year, my students decided, after extensive deliberation, to travel to Baltimore. The eighth-graders reserved discounted train tickets, crafted an itinerary, and debated the merits of buying Chipotle versus making their own sandwiches. They had no idea their plans would soon undergo a drastic change.
On April 12, Baltimore resident Freddie Gray was arrested, suffering and later dying from a spinal injury after he was apprehended by police. As he lay in a coma, protests began. But for two weeks, the protests didn't seem to enter my students' consciousness. Even as Gray lay dying in a hospital, the kids were planning a speedboat ride in the Inner Harbor.
But on Monday, April 26, the day of Freddie Gray's funeral, a flier circulated via social media on the cellphones of Baltimore students: "All HighSchools Monday @3 We Going To Purge From Mondawmin, To the Ave, Back To Downtown," read the text, which was superimposed on a photo of two people standing on a police car, surrounded by an apparently lively crowd. This message mapped out a very different sort of teen-planned itinerary, a three-stop tour of destruction. The "Purge" references a film in which a futuristic government allows crime for 12 hours. By the time school got out that day, police in riot gear had assembled at the Mondawmin Mall and closed down a number of streets. That night, despite the efforts of many Baltimoreans to maintain order, shops were looted and buildings burned.
Earlier in the year, my students had studied the protests in Ferguson and Staten Island, after which they saw the film Selma. They learned that while the rule of law is the foundation of American democracy, violence sometimes interferes and changes history: the Boston Massacre, the American Revolution, and the Civil War are examples.
These history lessons were now unfolding in real time. So, on Monday afternoon—while Freddie Gray's family was grieving, police were massing, and teenagers were throwing bricks—I started planning a research project on class, race, media, geography, and current events in Baltimore. The trip had not been canceled—at least not yet—but my students nevertheless had a lot to learn about the context behind these developments.
My students are racially and culturally diverse, yet relatively sheltered. They come from deeply supportive families, and either walk to school from Cobble Hill and Brooklyn Heights, or come by car or subway from less-gentrified neighborhoods. #Blacklivesmatter protests have occurred regularly this academic year within walking distance from campus—my students even held one themselves in the fall—yet violence, bald racism, and the abuse of police power are not their everyday experience.
By first period on Tuesday morning, the forthcoming trip and the news had finally merged in my students' minds. "Something happened in Baltimore," one student, Tristan, said. "I heard there were riots." When I pressed my students for facts and sources, they were vague. "[My parents and I] watch Fox News and The Today Show," Sadé said. Reece added: "I hear bits on the radio on the way to school, but I never hear the full story." They shared information and asked questions, confused and appalled but also engaged. What was the name of the man who died? What happened? Does Baltimore have a history of racism? Why the fires? Would the trip be canceled?
"Until we started talking about this in class, I had no idea [the protests were happening]," Lorelei said. "But now I really want to find out more. Because this is our history."
* * *
While my students' choice to visit Baltimore seemed a bit arbitrary at the time, the protests surrounding Freddie Gray's death suddenly made it one of the most relevant places in the nation for them to study. The night the violence escalated, as reporters scrambled to follow the story in real time, I started gathering learning materials: news articles; links to interactive maps of Baltimore neighborhoods and the protests; relevant Twitter feeds; Countee Cullen's poem about Baltimore, "Incident"; and historical terms for students to research. I organized them into a Google Doc that all the students could access and consult to prepare for a classroom conversation. (I've since made the document publicly accessible.) Each student would choose a big question to study, initially based on the resources I provided, and then find and evaluate new sources. Each student would share at the end of the day Wednesday what he or she had learned.
To understand the complexities of geography, history, race, class, power, and law in Baltimore, my students not only needed resources, they also needed guidance. Parents and teachers sometimes think teens know more than they actually do—about technology and about the world. And students struggle to develop effective research skills if left to their own devices. At one point during the research phase of the assignment, for example, I looked over the shoulders of a group of boys and saw them using Google maps to scan the area around the hotel where the class planned to stay, almost as if they expected to see rioting. I pointed out that Google maps aren't real-time videos, and they laughed at their error. Then, as I was walking away, I heard one exclaim, "Hey! Our hotel has a waffle maker!"
Hotel amenities aside, it was clear my students wanted to know more about the city and its suffering. After class, when the kids were elsewhere on campus, icons showing that students had the Google doc open on their computers popped up on my screen, like Harry Potter's Marauder's Map.
* * *
By Wednesday afternoon, the students were prepared to share and discuss what they had learned. I reviewed guidelines for the conversation, including: "Assume good will. Demonstrate curiosity." I directed the 25 students (and six teachers who  decided to join us) to sit in two concentric circles. Those in the inner circle would offer three contributions  and then change places with someone in the outer circle; the outer circle would listen, take notes, and then join the inner circle when someone left.
Amouri began with a geography lesson prepared by her group: "Seven of us made a map of our trip and where riots or protests happened. Violence occurred just half a mile from our hotel." The trip was in green, the school color; violence was in red. They even made a key:
They were fascinated by Freddie Gray's arrest, too. "He was arrested for possessing a switchblade, then he ran away," Ella said. "That's why he got taken in." Julia raised her hand to disagree: "According to CNN, the mayor said it's not illegal to carry a switchblade." Sadé added, "He was arrested multiple times. But not everything he was arrested for he was prosecuted for."
From there, several students discussed the difference between peaceful and violent protests. Jaden offered what sounded like a 13-year-old's version of Martin Luther King's 1968 speech in Grosse Point: "One of the reasons this is so big is that the arrest happened in a black community. Some people feel these events are similar to events of the past. That's why riots might happen. Some may call riots ridiculous, but other people understand why they happen."
"The news is only covering the bad things—other sites show people doing good things," Charlotte added. Tristan concurred, then called me out for a factual error I had made: "It's hard to know just from the news what is true. Remember yesterday when Launa said she knew for sure that Freddie Gray was tasered? Then we discovered today that he wasn't." "There are conflicting messages on social media. In some, young kids are giving policemen water bottles," Arlo continued. "In others, people are cleaning up. And in some others, people are being encouraged to riot. What's true?"
Each student focused on an aspect that interested him or her the most. Caleb and Nick pointed out that the city's curfew meant that the Baltimore Orioles baseball game scheduled for Wednesday night would be the first MLB game ever played without fans. Sadé, the daughter of a police officer, explained what she had learned at home about correct police procedure. Ixe said, "My dad was in Baltimore when this happened. On one of the days of the riots, there were sports fans drinking in the area of the protests. They used racist language and provoked people." Bridgette went on to say, "When you read about it and get more involved, it makes you angrier and want to do something. And some people think the easiest way is to riot."
Students were sharing their insights, disagreeing, correcting me and one another, and comparing sources. And they weren't thinking about lost deposits and possible dangers—they were trying to understand complex events from multiple perspectives.
When teachers spoke during the conversation, they followed the same rules as the students. Among them was Martha Haakmat, the school's head, who asked the students their thoughts on what, given how ingrained racism is in many parts of society, a school's responsibility is to its students to help undo those legacies.
For Oliver, schools need to embrace and enhance diversity: "Learning in class with people different from yourself should just feel normal," he said. For Chloe, ensuring opportunities for discussion should also be a school's priority: "Kids learn from their parents," she said, "but not all kids ask their parents these questions if they aren't learning things in school."
That night for homework, I asked students to reflect in writing on their research and the day's conversation. "The most important lesson I learned is to think first before doing things," Tristan wrote. At first I assumed he was talking about the students and rioters, but he later clarified that he was was referring to the police. "They should have known their reaction would make a huge impact everywhere around the country."
Students also wrote about the trip, fearing for the safety of Baltimore residents, and for their own. But most still wanted to go. "The past few days have been especially sad with all the riots in Baltimore," Arlo wrote, adding that he wanted protests to continue, as long as they did so peacefully. "I think it would be cool to see how the local community is helping damaged businesses to get back on their feet."
With the scheduled date of the trip still two weeks away, my students and I continue to add to the shared Google Doc. Friday morning's news brought "indictment" and "Marilyn Mosby" to the new-vocabulary list. The initial lesson is over, but the learning goes on.
Lessons in American history and literature should prepare students to be informed, contributing citizens. Democracies thrive when people wrestle with big questions; read, write, speak, and think well; and understand the differences between fantasy and fact, opinion and propaganda. But intellectual skills aren't sufficient. Students also need opportunities to connect emotionally with people and places outside of their immediate surroundings—to feel empathy, outrage and compassion.
Students develop skills and independence much more readily when they are empowered to engage in meaningful work than when they are merely told information. In this case, students mapped an unfamiliar city, researched the past, grappled with the brutal realities of inequality, educated themselves about social phenomena, and navigated digital news sources. They spoke respectfully across differences of opinion, listened to each other, and reflected on what they learned. In short, they practiced what adults will need to do to better understand and solve the thorny questions facing today's society—including those raised by Freddie Gray's death.
The trip my students planned is still two weeks away, and it's unclear whether it will actually take place. But regardless of whether the class stays or goes, this has already been by far the most educational middle-school American history trip I've ever experienced.