When Teachers Cheat
Rampant conspiracies to alter kids' scores, including the one that resulted in the recent conviction of 11 Atlanta educators, attest to the dangers of high-stakes testing.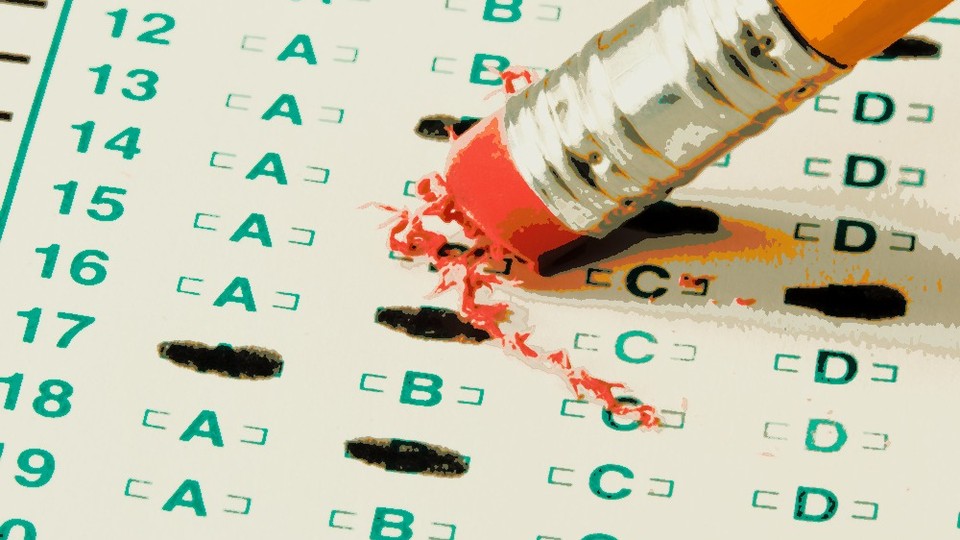 The social scientist Donald T. Campbell offered an insightful analysis of American education in his 1976 paper, "Assessing the Impact of Planned Social Change." One quote in particular stands out—a finding known as "Campbell's Law" that has been used to explain the impact that high-stakes testing is having on the nation's schools:
The more any quantitative social indicator (or even some qualitative indicator) is used for social decision-making, the more subject it will be to corruption pressures and the more apt it will be to distort and corrupt the social processes it is intended to monitor.
Wednesday's conviction of 11 former educators in Atlanta on charges related to their involvement in a conspiracy to alter student test scores is an example of Campbell's Law in action. And this wasn't an isolated scandal.

Perhaps these things happen because of negligence. Maybe the teacher is just a rogue offender—an educator attempting to boost test scores for self-serving reasons. Or it could be the result of intimidation from top-down management. Regardless, the growing prevalence in recent years of dishonest practices such as these suggests that something is amiss within America's schools. This new era of School Accountability 2.0 is contingent on the data gleaned from incessant standardized testing like the new Common Core exams—a recipe that doesn't bode well for classroom ethics. School districts are increasingly tying teacher pay to performance, and there's no consensus on the best way to measure student proficiency, so high test scores are starting to look a lot like money. What emerges is bad news: a carrot-and-stick approach to a sector of the workforce that many consider to be underpaid.
For many, justice was served when the educators were convicted on charges of racketeering for their role in the high-profile conspiracy, dating back to 2005, to inflate the scores on their students' standardized tests. The group was presumably motivated by ever-increasing pressure from policymakers to fulfill federal and local performance expectations, which determined not only their eligibility for perks such as bonuses even their employment status.
Yesterday's verdict marked the end to a years-long legal process. The notorious proceedings muddied Atlanta's one-time reputation for its apparent success in spearheading one of the nation's most impressive school reformations in recent history. The Atlanta school district's now-deceased superintendent, Beverly Hall, was even recognized as the National Superintendent of the Year in 2009—just months before the Atlanta Journal-Constitution started publishing a series of stories that raised questions about anomalies in student test scores. A few years later, that reporting evolved into a large-scale investigation into the data, and eventually widened further to "test integrity nationwide."
After the verdict was read, the defendants appealed the judge, Jerry Baxter, asking that he refrain from immediately sending the teachers to jail. But they failed to sway Baxter, who responded, "They have made their bed and they're going to have to lie in it, and it starts today." In a statement issued yesterday, the Atlanta Board of Education described the verdict as a closure to "a sad and tragic chapter for Atlanta Public Schools." The board touted the district's new superintendent, Meria Carstarphen, for implementing reforms "to make sure something like this never happens again."
"Challenges remain, for sure," the statement says, "but we are making progress every day and there is great reason to be optimistic."

The Journal-Constitution's findings prompted a two-year-long state investigation into the issue, which concluded that nearly 180 educators, including roughly three dozen principals, had engaged in wrongdoing as part of efforts to manipulate kids' performance metrics and exaggerate achievement levels in at least 44 schools. Then, in 2013, a grand jury indicted 35 educators, including Hall, on various charges including racketeering and theft. Most of them pleaded guilty to lesser charges, but a dozen of them opted to go to trial, which lasted roughly half a year and saw more than 100 witnesses taking the stand, their testimonies totaling thousands of pages. (Two defendants, including Hall, died before they could stand trial.) One former elementary school teacher, Dessa Curb, was acquitted of all charges; the rest of them, however, now face sentences ranging from five to 20 years in prison.
Hall, who had retired in 2011 and was facing up to 45 years in prison, denied the allegations, reasoning that the actual deeds happened at individual schools; one principal, for example, reportedly wore gloves to tamper with kids' test answers. Hall continued to pin the blame on lower-level personnel over the course of the investigation and lawsuit. In a video message posted in 2011, she said, "It's becoming increasingly clear that a segment of our staff chose to violate the trust that was placed in them. There is simply no excuse for unethical behavior and no room in this district for unethical conduct."
But, as the state report concluded, administrators such as Hall "created a culture of fear, intimidation, and retaliation." This culture grew against a backdrop of high-stakes policies such as No Child Left Behind, which revolves around test scores and stipulates harsh sanctions for schools failing to meet certain performance criteria. One teacher cited in the report likened the school district, which serves more than 50,000 students, to "a mob."
Culpability aside, at least one thing is certain: The scandal hurt Atlanta's kids, more than three-fourths of whom are considered low-income and eligible for free or discounted meals. Among other findings, the state's investigation into data from Georgia's standardized tests in reading, language arts, and math—also known as the Criterion-Referenced Competency Tests (CRCT)—concluded that thousands of children were harmed because they were denied remedial education they might have needed but failed to qualify for because of their inflated CRCT scores. The state commissioners said they "empathize with those educators who felt they were pressured to cheat," commending the ones who admitted the truth about their actions. "However, this report is not meant to excuse their ethical failings, or exonerate them from their wrongdoings."
The scandal shows the dangers of hyper-testing and bureaucracy in a school district serving a particularly disadvantaged population of students. Unfortunately, although what happened in Atlanta is especially egregious, these educators' actions are not unusual.
For example, a probe in Philadelphia last year implicated 140 teachers and administrators in the city's public-school district in a widespread cheating scandal similar to that in Atlanta. Questionable erasure patterns on answer sheets to state exams resulted in the firings of a number of educators, including at least three principals. The investigation has since reportedly expanded to more than 100 schools in 38 districts across Pennsylvania, though most of the sanctions are said to be confined to educators at dozens of schools in Philadelphia.
Two years ago, Crosby S. Noyes Elementary School in Washington, D.C., came under scrutiny after a seemingly miraculous turnaround, suddenly soaring to top rankings in the district.
A USA Today investigation found an unusual number of anomalies in test results, namely erasures from wrong to right answers at more than 100 other schools in the city. A whistleblower lawsuit was later filed by a principal. Several Noyes employees have reportedly been fired for altering tests, but a formal federal investigation failed to find evidence of wrongdoing. Some critics, however, believe the investigation wasn't thorough enough. John Merrow, the longtime education correspondent for PBS, in 2013 published a post on his blog citing a "missing memo," verified by sources within the school district, which revealed that officials had been warned by a consultant about the high rate of erasures on tests. "A long-buried confidential memo from [Chancellor Michelle Rhee's] outside data consultant suggests that the problem was far more serious than kids copying off other kids' answer sheets," Merrow wrote. The memo pointed to potential wrongdoing by 191 teachers representing 70 schools.
Data from the National Center for Fair & Open Testing, an at-times contentious organization more commonly known as FairTest, documents cheating cases in 40 states and D.C. between between 2009 and 2014. Bob Schaeffer, FairTest's public-education director and a vocal critic of standardized testing, described yesterday's verdict in Atlanta as a "vindication for the reporters and editors of the [Atlanta Journal-Constitution] and the county District Attorney who chose to prosecute."

According to Schaeffer, evidence of adults cheating on kids' tests has been found in some of the largest school districts across the U.S., an alleged trend that he says underlines the flaws of testing as an accountability measure. "Pretty much every major city in the country [has had cheating], because those are the places where test scores are most likely altered as they have the most poor and immigrant students," he said. "They are under the most pressure to logically boost scores."
FairTest, which it's worth noting has been subject to its own scrutiny, in part because of its financing and revenue sources, characterizes the recent scandals as just "the tip of the iceberg." It has on its website a slew of fact sheets and other resources, including a lengthy list it compiled showing how teachers apparently cheat. These practices, according to FairTest, range from "teaching to the test" (and thus declining to instruct kids on subjects not on tests) or urging a student to re-do an incorrect answer to setting up desks and chairs to facilitate copying or leaving class during the exam so kids can cheat. Some teachers, according to FairTest, even report that low scorers are absent on test day. And as findings from investigations into Atlanta, D.C., and Philadelphia indicate, teachers even fill in the correct answers themselves.

"It is an epidemic—whenever you make any indicator the primary factor in judging behavior you end up corrupting that measure," Schaeffer said. "In situations like that, teachers and administrations are under tremendous pressure in every student endeavor some cross the ethical, immoral, or illegal line."
Again, ultimately the biggest victims of these practices are the children. Whether or not it's the best way of assessing proficiency—and these days, it seems that few people believe it is—it's increasingly clear that standardized testing creates incentives that can undermine genuine learning. And while many states have turned to more policing as a solution, it's a band-aid approach that fails to attack the underlying flaws of over-testing.

"It's just pushing the manipulation into other types of misbehavior," Schaeffer said. "It makes it harder to do some form of cheating but it doesn't address the underlying problem."