The Push for Ethical Investment at America's Colleges
Student campaigns urging universities to divest from industries such as fossil fuels and firearms have become increasingly popular. But financially speaking, they may be purely symbolic.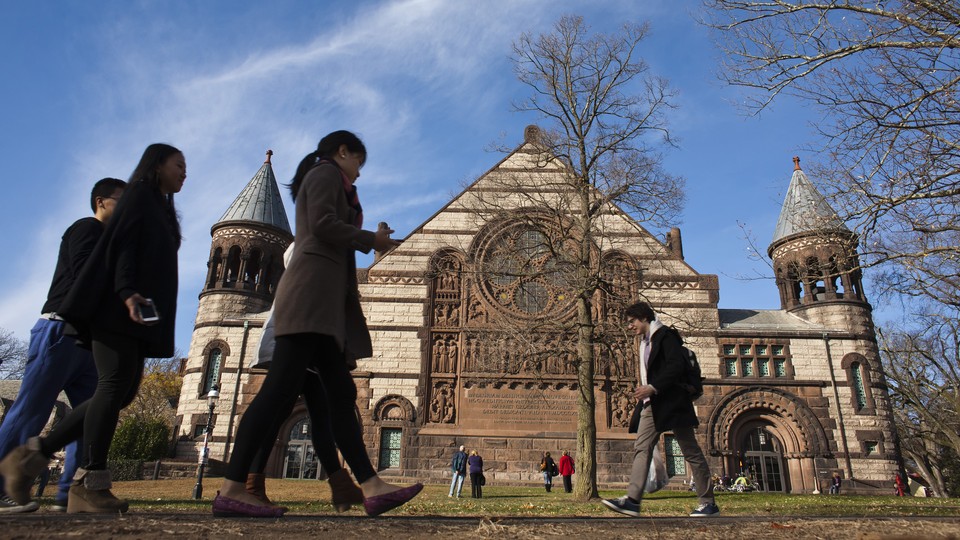 Updated on April 29, 2015
At Princeton University last week, undergraduates narrowly rejected a student referendum that would've urged the Board of Trustees to rid itself of any investments in multinational corporations that "sustain the illegal military occupation and blockade of the Palestinian Territories." The count was relatively close: Only 102 votes separated the two sides. But with just 2,200 students participating, less than half of the undergraduate population effectively took a stand on whether Princeton should divest from such companies.
Now, this Wednesday, Princeton's graduate students are slated to begin voting on the same proposal; they have until May 8 to do so. Whether the turnout will be any stronger is unclear at this point, though some graduate-student activists insist they'll make sure their voices are heard. In fact, the Graduate Student Government will be the entity announcing the results of that vote as a "formal show of consensus" and to demonstrate "sustained graduate student interest," Kelly Roache, an undergraduate alumna who's currently enrolled as a graduate student in the School of Public and International Affairs, said in an email. Roache co-founded the Princeton Divests Coalition, the student group advocating for the cause.
And faculty members are joining the effort, too. According to Molly Greene, a Princeton history professor, 71 tenured faculty members presented a petition to the university president in November in support of divestment. An additional 8 professors have signed on since.
Similar campaigns are taking place at college campuses across the U.S. As Princeton undergraduates voted on their divestment proposal last week, Tufts students and alumni staged a three-day sit-in at the university president's office as part of an ongoing movement on Boston-area campuses to divest from fossil-fuel companies—as numerous American colleges have already pledged to do. According to Ben Weilerstein, a junior who volunteers as an organizer for Tufts Climate Action, the 55-hour protest ended last Friday, the same day the Princeton undergraduates' vote was announced, when Tufts administrators promised students in writing that they could meet with the Board of Trustees chairman.
From the Middle East to energy policy to gun control, divestment campaigns have in recent years become an increasingly popular form of campus activism, with student groups pushing schools to drop from their endowments investments that don't align with their political beliefs. Endowments are a crucial financial resource for schools, often funded by donations from wealthy benefactors and managed by professional investors. While divestment organizers see their school's investment portfolio as a catalyst for political reform and social change, it's difficult to quantify the actual impact of these campaigns; financially speaking, they may be purely symbolic. But money aside, those messages can have clout.
Although the effect of selling assets can vary greatly from campus to campus, research shows that divestment generally has little visible effect on financial markets. When an organization or an endowment sells shares of a particular company, the move doesn't limit the firm's access to capital, nor does it depress share price. In a heterogeneous world of competing values and philosophies, there's always another buyer for a stock or bond. Ironically, as Jonathan Macey, a Yale law professor and the chair of  the university's Advisory Committee on Investor Responsibility, explained, divestment only shifts shares from people who may be "more compassionate and considered"—and may try, as shareholders, to pressure a company from within—to owners who don't share the same concern. And in most cases, he said, management doesn't care who the owners are.
So from an economic view, as the Princeton economist Uwe Reinhardt recently wrote in the Daily Princetonian, divestment is a pretty hollow gesture. Campus campaigns are also superficial, Reinhardt reasoned, because students don't make any personal sacrifice when a university shifts its portfolio.
Still, divestment advocacy groups and their supporters argue that the strategy works on a symbolic level—signaling a message of disapproval, driving debate, and even helping shape a national agenda. Campus movements, they say, often achieve their goals in the long term: Although they won't immediately cripple a company or an industry, the argument goes, they can still be powerful agents of social change after a few years or a decade of activism. Advocates of divestment believe it can place psychological pressure on an industry that has to recruit, hire, and retain employees, and that it can bring invaluable media attention—and public awareness—to an issue that otherwise might be ignored. "I'm under no delusion that if Yale or Harvard decided to divest from fossil fuels and guns it wouldn't be on the front page of newspapers and everyone would be talking about it," Macey said. "That's the value in divestment campaigns. And I don't think anyone believes they haven't helped at all that way."
Over the past year or so, schools have responded differently to student demands, weighing both the financial and ethical consequences of divestment. Despite protests, Amherst College, for example, reportedly kept its coal stock but countered students with initiatives to promote sustainability on campus. Meanwhile, the New School in New York City divested from fossil fuels and beefed up its environmental efforts— in part by creating a less wasteful campus that uses only biodegradable take-out packaging, coffee cups, and utensils and has upgraded all campus showerheads to low-flow models.
Students, too, have taken various approaches. Last year, a group of seven Harvard undergraduates took the university to court, arguing that the school's investment in the fossil-fuel sector is "a breach of the school's fiduciary and charitable duties as a public charitable and nonprofit corporation"—and that Harvard is mishandling funds by investing in "abnormally dangerous activities." In March, a Massachusetts Superior Court judge dismissed their suit, holding that, as Harvard students, they had no specific, personal right to challenge the school's management of assets.
Divestment has also seeped into campus elections—most recently prompting a debate about what constitutes anti-Semitism. Earlier this month, The New York Times reported that a Stanford junior, who was then running for a seat that she later secured in the student senate, claimed she was asked by a campus organization known as the Students of Color Coalition how her Jewish identity would affect her decision on Stanford's divestment from Israel. The coalition, which had endorsed the Stanford Out of Occupied Palestine initiative, countered the student's allegations in a campus op-ed, arguing that its members had asked her a "carefully worded standard question" that they had posed to all candidates. UCLA experienced a similar incident this spring, when an undergraduate was asked during a routine student council confirmation about her Jewish identity and divestment.
Meanwhile, as divestment gains traction on U.S. campuses, schools face another significant challenge: Campaigns involve personal politics, and a university must define its values—but trustees have a fiduciary responsibility to protect an endowment and maximize portfolio value. For example, in 2014, over a year before the recent sit-in, Tufts President Anthony Monaco issued a statement announcing that divestment from fossil-fuel companies would "result in a significant reduction in operating funds" and have "an immediate adverse impact on the educational experience" on campus. According to Monaco's letter, Tufts no longer invests directly in corporations as it did in the 80s during the anti-Apartheid movement, making divestment much more complex.
Experts often treat anti-Apartheid divestment campaigns as the model of symbolic pressure, raising awareness about and causing embarrassment over the role that American businesses played in the oppressive South African regime. But back then, it was much easier to divest from companies doing business in South Africa: A school like Tufts could sell shares in an individual company without having to restructure multi-tiered investments. Now, as Monaco wrote, the university's endowment makes extensive use of pooled funds, which offer benefits of scale and keep assets diversified but make it very difficult for investors to dictate the guidelines without taking a heavy financial hit.
Gun-industry divestment illustrates these complexities, as researchers explore whether campus campaigns are an effective way of reducing gun violence. "For gun companies to thrive economically, they don't have to have the approval of large swaths of Americans, certainly not progressive college students," said Daniel Webster, who directs the Johns Hopkins Center for Gun Policy and Research. "Most depend on a loyal base of gun owners who buy lots of guns." Instead, Webster pointed to studies showing that comprehensive background checks, handgun-purchaser licensing, and dealer oversight reduce gun deaths.
And while student campaigns may be gaining force, two years after Sandy Hook the American public is shifting (arguably) in favor of gun rights. The latest Pew Center survey found that, for the first time in more than two decades, there was more support for the Second Amendment in 2014 than there was for gun control. Fifty-two percent of Americans said they feel it is more important to protect the rights of Americans to bear arms than it is to strengthen gun control, while just 46 percent said the opposite. But some gun-policy experts dispute the findings, arguing that Pew's numbers are flawed because the survey question—which asked which of the two objectives is more important—implicitly assumed that gun laws infringe on gun owners' rights. (In reality, they add, most gun laws restrict criminals from buying guns and place minimal burdens on potential buyers, such as background checks.)
In response to the mass shootings in Newtown and, more recently, near the University of California, Santa Barbara, students are urging schools to divest their endowment of companies that manufacture guns and ammunitions, such as Remington and Sturm, Ruger & Co., Inc. Research from the Center for American Progress shows that gun violence has a disproportionate impact on young people and that Millennials are increasingly concerned about the presence of guns in their communities—even though gun-related deaths aren't prevalent on college campuses.
This February, the Boston University Board of Trustees rejected a recommendation from its Advisory Committee on Socially Responsible Investment that the university divest from companies that make firearms for the civilian market. The deliberations trace back to a month after the Sandy Hook tragedy, when the board's executive committee established a working group to report back on the school's investment in civilian gun manufacturers.
Lindsay Fuori is a BU freshman from Newtown, Connecticut, who attended Sandy Hook school. "Inside the school that day were many beloved teachers and neighborhood children I babysat," she recalled. "I was speechless, furious, and crushed all at the same time." As a reaction to the board's February decision, students, including Fuori, launched the BU Campaign to Divest from Firearms, Fuori explained. "I myself was guilty," she said, only learning about BU's investment in firearm companies after the decision. According to the student petition, which was sponsored by the national gun divestment organization Campaign to Unload, "no university should ever fund an industry that profits from violence against its students"—as the petitioners believe the gun industry does.
And this May, according to Campaign to Unload's executive director, Jennifer Fiore, UC students and the father of a UC Santa Barbara student shot and killed in the massacre last year will deliver a divestment petition to the university's Board of Regents—two days before the anniversary of the off-campus mass shooting.
"There may be no traceable financial effect of a divestment campaign," Fiore said. "But by stigmatizing the gun industry as bad corporate actors we are changing the culture and, eventually, cutting into profits." Meanwhile, divestment "hobbles the industry politically," she added, so the government can enact "sane gun laws." After Newtown, Congress tried to expand background checks on firearm sales, but according to Fiore the National Rifle Association, funded by gun companies that profit from lax gun laws, mounted a powerful backlash.
This is the crux of the issue, and perhaps why it's so difficult for campuses to reach a consensus: The two sides are debating different questions. Opponents of divestment say it doesn't make economic sense; proponents say that doesn't matter.