The Meltdown of a For-Profit College Behemoth
Corinthian's abrupt closure was devastating for thousands of students. But the demise is ultimately good news for higher education.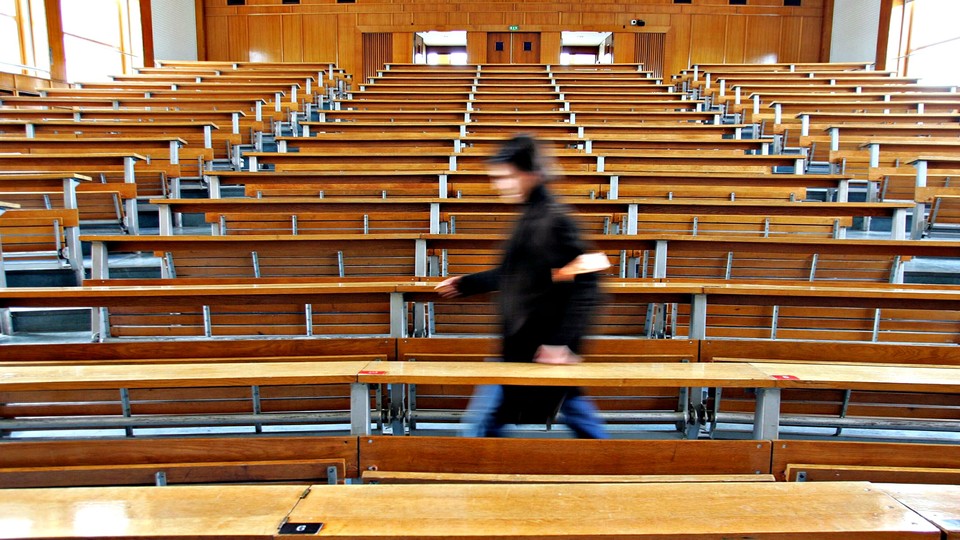 Corinthian Colleges, Inc., was once one of the largest for-profit higher-education companies in North America. The 20-year-old company owned well-known subsidiaries like Heald and Everest, institutions that pledged to provide affordable, efficient vocational training to nontraditional college students: single parents, military vets, high-school dropouts who wanted to get back on track. These colleges promised to help fix the nation's broken higher-education system, putting degrees conveniently—and often virtually—in the hands of anyone who made the effort. Their commercials were so ubiquitous they were the subject of numerous YouTube spoofs.
But in recent years it became increasingly clear that Corinthian's colleges were, in fact, partially to blame for the system being broken. The vision of a for-profit college education for all began to disintegrate because many students weren't actually getting the education they were promised. Despite being charged thousands—sometimes tens of thousands—of dollars in tuition, hordes of Corinthian's students failed to complete their programs, leaving with massive piles of debt or loans in default. And many of the students who did get degrees struggled to land jobs with livable wages, though the exact stats are unclear because Corinthian wasn't particularly honest with its numbers. Members of Congress got more and more skeptical, as did federal prosecutors and state attorneys general. The U.S. Securities and Exchange Commission wasn't happy, nor was the Consumer Financial Protection Bureau.
Then, on Sunday, Corinthian's long-drawn-out demise came to a very sudden end. The company terminated its website and announced in a press release that, effective Monday, it had "ceased substantially all operations and discontinued instruction at its remaining … campuses," which the Department of Education tallies at 30. Gone are its remaining 13 Everest (and WyoTech) campuses in California; gone are the locations in Arizona and New York. Gone are the last remnants of Heald—which was purchased by Corinthian in 2009 but has been around, the announcement emphasizes, for 150 years.
As for the roughly 16,000 students who are now left scrambling to figure out their options? The Corinthian press release says it's "working with other schools to provide [for them] continuing educational opportunities." But more than a dozen of the schools recommended by the DOE as alternatives are, according to a Huffington Post analysis, for-profits whose umbrella corporations are under federal investigation for misleading students, too. Students who choose not to complete their degrees are eligible for full loan cancellations—and taxpayers could end up footing the bill.
In many ways, the abrupt news isn't much of a surprise. The company's reputation has been struggling for years; it was the poster child of an industry that had become notorious for aggressively recruiting vulnerable, low-income adults hoping for a second chance. Corinthian's troubles burst into public view last year after the company became the subject of several federal probes, including a high-profile criminal investigation into allegations ranging from fraud to deceptive recruitment. The U.S. Department of Education last summer restricted financial-aid payments to the company after it failed to provide the department with accurate records on job-placement and attendance data. As part of the July 2014 deal with the DOE, Corinthian also agreed to close or sell its 100-plus campuses and online programs within six months to avoid being immediately shuttered by the feds. But that seems to be more or less what happened this week, albeit at the company's discretion.
For the most part, Corinthian proceeded as told, relinquishing a majority of its campuses. It sold dozens of its campuses to another company in February, which according to Corinthian allowed nearly 40,000 students to continue their studies. But there were snags in the process. Earlier this year, after the company was delisted from the NASDAQ stock exchange, the Ministry of Education in Ontario decided to shut down all Corinthian's Everest College campuses in the Canadian region, leaving roughly 2,400 students in limbo. And in February, a group of former Everest College students dubbing themselves the Corinthian 15 called a "debt strike" against the U.S. DOE declaring that they could not and would not repay their federal loans on the grounds that they were misled by the company. (The feds later smacked Corinthian with a $30 million fine as a result of its investigation into false job-placement figures.)
Ultimately, several deals Corinthian had hoped to make didn't happen. Corinthian's CEO, Jack Massimino, said in a statement Sunday that "the current regulatory environment" prevented the company from ensuring "a seamless transition for our students."
In late March, the Corinthian 15 announced that its membership had grown to 100. But Arne Duncan, the U.S. education secretary, told a group of education reporters last week that, while "everything's on the table," the department isn't committing to forgive the Corinthian 100's loans. "We're trying to make up for some real wrongs at the back end," he said. And ultimately, those 100 people likely account for just a fraction of the Corinthian students who failed to get the results they had anticipated; after all, as of last summer, Corinthian's programs enrolled more than 70,000 students.
Corinthian's dramatic downfall coincides with new efforts to give students more of a say in the business of for-profit higher ed. Senator Dick Durbin and Representative Maxine Waters, both Democrats, on Tuesday introduced legislation that would block federal funding from schools that restrict students from pursuing legal claims against them in court. According to the senators, if this proposal had already been in effect, former Corinthian students would've been able to seek remedies directly from the colleges.
Meanwhile, federal policymakers, including President Obama, have continually vowed to combat skyrocketing tuition—at for-profits and nonprofits alike—primarily by holding higher-education institutions accountable for student outcomes. How much debt does the average student leave with? How long does it take that student to graduate—if at all? How successful is that student  after graduating? Essentially, colleges need to prove they're giving students a solid return on investment. If the outcomes aren't up to snuff, politicians warn, colleges make have to say goodbye to their federal funding, which largely comes  in the form of financial aid to students. Democratic Senator Elizabeth Warren has made it her perennial priority to bring down student debt, though to little avail, while Republican Senator Lamar Alexander is set on making the financial-aid process simpler and more transparent. Meanwhile, higher-education accountability is slated to play a big role in next year's elections; Hillary Clinton, for one, will soon roll out her much-anticipated plan for tackling the student-loan crisis.
Despite charging above-average tuition, Corinthian's colleges, which in 2013 received nearly 85 percent of their revenue through federal loans and grants, weren't producing the outcomes they had promised. In fact, most of the for-profit industry's students rely on loans and grants to attend school, meaning the federal government is more or less bankrolling these institutions. In 2013, federal money accounted for more than 90 percent of the revenue at 27 for-profit colleges—exceeding the cap stipulated by the feds. If it turns out that those colleges violate the 90-percent threshold for a second year in a row, they could lose access to federal coffers. What's more, a proposal in Obama's 2016 budget would make veterans benefits (like GI bill assistance) subject to that threshold,  meaning another 133 for-profit colleges would've failed to meet the requirement, according to a Center for Investigative Reporting analysis. By excluding these military benefits, the 90-percent threshold suffers from a "loophole" that is believed to incentivize for-profits to use predatory tactics and target military vets and their family members.
As Pauline Abernathy, the vice president of the Institute for College Access and Success, told me earlier this year, "if a college is a quality product at a competitive price then someone other than the federal government should be willing to fund it."