Stanford's Tuition Giveaway Is Not Good News
The university's decision to offer free rides to students whose annual household incomes are less than $125,000 says a lot about the financial barriers to higher education in the U.S.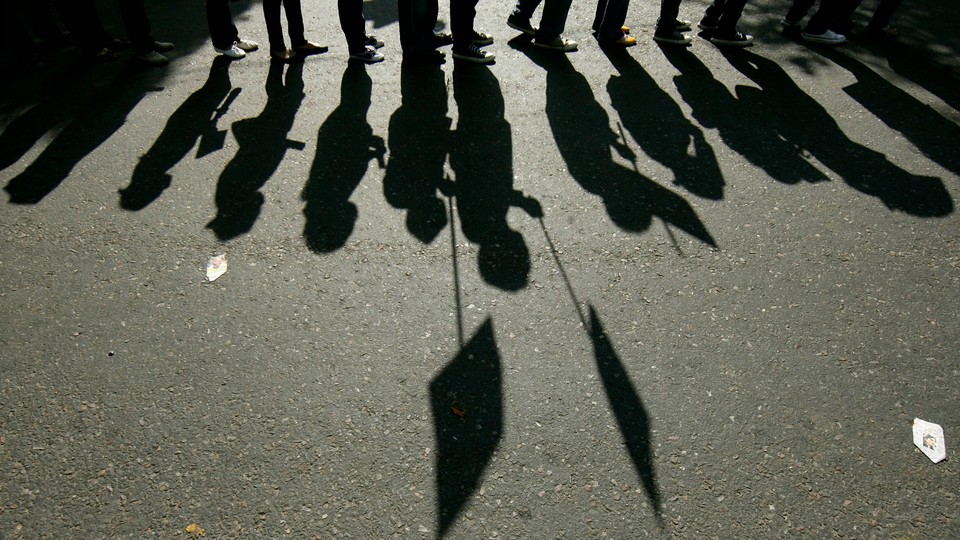 Late last month, Stanford University announced that, starting next school year, it will expect zero tuition money from the parents of students whose annual household incomes fall under $125,000.
This is not good news.
Okay, fine. It's good news for the students who will (or would want to) receive the benefit. However, Stanford's tuition waiver—as well as those at other highly selective colleges—should be cause for concern for anyone who believes that it's important for both disadvantaged students to gain access to top schools and well-off students to interact with people from other backgrounds. A key problem with this approach to correcting income inequality is that the scale of its impact outside and, most notably, inside the universities is fairly small. Tuition waivers alone cannot level a educational playing field so heavily pitched to the advantage of the wealthy, which is why relatively few people whose families make less than six figures annually attend Stanford.
The collapse of the economy in 2008 and the rise of the Occupy movement in 2011 made "economic diversity," as it's being called, an increasingly important part of many colleges' missions. All of the Ivy Leagues now offer waivers for students whose families make less than $75,000 annually, as do a number of wealthy, elite private schools like Stanford and Duke. Even some state schools, including UC Berkeley and the University of Virginia, have made it easier for low-income and middle-class people to attend without amassing huge sums of debt.
Until this year, Stanford's tuition-assistance program waived tuition contributions from parents making less than $100,000 a year. A waiver for both tuition and room and board went to families making less than $60,000 (the threshold has since been expanded to $65,000). As Karen Cooper, the associate dean and director of financial aid at Stanford, put it, "this expansion of the financial aid program is a demonstration of Stanford's commitment to access for outstanding students from all backgrounds."
The movement to increase economic diversity at colleges has gained so much momentum in recent years that it now even comes with a prize. This week, Vassar College won the inaugural Jack Cooke Kent Prize for Economic Equity for its success in significantly increasing the number of students it admits who receive Pell Grants, which are typically granted to students whose household incomes are under $30,000. The New York Times' David Leonhardt reported that a recent The Times analysis of "The Most Economically Diverse Top Colleges" influenced the contest's selection of Vassar, which topped the newspaper's list, too.
Stanford came in at No. 18 on the list. If this is 18, however, what would No. 50 or No. 100 look like? To put it simply, Stanford does not look like the rest of America—not when it comes to income. Like other elite schools on the The Times' list, it is more economically diverse than it was a decade ago, but it is hardly as diverse as it could or should be. According to Lisa Lapin, a spokeswoman at Stanford, approximately 30 percent of its undergraduates in recent years have benefitted from the under-$100,000 policy, and within that 30 percent are the roughly 18 percent of students who have received additional waivers for room-and-board fees.
While Stanford is understandably proud of these numbers, I cannot help but notice the cloud attached to their silver lining: the flip side of that 30 percent. In other words, 70 percent of Stanford undergraduates come from families whose incomes are over $100,000, even though only a little more than 20 percent of Americans made that much in 2010, according to census data. Worse yet, less than 18 percent of the students have family incomes under $60,000, even though more than half of Americans did in 2013. According to Lapin, between 20 percent and 25 percent of Stanford families pay full tuition, room, and board—fees that this year add up to $58,388 at sticker price. That means that there are more students who pay full freight at Stanford than there are students from households earning less than roughly that same amount.
What accounts for the discrepancy between the number of rich and poor students at Stanford and other elite schools? One reason, well reported by Leonhardt, is that elite schools have struggled to identify and recruit low-income students; indeed, a study he cites shows that selective schools do a poor job enrolling students from the bottom economic quartile. But it isn't only the bottom that is being underrepresented: Lapin's numbers suggest that Stanford's undergraduates are overwhelmingly drawn from the top quartile.
There's no reason to think that Stanford is basing its admissions decisions on incomes; on the contrary, Stanford employs a need-blind policy that theoretically preempts that sort of cherry-picking. The truth, I suspect, is worse.
One reason for this unequal representation might in fact be precisely that admissions are blind and are consequently more likely to identify wealthy students as more qualified. After all, these students tend to enjoy tremendous benefits growing up—among them opportunities to live in neighborhoods alongside like-minded families that have the resources to emphasize and invest in education, go to the best schools, hire tutors, and make the significant financial sacrifices needed to build an impressive extracurricular portfolio.
It is noble that Stanford wants to make sure that any kid who is talented enough to gain admission there, regardless of income, has the option of doing so. It is, of course, preferable that Stanford and other schools have tuition waivers than nothing at all. These programs can only achieve their objective, however, if there are enough low-income high-school students who are accomplished enough to make the application cut for elite schools.
As Alex Ortiz, a Boston-based tutor who previously taught grade school in Washington Heights recently suggested to me, perhaps it would be better if schools took need into account, using income as the basis for affirmative action and crediting students for achieving what they have despite missing out on privilege. Better yet, it seems that federal and state governments could also do a better job in their efforts to improve all kids' learning experiences, from prekindergarten on. That way, the country wouldn't have to rely on the generosity of extremely wealthy private institutions to advance social progress.