Performances, Parties, and Parodies: When Do They Cross The Line?
Recent student controversies at Princeton and Harvard demonstrate the difficulty of reconciling accusations of racism on campus and the freedom of speech.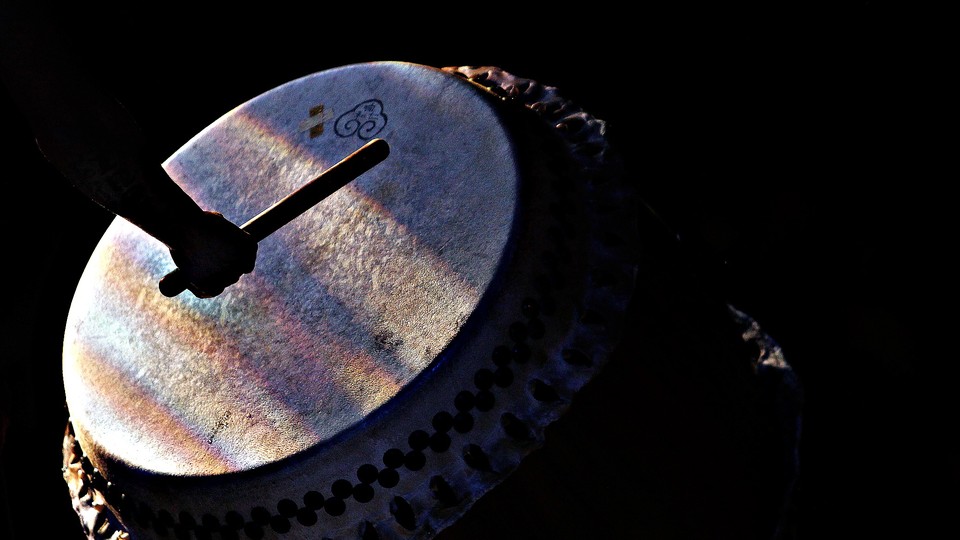 The president of Princeton University took the university chapel's stage on a recent Sunday to address a controversy that had rattled the campus earlier that week. Roughly 300 students, faculty, and staff gathered to hear what he had to say—including about 20 students, dressed in black, who stood up when the president started his remarks and then turned their backs to him. Later in the gathering, four of those students—all of whom comprise a campus activist group, the Black Justice League—walked on stage to read a manifesto.
"This is a manifesto addressed to President Eisgruber, generated from Princeton students," one of the speakers recited. "We speak out against the racism and violence that has encapsulated this campus these past couple of days and continues to mar the experiences of students of color." They listed their demands: honesty, dignity, compassion, respect, accountability, and change.
After reading the manifesto, the four students began to chant: "Hate speech is not free speech! Hate speech is not free speech!" And they continued to chant as they walked down the aisle and out of the chapel.
This high-profile walkout came at the end of a strained week of racial tensions. The previous weekend, a student percussion group called Urban Congo—a now-defunct campus organization made up predominantly of white members from the men's swimming team—had staged a performance on campus as a filler for a show by Princeton's oldest student dance group. The all-male cast wore loincloths, clapped and beat their thighs and chests, and banged on makeshift drums as the audience laughed, hooted, and whistled. A video of the performance that went viral on social media prompted a swift backlash, with students accusing the group of racism and cultural appropriation. Urban Congo has since disbanded, and the university has removed it from its online student-organization directory. However, an archived version of the same site from late 2013, which appears to be around the time it was formed, shows that Urban Congo described itself as a group that "provides an opportunity for spontaneous percussion experimentation in communal settings."
"My immediate reaction was shock," said Khallid Love, a senior and the former president of the school's Black Men's Awareness Group, describing the performance as a "caricature" mocking African culture. After a friend sent him a video of the performance the night it happened, Love immediately took to Twitter, joining the many other students who voiced their rage online.
"Can we please let Princeton know that this is not okay? Ignorance is no longer an excuse," one student tweeted, linking to a video of a similar performance by Urban Congo last November. "Primitivism at Princeton," read another student's tweet.
Many others, however, thought the performance was innocuous. "If I'd seen it on Saturday Night Live, I would have found it satirical and funny," said A.J. Ohiwerei, a sophomore who is half-Nigerian. He said he wasn't personally offended by the performance, and that he only realized how potentially hurtful it was when he saw others taking offense. Some, on the other hand, felt that those who were offended were being oversensitive. In a Facebook post that got more than 400 likes, one sophomore criticized the controversy and called it the work of "butthurt narcissists." And one post on Yik Yak, the anonymous social media app, read: "If Princeton is so damaging, leave. Good luck finding somewhere that can accommodate your hypersensitivity and neurosis." It was upvoted—Yik Yak's version of a "like" on Facebook—more than 70 times.
Regardless, the performance clearly got people to reflect on the propriety of such actions. Even Urban Congo's former president, who declined to comment for this article, issued a public apology on Facebook shortly after the event, essentially acknowledging that it was in poor taste.
This type of controversy isn't unique to Princeton. The same weekend that the Urban Congo controversy unfolded in Princeton, Harvard University experienced a fiasco of its own: Parody posters that appeared to satirize a new student magazine founded by students of color mysteriously appeared on campus ahead of the publication's launch. After officials and students behind the magazine deemed the posters offensive and misleading, they were quickly taken down. But that then gave rise to criticisms that free speech was being trampled upon.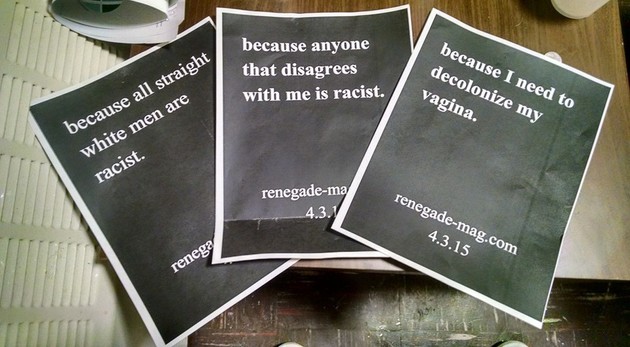 As the Princeton and Harvard examples will attest, while the use and misuse of humor and satire—from performances and parodies to party themes and publications—are prevalent across university campuses, the line between good-natured humor and racism is often hard to define. So too is the balance between racial tolerance and freedom of speech.
Last month's scandal involving the University of Oklahoma's chapter of Sigma Alpha Epsilon, in which members of the fraternity were seen on video chanting an explicitly racist song, was overtly inappropriate; the university ultimately expelled two students and closed the chapter. But many other incidents aren't as clear cut. Fraternity party themes often run afoul of political correctness: Tau Kappa Epsilon's "MLK Black Party" at Arizona State University, for example, or the "Colonial Bros and Nava-Hos" party hosted by several fraternities at California Polytechnic State University. Meanwhile, parody publications like the Koala, the student newspaper at the University of California, San Diego, and the 2012 April Fool's issue of Boston University's Daily Free Press have drawn scrutiny for poking fun at serious topics. (The latter included a spoof story about the Snow White dwarves raping a female student.) As universities grapple with what's racist, offensive, or otherwise inappropriate, they must also deal with the question of how to reconcile their mission of safeguarding their diverse student communities and their duty to uphold the right to free speech and open inquiry—even if the subject at issue is very politically incorrect.
And ultimately, while the Urban Congo incident in particular has ignited heated debate on campus, some students fear it may detract attention from deep-rooted issues of racism and discrimination on campuses such as Princeton. "What I want to make clear is that it's not just about Urban Congo in that performance," said Destiny Crockett, a sophomore at Princeton from St. Louis, Missouri, and a member of the Black Justice League. "It's about the quotidian lead-up to Urban Congo," she said, referring to a campus "culture" in which students of color "don't feel like they have a place," whether it's because of instructors and students who make discriminatory comments  in class or because they have to endure drunken racial slurs in social life. Students of color, she added, are even sometimes followed when shopping at the university store. Though it's difficult to corroborate such incidents, a much-publicized photo campaign last year, titled "I, Too, Am Princeton" (which was inspired by a similarly titled, "I, Too, Am Harvard" campaign), portrayed the prevalent sentiment among students that racial attitudes are still very pervasive on campus.
For Naimah Hakim, a junior and another member of the Black Justice League, the performance reflected an uncomfortable truth about the campus climate. "It's very disappointing for me to see something like Urban Congo come up at Princeton, but at the same time it's not shocking at all."
The Black Justice League, an unofficial group that isn't chartered with the university, was established last November by about 15 students, including Crockett. Initially the goal was to protest the notorious incidents of police brutality nationwide, but "then we decided to make it introspective, trying to figure out how to dismantle racial discrimination on our own campus," Crockett said.
Over the course of several meetings last semester with the administration, the league demanded that the university create a campus task force focusing on race and diversity. In December, the university pulled through, responding directly to the many students who had "raised their voices" and establishing a "Special Task Force on Diversity, Equity and Inclusion," inviting a number of Black Justice League members to serve on the body. Now, Hakim said, students are waiting to see if a tangible solution and campus-culture shift will come of it: "The worry that has been there all along is that the changes we wish to see will be very slow in the making," she said. "And so having a catalyst like the Urban Congo come up now is a test to that very anxiety."
After students overwhelmingly voiced their outrage about Urban Congo on social media, the group swiftly took down its Facebook page and disbanded. Hauss, the group's former president, issued his apology, writing, "We are mortified that our desire to convey the primal nature of our beats enabled us to overlook the cultural implications of our performances."
But that prompted other rumblings, through both social media and op-eds in the student newspaper, that the real issue at hand has to do with such groups' rights to free speech. Freshman Newby Parton described the outrage as "overblown," arguing that the group didn't intend to be racist. And even if some did find the performance offensive, he argued, that's not cause for censorship: "No one has the right not to be offended," he said, adding, "if it hadn't been for this controversy, I wouldn't have known that [the performance] was offensive to the black community."
And while it may seem difficult to reconcile racial tolerance and free speech in incidents such as this, Eugene Volokh, a law professor at the University of California, Los Angeles, thinks the tension is about something else: balancing "freedom of speech and people's desires not to be exposed to speech that they find to be offensive." This desire "isn't particularly worth accommodating especially in the university context," he said. "People go to university to hear all sorts of speech, and if there's speech they find offensive, then they can respond to it."
Two days after the Urban Congo performance, 60 Princeton faculty members signed a statement affirming the university's commitment to the freedom of expression. "The ideas of different members of the University community will often quite naturally conflict," the statement, which didn't explicitly refer to Urban Congo, read. "But it is not the proper role of the University to attempt to shield individuals from ideas and opinions they find unwelcome, disagreeable, or even deeply offensive." In a segment that some students concluded was a direct reference to the performance, the statement went on to say that "concerns about civility and mutual respect can never be used as a justification for closing off discussion of ideas, however offensive or disagreeable those ideas may be to some members of our community."
Later that week, Eisgruber, the school's president, sent out a campus-wide email inviting the university community to the aforementioned address at the chapel. "Comedy, satire, and stage performances inevitably transgress boundaries," he wrote. "The controversies they provoke may be genuinely painful, but they are also fundamental to the life of any great University."
But whether such jokes are indeed "fundamental" to university life is subjective. "It's not that we don't get the joke—it's that the stubborn fact that racist and sexist jokes never, ever just end at the punch line but chuckle their way through the fine print of laws, norms, and geopolitics," said Ruha Benjamin, an African-American studies professor at Princeton, speaking at chapel gathering convened by Eisgruber. (Several faculty members and students, including Hakim, had been selected to speak at the chapel.)
Meanwhile, the same debates were playing out 260 miles away in Cambridge, Massachusetts. Those at Harvard behind the new student arts and advocacy magazine Renegade—which was founded to help minorities at the Ivy League rediscover "[their] identities as people of color on this campus by remembering our ancestors' courageous stories and by dismantling the regimes of colonization and oppression still present at this university"—had put up promotional posters across campus in the run-up to its April 3 launch. Each of posters had either a black or white background and a statement like "Because I shouldn't have to justify feeling excluded" written in a contrasting color. On the night of its launch, however, posters that appeared to satirize the magazine showed up on the walls of Pforzheimer House, one of Harvard's 13 student residences.
"They replicated the format perfectly. They put a lot of time into it," said Iko'tsimiskimaki Beck, a Harvard sophomore who supports Renegade. According to Beck, the parody posters included statements like, "because all white men are racist," "because anyone that disagrees with me is racist," and "because I need to decolonize my vagina."
In an email to students living in the Pforzheimer residence, the house masters wrote, "Whatever the intent behind these posters, their effect has been to potentially mislead our community about Renegade, and to personally hurt and undermine some members of that group who live here in [Pforzheimer]. That is absolutely unacceptable, and we intend to take those posters down immediately." Beck, vexed about the ostensible insolence of the person or people who posted the drawings—they have yet to be identified—volunteered to remove some of them because they misrepresented Renegade, and because she took personal offense. But, as with Urban Congo, others saw this as censorship and an attack on free speech.
"We do not believe that feelings are a basis on which we should restrict speech," said Daniel Solomon, a sophomore at Harvard from Queens, New York, who founded a student group advocating for free speech, in response to the controversy. Solomon said he thought that, given their outlandish statements, the posters were easily identifiable as innocent jokes. "If you processed it, you would know that it was a parody," he said, adding that a genuine physical threat would be the only scenario to merit censorship. "I resist the overall logic of feelings restricting rights."
Was the performance done in good-natured humor, marred only by ignorance? Were the parody posters an informed critique of the magazine? And if so, shouldn't they be fully protected as exercises in free speech? Still, as Harvard, like Princeton and other universities across the U.S., grapples with the question of where exactly the line should be drawn, concerns such as those raised by the Black Justice League remain: that the real issue at hand—racism—is getting lost in the noise.
"It is derailing the conversation from the real issue, which is giving people of color the space to speak and to be heard," Beck said. "The voices of people of color on campus are often silent," she continued, noting that minority students are often "overlooked" and "talked over" in classes at Harvard. The poster debacle, she said, "reveals the tension that has been going on. It hasn't created any tension; it has just brought it to the forefront."
Indeed, for Beck, this poster incident is just one of many instances where cultures have been parodied or appropriated. Beck said she was invited to a Harvard party on Columbus Day last fall titled "America: Kicking Ass Since 1492"; each room at the party was titled after a different conqueror's boat, and the dress code was "'Murica." Time to take shots over the blood and bones of my ancestors, she remembers thinking.
"It celebrated a day that for me memorializes the catalyst of my people's genocide," said Beck, who is Native American and enrolled in the Blackfeet, Turtle Mountain, Chippewa, and Métis tribes. The students who threw the party, Beck said, promoted—albeit inadvertently—a "spirit of imperialism and colonialism that is inherently violent towards native peoples." (The party's organizers haven't responded to numerous requests for comment.)
Love, of Princeton's Black Men's Awareness Group, thinks that recent controversies across campuses can serve as a starting point for engaging in genuine conversations about race—discussions that aren't "cosmetic" in merely calling out instances of racism, but rather deal with the issue in a "robust, direct, and explicit" way and identify concrete means to address them. "We need to seek out spaces where those conversations can happen," he said, "where people of color, African American people, can come without having to prove that this is a problem—without having to prove that we're being offended."