Kale: What It Takes to Get Students to a Women's Basketball Game
Colleges are using new, often bizarre, promotional tactics to boost attendance at unpopular sports events. Now, men's teams—and even the pros—are resorting to incentives to lure fans.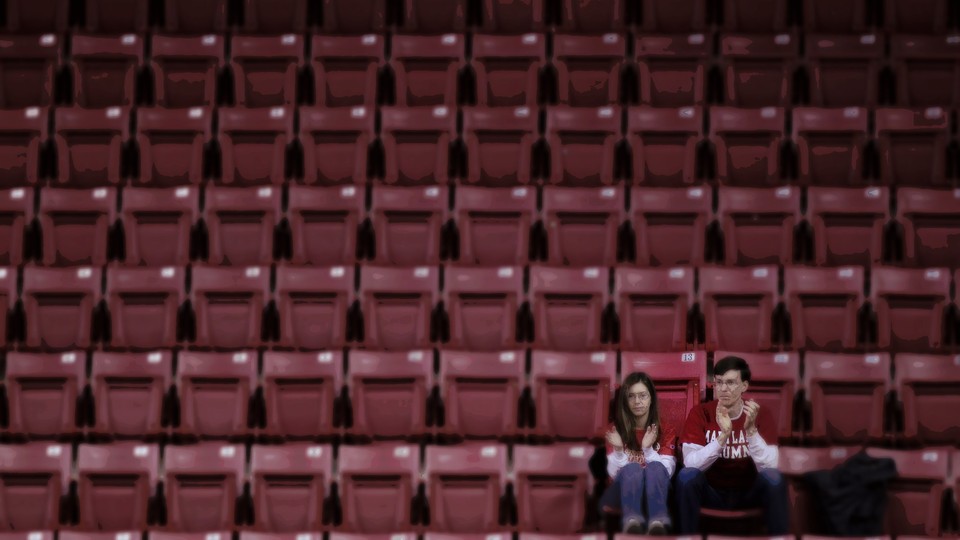 In early February, the women's basketball team at Georgetown University announced that it would host a kale-themed game. Yes, kale—as in the leafy green superfood. As part of the so-called "Hail to Kale" game, the school's athletic department passed out kale caesar salads, gift cards to D.C. restaurants known for their kale dishes, and pizza topped with kale to fans during its home match against Xavier University.
Some may find the university's decision to incentivize attendance with kale—over, say, ice cream—a bit bemusing. But according to insiders, Georgetown wanted to do something catchy for the game, and amid deliberations kale materialized as a tactic that just might work. When the promotions team proposed enticing fans with an event themed around the trendy, though widely loathed, vegetable, the marketing director for Georgetown Athletics jumped on the idea. According to Michael Carey, the athletics department's spokesman, the appeal of kale is that it's polarizing and attention-grabbing (some foodies are convinced the obsession surrounding the vegetable is nothing short of a conspiracy). Perhaps the inherent strangeness of using kale to lure fans to a basketball game was the very trick that got people to attend.
It turns out the idea hooked the media as well. Numerous outlets picked up the story including Sports Illustrated, The Washington Post, and ESPN, with everyone wondering, why kale? The university heavily promoted the event on social media, after which it became the water-cooler talk on campus, according to student's who attended. The team didn't win—but by the end of the game, all of the original 100 kale salads were gone.
The school even hosted a kale-eating contest featuring two of the attendees. The contenders were two Georgetown freshmen: Max Rosner (who said he's not a fan of women's basketball but came for the kale) and Jacob Steinberg (a self-proclaimed kale superfan and avid supporter of women's basketball). Perhaps unsurprisingly, Steinberg emerged the victor after devouring his plate of raw kale.
While part of the objective of the kale game was to promote healthy eating, the other was to draw more students to women's basketball games. After all, the team's record this season of four wins and 27 losses suggests that it needs all the support it can get.
While women's sports can draw certain crowds (even Tom Cruise attended a women's NCAA Final Four game this year), they have always had a difficult time incentivizing attendance at games—perhaps in large part because fans tend to find men's sports far more appealing than those involving females. With regard to basketball in particular, some writers have argued that sports enthusiasts don't like to watch women outfitted in masculine outfits and engaging in ostensibly "unfeminine" acts like elbowing and pushing. Instead, they arguably prefer watching women play sports like tennis, where they wear skirts, or beach volleyball, which typically entails little more than a bikini. Other analysts say that the small number of female sports journalists has led to less overall coverage of women's sports—and that the limited media attention also takes a toll on these teams' popularity. A 2012 report commissioned by Associated Press Sports Editors assigned media outlets an F grade for gender representation among sports columnists and editors.
But one of the most commonly cited reasons among both males and females for preferring men's sports is that women's sports are boring. Even Stacey Pressman, a woman and contributor to ESPN The Magazine, in 2003 told the New York Times,"I'm bored out of my skull at women's basketball games. I prefer a few women's events, like tennis, but I refuse to be politically correct about basketball. I'm sorry, but 40 minutes of underhanded layups is not entertaining.''
The bottom line is that women's sports have always had and continue to have difficulty attracting fans. While Division I women's basketball teams in the NCAA made significant gains in attendance numbers in the 2006-07 season, the numbers have largely slowed in growth ever since. Even some of the strongest women's teams, like the University of Connecticut's Huskies—the only team to finish consecutive seasons as undefeated national champions in NCAA Division I women's basketball history—have faced slipping attendance numbers. Down south, the University of Tennessee Lady Vols, which have made an appearance in every NCAA Division I Women's Basketball Championship since the 1981-82 season (when the NCAA began sanctioning women's sports), has seen its attendance numbers fall annually since the 2011 season. At some schools, the numbers have even prompted public appeals for a new paradigm. For example, a female student at Syracuse University, a school well-known for its winning men's basketball team, penned a column earlier this year for the campus newspaper calling for equal fan support at both women's and men's basketball games.
And the situation isn't any more encouraging at the professional level: The WNBA, now in its 18th season, has seen record lows of attendance numbers over the last few years. The average attendance at a game hasn't surpassed 10,000 people since 1999.
Over the last few years, universities have learned that promotions—and creative ones in particular—during games help attract fans to stadiums and keep them there from start to finish. A 2011 report out of Clemson University that was produced in response to declining student attendance at sports events, concluded that incentives—including discounted food, halftime entertainment, and prize giveaways—are key to boosting attendance. And because women's teams already are at a disadvantage when it comes to enticing fans, it appears that they've inadvertently become de facto experts in promotional strategies.
Across the country, women's college teams are increasingly using promotional events as a tool for boosting attendance at sports games. And basketball teams seem to be spearheading this trend. These experiments allow schools to experiment with cost-effective strategies and figure out what gets fans in the doors and what doesn't, according to officials; after all, passing out free T-shirts might be the first thing that comes to mind, but that option is rarely affordable for teams that are trying to attract thousands of spectators. They key question, however, is whether the Clemson report's findings are true across the board and whether such promotions can succeed in sustaining students' interest in the teams.
One tried-and-true promotional strategy appears to be the promise of complimentary food for college students. When Kansas State University passed out free bacon at one of its home women's basketball games in 2013, student attendance more than tripled, rising by 330 percent from the previous game's numbers, according to Bethany Cordell, who was a graduate student working in the athletic sales department at the time. The school gauged early interest in the game as being so strong, she said, that it decided to order 300 extra pounds of bacon on top of the original 100-pound supply. "We had a whole crowd that wasn't women's basketball fans who came for the bacon and then stayed," Cordell said. "The energy felt substantially more [intense] than past games." And free food continued to work: Kansas saw a nearly 9.5 percent uptick in overall student attendance for women's basketball in the 2013 season compared with the previous year. The University of South Carolina women's basketball team for its part has seen a hefty increase in attendance numbers in recent years, growth that could be attributed to the complimentary food and other perks offered at a majority of the games; one promotion, for example, allows attendees to bring their tickets to a chicken-wings restaurant in exchange for a discounted meal.
And even the winningest of teams—UConn's Huskies—are taking advantage of promotional boosts. Instead of passing out food, however, the team's head coach, Geno Auriemma, offers different kinds of incentives: holding open practices (which allow fans to hang out with players on the court) and hosting so-called "Geno giveaways" at the end of games whose prizes have included TVs, Bluetooth speakers, and gift cards. According to Cordell, who now oversees digital marketing and social media for athletics at the University of California, it's difficult to find a school these days that isn't pushing promotions during sporting events or setting aside a budget for these activities.
Meanwhile, some universities have found other ways to incentivize attendance, instead implementing tactics such as point systems to reward loyal fans. Boston College, known for its decorated men's ice hockey team, awards points to students for attending various sporting events, both men's and women's. Students who accumulate the most points have a better chance of being admitted to higher-demand games. The catch, however, is that lower-demand games are weighted with more points than are higher-demand games. So students looking to gain access to men's ice hockey games, for example, are incentivized to attend less-popular matches—say, women's basketball. The University of South Carolina, too, uses a point system to reward the fans who are looking to get a coveted football ticket, for example.
And despite their greater popularity, it might benefit men's teams to pay attention to what their female counterparts are doing. That's because college games across many sports and representing both genders are today seeing declining popularity. In the 2013-14 NCAA men's basketball season, for example, attendance for all three divisions fell from 2012-13 levels, including a decrease in total attendance at Division 1 games from 25.4 million to 25.1 million. Even attendance for the highly publicized and betted-on March Madness championship has seen numbers largely on the decline for the last ten years. In 2014, total attendance at the event fell more than 61,000 from the year before.
Attendance at games for college football, which is said to be about equal to basketball in terms of popularity, has also taken a hit. Some of the best teams, including those at Ohio State University and the University of Michigan, have seen their attendance numbers fall significantly since the 2010 season after steadily rising for years. An August 2014 analysis by the Wall Street Journal concluded that average student attendance at college football games has declined by 7.1 percent since 2009— a slip in part attributed to the increasing tendency among fans to watch the games from home, as well as rising ticket costs. Indeed, the prices aren't cheap. In 2014, Notre Dame's student football tickets cost $245 and Ohio State's student package cost $252. Other analysts suggest that tightened tailgating restrictions have pushed students away from stadiums with watchful security.
These trends pose a more serious problem to colleges than the mere prospect of lukewarm team pride on campus. According to some analyses, universities with strong athletic programs like to have robust student-fan bases because they promote a sense of connection to one's alma mater, which, as some research suggests, eventually leads to alumni donations. Universities also count on alumni to be season ticket holders after graduating.
Will the promotions trend stretch to the major leagues? Considering that both the MLB and NFL are facing their own attendance troubles, it might have to. In fact, the pros are already taking notice of the college leagues' success with these experiments—and some teams are even testing the strategy out. While kale might have served as a strange and humorous incentive for fans, it is matched in its eccentricity by a number of other strategies being piloted by the higher-level teams. Earlier this year, Atlanta's basketball team, The Hawks, hosted a Tinder-themed game that it dubbed "Swipe Right Night." Game goers were encouraged to use the popular dating app and match up with a fellow Hawks' fans; there were even special suites for matches to rendezvous. And it appears the game was a success.The Hawks won, the fan energy created what one of the players described as "a playoff atmosphere," and many attendees found their match in the arena.