Contrary to Conventional Wisdom, New Teachers Are Staying on the Job
It's widely believed that turnover is high among novice educators, but new data suggests that very few of them leave after their first year.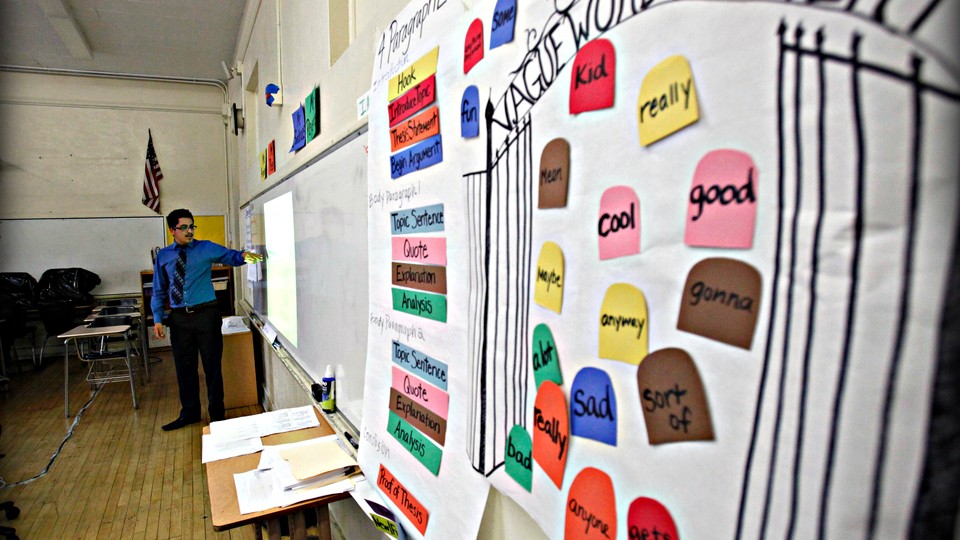 Despite previous reports that new teachers are ditching their professions in record numbers, new federal data suggest that a grand majority of novice classroom instructors are showing up for work year after year.
Eighty-three percent of the teachers who were rookies in 2007 continued to educate public-school students half a decade later, according to the 2007–08 Beginning Teacher Longitudinal Study. Ten percent of teachers left the field after just one year.
The National Center for Education Statistics tracked 1,990 teachers from the 2007-08 to 2011-12 school years whose first year of teaching was in either 2007 or 2008. The federal research agency selected these instructors to capture a representative sample of all U.S. public-school teachers who started work in the 2007-08 year.
This period coincided with renewed interest in evaluating teachers to reward the ones who improved student achievement and drive out those who were considered ineffective. But the data shows that few teachers left the field involuntarily. After four years, just 27 percent of those teachers who left the profession did so because they were laid off or fired.
"Yes, there could be some increases [in attrition] because of the accountability era, the idea being that we're supposed to be scrutinizing teachers a little bit more, but I don't think that is going to be a big piece," said Richard Ingersoll, an expert on teacher turnover who is also a professor at the University of Pennsylvania's Graduate School of Education.
The data may also be slightly skewed because the years examined in the federal study largely overlap with the economic downturn of 2008.
"In economic downtimes, employee turnover goes down dramatically because there aren't other options out there. People will hold on to their jobs even if they hate them," Ingersoll said. "On the other hand, in economic up times employee turnover as a whole goes up, because there are more opportunities out there."
The huge injection of federal dollars included in President Obama's stimulus package also likely helped the attrition levels stay relatively steady during the recession. A 2012 Center on Education Policy report found that 70 percent of the $53 billion states received to stabilize their education spending went toward saving or creating teaching and administrative jobs.
The National Center for Education Statistics data also looks at how many teachers quit the field and how many changed school districts. After one year in teaching, three-quarters of all teachers in this study remained with their original employer. That figure stood stable at 70 percent four years later. Meanwhile, the reasons why teachers left their original school employer changed over time. Initially, a majority of those teachers left for a new district, but by 2011-12, most of the ones who left their original employer were simply no longer teaching. (A small percentage, however, were still involved in education in some other professional role).
The reasons for these trends are difficult to pinpoint, though. The National Center for Education Statistics study is a ticker tape of what happened among teachers, but less clear are the forces behind these shifts in the teaching force. "Lots of people could look at this new finding and incorporate it into their own viewpoint and use it as ammunition, sure," Ingersoll said.
Previous research by Ingersoll shows that while the teaching profession seems to be stable at the national level, much more churn is evident locally. Relying on 2004-05 data, Ingersoll found that math and science teachers in schools with high numbers of low-income students were four times as likely to migrate to schools with fewer low-income students compared to the reverse of that trend. The flows from urban to suburban districts were nearly as high—3.6 times—when compared to the number of teachers who left suburban districts for urban ones.
"People used to not pay attention to the [teachers moving from school to school], their logic being, 'Well, gee, they are still in the system—there's no net loss so it's not a problem,'" Ingersoll said. "From a systems viewpoint there's no net loss, but to the principal in the school they're leaving, there's certainly a loss."
The report did reveal the effect that one reform strategy in particular may have on classroom instructors: Teachers who were assigned mentors their first year of teaching were much more likely to remain in the profession. Nearly 86 percent of teachers who were paired with mentors their first year were still teaching four years later, while the same was true for 71 percent of teachers who didn't get that support.
Pay also appears to have been a factor: While 88 percent of instructors who made more than $40,000 their first year were still teaching four years later, the same was true for just 80 percent of those who earned less than that amount.
---
This post appears courtesy of The Educated Reporter.