Baltimore's Day Off
The city's schools may have been closed, but Tuesday was still full of learning opportunities.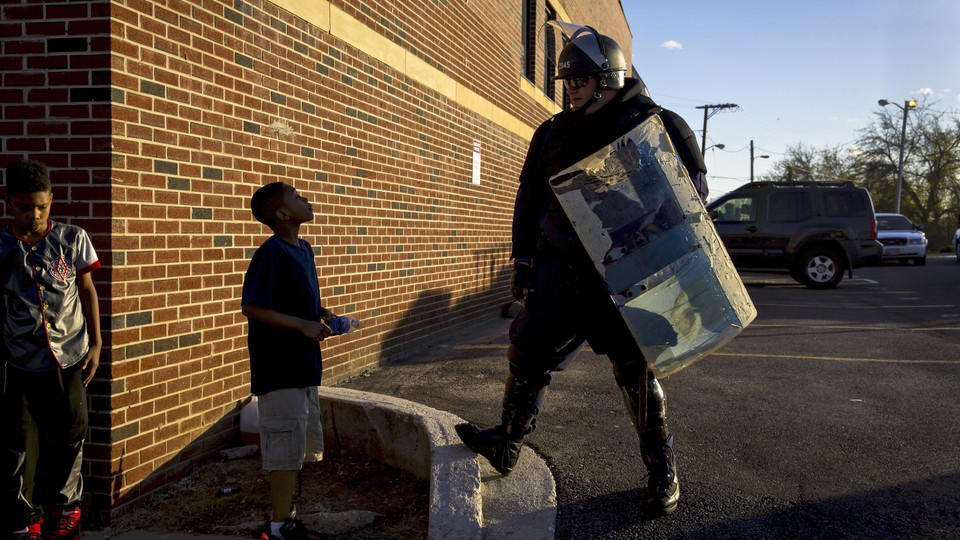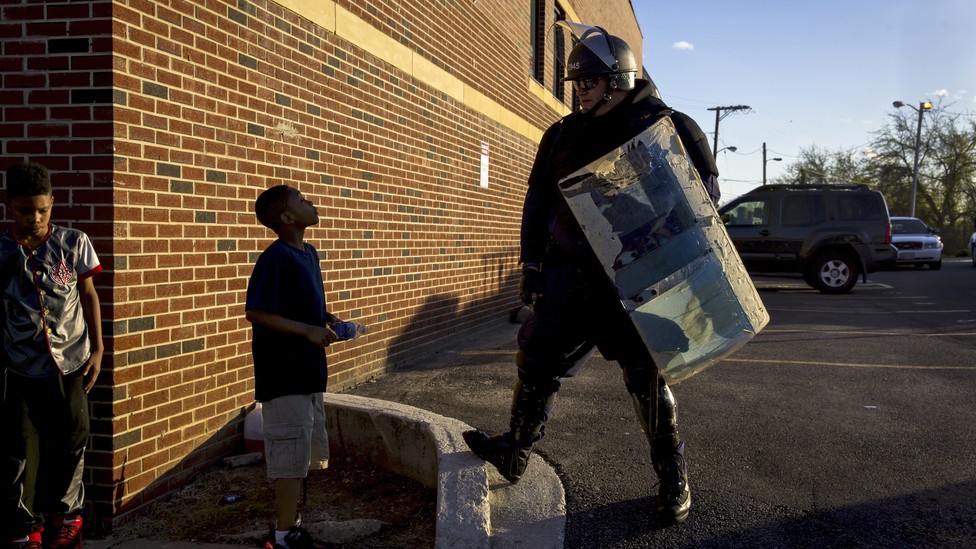 Many businesses and public spaces in Baltimore remained closed Tuesday after the violent events that took place throughout the city Monday. One of the more prominent closures was that of the area's public schools, including the high school at which I used to teach.
As a precursor to the decision, which was announced Monday evening, the Baltimore Public School System released this official statement on the "state of current unrest":
At this time of tension and anxiety regarding the tragic events surrounding Mr. Freddie Gray, we have a heightened responsibility to our students, families, and school communities. First, the safety of our staff and students is our top concern. We are in constant contact with the Mayor's Office, Baltimore City Police Department, and the City Health Department, and are coordinating with them to ensure we are ready to respond to situations as they arise. We will make crisis counselors and mental health professionals available at schools throughout the city for all of our students, and they will remain as long as it is necessary. Additionally, we have redeployed senior district staff and mobile units to assist in ensuring safe passage of our students between school buildings and bus stops.
This wasn't quite how things ended up playing out, according to Baltimore teachers I interviewed, as well as numerous social-media posts. The events that transpired Monday afternoon at Mondawmin Mall, a major transit hub that's located across the street from Frederick Douglass High School, hardly seemed safe, as students were said to be released and immediately greeted by flanks of police in riot gear. Rumors of gun threats and some sort of period of anarchy had spread throughout the city wildly, with students reportedly planning to use the mall as the meeting place. What happened next is murky. Some witnesses claimed in interviews and social-media posts that the students were provoked by police aggression; others, including certain media outlets such as CNN and Fox News, indicated it was the teens who instigated the violence, taunting and threatening the officers. Eventually, cameras arrived. And as the protests escalated, Maryland Governor Larry Hogan signed an executive order declaring a state of emergency and activated the National Guard, while Baltimore Mayor Stephanie Rawlings-Blake imposed a curfew on the city's citizens.
The teachers with whom I spoke declined to use their full names because of a school-district policy restricting personnel's interactions with the media. Among them was a Baltimore-district instructor who teaches education classes in a teaching academy for high schoolers and lives blocks away from the mall. She recalled the chaos of the scene, including a confrontation involving a boy who she said was maced for getting too close to the barricade. Other neighborhood residents began throwing rocks to antagonize the cops for their occupation of the area. At times the police raised their guns, according to the aforementioned instructor and other witnesses.
When I asked the teacher about the school closures she responded with some somber commentary on the situation, noting that while she doesn't condone the violence she isn't angry with the way many of her students reacted. "We have not prepared them for the world," she said. "We can't tell them that their lives matter when their homeboy just got his back broken. I'm not mad at them." Regarding the closures, she added, "The school system needs to be shut down in order to be rebuilt again. If we were in school today, little would get accomplished. Their minds are elsewhere. They are tired of us lying to them."
On social media, various voices have joined the debate about the decision to close the schools. Some argue that it was an admirable move based on the safety and logistics of transporting students to schools; previous protests have prevented passage on various roads, and the police have closed some as well. Others argue that schools are, for students, often the only safe spaces to go during the day, ensuring them access to lunch and, most importantly, guidance. Still, others see the decision as an opportunity for juveniles to enact violence.
Baltimore has learned nearly nothing from the past 8 months of unrest. Announcing the schools closing tonight was a mistake. 80,000 kids.

— deray mckesson (@deray) April 28, 2015
Imagine how things might have been different if Balto police had prioritized escorting school kids home yesterday? https://t.co/nI8u0ZRzTw

— EM Simpson (@charlie_simpson) April 28, 2015
1. As intelligent as it is, I actually disagree with @charlie_simpson's argument. I don't think cancelling schools is a terrible decision.

— Andrew Exum (@ExumAM) April 28, 2015
Asked about Tuesday's closures, one student—Tali Spiladis, a 17-year-old junior —told me in a text message that she feels "sad" about the decision:
I think that schools being closed is not doing any good for the city. The fact that schools are closed creates a fear in people about safety in their city that is not necessary. I also think that there are many students who rely on schools to be open for food during the day and closing schools can be problematic for those students.
Spiladis then went on to invite me to a youth-organized protest Wednesday at Penn Station, Baltimore's main transportation hub.
The principal of an elementary and middle school in South Baltimore who's also subject to the district's media policy said he has mixed feelings about the closures, sharing an email that he wrote to his staff preparing them for the coming days. The email:
This is not a one sided debate, and the tragedy of Freddie Gray's death can't be one in which we are boxed in to pick static sides but rather [it] has to be a teachable moment and one in which the goal is unity, safety, and prosperity in our city … Our plan for when we return to school, is to have community meetings with our students (upper elementary and middle school) and begin a dialogue. As a staff I also think it is necessary to have some collaborative meetings to discuss the situation and what is the best way forward. There are no right answers or strategies but rather ideas that we need to share.
While civil unrest may be troubling to some Americans, the principal reminded me that in some parts of the world, it is normal and even expected. It's up to schools, he added, to be prepared to educate in times like these.
Fortunately, for those too young to take care of themselves, or for those whose parents or guardians had to work, a number of recreation centers and libraries were open Tuesday. The Twitter feed for #BaltimoreLunch was full of displays of community and partnership, connecting people to places where children could eat for free on Tuesday. These developments, along with other Twitter hashtag trends—#More4Bmore, #TheRealBaltimore, and #BaltimoreStudents—helped counter the negative images proliferating in the media.
Another educator, a white woman who teaches history at a technology-focused high school in Northeast Baltimore, said that while she recognizes that Tuesday amounted to a lost day of instruction, the lessons that students can learn by protesting or simply being in their communities are ones that she perhaps shouldn't—or couldn't— ever teach them. And this may be the most conflicting outcome of this week's events: Some may miss a lecture on world history, but others may choose to write their own.
In an op-ed published on Monday in The Baltimore Sun, Leah Eliza Balter, a sophomore at Baltimore City College, a public high school, shared her thoughts on the importance of this moment. She wrote:
The Freddie Gray demonstrations are the Civil Rights movements of the 21st century. In my Advanced Placement U.S. History class at Baltimore City College I watch footage from the Civil Rights movement of the '60s. I watch footage of marches in Selma and Freedom Riders in the Deep South. I watch the videos of peaceful demonstrations and also violence by police against the demonstrators. That was history in the making.
While safety is paramount, I hope that Balter, Spiladis, and the many teachers and other students who had the day off used the opportunity to reflect, repair, and respectfully revolt. There are lots of lessons available in schools, but on Tuesday the streets served as excellent teachers as well.