When Police Misconduct Transcends Class
The arrest of a black Honor Committee member at UVA is further evidence that law-enforcement brutality can happen even on elite college campuses.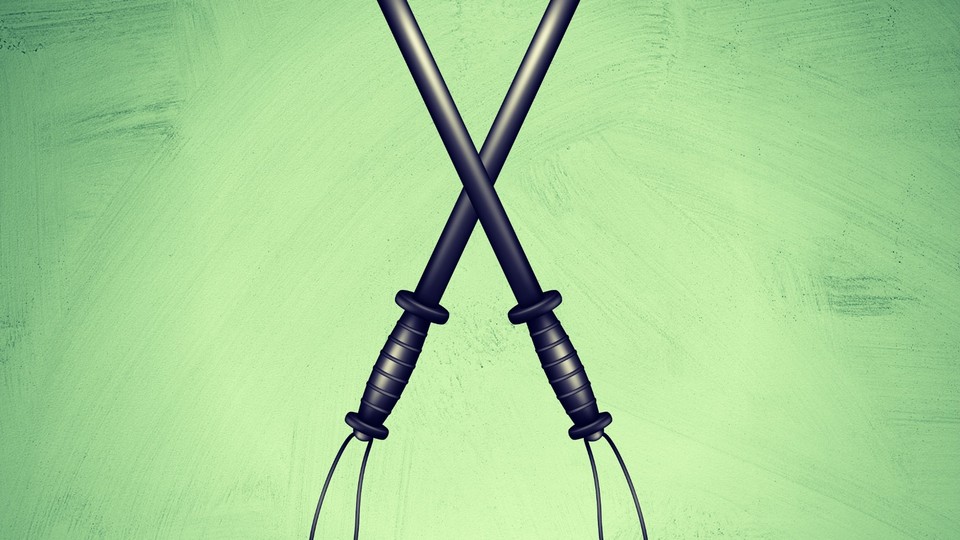 Martese Johnson is going to be fine—at least physically. The 10 stitches that the college student received as the result of an altercation with "J.Miller," a Virginia State Alcohol Beverage Control (ABC) officer, will eventually heal, and hopefully the 20-year-old will be able readjust to college life and put the incident largely behind him. The psychological ramifications of his encounter—played out on the street and immortalized via social media—could, however, stick with the young man for the rest of his life.

Reports surfaced Wednesday that Johnson, a junior at the University of Virginia (UVA), was apprehended on Tuesday night on charges of resisting arrest, obstructing justice without threats of force, and swearing profanely or being intoxicated in public. He had allegedly tried to enter a pub with a fake ID.

During the confrontation Johnson got into a scuffle with Miller, a special agent, and injured his head. Miller noted on the arrest record that Johnson "was very agitated and belligerent but [has] no previous criminal history." After being held on $1,500 bail, Johnson was released early Wednesday morning, slightly less than six hours after the arrest was made.
Many in the campus community quickly expressed their support for Johnson:
And last night, students gathered on campus chanting: "If we don't get it, shut it down!" Johnson himself addressed the crowd: "I beg for you guys to please respect everyone here ... we really are one community."
Details about the confrontation continue to emerge. The Cavalier Daily obtained this video footage of the incident:
An eyewitness account given to The Daily Progress offers this rundown:
Third-year College student Bryan Beaubrun, who said he witnessed the incident, said an ABC agent approached Johnson shortly after the bouncer at Trinity asked him to step aside after refusing to accept his ID.

"Martese was talking to the bouncer and there was some discrepancy about his ID," Beaubrun said. "[An] ABC officer approaches Martese and grabs him by the elbow…and pulls him to the side."

"It happened so quickly," Beaubrun said. "Out of nowhere I saw the two officers wrestling Martese to the ground. I was shocked that it escalated that quickly. Eventually [he was] on the ground, they're trying to put handcuffs on him and their knees were on his back."
Virginia Governor Terry McAuliffe requested an independent investigation into the arrest:
Gov. McAuliffe has requested an independent State Police investigation of ABC arrest last night in Cville in which a student was injured.

— Terry McAuliffe (@GovernorVA) March 18, 2015

There's been an outpouring of support for Johnson from across the country. On Twitter, the hashtag #blacklivesmatter, which became popular during similar scandals last year, resurfaced.
* * *
Overreaction on the part of the Virginia ABC doesn't appear to be anything new. Almost two years ago, Elizabeth Daly, then a 20-year-old UVA student, was arrested and spent the night in jail when plainclothes ABC officers mistook her carton of bottled water for a six-pack of beer. One officer apparently drew a gun, and Daly, not knowing if the men were law enforcement or not, reportedly panicked and attempted to drive out of the parking lot. Her car "grazed" one of the officers in the process, according to reports.

Daly, who's white, was initially charged with two counts of assaulting a law-enforcement officer and one count of eluding police. The charges were eventually dropped, and a year after that—after Daly's federal lawsuit—a settlement was reached. The Virginia ABC reprimanded the officers involved and made policy changes that were supposed to prevent something like this from happening again.

While it's unclear what will happen legally in this case—Johnson has already hired a lawyer—many critics are already framing it as yet another racially tinged confrontation between law enforcement and a young African American man. Like many of encounters between young men of color and the police, there is no explicit evidence that this situation was racially motivated. But rarely is there explicit evidence. Racism is often subconscious, only emerging when certain triggers are activated. Is that the case here? If so, what triggers might have prompted Miller to wrestle with Johnson on a sidewalk at four in the morning?
The Department of Justice's recent Ferguson report, along with controversies such as those involving Tamir Rice and Eric Garner, suggest that incidents like these rarely happen in a vacuum. Police misconduct—a problem of which black communities appear to be acutely aware—isn't new; it's just finally being exposed to a greater degree than before.  

Research suggests that Americans often perceive young black males as older and more culpable in criminal situations than they actually are. This bias can spread to schools as well. A federal report released last year showed that black students are suspended from school at three times the rate of their white counterparts. These disparities aren't necessarily due to more serious misbehavior by these students, either; white children doing the same things often face less punitive consequences.

The perceived criminality of a young black man might explain the hyper-vigilant, subconscious fear that appears to drive these high-profile confrontations. For young men of color the simple act of asking a question can be deemed insubordination, while asserting one's rights can seen as an act of defiance.
Johnson's encounter thankfully did not end as tragically as other encounters have in the past. But given that Johnson, a student with a clean record, would get his head slammed against the pavement for something so minor is a reminder that discrimination is likely a systemic issue.

Nearly five years ago, Henry Louis Gates, a Harvard University professor, was arrested when he was attempting to enter his own home. After returning from a research trip in China, Gates found the door to his Cambridge home jammed. As he and his driver attempted to pry the door open, a witness reported the activity to the police as a burglary. Gates was arrested by an officer named James Crowley and charged with disorderly conduct. The charges were eventually dropped, but Gates and Crowley later appeared at the White House with President Obama, who ultimately called the incident a "teachable moment."

Incidents like these prove that these interactions are not limited to a certain segment of the population. Johnson is said to be a high-achieving student majoring in Italian and media studies and has a leadership role at UVA's Black Student Association. Perhaps some will point out that Johnson attempted to use of a fake ID or drank alcohol as a minor, but those are two petty infractions that are hardly uncommon among 20-year-old students, white or black, rich or poor. Nor do they warrant violence.
If Johnson followed the news unfolding in Ferguson and New York City last year, he, like many young men of color, may have wondered if something like that could've happened to him. Police brutality and mistreatment often transcends class borders, and Johnson's college credentials apparently didn't protect him from the racial profiling he's believed to have suffered.

The aforementioned video ends with a bloodied Johnson, pinned to the ground and surrounded by three ABC officers as he screamed:
I go to UVA!
I go to UVA
I go to UVA, you fucking racist!
What the fuck!
How did this happen!?
Johnson, it seems, believed that would make a difference.