The Education of Hip-Hop
What the musical genre reveals about America's racially charged times and how it can serve as a valuable teaching tool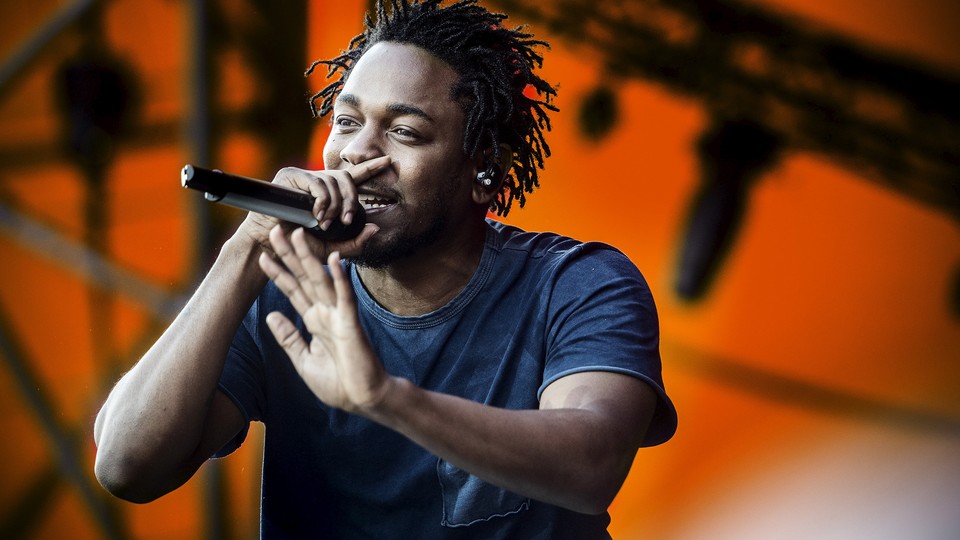 Hip-hop has always been in my classroom as have other forms of figurative expression. Its most recent appearance was unplanned and surfaced last Wednesday during a discussion of "A More Perfect Union," a speech delivered in 2008 by Barack Obama wherein he sought to define and defend his character during his initial campaign. This semester I'm teaching speech as a spoken art form in conjunction with poetry to examine, among other aims, how allusion, imagery, and narrative persona interact.
Hip-hop found its way into the discussion as my class and I explored Obama's reflections of America's racist character when a student—I'll call him Kwame, a black musician in his late 20s—alluded to the SAE fraternity video as an example of modern racism. Kwame wondered if the students were really racist or if they were simply aping the language of America's long tradition. Racism was a learned disease and not the sole determinant of a person's character, Obama seemed to say as he described his love and acceptance of his white grandmother despite her racist tendencies. "The students were probably unaware of what they really were saying and just silly," Kwame concluded. "None of them would dare say those things to a black kid on the football team."
Almost every hand shot up at this suggestion. What then ensued was one of those fascinating, honest conversations students have with each other during class, when your job as a teacher is to get out of their way and police, where necessary, a respectful dialogue. Because it will aid my illustration, I should share that my class at Queensborough Community College is comprised of students from all walks of life, ranging in age and culture without a clear, dominant ethnicity represented.
To further the conversation, I offered a then-new development in the controversy surrounding the video. Just a few hours before our class, the anchors from the Morning Joe television show facilitated a segment that implicated hip-hop as culpable in the song's use of inflammatory language, namely the use of the n-word. (Morning Joe has since issued a mea culpa to concede that the video included reprehensible language beyond this lightning rod.)
"It's just a word," one my of students said. "How could it be racist if you hear it all the time," someone else offered. They eventually came to a nearly unanimous consensus: If black people want others to stop saying it, they should stop using it. The conversation ended abruptly when one of my Puerto Rican students said the video had no bearing on his reality. Kwame responded without a hint of condescension or injury. "That's real. That's the realest thing you've said all semester."
What my class and I didn't discuss, and what has been absent from the larger conversation, is what hip-hop actually teaches; what power, latent or explicit, lies in its influence on racism? Black Twitter, an unofficial collective of black tweeters, responded almost immediately to Morning Joe's faulty logic with irony in the form of the hashtag #RapAlbumsThatCausedSlavery, which became an incredible catalog of actual album titles that riffed on the theme of slavery. Kendrick Lamar's "good kid, m.A.A.d city," for instance, may have become "good slave, m.A.A.d cotton" or "good kunta, m.A.A.d whips." These ingenious reconfigurations serve as excellent points of departure, but I want to delve further. To be clear, I do not intend to offer an exhaustive treatise on hip-hop's instructive properties. I merely mean to share how I've used it to teach, what it has taught me, and what it reveals about America's racially charged times.
If nothing else, hip-hop teaches language, specifically the unique timbre of African American expression. Some call it Ebonics. Some call it African American vernacular English. I settle on Black English and derive my definition from James Baldwin's essay "If Black English Ain't a Language Than Tell Me What Is?":
Black English is the creation of the black diaspora. Blacks came to the United States chained to each other, but from different tribes: neither could speak the other's language. If two black people, at that bitter hour of the world's history, had been able to speak to each other, the institution of chattel slavery could never have lasted as long as it did. Subsequently, the slave was given, under the eye and the gun of his master, Congo Square, and the Bible—or in other words, and under these conditions, the slave began the formation of the black church, and it is within this unprecedented tabernacle that black English began to be formed.
This language is rich in history and has been transmuted from the spirituals—through gospel and the blues, jazz and rock and roll, soul and R&B—to its newest manifestation, hip-hop, an alchemy of them all. It's only fitting, then, that I incorporate hip-hop in my instruction because it's a significant conveyor of Black English—just as significant as the prose and verse of any black writer.
From this understanding, I have used Nas' "Nas is Like" to teach simile and imagery; Blackstar's "Thieves in The Night" to teach The Bluest Eye; Dead Prez's "They Schools" to teach "Learning to Read and Write" by Frederick Douglass; Books That Grow to teach the history of hip-hop; and the list goes on.
The trouble with teaching hip-hop, however, is the language. In every class I've taught, for 12 consecutive years—whether my students were teenagers, adults, mostly black, mostly Asian, ex-offenders, drop-outs, non-native speakers, Indian, Sri Lankan, Caribbean, African, white, Mexican, Colombian, Pakistani, Iranian, Jewish, Ecuadorian, and all the other ethnicities they assumed—I have never permitted the use of the n-word or any other racial slur, for that matter. There is one exception: if the word appears in art or literature. This approach has certainly made some of my students uncomfortable.
Earlier in the semester, during a discussion of Ralph Ellison's "Battle Royal," a short story which became the first chapter of his National Book Award winning novel Invisible Man, one of my white community-college students stumbled over a passage that reveals a key source of the unnamed narrator's conflict, a conflict that troubles him throughout the novel. After participating in the battle royal, a fight between him and nine other black boys in a boxing ring in which they were all blindfolded and forced to spar for the entertainment of the town's elite white men, they grant him a scholarship, the unlikely reward for a speech that he first delivered at his high school graduation. The theme of his speech asserts the willful subservience of his race to white superiority. Foolishly, he thinks his reward is a sign of his acceptance until a dream rouses him from this delusion. The dream ends with a letter that reads: "To Whom It May Concern, Keep this Nigger-Boy Running." My student shuddered when she arrived at the word. She couldn't say it.
Outside of my classroom, I can't either. I'm from New Orleans, and in the Deep South black people are all too familiar with it rolling from white tongues. Try as I might, I can't divorce myself from the way the words made me feel, the way it has affected my family. It's personal and conjures the painful emotions I felt when some of my white teammates casually said it in high school. It reminds me of my father and uncle's experiences of white men spitting in their faces. It stole my great-grandmother's sister's life as a young girl after her admittance as a patient to a hospital was refused. It sounds like a noose tightening, the levees breaking, the streets that killed my cousin, the wails of Trayvon Martin, the surrender of Michael Brown, the fading breath of Eric Garner, the playful laugh of Tamir Rice. It's a back-door entrance to a hall of confused tradition.
Some argue that it's a source of power, a way in which black people reclaim their experience and exclude others from entry. I get that, to some degree. Yet this power is muted with repetition, a consequence that's true of all words. The word's use connotes so many different things at once, and sometimes these meanings conflict, which causes it to get lost in translation. What end does it really serve, then, especially considering the uproar it inspires when said by a non-black speaker? What's more is the defining element of language in general—language exists only in relation to its use. History has shown how language fades and how words become archaic. When is the last time you've heard a black person call herself colored or Negro, for example?

The problem with hip-hop, unfortunately, is the role it plays in keeping the n-word alive. It's become ubiquitous, available at any time for everyone's ears, and resides in a place all its own, where no other slurs exist. Name another that's heard as frequently. Even when it's not there (say, in a song heard on the radio), it is. Much like the words Basquiat obscured in his paintings, its erasure draws attention to its presence.
This of course is the beauty of hip-hop, the gift and the curse, as Jay-Z aptly alludes to in the title of one of his albums. It articulates a strange phenomenon, what Obama called America's "original sin of slavery." It harkens back to the white man's desire for tobacco, sugar, and cotton to depict the freedmen of the 21st century, rappers who illustrate the ugly, complicated genius of the black struggle. It draws a crowd like the public spectacle of a lynching in order to transmit the coded instructions of David Walker's Appeal. It comes as no surprise, then, that many titles of hip-hop read like the titles of slave narratives. Three of Jay-Z albums, for instance—"In My Lifetime Volume 1," "Hard Knock Life Volume 2," and "Life and Times of S. Carter"—read like any number of Frederick Douglass's narratives—Narrative of the Life of Frederick Douglass, an American Slave, My Bondage and My Freedom, and Life and Times of Frederick Douglass. The brilliance of this exchange is not easily attained, however, and speaks to another of hip-hop's issues.
Hip-hop demands study. It doesn't offer its worth from cursory examination. In fact, the best rap albums are those that yield visceral reactions long after they've been released. It asks for discerning ears and wants listeners to engage it critically. This lesson was recently reinforced for me after listening to Kanye West's latest single, "All Day." Kayne's excessive, almost gratuitous, use of the n-word turned me off. It was grating and uninventive, a lazy repetition that lacked symbolism. I didn't even finish the song. This is not to suggest that I detest songs that use the n-word. I actually enjoy how it's rendered in Mos Def's "Mr. Nigga" or any other of the countless songs that illustrate how rappers have imbued it with metaphor. N.W.A.'s name itself is loaded with figurative power. Kanye navigates this space frequently, and he does it masterfully in "New Slaves," a single from his last album. This is what I've come to expect from him.
Then I streamed his live performance of "All Day" at the 2015 BRIT awards and was blown away. He still used the n-word, but it was heavily censored, almost like an incomplete radio-edit. This version allowed me to appreciate the other words and the sonically, diverse complexity that defines all of his compositions. These conflicting versions made me question whether this was by design and evokes Langston Hughes' assessment of the challenges that black artists face: "The Negro artist works against an undertow of sharp criticism and misunderstanding from his own group and unintentional bribes from the whites. 'Oh, be respectable, write about nice people, show how good we are,' say the Negroes. 'Be stereotyped, don't go too far, don't shatter our illusions about you, don't amuse us too seriously. We will pay you,' say the whites." Because hip-hop is a product controlled and largely consumed by white people, does the championing of the n-word and other unflattering images of black people make it racist? Do rappers exert any agency, or are they just panderers, carpetbagging members of their own race?
To be fair, I don't know Kanye, nor any other rappers, and I will not attempt to paint an image of his character. I do know that like all black men, he's just trying to figure out how to manage the trauma of living in America. I also know that I will forever be indebted to his work, especially "The College Dropout," which ironically helped me get through graduate school, as I was inspired by his sheer determination to accomplish dreams that others thought unattainable. It was his story of manumission that motivated me along my path.
Michael Chabon, a Pulitzer Prize-winning novelist, recognizes the importance of reading hip-hop closely as evidenced in his annotation of Kendrick Lamar's "The Blacker the Berry." While he only explores the song's final couplet, the act itself represents an important exercise. It validates hip-hop's position in the Great American Songbook, at least in the eyes of white America.

It alludes to the growing scholarship of hip-hop in academia, a movement that was captured well in The Wonder Year, a documentary that chronicles a year in the life of acclaimed hip-hop producer 9th Wonder while he studied and taught at Harvard's Hiphop Archive & Research Institute, which was screened this year at SXSW's education conference. These developments, along with the current renaissance of sorts that is reshaping hip-hop with the thoughtfully complex, soul-bearing sounds found in the recent releases of Kendrick Lamar's "To Pimp A Butterfly," Fashawn's "The Ecology," Lupe Fiasco's "Tetsuo & Youth," Joey Bada$$'s "B4.DA.$$," and J.Cole's "2014 Forest Hills Drive" have me encouraged. Some of these albums have even moved me to tears. A changing of the status quo seems imminent, and I hope this trend forwards a much needed dialogue in America. The U.S. began as a country with corrupted ideals, and today they are stale and reek with the sour stench of unwavering tradition. Hip-hop is ready to offer answers if only Americans embrace its lessons.